Vintage Styling - The Eras Still Defining the Bridal Trends of Today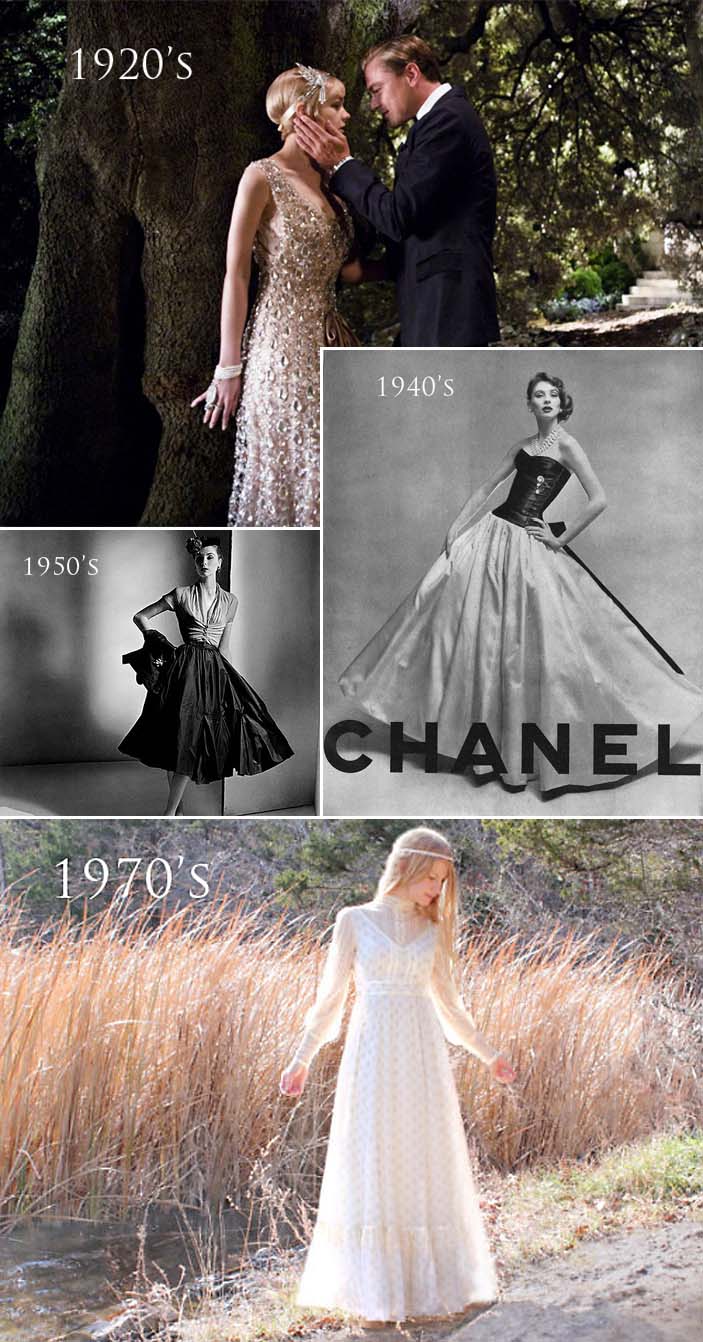 Never has it been a better time to be a bride - compared to a few decades ago, brides now have so much choice when it comes to their wedding dress. In boutiques around the country there are rails filled with many different styles of gown - everything from slinky and subtle to dramatic and fairytale. But a huge number of these dresses have been influenced by the most inspirational eras in recent fashion. The love for vintage styling in the bridal world is a trend that shows no sign of dying out anytime soon. Both brides and designers love the influences of the past - and these individual eras have such gorgeous styling, which can work so well for differently themed weddings and to suit individual brides. This is my guide to the most prominent vintage styles available and how to choose the era to perfectly complement your big day.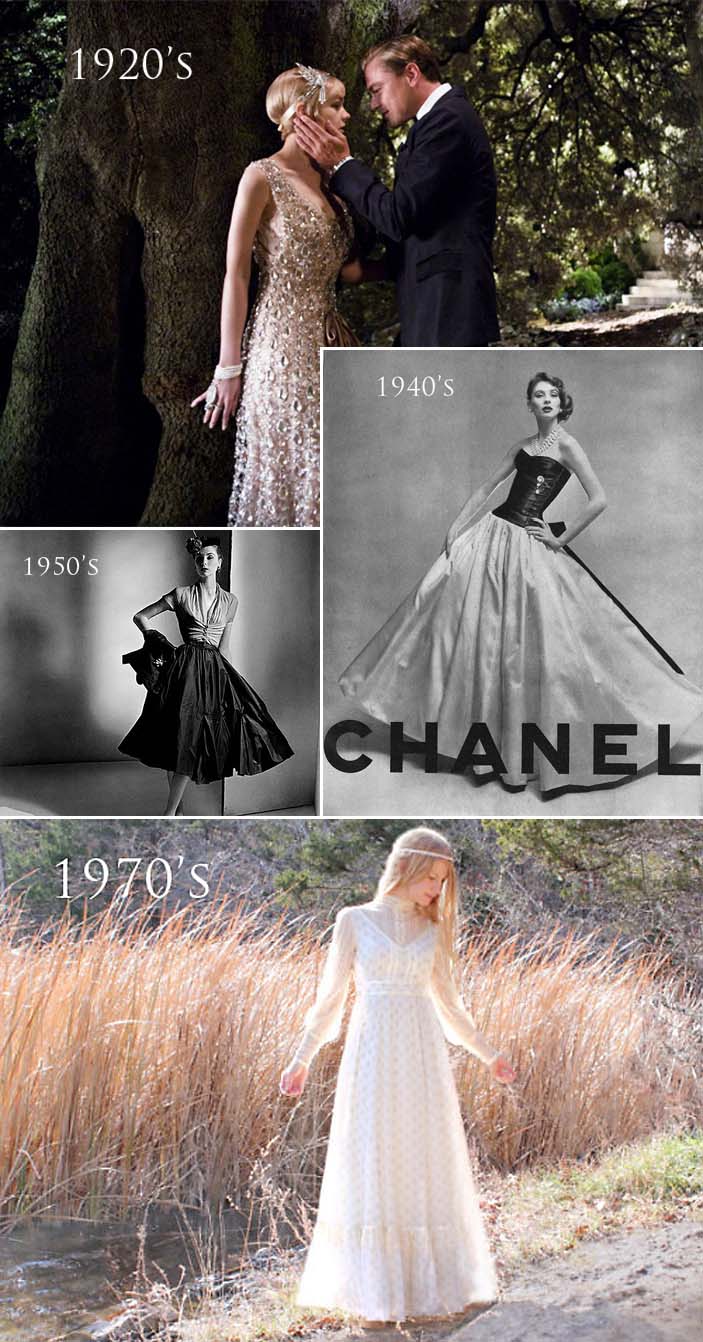 1920's Jazz Age

There is a huge trend right now for all things Art Deco. Thanks to the popularity of Downton Abbey and The Great Gatsby in current culture, brides are loving the styling of this gorgeous era. Bridal designers such as myself just love it too - it allows us to create the most stunning flowing gowns encrusted with sparkling details. The 'Roaring Twenties' epitomised glamourous and sophisticated styling. Dresses and jewellery were decadent, luxurious and just stunning. Bridal gowns in this style would best compliment a wedding in a unique or glitzy venue - and to be honest do work best for brides with a slim figure. The slim line shapes of this era, and in particular the drop waist and sheer satins, are figure hugging and would not show a larger figure off to it's best potential. The 20's look is stunning and brave as it is more unusual than the 'classic' wedding dress. If you love the Art Deco look but do not want to go the whole hog you can wear a dress with just a few subtle 20's influences such as an Art Deco waistband or beaded detail on the shoulder or hip rather than the whole shape of the 20's. Choosing a dress in the 20's style allows for opulent vintage hairstyles and make up. Kate Moss was a celebrity bride who went for this era for her wedding dress and it looked fabulous.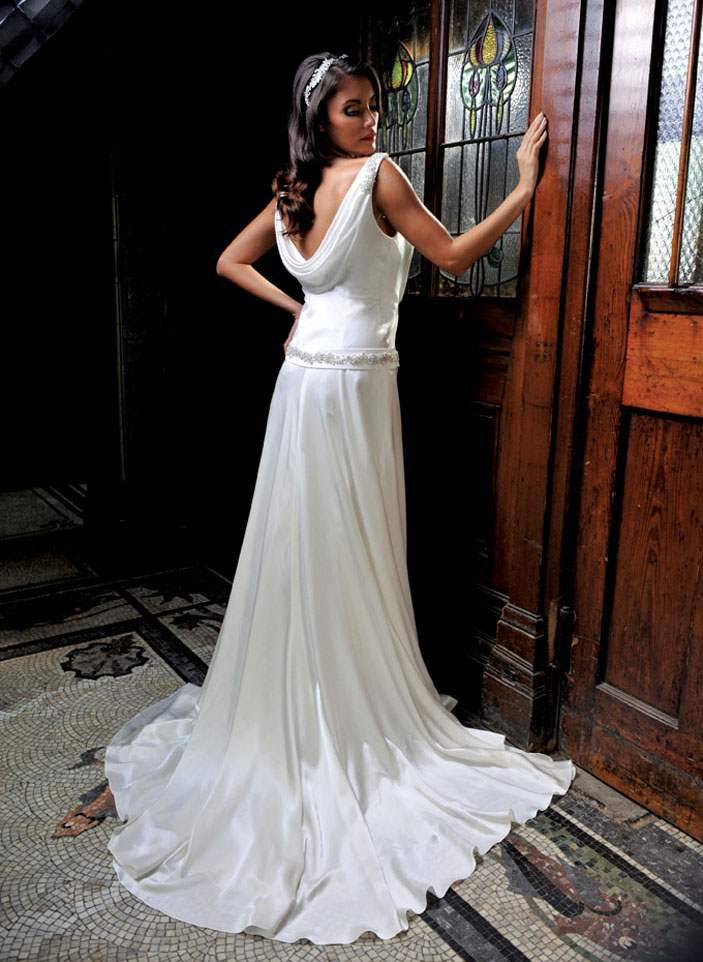 1940's Dramatic styling

After the austerity of the wartime, fashion changed especially in Europe to be more dramatic and opulent. We saw large ball gowns with huge trains and nipped in bodices to show off womanly figures. So many bridal gowns nowadays take inspiration from this time period - with dresses sporting long trains and a full skirt still being the most sought after style. This era saw stunning haute couture in France with designers such as Dior and Chanel using sumptuous fabrics and producing amazing silhouettes through their corsetry designs. Today we see these sorts of styles made with the same sort of gorgeous fabrics. Dresses in this style would best suit dramatic venues, such as castles and stately homes. Brides wanting the complete romantic feel to their wedding are best sticking to dresses influenced from this era. 40's styling is perfect for the wow factor. Classic hairstyles and make up with bold lips and eyes best suit this 40's look.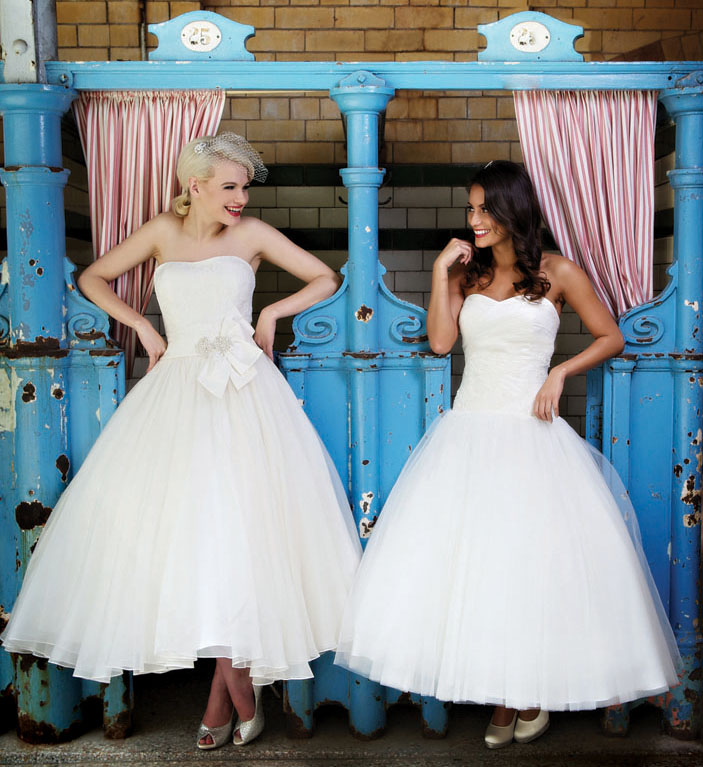 1950's Chic

This was such a fun time for fashion and saw elegant and chic design (think Audrey Hepburn and Grace Kelly). Skirts got shorter to allow for riding on the amazing mopeds of the time and fabrics were light and pretty. Thus the birth of the 50's inspired the tea-length dress, which is so popular right now. Over the last few years we have had more and more brides go for this style. It is perfect for brides wanting a more fun and chic element to their wedding. They look great in black and white photographs of the wedding day and we always recommend them when brides are getting married in cities such as Paris, Rome or New York - as they go so well with the cityscape backdrop. The other plus with choosing a shorter dress is that many brides have great legs which are usually hidden, so this style shows off a great feature and of course allows for a fabulous pair of wedding shoes, as they are also on show. If you want your wedding day to be less formal, more about fun and cool styling then this era is for you. 50's up dos look great for hairstyling, partnered with birdcage veils or feature clips.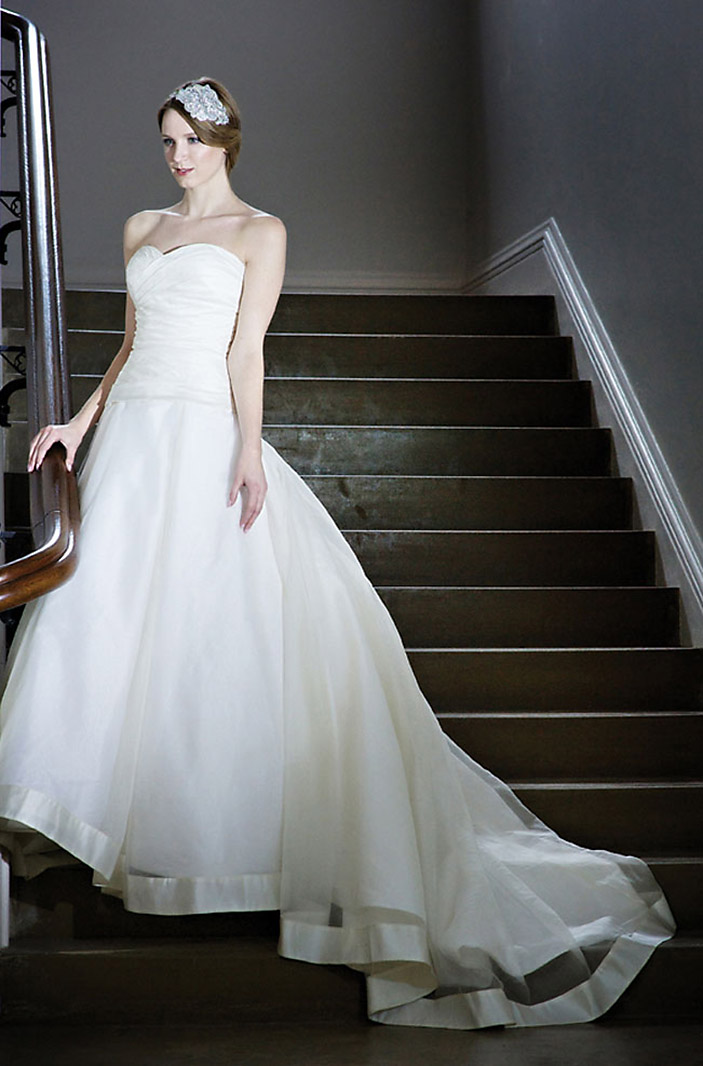 1970's Boho

The seventies was a bit of a throwback to the simple styling of the Twenties. Dresses became more floaty and softer again, like the flowing lines of the 20s, but the angular, glitzy rhinestone detailing was out and delicate laces and floral designs were in. This bohemian style can be seen today on bridal catwalks as flowing lace and boho detailing is back on trend. This look is perfect for brides having a beach wedding as the floaty fabrics are perfect for hot climates and the soft skirts perfectly suit bare feet or sandals. Brides who love a soft vintage lace look should consider dresses influenced by this era. They are delicate and feminine and have an edgy on trend look to them. They are also perfect for summer garden weddings or brides planning their day in the countryside instead of a city wedding. It allows for soft and natural hairstyles and subtle make up to compliment. Lilly Allen chose this boho look for her wedding and it suited her style perfectly.

If you are still not sure which category you best fall into or if you like a few of the different vintage styles - the best thing to do is to visit your local bridal boutique and talk to them about the styles that interest you. Many brides are surprised by what suits them best - so try a few vintage ideas before having a set style in mind. For example last year we had so many brides opt for a tea-length dress who had never considered it before trying one on. Once you have chosen if any of these particular looks are for you - it can help to plan the rest of the wedding - for example, if the 20's is the age for you it is perfect for planning a Jazz Age wedding including 20's invites, cocktails and venue. A 40's dramatic gown can inspire for a classic haute couture look when it comes to table decoration, bridesmaids gowns to match and floral displays. A 50's look can mean so much fun in designing the whole day - for example I've seen perfect 50's style converted campers as ice cream bars for weddings and 50's style wedding photography and finally a 70's look can influence a whole boho theme - a hippie floral wedding tent and cool 70's groomswear can look fabulous. There is so much on offer now, more then ever before! There are plenty of gowns with fabulous vintage touches so enjoy looking for the right one, for you.