7 top tips for the perfect wedding day smile
Perfect partner? Tick. Perfect dress? Tick. Perfect venue? Tick. Perfect cake? Tick. Wedding transport organised? Tick. Flowers ordered? Tick. Photographer booked? Tick. Hair and make-up organised? Tick. Entertainment and food organised? Tick.
Looks like you have everything sorted for your perfect wedding day! All you need now is a perfect wedding day smile. Obviously, you are perfectly organised and as nothing could possibly impede your perfect day, you'll be grinning from ear to ear all day long, so do you really need to worry about your wedding day smile?
Actually, yes you do. You want your photographs to capture everything about your wedding day to perfection and that includes your smile. Here are 7 top tips to make sure your wedding photographs capture your smile at its very best.
1. Pre-wedding visit to the dentist
First up, on a practical level, make sure you visit your dentist regularly in the months leading up to your wedding. If you have any oral problems, such as teeth discolouration or crooked teeth, you should be seeing your dentist at least a year before the big day to ensure there is time for any lengthy wedding smile treatment plans.
2. Moisturise and exfoliate!
For at least a month before your big day you should ramp up your skincare routine and that includes how you care for your lips. You'll be doing a lot of smiling and kissing on your big day so your lips need to be primed and in perfect condition.
To prevent dry or chapped lips, pick up some lip balm/moisturiser to use daily and exfoliate twice a week. See some DIY recipes here.
3. Pick your perfect lipstick shade
Every bride knows that looking their best for the biggest day of their lives is paramount, from the dress, shoes and accessories, right down to the carefully selected lipstick shade. If you're unsure which lipstick shade to choose, ask a make-up expert or check out the most requested lipstick shades brides want! And definitely try before you buy!
4. Practise
Some people are naturally photogenic and have no problem showing off their winning smile whatever the occasion. If this isn't you, you'll need to get some smiling practise in before your big day. You will, after all, be on show and posing for photographs all day long.
Work out your best smile and your best angle before the wedding day. Perhaps even indulge in a pre-wedding shoot to work out your best poses for the camera.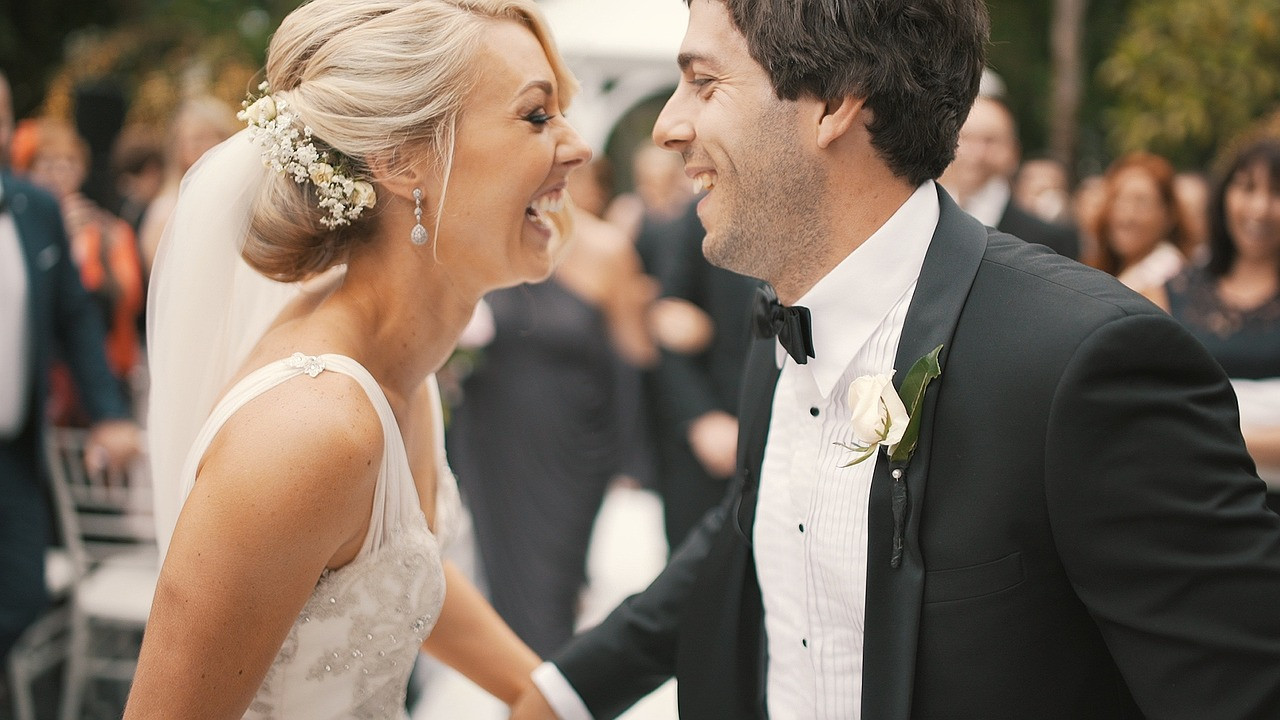 Good tips include:
· Knowing your best side
· Work out if a slight tilt of the chin (up or down) improves your smile
- to make a round face look slimmer, angle your chin down
- lift your chin up if you have a pronounced forehead
· try pushing your tongue against the roof of your mouth to help elongate your neck
· always attempt to smile with your eyes
5. Be natural
One of the most difficult and unnatural parts of the wedding day is being in front of the camera, especially if you are usually camera shy. It's really hard to act naturally when your photographer and wedding guests are snapping away to their hearts' content.
Don't, whatever you do, spend the day saying 'cheese'! This is a forced smile and will only make you look more unnatural! Genuine smiles don't need words!
You will hopefully feel brimming with happiness on your special day, so that will make it easier to pose with a natural smile, but if you start to feel nervous in front of the camera, simply look at your loved one for a confidence boost. Failing that, actress Julie Andrews advocates saying 'money' (not cheese) to get a natural smile!
6. Drink water
There's nothing worse than a dry mouth, dry lips and a dehydrated smile! While it's tempting to glug back the Bollinger on your special day, be sure to drink plenty of water too. Dehydration is a problem you may not think about and is especially common if you are getting married abroad in a hot country or even during the summer months in the UK.
With so much going on it's easy to forget to drink water, but this won't help your smile. Here's how to keep hydrated on your wedding day.
7. Relax
Most important of all when it comes to your wedding day smile is to relax. The key to being natural is to smile like you do on any other day!