Tips For Tackling Bridesmaid Hair Struggles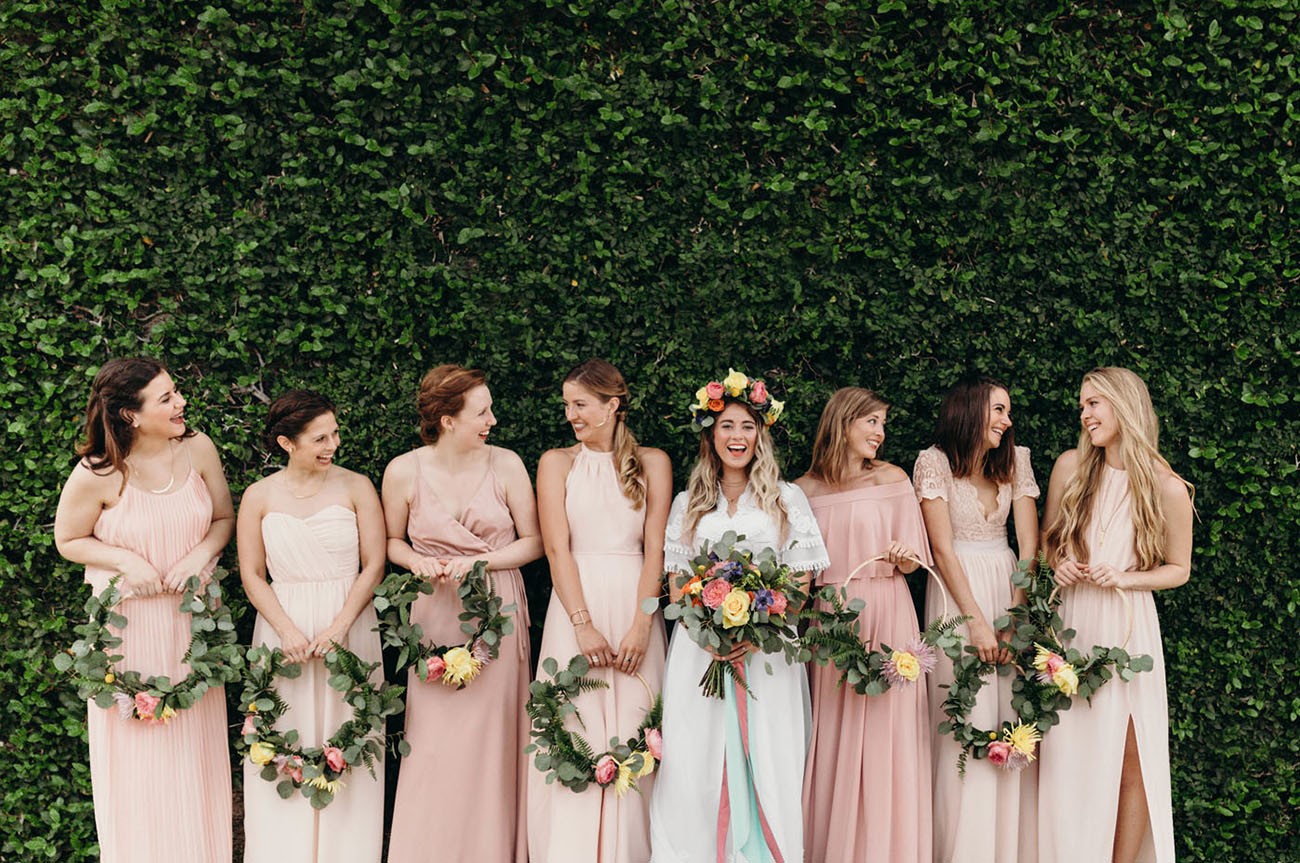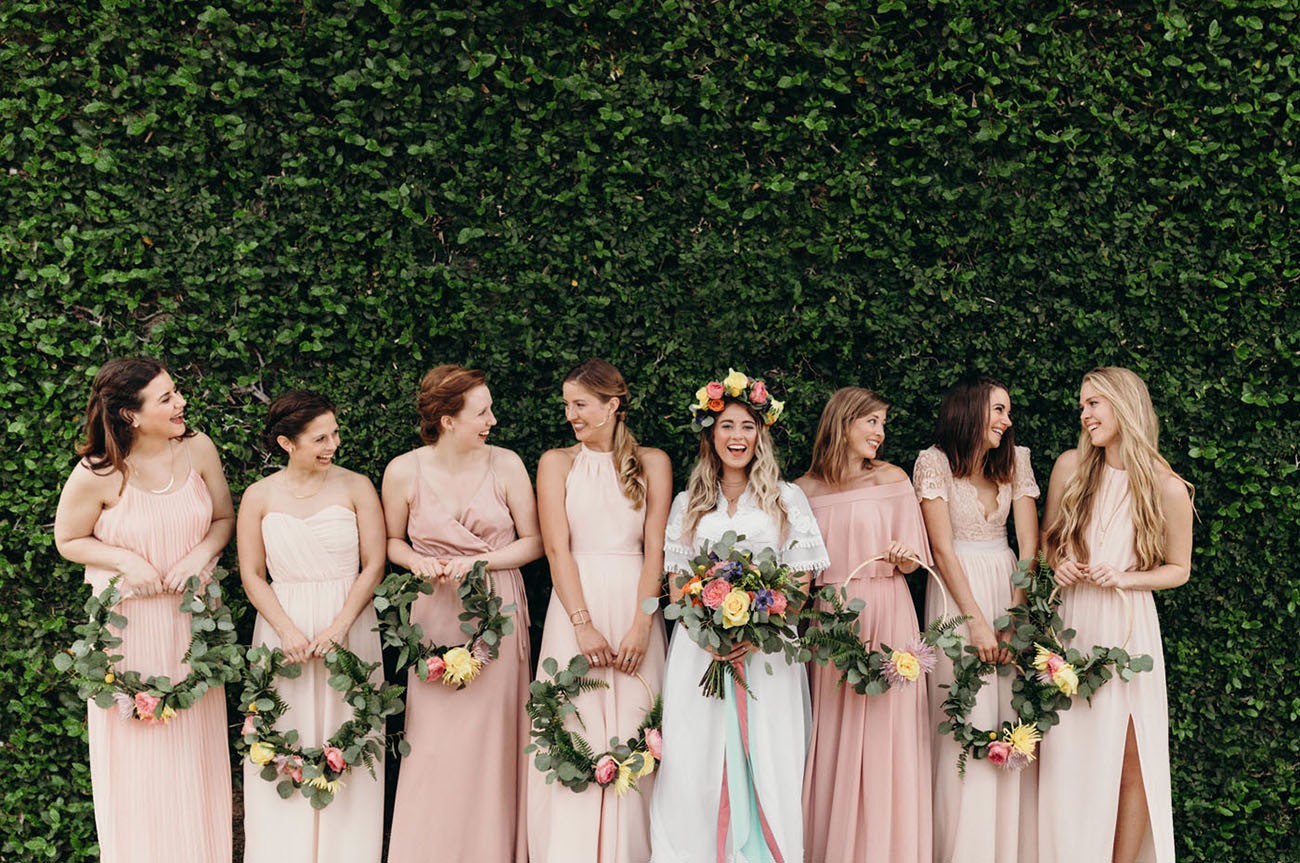 Image Source: Green Wedding Shoes
Oooh, bridesmaid's hair can be tricky.. if you're a bride yourself looking for a style for your bridesmaids it can be really tough trying to find one that fits everyone. Some will have short hair or pixie cuts and others have long locks or corkscrew curls. And even when you find something to suit all, there is no guarantee that they're going to be comfortable and go along with it! Yikes - it's a dilemma and the last thing you really need to be stressing about when planning a wedding!
It's not easy pleasing everyone but of course you want the photos to look great and everyone's hair to stay in place (which will not happen with a simple blow dry or hair styled down) and really you have their best interest at heart.
Now I'm sure some of you will be blessed with bridesmaids who will go to the end of the earth for you and will be more than happy to wear what you want them to, but then there are others that may be a little trickier to persuade.
I've said this before in a previous post with regards to bridesmaid makeup, but I'm saying it again now… preparation (and honesty) is always key! Don't wait until the day of the wedding to tell the bridesmaids what they are having or even if you thought you made it clear before, make doubly sure everyone knows the score. Having said that, even if you did make it clear, if they've never worn their hair in a certain way before and expecting to look exactly like a pinterest photo they could be in for a shock! And that's drama that we don't need on a wedding morning!
Now, hopefully, you chose your bridesmaids wisely and could have pre-empted this dilemma but even if you knew it was coming or it's a complete surprise, let's have a look at some lovely bridesmaid styles and tactical ways of presenting some of them to win those difficult bridesmaids over and minimise stress on the wedding day.
"On Trend and Timeless"
Of course everyone wants to look on-trend and timeless all of the time! So backing up this statement with some healthy Pinterest images should win it most of the time!
"We'll keep it simple but just add some accessories"
In my experience I've found that members of the bridal party get a bit excited about some (tasteful) bling! So this is a great opportunity to tie all of the bridesmaids in with different hairstyles but the same accessory.
"I think a pretty plait added in would look lovely"
For those that are used to having their hair "as it is" for most of their life then it will be a struggle encouraging them to be adventurous or just opening up to something new. I've looked after a lot of bridal parties where a plait is used as a theme amongst them and it works really well across most hair lengths. Not all plaits or braids have to be the same and there are loads of options there that should be adaptable to everyone.
"let's add some twists"
For any bridesmaid that insists she wears her hair down and only that way, then a little twist at the side shouldn't be too much of a shock for them. It'll keep their hair back of their face for photos and will help keep it as an actual style. Again, if all the bridesmaids have twists then they will all tie in with a theme which will compliment your lovely wedding photos.
"What about a really soft updo with some hair coming down?"
This is always a winner for most people - Brides and bridesmaids alike! It's the best of both worlds - bar the half up half down style of course, although I think for a wedding day this is better for longevity. If you want all your bridesmaids hair up, offering them a deconstructed updo is the best way to win them round - they can have as much hair in or out the style as they like.
So, there are just a few suggestions for broaching the "bridesmaid hair convo" before the big day to ensure smoother runnings. With lots of wedding day experience under our belts, most wedding hairstylists worth their salt can diffuse any drama pretty quickly, and with some tactful words and a bit of compromise, we will be able to bring them round to your ideas. Hopefully with a bit of preparation and discussion beforehand it won't come to that however.