The History of Wedding Invitations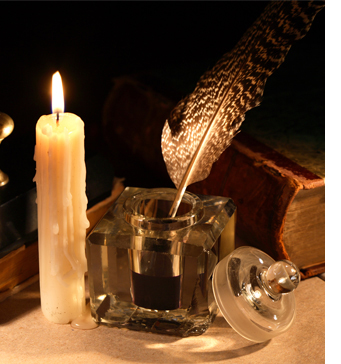 Imagine not being able to choose who to invite to your wedding! Turn the clock back to the 16th century and beyond and that was exactly what used to happen. Guests invited to a wedding would be anyone who heard the news of a forthcoming marriage, from the local town crier! The printing press hadn't been invented and most people were illiterate.

Social etiquette
The social etiquette of sending wedding invitations began around the beginning of the 18th century when reading and writing was a sign of education, so it was only the elite who could use this form of correspondence.

Wedding invitations would be written by hand, often using calligraphy, with all guest names, dates and times being spelt out. Wording used on today's invitations often follow the traditional format of invites from this time. The invitation would be sent in an inner envelope, encased with an outer envelope. With no postal service, it was the duty of the servants to deliver invitations, on horseback, whatever the weather. Here explains the need for the outer envelope – this protected the inner envelope from getting wet or dirty and displayed directions of how the courier must travel to reach his destination. Upon arrival, the outer envelope would be discarded and the courier would present the pristine, inner envelope containing the wedding invitation.

The arrival of the printing press


The printing press arrived in Europe in the 1440's thanks to Gutenberg, but it wasn't until the 20th century that the printing of mass-produced wedding invitations really began. Before this time mass production was considered bad taste.

You may have come across wedding invitations with a tissue protector, this dates back to the techniques used for invitations printed using letter press, where the tissue would ensure ink would not transfer as it was not always dry.

Following the Second World War, more affordable wedding invitations were bought to the mass market as new technologies and techniques such as thermography were introduced. This was followed by digital printing which now provides the main form of printing for wedding invitations.

Looking to create wedding invitations with a traditional touch?


If you're looking to create wedding invitations that encompass traditional techniques, why not consider the following:

Add a wax seal or sticker envelope seal to your invitation envelopes – not only does this make the sticking of envelopes faster but also replicates the tradition of adding a family crest wax seal to envelopes

Consider letter press invitations – this form of printing has seen a revival due to the vintage look it can help too create

Add tissue protectors and an outer envelope as both will add a traditional twist and ensure your invites arrive in perfect condition.

Use traditional style wording to suit your invitation style and maybe an old-fashioned style font, we've used 'Adorable' font:-

Mr and Mrs A. Hickman
request the pleasure of
...........................................
at the marriage of their daughter
Nicola
to
Mr James Brendan Owen

at St Peter's Church, Bewdley
on Saturday 20th August 2014
at 11:00 am

and afterwards at
The Ramada Hotel,
Habberley Road, Bewdley