The 7 Wedding Dress Trends To Look Out For In 2021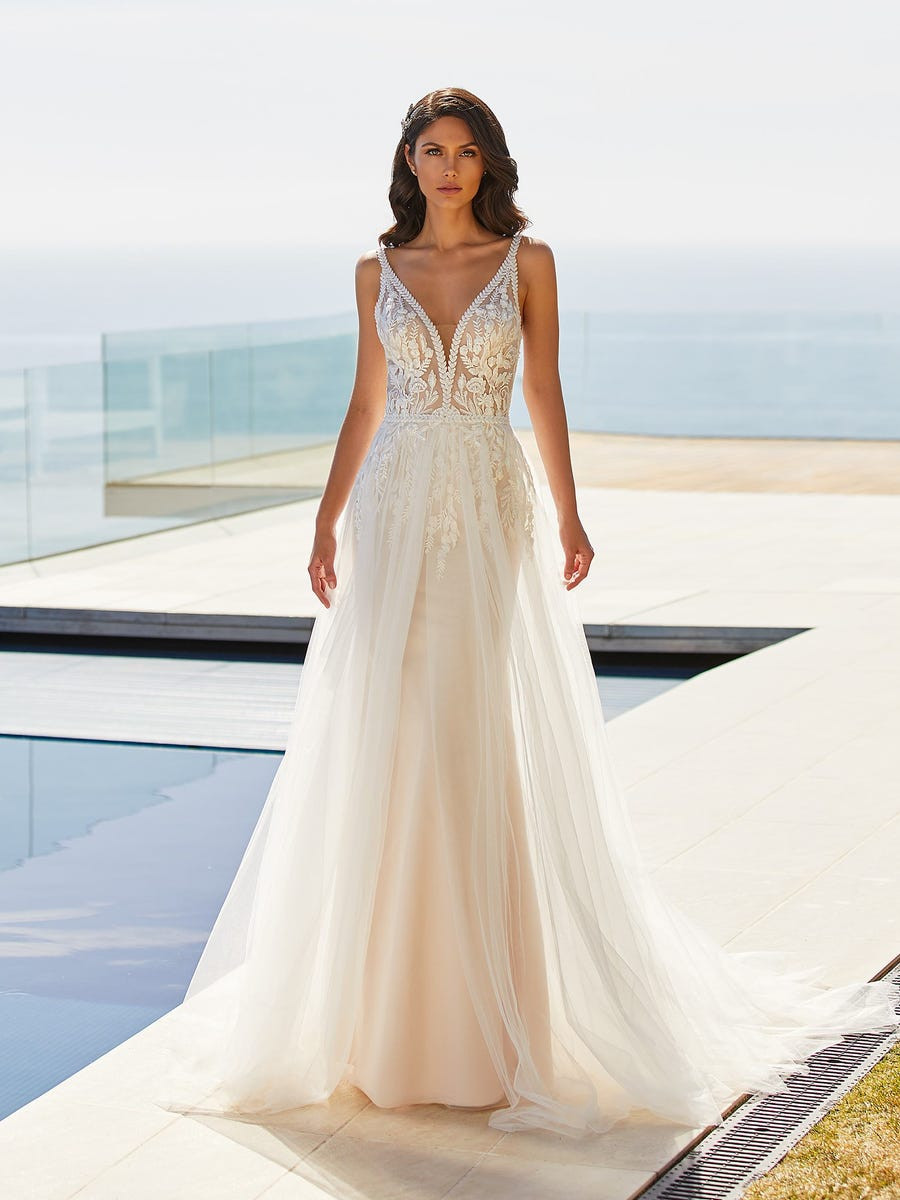 Like all areas of fashion, wedding dress trends update annually. Fortunately they tend to avoid the fast fashion carousel with some brands producing 52 "micro-seasons" per year with a new collection every week. January is usally the best time to sort your dress if you're having a summer wedding. Not only are the new runway collections hitting the shops and potential to find a great bargain from the sales it also gives you plenty of time for any alterations you might require. The big question is how many brides who were supposed to get married in 2020 will trade in their dress from last year for one from this season? Below are 7 of the biggest wedding dress trends that we're most excited for in 2021:
Hello 90s-Inspired Bridal Fashion
According to the stylists at Azazie, "90s-inspired bridal wear will be a huge trend for 2021" while The Knot's Senior Fashion and Beauty Editor Shelley Brown agrees. "In 2021, we'll see more streamlined silhouettes like sheaths and '90s-inspired slip dresses as opposes to voluminous ball gowns and mermaids.:
Short Styles
Expect shorter and less-formal bridal wear this year as a reflection of the types of weddings taking place. With smaller guest lists and more casual weddings taking place, shorter trains are also expected to be popular in 2021. It's still possible to blend casual with stunning.
Charlie Brear
Wedding Jumpsuits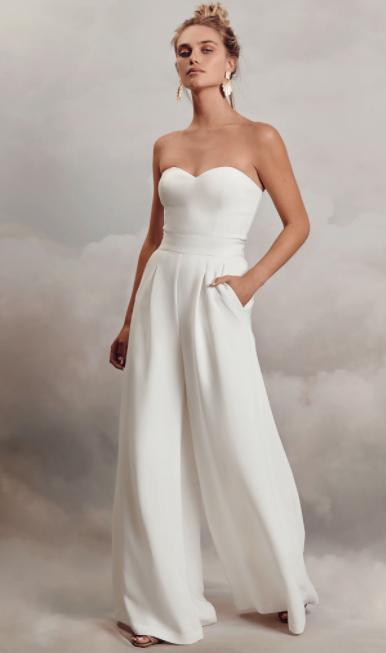 Catherine Deane
We've seen a growing affinity towards wedding jumpsuits in previous years but expect this trend to continue in 2021. "Brides are opting for more fun and unique looks that also give flexibility and could be worn multiple times comments Emily Forrest from Zola.
Sheath Gowns
Justin Aleaxander
We mentioned this earlier as part of 90s-inspired bridal wear. Doing away with big, voluminous skirts, these more minimalist style dresses tend to keep it simple with one standout detail or feature.
Sleeves
"Elaine" - Sassi Holford
Again, sleeves go in and out of popularity but it looks like they're back in for 2021. They go well with a sheath gown and add to whole 90s vibe too. A great way to add a standout feature to a simple dress.
Overskirst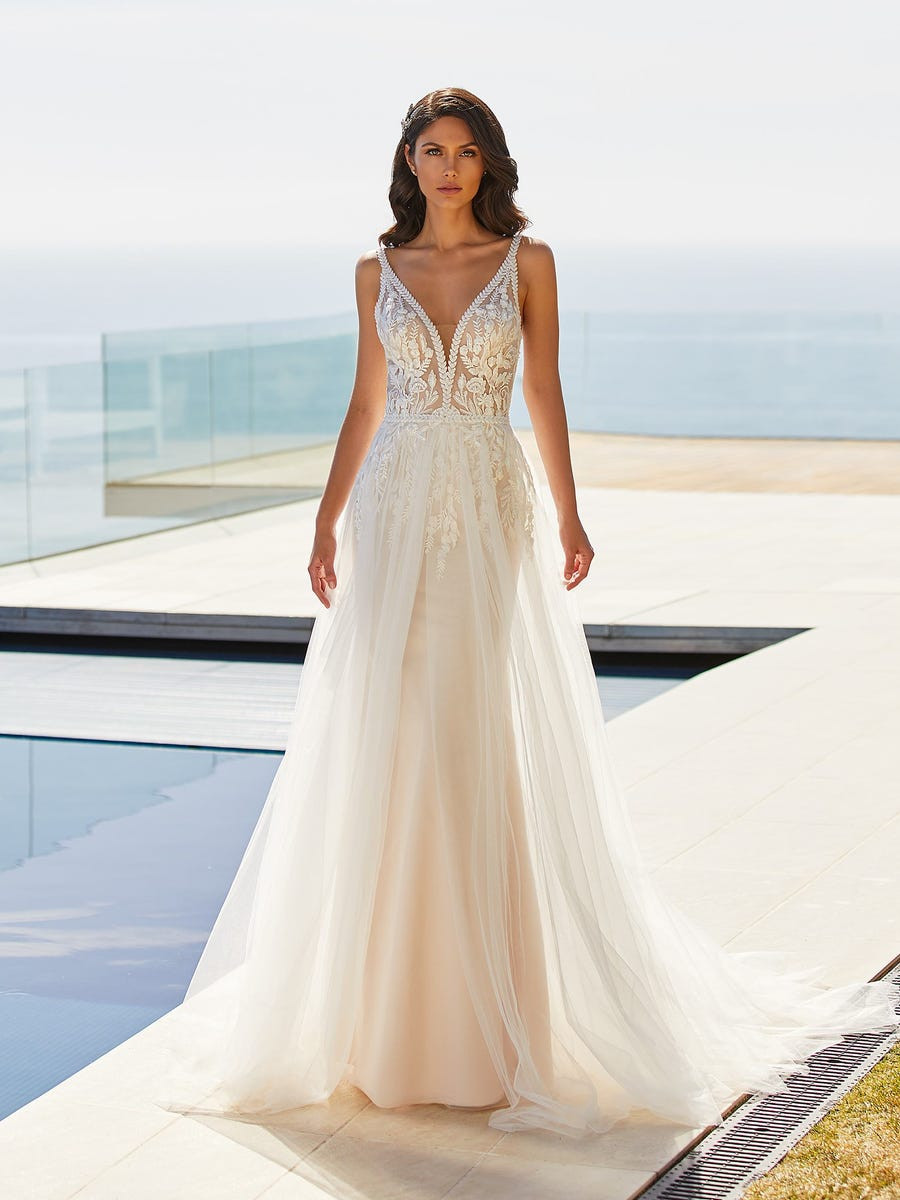 Pronovias
"Lightweight tulle adds dimension and texture, which can create a romantic and ethereal effect," explains Sonali Lamba, Co-Founder of Brideside. Tulle is a fun fabric and "perfect for outdoor weddings, shifting venues and unpredictable weather." We just love the how they make every dress look like something out of a fairytale.
Sparkle Sparkle!
Anna Georgina
Subtle embellishments including beads and gems will help to make any dress stand out, helping to add extra shape and pzaz!