Supplier Spotlight: Rebecca J of Shrewsbury
Every woman deserves to feel like a Princess on her big day! And having lovingly designed, bespoke wedding accessories undoubtedly plays a huge role in that! World of Wedmin accessory designer, Helen, from Rebecca J Of Shrewsbury makes the most BEAUTIFUL, handmade pieces absolutely fit for a princess. Feast your eyes on this lot, as Helen tells us a bit about life behid the scenes at her wonderful boutique...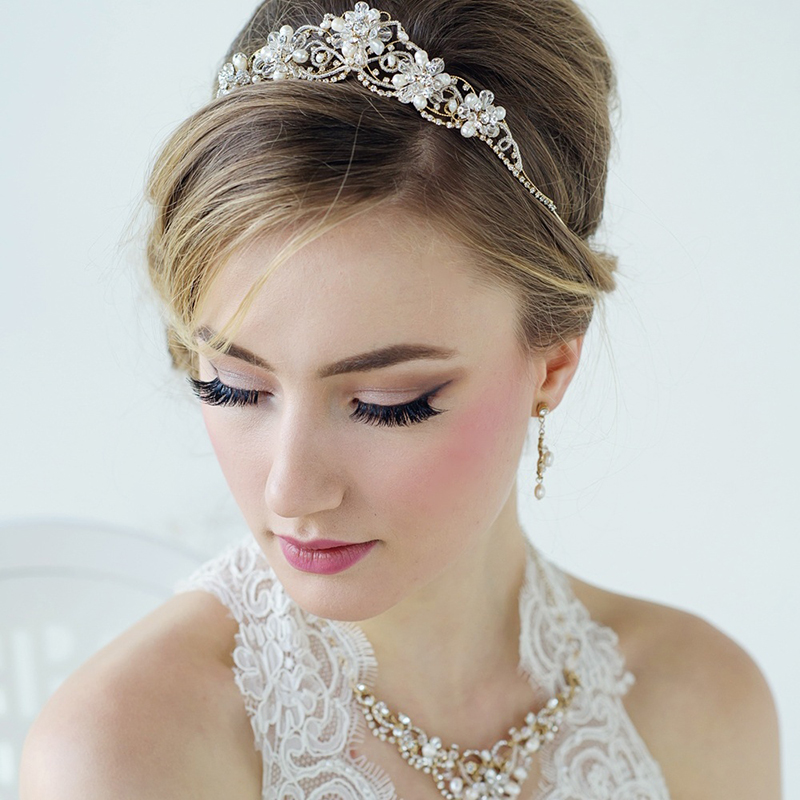 Introduce yourself and your business
Hi, my name is Helen, and I am Director, Creative Director and Head of Design at 'Rebecca J of Shrewsbury'. I am the vision behind the business and I have been designing since I can remember.
I design under the label 'Rebecca Jackson'. When designing I wanted two of the most special people in my life to be included, my son Jack and daughter Rebecca, so the name 'Rebecca Jackson' was born. It is also where the name 'Rebecca J' in Rebecca J of Shrewsbury comes from.
In house I design Bespoke accessories, the 'Rebecca Jackson' range for Bridal & Occasion wear. This includes tiaras, hair bands, combs, slides/clips, shoes, handbags & garters. I design beautiful, unique pieces ready to purchase, every single piece being an original one off. I also design commissioned orders, pieces, designed to match in with gowns, themes and budgets. All pieces are made to the highest of standards, all hand beaded, hand sewn and hand wired here in the UK by myself using Swarovski Crystals and Pearls and Freshwater Pearls.
I also offer these other ranges, so there is something to match every taste:
The 'Rebecca J' range of ready designed accessories. Beautifully designed and handmade by designers here in the UK, every single piece is made to order. These items can be made in any colour.
The fantastic 'SassB' Collection offers beautifully designed and made hair accessories, perfect for Brides to make a statement.
The 'Amelia & Audrey' collection is a boutique range of Jewellery: Necklaces, Bracelets, Earrings & Accessories: Tiaras, Combs, Shrugs and Sashes, carefully sourced from designers by myself.
What is your greatest achievement to date?
I love my work and enjoy every moment that I spend designing and making my pieces. I love helping Brides choose their dream pieces too and am very proud to have been nominated for the 2016 Wedding Industry Awards.
What makes Rebecca J extra special?
I feel that what makes us stand out from other accessory desingers is our personal and friendly touch . Customers truly become friends and I offer a supportive shoulder of advice, not just on what is being purchased from me, but in any aspect of their wedding planning without charge. I am often referred to by Brides as their 'Fairy Godmother' which is lovely and I receive wonderful feedback which makes my day.
How do your friends describe you?
My friends would describe me as trustworthy, kind, caring, honest and considerate. Fun but sensible when needed!
In your opinion, what makes a truly stand-out wedding?
To me what makes a stand out wedding is true love. A wedding that follows the Brides and Grooms wishes in whatever way they desire, to create their dream day. Not having to follow trends, peoples' expectations, but for their own love to shine through and for their day to resemble that.
From your industry experience, what's your top tip for couples?
My top tip for Brides and Grooms is to follow their own wishes, it is their day, they will do it only once and it is for them, do what works for them as a couple. To follow their instincts, normally gut instinct is right, with so many choices out there these days it is easy to feel you have made the wrong choice, so follow that initial gut instinct.
What can we expect to see from you in the future?
I am going to go on designing, keep learning new skills, creating new ideas and keep evolving as I am to ensure lots of Brides continue to have their dream pieces on their dream day. Keep looking out for new pieces, new designs to stock to ensure lots of choice and a chance of helping all Brides whatever their budget.
What is it you enjoy most about your job?
I enjoy chatting to Brides to be and Wedding Guests and helping them to choose their perfect pieces. I love creating unique pieces to create amazing overall looks for Brides to help them make the statement they desire and to see their photographs afterwards of how perfect their pieces have helped make their day.
Visit our profile on World of Wedmin to get in touch
I really hope I can help you in some way, thank you for taking the time to read this and I look forward to hopefully creating or helping you choose your dream pieces J
Best Wishes,
Helen. x