Supplier Spotlight: Dress In Love Weddings
Here at World of Wedmin we are ALL about making your wedding planning experience as stress free and smooth as possible. That's why we offer you a simple way to search for and contact
wedding suppliers
, free pl
anning tools
and endless big day tips and ideas! So when we come across an incredible supplier who so clearly shares our vision for a luxurious bridal experience, you can imagine our excitement! Today we are thrilled to welcome the lovely Lindsay, of
Dress In Love Weddings
, to the blog to tell you all about her pretty special bridal boutique!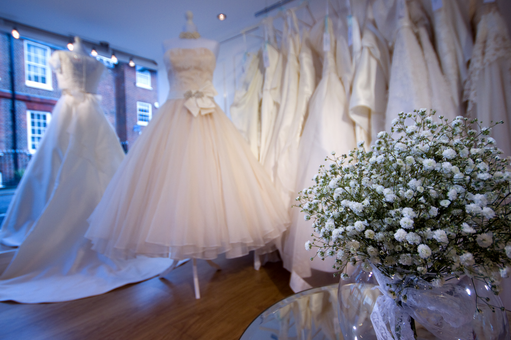 Welcome to Dress in Love Weddings, my name is Lindsay and I am very proud and excited to share my brand new bridal boutique with you.
Dress in Love has been a labour of love for me since my own experience as a bride to be in 2012. I had always imagined that shopping for my wedding dress would be a happy experience shared with my closest friends and family, and the process of finding my dress would leave me with fond memories of part of the build up to my perfect wedding day. But I was really disappointed. It seemed like the service element had gone. Bridal consultants didn't seem to offer advice, often there were a couple of brides in the boutique at any one time, I was never even offered a glass of water!
At the time I was a retail manager in one of London's finest luxury stores so I guess I was used to a certain level of service and maybe I had high expectations. But I believe that every bride deserves to be made to feel special, like it's all about her, irrespective of how much she is spending. Your wedding dress is probably the most expensive item of clothing you will ever purchase. It is the dress that will be photographed and looked back on for years to come. Maybe even passed down from mother to daughter.
So I decided to open my own Bridal Boutique with service and experience being just as important as the choice of dresses.
The name of my boutique comes from a quote by Francesca di Rimini (A Roman Aristocrat 1255-1285) who said "Come dress yourself in love, let the journey begin" and that is really what we are all about. Your wedding preparations should be done with love and passion; they form the journey towards your wedding day and your future with your new husband.
With that in mind I made a promise to all of my brides to be. I will do my very best to make your experience as happy and relaxed as possible. I will offer as much advice and guidance as you would like me to and I will absolutely always offer you a drink!
We also have a whole host of other benefits including complimentary wedding dress insurance and a personal bridal styling appointment.
At Dress in Love we work with Alan Hannah (Mia Mia), Sassi Holford (So Sassi) and Ivory & Co. all of which are British designers and all of the gowns are designed and created in the UK. As we work directly with the designers, rather than a manufacturer or distribution company, the dresses can all be personalised to help you achieve the dress of your dreams. And as these are designer dresses you won't find any polyester here! We only use natural fibres; fine silks, soft lace and beautiful satins.
Every dress in the boutique was hand selected for its intricate detailing, luxurious fabrics and exquisite design. They each have a name and I am very proud of each of them.
Each dress is made completely new for each bride, not mass produced, a process that can take up to 15 weeks. Once your dress is ready for you, you will be invited back to the boutique where our in-house seamstress will attend your fitting appointment to make sure that your gown is altered to fit you perfectly. I was amazed that so many boutiques I visited don't do alterations,   rather leave the bride to organise their own fittings and alterations.
Once the big day is over we are also able to offer our brides and dress cleaning and boxing service to preserve your dress for years to come.
It is a really lovely feeling when a bride finds "the one" and I usually end up in tears along with mum and bridesmaids! It gives me absolute pleasure and is a real honour to be a part of a bride's special day and I love to see the photos and hear about how her day went.
You can visit the Dress in Love website
www.dressinloveweddings.co.uk
or follow us on Facebook, just search Dress in Love Weddings to learn more about us and our dresses.
I would love to welcome you to Dress in Love….you never know, your dream dress could be right here waiting for you!