SAFIRO's Top Tips for Autumnal Wedding Guest Fashion
The search for autumnal wedding guest fashion outfits has officially started.
We've invited a sustainable luxury brand, SAFIRO, based in London, to curate a classy yet contemporary autumn wedding guest fashion lineup and their top tips to help you stay chic, stylish and season-appropriate.
Inspired by botanical gardens and meadows, their newly launched Glimmer collection provides pure escapism to glamour and spectacular style with one of a kind investment pieces made to last.
The Best Autumnal Wedding Guest Dresses
Elegant
Whether you're attending a city or a countryside wedding, this stunning and elegant separates set will help you create a contemporary elegant look. This asymmetrical long-sleeved SAFIRO Blue Pearl Silk Top keeps you warm in the cold weather. This set comes with the matching SAFIRO Blue Opal Silk Jacquard Skirt for an utterly chic choice that is made for any classic autumnal wedding. This is an equally fashionable and whimsical look featuring a contrasting floral motif of yellow and purple over luxuriant blue silk satin.
Opt for the same set in navy and almond colours with Indigo Pearl Skirt and a Jade Pearl top for a late autumn occasion.
Compliment this look with a beautiful, lightweight Sapphire Cashmere Coat that will keep you warm, chic and stylish.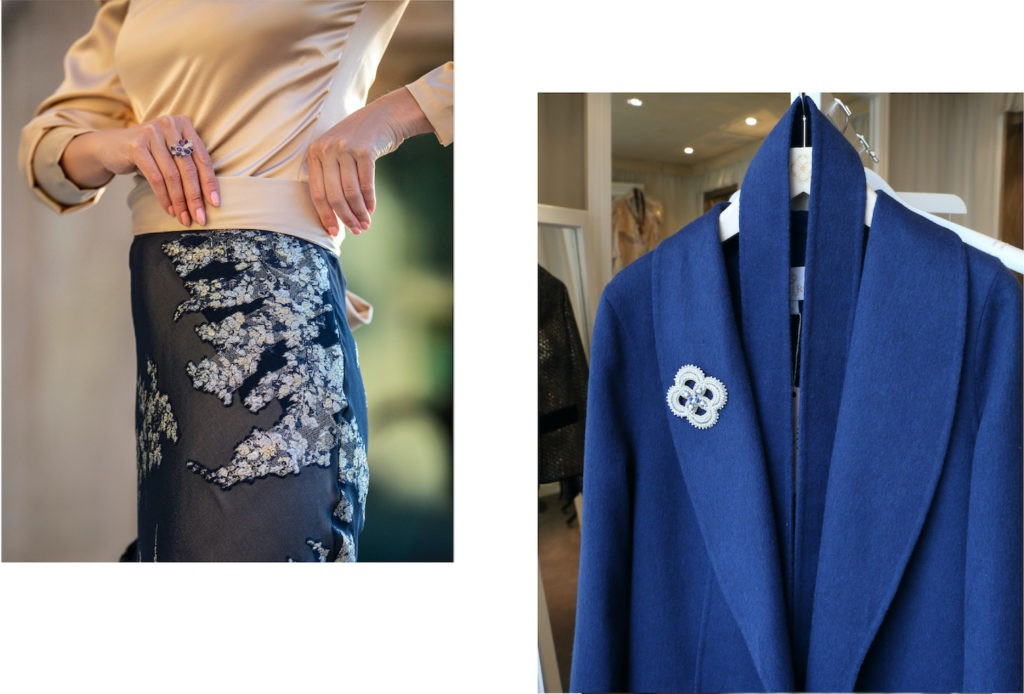 Shimmery
Not just any dress, but the dress. You know, the one taking centre stage in your closet for years to come. This remarkably sleek SAFIRO Rose Opal Silk Jacquard Dress will take you to numerous glamorous nuptials time and time again. Sparkle from head to toe all night in this powder pink, silver-embellished silk jacquard dress with a red belt. This dress features subtle shimmery flowers that glisten when catching the light.
Alternatively, you can opt-out for a Rose Quartz Dress with sleeves in blush pink silk with a gold leaf print combined with a semi-transparent tulle and luxurious contrast velvet trim and a belt. It's the perfect choice for you to shimmer beautifully, taking you from the ceremony to the after-party.
Classy
For a sophisticated look, we invite you to check out this classy yet flattering Amethyst Wool dress with structured yet soft folds to accentuate hips and shoulders and create a confident yet feminine and elegant look. Also available in a rose colour made of double crepe wool, this dress will keep you warm outdoors and comfortable indoors while staying crisp throughout the day due to its silk satin lining.
Pair it beautifully with an elegant headpiece in a matching colour and a beautiful lightweight Sapphire Cashmere Coat for a stylish autumn look.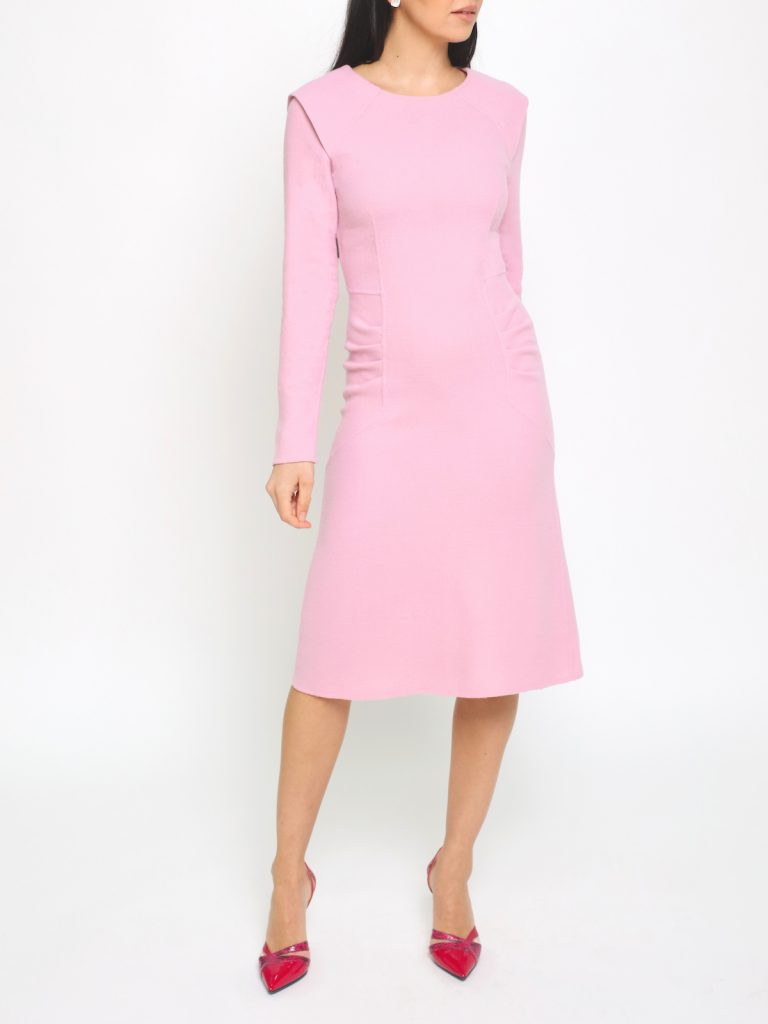 Whimsical
This succinctly structured luxe dress features light silk, jacquard fabric, with detachable feathers that feel instantly glamorous for an autumnal affair. Make a statement in this show-stopping SAFIRO Lilac Agate Jacquard Dress that will surely steal everyone's attention just enough without outshining the bride. We can't help but envision this stellar dress at a very classy city wedding.
Floral
Floral prints are not just for the spring and summer months! This sparkling Crystal Flower Dress made of shimmery silk crepe with a unique flower print would be right at home at any sophisticated fall wedding.
Make an entrance in this stunning Azure Citrine Skirt, which exquisitely features a head-turning, colour-blocking design of aquamarine chiffon with gold and yellow roses with metallic print. To finish this exquisite look perfectly, pair this gorgeous top with the matching Jade Pearl Top in gold.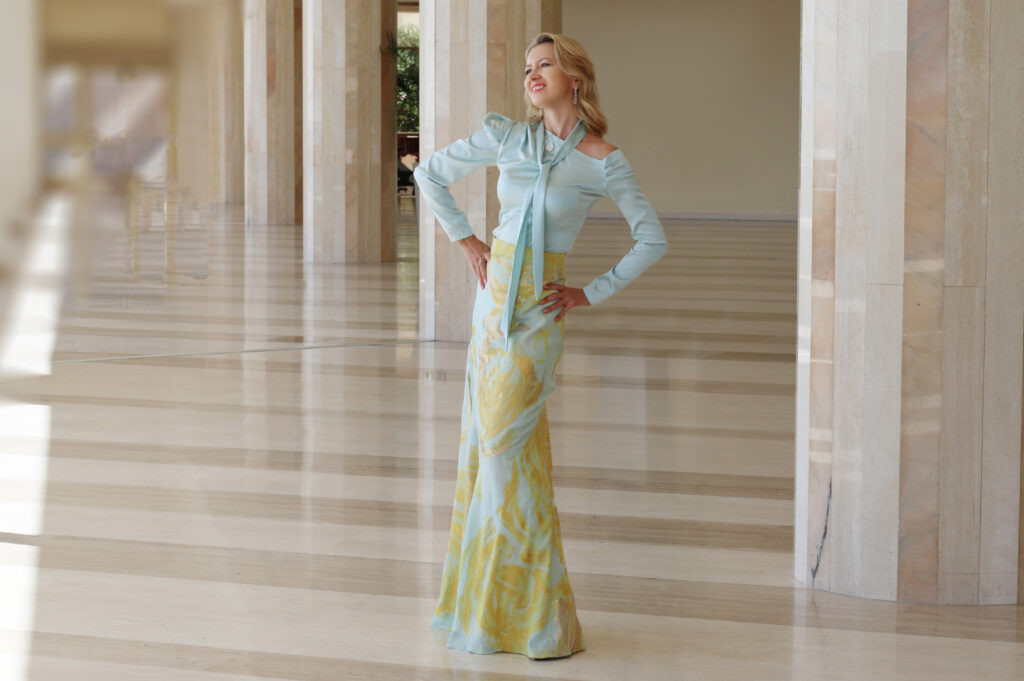 Feminine
Flaunt your figure and show off your legs in this eye-catching, body-hugging mini dress. We love this striking SAFIRO Blue Topaz Shimmery Silk Dress for a garden wedding in the early fall. What could be more regal and relaxing than a silk mini-dress for you to dance in all day.
For a late autumn occasion, you can opt for the same design dress Platinum Pearl Dress in antique gold colour or in midnight blue.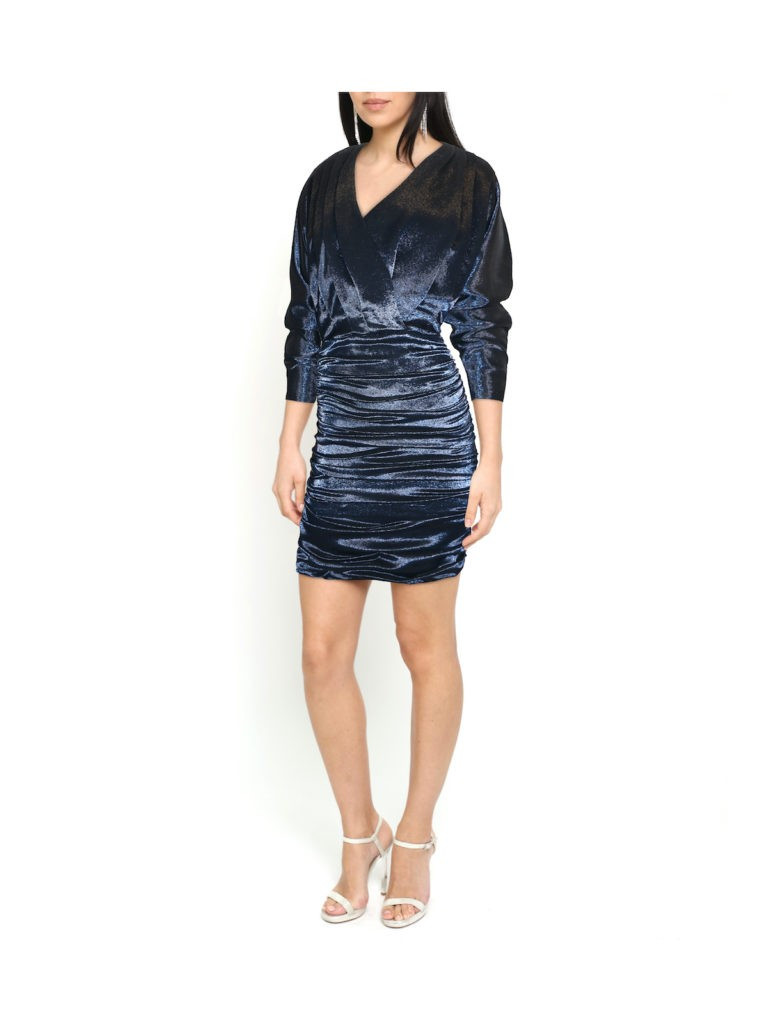 Formal
For a formal black-tie evening wedding opt for the sparkling SAFIRO Night Blue Crystal Dress. The intricately designed, puff-sleeved medium length dress is flattering with its body-hugging silhouette. The key is to look simple yet make a statement without any over the top sequins or animal prints.
For a formal white-tie wedding, choose the striking SAFIRO Azore Peacock Dress. It's perfect with its lace motifs, draping embellishments, and floor-length design.
About SAFIRO
As you would expect from an eco-focused brand, all Safiro creations are masterfully handcrafted locally by skilled artisans in London, using the finest ethically sourced materials.
You can make discover their elegant designs and personal style by making an appointment at Nicola Donati Luxury Style Retreat in Belgravia or opt for an online appointment from the comfort of your home.
Together, they'll gather your exact measurements and discern a look focused on your taste, favourite shades, your outlook and your inspirations.
The Do's And Don't Of Wedding Guest Attire
Do Wear Bright Colours
Our tip is to wear bright colours and avoid white at all costs.
Do Wear Layers
Safiro's style tip is to choose an elegant and lightweight cashmere coat to brace the winter cold in a cool way.
Do Accessorise
Safiro's style tip is to invest in versatile and timeless accessories in gold or silver colour to incorporate to your numerous wedding or evening attire. For a statement look, we suggest adding an elegant headpiece in a matching colour and a crystal brooch.
With all SAFIRO outfits you'll receive a complimentary matching face mask in silk satin.
Do Wear Comfortable Shoes
Whether you decided to wear heels or flat shoes, we recommend choosing something comfortable to wear throughout the day and dance an evening away at the afterparty. Wedges are great alternative options as well.
Don't Wear Black
Our style tip is to avoid basic black and go for a shimmery midnight blue or antique gold instead if you prefer darker colours.
Don't Wear White
Despite our love for pastels, SAFIRO's style tip is to not wear a similar colour dress to the bride that might upstage her dress.
Don't Go Overboard
Our style tip is to always opt for a sophisticated look and add a bit of shimmer.
Don't Dress Casual
Our style tip is to never wear a casual short dress to a white-tie wedding or event.