Rachel & Mathew's Aswanley Summer Wedding
Rachel and Mathew tied the knot in the gorgeous Victorian barn at Aswanley, situated in the breath taking Grampian Highlands in Aberdeenshire. This beautiful wedding oozed relaxed Scottish charm with a bright, elegant, and classic feel. We sat down with the lovely Bride, Rachel, to hear all about their Journey to I do…
First things first, we want to know a bit about you!
We have been together for over 6 years now andlucky enough to own a home in the country together. Mathew works in oil and gas as a design engineer and I work as an Enablement and Support Coordinator with the Care Management Team. We have 2 cats called Jeeves and Kitty who love playing outside. We both enjoy DIY projects and much like the wedding we have done the majority of decorating and upcycling furniture in our home.
We have also just found out that we are expecting our first baby around Feb/March 2020 ❤️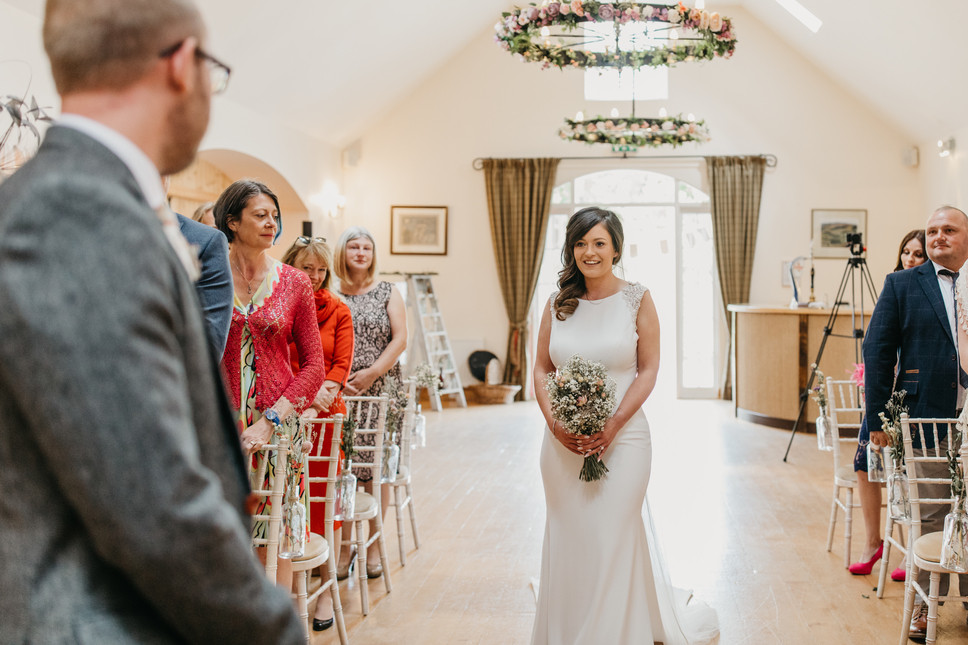 Popping the question - how did it happen!?
We were in Edinburgh which is also where we had our first ever holiday together. We like to go every year if possible as it feels like our special place.
We had a lovely apartment which we were staying in over the weekend. Mathew had originally planned to propose in the park but the weather was poor so instead he surprised me at the apartment with champagne and a stunning ring.
Tell us all about your big day!
We were married on a beautiful sunny day at Aswanley. We had a very small wedding with only close family and friends which was around 45 people. We had a rustic theme in mind and wanted to get married in a barn venue as I wanted free reign to do my own decorating.
Like most brides I had a Pinterest obsession and wanted to do as much of the decor myself as possible, not just to save money but to make it more personal. I wanted it to be unique and different from what people had seen before. It was hard work and stressful at times but luckily, I have great friends and family who helped out. I loved the decor and had so much comments on how lovely it looked. It was nice that it was appreciated as it took months to make the and dry out the flowers etc, but I think it was worth it to be able to say that we did it ourselves. Every detail was done by myself/ family and friends, right down to drying the flowers for the confetti and printing the vellum paper for the cones and invites.
I wouldn't say it was a traditional wedding, we used a registrar -Lynne Driver who actually works in the same office building as me. Initially we wanted a humanist as we were under the impression that you had more choice to do your own vows and personalise the wedding but after speaking to Lynne she explained they now do exactly the same.
We picked our own vows and added a few readings and poems of our choice to make it personal to us. Lynne was great and it was nice to have a familiar face.
I decided to walk myself down the Aisle, I'm not really keen on the "giving away" part and always been very independent so feel it was right for me to walk myself. It was nerve-wracking as you have no arm to hold but I felt amazing in my dress and it was nice to show it off with no distractions.
Mike Black sang me down the Aisle which was just stunning, everyone commented on how beautiful it was and he sang our chosen songs even better than we could have imagined. In fact, our one regret on the day was not having Mike play at the drinks reception also as he really was amazing.
We had drinks and nibbles on the lawn around the fountain which was lovely in the sunny weather and had a stunning backdrop with all the wildflowers on show.
Our meal was a mixture of our favourite meals at restaurants and also, we tried to have a Scottish theme as Mathew is Welsh and a lot of the family were visiting from Wales so it was nice to give them a taste of Scotland. He had haggis bonbons for starter with Drambuie sauce which most people had not tried before but went down a treat. Our Main was a meal we had in a restaurant down in Wales which was pork with crispy crackling top, apple sauce and dauphinoise potatoes and lastly, we decided to have a trio of puddings inspired by eat on the green with sticky toffee pudding, creme brulee and fresh fruit meringues. The food was incredible and the portions were huge! We had stovies in the evening and cake but people were still so full from the meal we ended up giving them portions home instead.
The cake was perfect and matched the floral/rustic theme of the wedding perfectly. Kirsty really is amazing at decorating cakes. We went for a cherry and chocolate ganache which was amazing!
In the evening we had Velvet Noir play through the night. They were brilliant and everyone commented on how good they were. We asked them to do a bit of ceilidhs but with most of the guests being welsh it was a bit of a disaster but great fun nonetheless.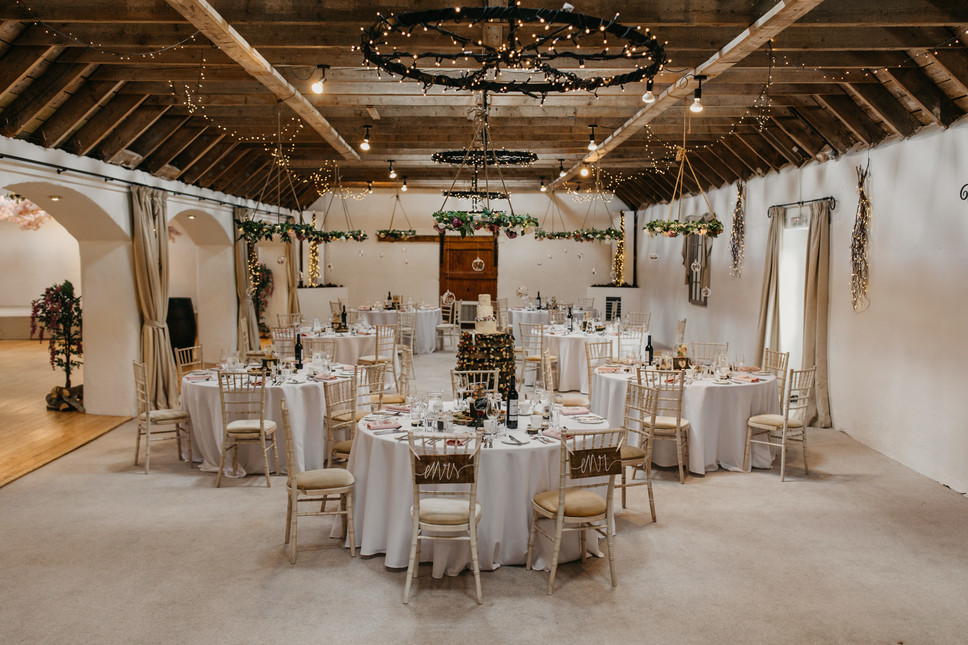 What was your favourite/most memorable moment of the whole day?
I think my favourite part was entering the venue and seeing Mathew for the first time. He had been trying to guess what my dress would be like and how I would look beforehand so I knew he was excited. His face was a picture and he said he was blown away when he finally saw me. We are always together and it was difficult not sharing the morning together so it was a huge relief when we were reunited. He definitely keeps me grounded and I was a bit of a stress head in the morning getting ready without him.
Why did you choose your venue, and what was important to you when making the decision?
With our idea of a rustic themed wedding we really wanted a barn setting that we could have free reign with decorating.
We had a look at a few of the local ones but fell in love with Aswanley as soon as we drove up the drive. The drive up was breath taking, over the bridge with the river running beside and fields around. We felt like it matched us perfectly and had everything we wanted. It had the wow factor but also the option to have complete free reign to decorate and organise the day how you want. Initially we were unsure if it would be too big for our small wedding but after speaking with Pam the owner and Lauren the venue coordinator, they showed us how best to use the rooms to meet our needs. It really was stunning and we couldn't have asked for a better setting to get married.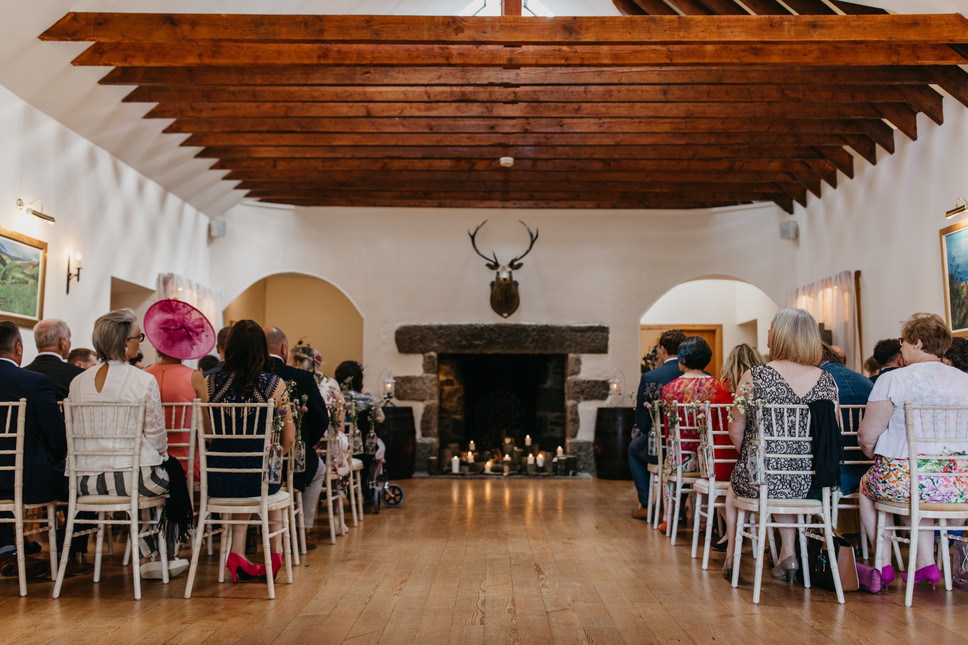 Tell us all about your dress journey!
"The dress" was actually the first dress I tried on. My best friend and bridesmaid Tracy had picked it out from one of the rails in the back, it had not even been put on the shop floor yet as new in stock. I looked at it and dismissed it initially as I had it in my head that I wanted a lace dress with a fishtail and this one was a thin plain white fabric which just hung on the hanger with no shape so I imagined it being quite bland and unflattering. I wanted something curvy with a bit of shape. I agreed to try it on first to get it out of the way before trying on some of the others that I thought were more me. I put it on and wow… It was nothing like I imagined and very fitted and flattering.The pearl detailing on the back was stunning - I immediately fell in love. I didn't want to settle on my first dress so continued to visit other shops and try on other dresses but nothing compared to the first one. I was a bit upset that I had tried it on first as I felt I didn't enjoy the experience anymore as nothing excited me the same. I then ended up at Perfect Bridal which was not the shop that I originally tried my dress on but they also had it in stock, I put it on again and that was that, I had to have it!
When planning your wedding, did you have any help or did you do it mostly yourselves? What were the most important aspects for you?
The biggest part was definitely the decor. I love making things and had so many ideas in my head how I wanted the venue to look and searched for months for different ideas and styles on Pinterest. I wanted to do it all myself but kept adding more and more to the list of stuff to make, but luckily friends and family were happy to help. Everyone had an input which I think made it even more special. Decor, favours and invites were all hand made with help from our friends and family. I love that everything has a story of who and how it was made and I have been able to keep a lot of items as keepsakes.
My house was like a car boot sale for months with flowers from the garden drying on coat hangers and hundreds of artificial flowers. We chopped down trees in the garden and made all the place mats and centre pieces. Friends even had flowers drying in their own homes to help.
We are so lucky to have friends and family who are all so creative.
The best thing we did was hire a videographer. It wasn't something we initially planned but after our grandparents were all unable to attend due to ill health, we decided it would be a nice thing for them to watch and feel more involved than just looking at photos. We are so glad we did as they were so happy and commented how they felt part of the day watching it back. We have already watched it a few times and just love it. Everything about it is perfect, Conor is amazing at what he does, he captured the day perfectly.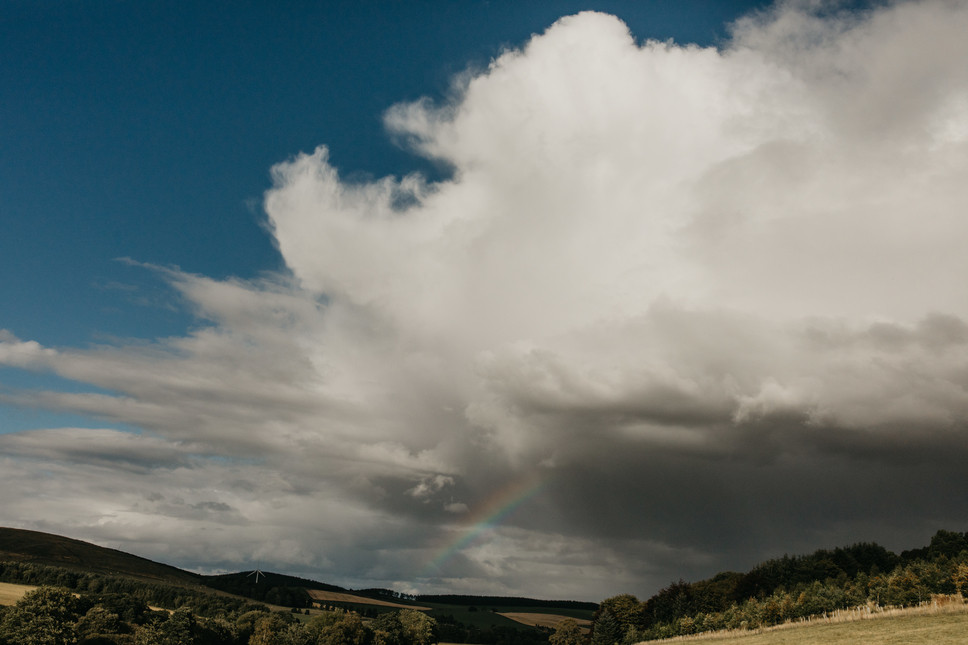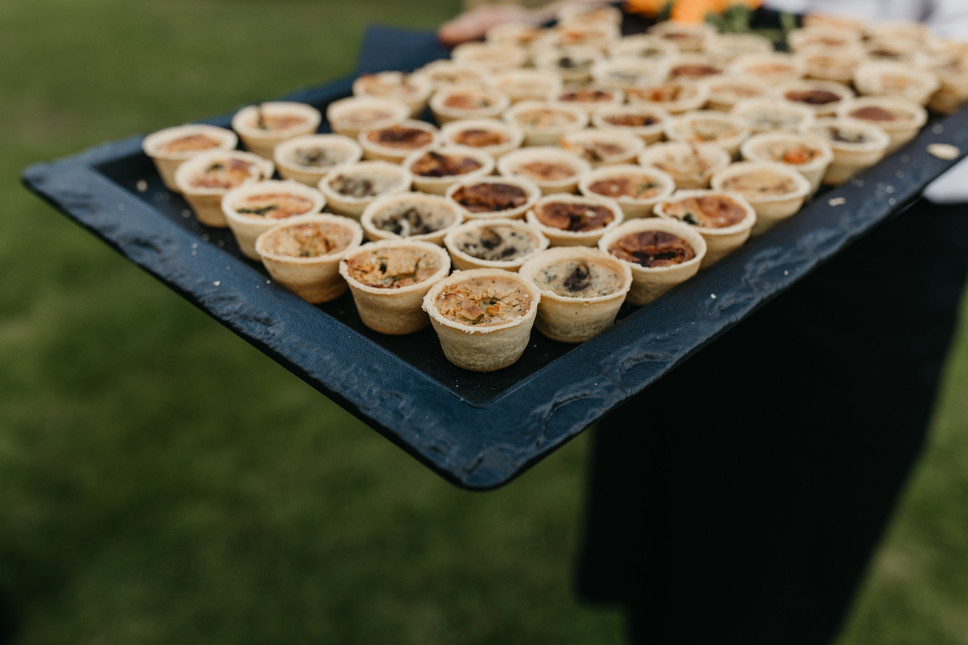 If you could give any piece of advice to current brides-to-be, what would it be?
It would probably be, don't get so stressed and worked up about the details. Once the day arrives it really doesn't matter if everything is perfect as no one notices as they are too busy enjoying the day. Little things went wrong on the day that really didn't make a difference and no one even noticed. Everyone says the same but it really does go by in a flash and all the months or years of planning are over in a blink so take time to enjoy it rather than stressing for perfection.
Suppliers
Photographer - Emma Lawson
Videographer - Conor Ross Media
Venue - Aswanley
Florist - Bride/friends for floral decor and Val Morrison for churns, bouquet- the artisan dried flower co
Stationery - Bride with help from friend. Supplies from ebay and designed by bride.
Catering - Val Morrison
Cake - Cakes by Kirsty, Oldmeldrum
Music - Mike Black for ceremony and Velvet Noir in evening.
Decor & Styling - Bride, Friends and Family.
Dress - Pronovais, Dravidia- Perfect Bridal Aberdeen
Accessories - Etsy for bride headpiece, Bride made bridesmaids head pieces from dried flowers, jewellery borrowed from Sister.
Hair & Makeup - hair- Gemma Taylor, Make up- Platinum make up by Julia.
Bridesmaid dresses - Quiz
Groomswear - Suit- Empire Outlet, online, Etsy for the tie and pocket square. Pocket watch- Mathew's grandad.
Favours- homemade by friends and decorated by bride and friends.