Loretta & Darren's wedding reception at Aswanley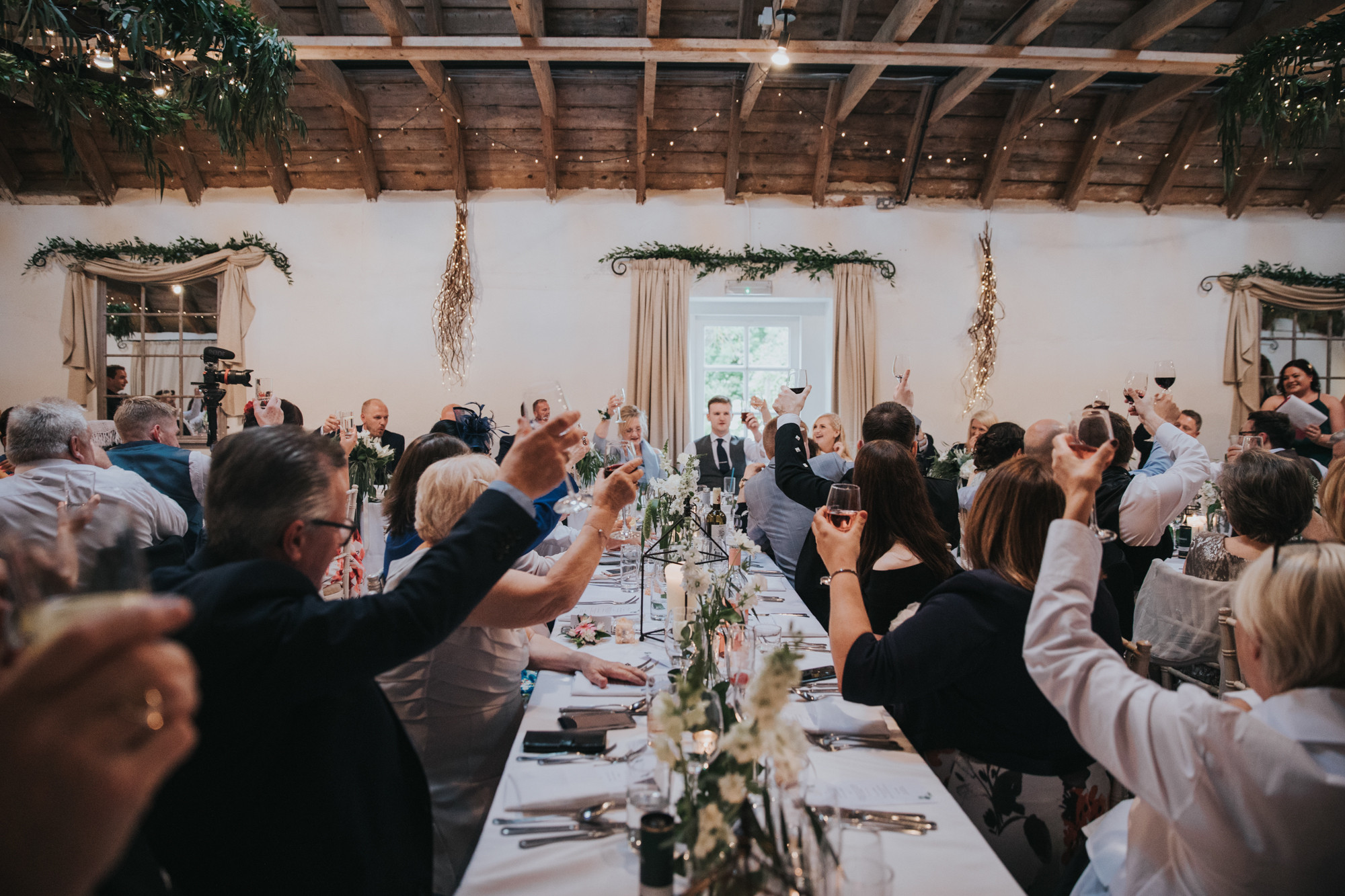 We're thrilled to bring you Loretta and Darren's lovely wedding reception at Aswanley.
First things first, we want to know a bit about you! How long have you been together, what do you do, do you have any pets etc..?
We have been together for nearly 7 years. We met whilst we were both studying at University in Glasgow. We live in a small town just outside Glasgow with our dog, Coba. Darren works as a Manufacturing Team Leader for a Pharmaceutical company in Stirling and I am a Primary School Teacher. Although studying and living down in Glasgow, I grew up in the North- East of Scotland, which is why we chose to have our wedding in this area. Darren and I are easy going people and enjoy long walks with our dog and spending time together. Travelling, eating out and spending time with friends and family are amongst our favourite things to do!
Popping the question - how did it happen!?
We got engaged in London, Darren had organised a surprise trip to London for the weekend before my Birthday. We spent the day doing lots of touristy things. Unfortunately the weather was miserable, so Darren's plan to take me to the Italian Gardens in Kensington Gardens didn't go as planned. So we decided to get out of the rain and go for a meal. Darren decided it would be a great idea to put the ring into my Selfridges shopping bag! It sat there for a good couple of hours, with me completely unaware. To finish the day we decided to book a late night viewing of a film at a little independent cinema, we grabbed a couple of drinks and sat up in an lovely small balcony with fairy lights and sofas until the film was ready. It wasn't until I delved into my shopping bag to admire my day's purchases that I spotted a little box. By the time I had looked up, Darren was down on one knee and the rest is history. Dare I say he did get in trouble for putting it in there because I am liable to forget to pick up my shopping bags and that would have been a disaster!
Tell us about your big day - when did you get married, where, and what was the day like? Did you have a specific theme/style? Was it traditional, or did you do things a bit differently?
When planning our wedding, for me, it was all about simplicity. I am a naturally anxious person and I just wanted that one day to be simple, to step away from the hustle and bustle of everyday life and enjoy it. So when my mum told me about Aswanley, It sounded the perfect fit. A treasure hidden amongst the trees and rolling hills, it was the perfect canvas.
We were married on the 6th July 2019. It was a rainy day to begin with but lucky it cleared by the afternoon. There lingering clouds gave us some beautiful diffused light for our pictures.
Before celebrating at Aswanley, we were married at the Baptist church in my hometown of Lossiemouth. We had 120 guests, who travelled from near and far to join us. I walked down the aisle to a song called "The One" with my dad by my side. It was a special moment! The service was beautiful, the music was upbeat and everyone singing and joining in our happiness was just the perfect start to our day.
We arrived at Aswanley first. We weren't planning to have a line up but all the guests started to arrive and queue up to say hello – so we got stuck! In hindsight it was lovely because it made sure we got to say hello and thank you to everyone.
We had our reception in the fireplace room and on the river terrace; we all enjoyed the nibbles (many of my friends still talk about the sticky sausages and haggis bonbons) and drinks with the stunning Aswanley landscape as a backdrop. Beautiful music, played by my friend Kirsten Bryceland, played in the background as the children and adults played with the lawn games and chatted away. I just remember looking around whilst getting my pictures taken and seeing everyone laughing and smiling. It was amazing!
Our Meal was an Italian/Scottish combination to celebrate both our heritages. We started with a bruschetta with cured meats, followed by Mediterranean roast chicken, served with a Vermouth cream reduction, rosemary potatoes and summer veg. Our dessert was white chocolate crème brulee, strawberries and Rockrose gin sorbet. The food was just incredible! Being from a family of Italian foodies it was important for this to be perfect- and Val most definitely delivered! In the evening, we had delicious homemade artisan pies!
After the meal, the band played the night away. Everyone was up dancing and having great fun. The band played some ceilidh music as well as some good old favourites to get everyone dancing. Before our first dance, 'Soldier' by Gavin DeGraw, we cut our beautiful wedding cake, which was made and decorated by the talented Mel from Enhanced Merchant co. We had three flavours: lemon, chocolate fudge and Victoria sponge. Each were delicately decorated with a beautiful butter cream, gold accents and fresh flowers to match my bouquet.
The only thing we would change about the day was that it didn't last longer!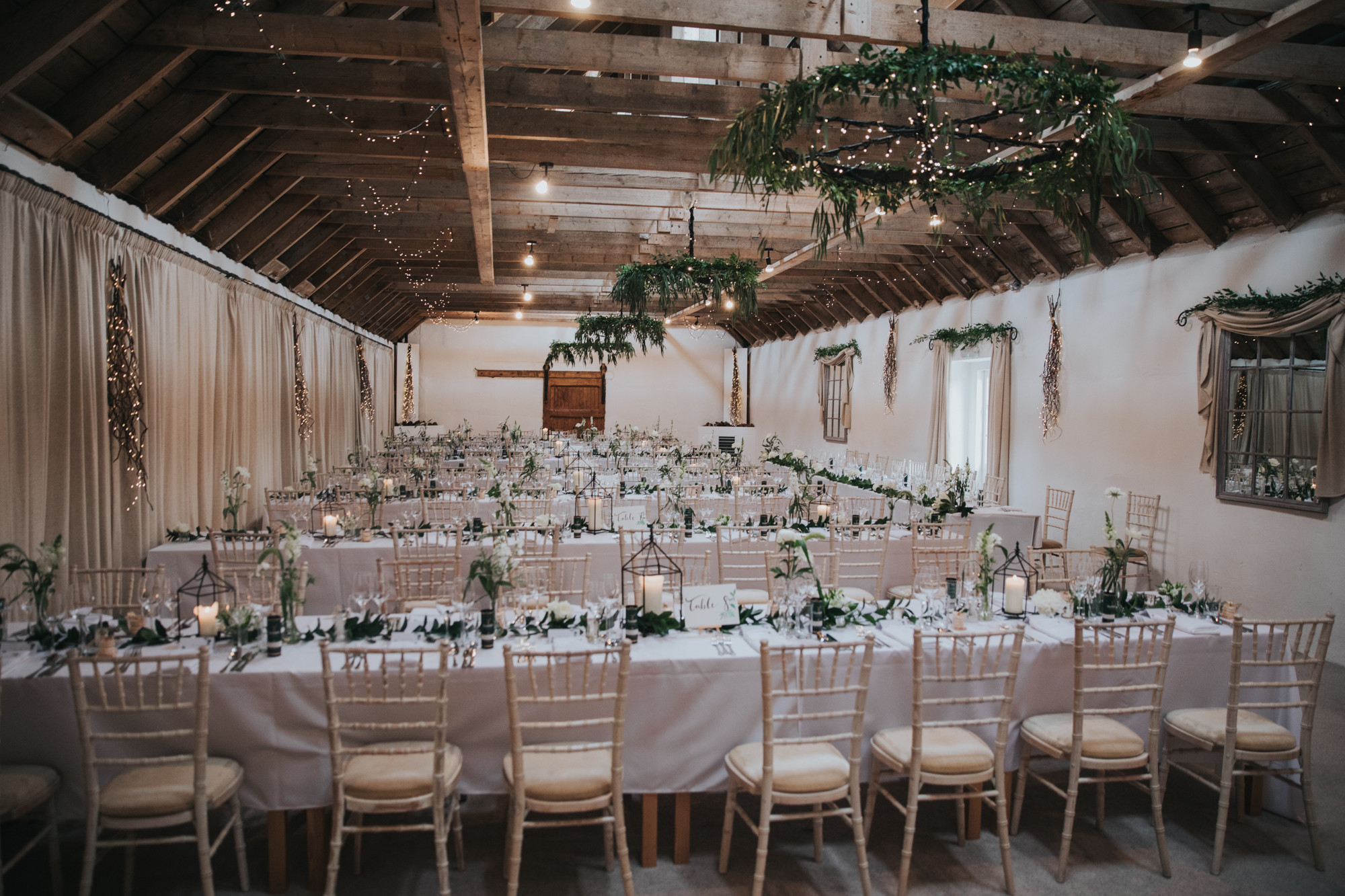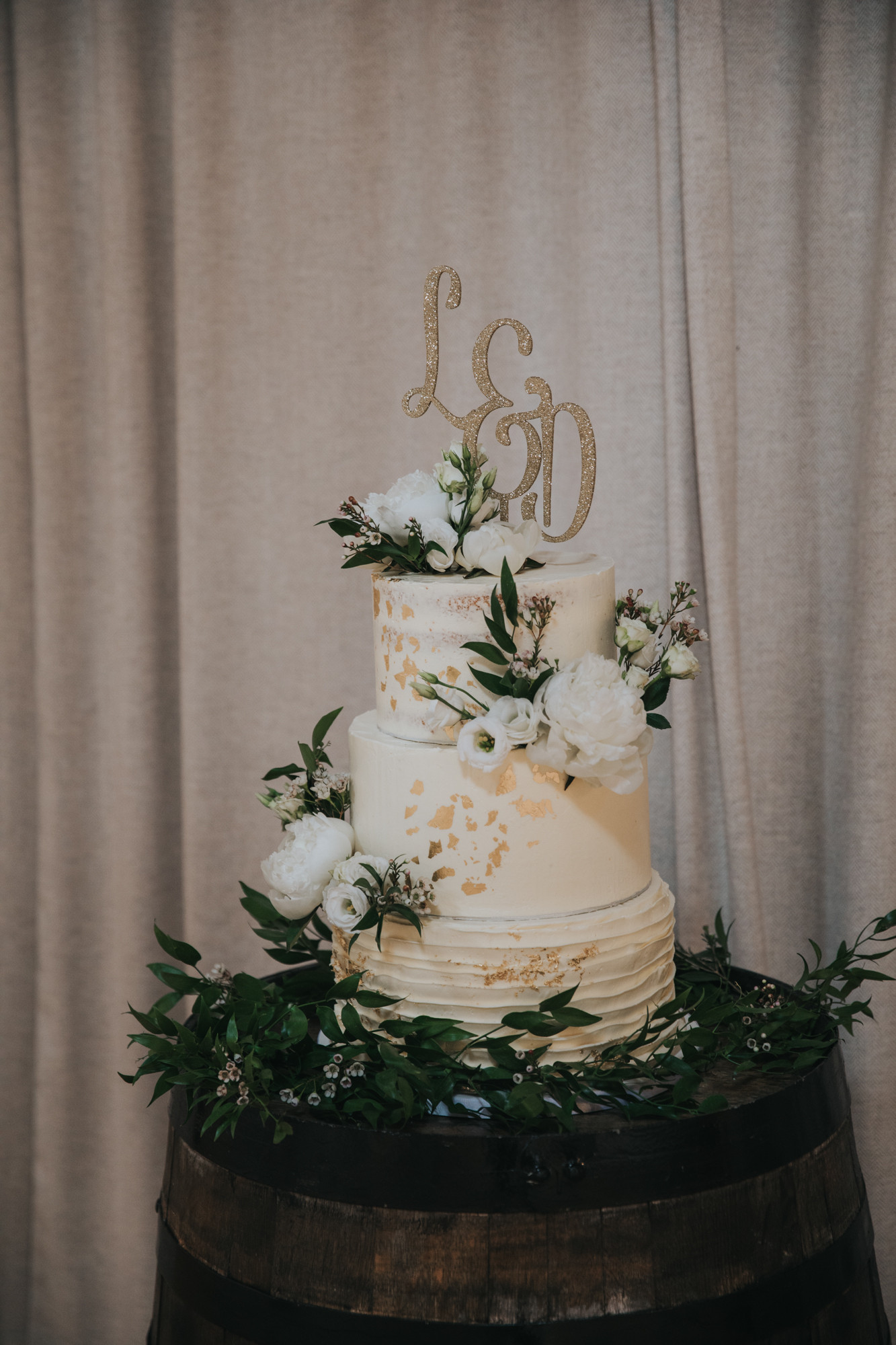 What was your favourite/most memorable moment of the whole day?
This is a hard question. I loved the morning of my wedding and so did Darren. I was much calmer than I anticipated. Getting time in the wedding car between the church and Aswanley was lovely too. Having that half an hour to spend together with no one else, to calm ourselves down and really enjoy time together.
We could go on and on!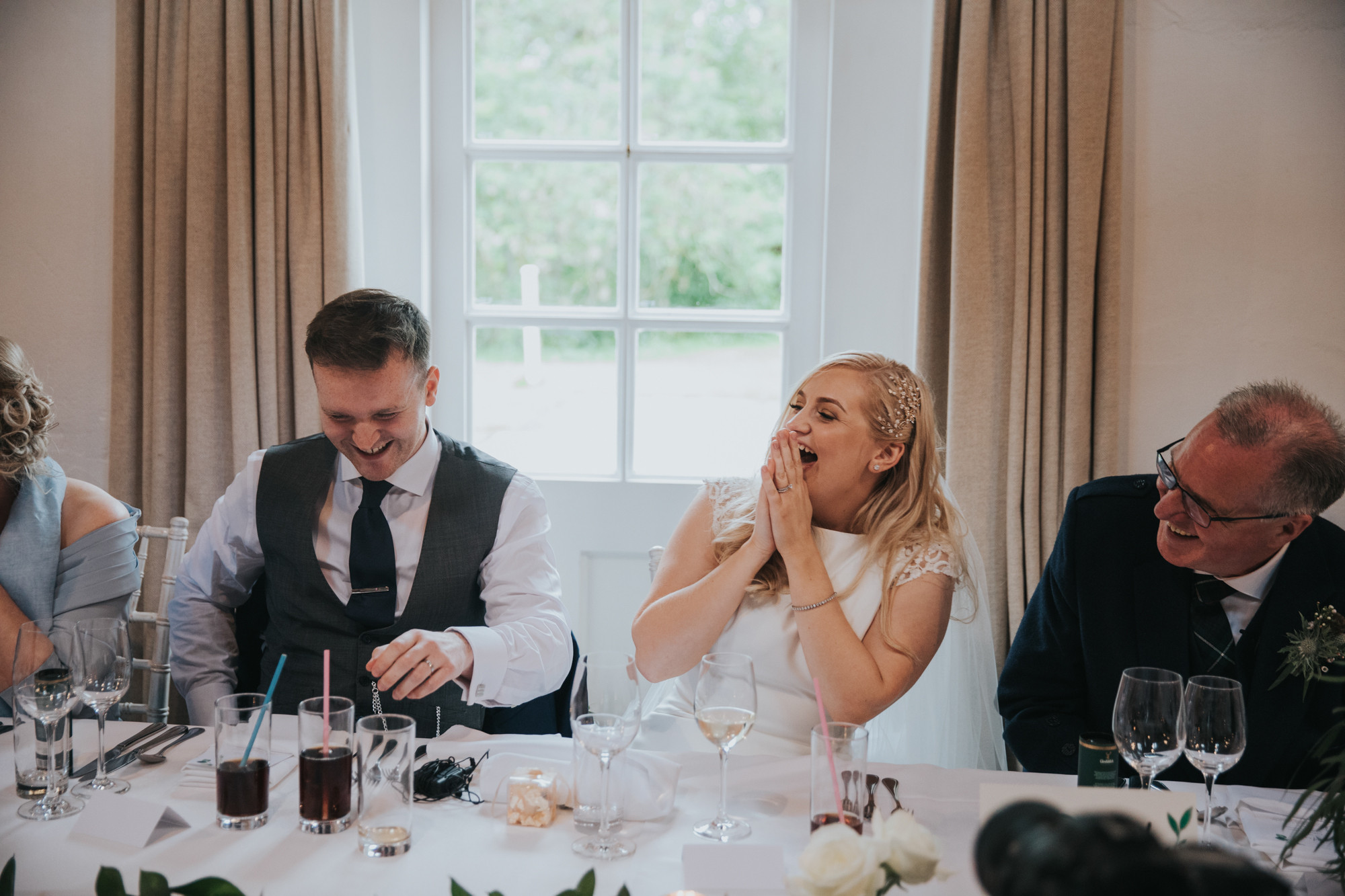 Why did you choose your venue, and what was important to you when making the decision?
We chose Aswanley because it was the perfect canvas for our wedding day. The venue had the breathtaking views we knew we always wanted as a backdrop. Not only this, but all the staff at Aswanley were so kind and helpful. They made us feel at home from the first time we visited. We just knew that it was going to be our special place and we are so grateful that it is!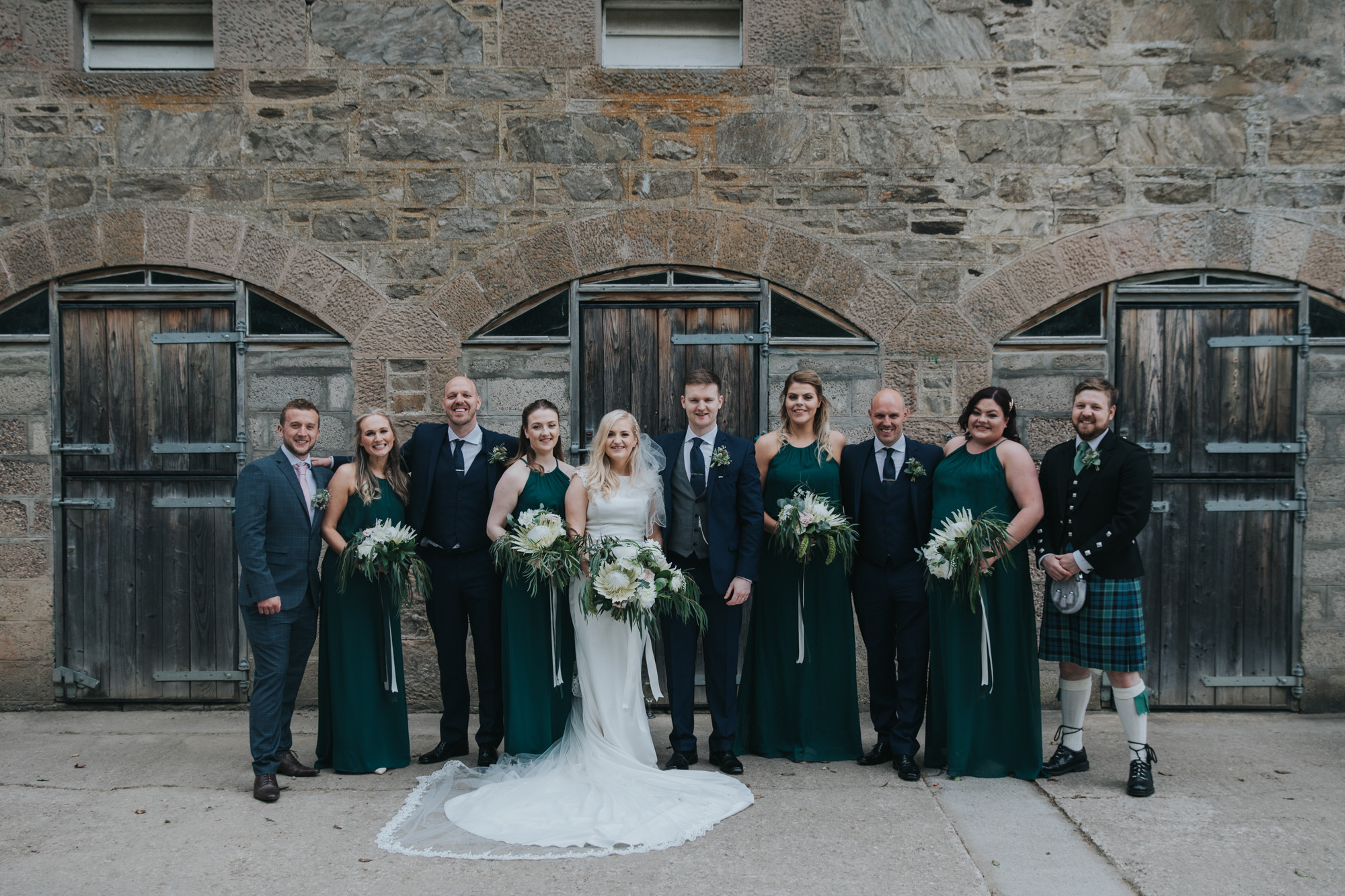 The dress - where did you find it, and what was it like? Who did you take with you dress shopping and how did you find the whole experience?
I have always had an idea of what my wedding dress would look like in my head- again simple, elegant with no fuss. I put off looking for a dress until 12 months before our wedding (we had been engaged for a year and a half by this point) because I was so worried that this dress didn't exist and I just wouldn't suit anything. One weekend when I was home visiting my family, my mum convinced me to just go and 'have a look' in the window of Angharad's Bridal. The shop had just received a cancellation so the owner said that if I wanted to try something on then I could. To start with, I was reluctant, but then I just went for it. I tried on half the shop but felt I was getting nowhere. The dresses were beautiful and each had elements I loved - they just weren't my dress. Just as I was about to call it a day, the assistant came through with one last dress; as she showed it to me I knew it was 'the one'. It was everything I had envisioned! I tried it on and just fell in love with it instantly! So shopping for my dress wasn't a 'big' affair- it was just me and my mum, which in fact made it more special.
When planning your wedding, did you have any help or did you do it mostly yourselves? What were the most important aspects for you (eg. the photographer, the food, the decor...)?
We planned and organised the wedding ourselves. We had two and a half years to plan so I started early to ensure I wasn't stressed or rushed. Most of our décor was flowers and foliage, so this was handled by our florist and wedding stylist, Hazel at Robin's Egg. She was incredible - she took my ideas and made them a reality. I couldn't have made it as beautiful without her.
Our stationery and favours were made by my sister and auntie. They both put so much time and effort into designing and making them for us exactly the way we wanted.
We really wanted to capture the day in the best way possible. Jen (our photographer) and Michael (our videographer) were so professional, yet so relaxed. They seamlessly joined our day. They managed to capture our day in a natural and relaxed manner, nothing too posed. They took beautiful footage of our family and friends smiling, laughing and having a great time - exactly what we wanted!
Another aspect that was important for us was that our guests were fed and watered well! We chose to go with Val Morrison because the day we went to visit Aswanley, she was catering for a wedding at the venue and the smell of the food was divine. My mum was set on her from the beginning – and she knows best when it comes to food!
If you could give any piece of advice to current brides-to-be (about planning their weddings or the Big Day itself), what would it be?
It goes by in a blink of an eye, both the planning and the day, so try not to get too overwhelmed and cherish the process! It will all come together on the day and by then the little things won't even matter - you'll be having too much fun to care.
Take the time to look around the room at all the incredible people you have in your life. They came to celebrate you!
Photographer – Jen Owens Images
Videographer – Michael Westcott
Venue – Aswanley
Florist – Robin's Egg
Stationery – Natalie Morrice (Invites, name tags, Menus) & Amy Singer (Welcome Board, Seating Plan, Bubbly bar sign.)
Catering – Val Morrison
Cake – Enchanted Merchant co.
Music – Band -The Avenue
Music during drinks reception- Kirsten Byrceland
Decor & Styling – Robin's Egg
Dress – White One (Fiana Dress) Angharad's Bridal- Elgin
Hair & Makeup –Hair- Kenneths Hair Stylist (Elgin) Make up – Lush Beauty (Elgin)
Bridesmaid dresses – David's Bridal (Glasgow)
Groomswear – Ted Baker from Moss Bro's
Ice Cream Cart - Rizza's of Huntly
Coaches - Deveron Coaches
Cars GSM Wedding Cars
Table clothes and Napkins Sitting Pretty.