Kat & Mark's Glastonbury Inspired Wedding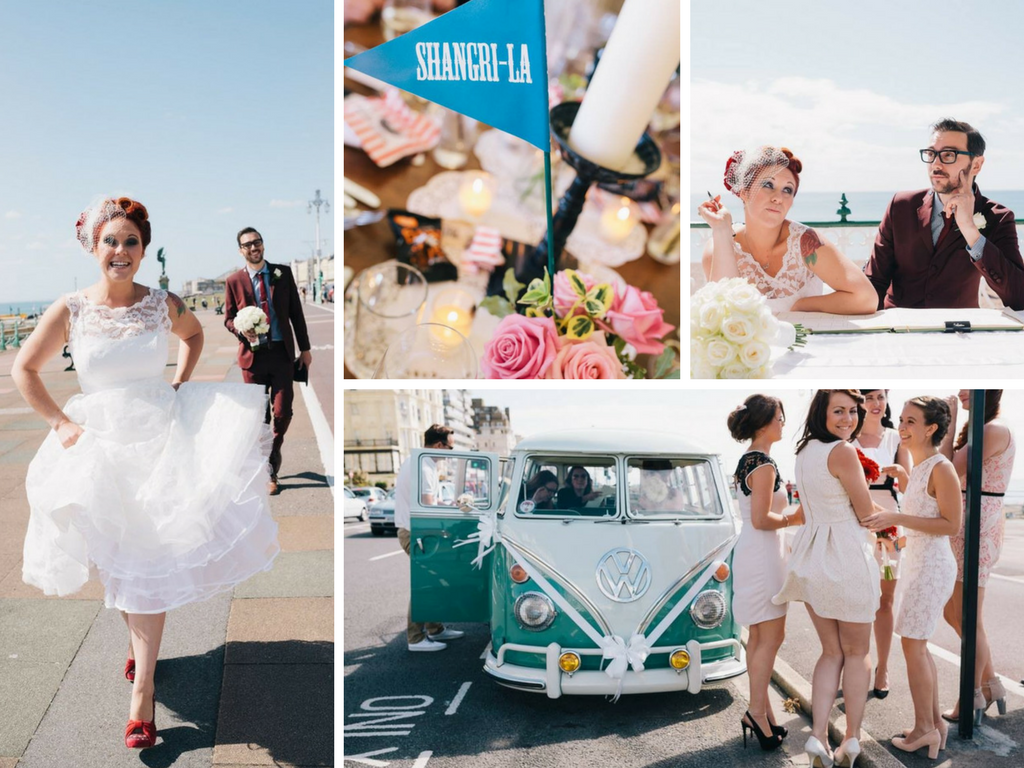 The list of things that make Britain so characterful are, let's be honest - never ending. But one thing we know for sure is that the uber-cool and often uber-muddy Glastonbury Festival and sunny seaside town of Brighton are most certainly on that list. So it comes as no surprise that Kat and Mark decided to fuse these two loves together for their big day. So with Glasto right around the corner, we couldn't think of a better time to share this wedding with you.
Starting off at the seaside with the iconic Brighton bandstand as the backdrop to the ceremony, the newlyweds then whizzed with their guests in tow over to the impressive stately manor that is Stanmer House, otherwise known as Proud Country House. But rest assured, these movements weren't to be made without a good dose of style, as the couple travelled in a vintage sea blue VW campervan and the guests in vintage double decker buses.
With guests being welcomed to the reception at Proud Country House by a performance from an old school three piece acapella group along with both the bride Kat and her bridesmaids having their hair quaffed and curled to perfection, the wedding has a real retro vibe to it too. The wonderful personal style and ecentricities of the couple can be seen throughout all their styling choices, down to the smallest details, such as their dog Win featuring on the wedding cake!
So without further ado, let's dig in and hear from the couple Kat and Mark all about how they came to be and their gorgeous wedding day.
Their Story
Mark and I originally met when living in London but have since moved out to the 'sticks' to a cute terraced cottage in Marden, Kent with our naughty Jack Russell 'Winthorpe' (AKA 'Win'). Mark works as a Creative Graphic Designer at iFour in Tunbridge Wells, whilst I run an e-learning business called Onclick in Marden.
Mark and I met on an Internet dating site and arranged our first official meet under London's Centre Point. It was literally 'love at first sight' and we've been inseparable ever since… proof that Internet dating really works!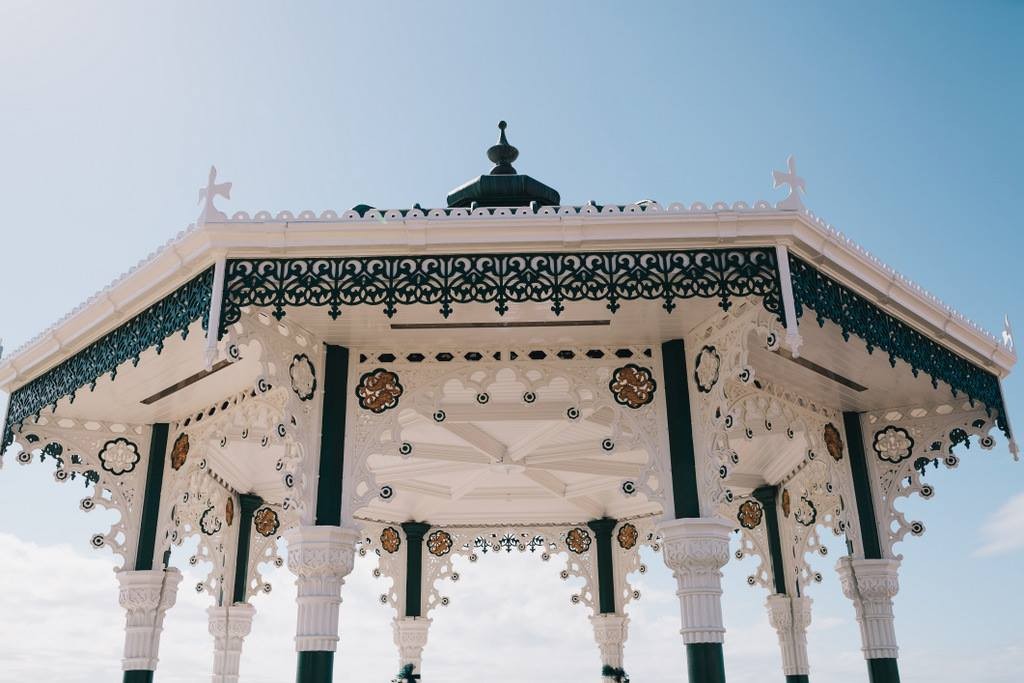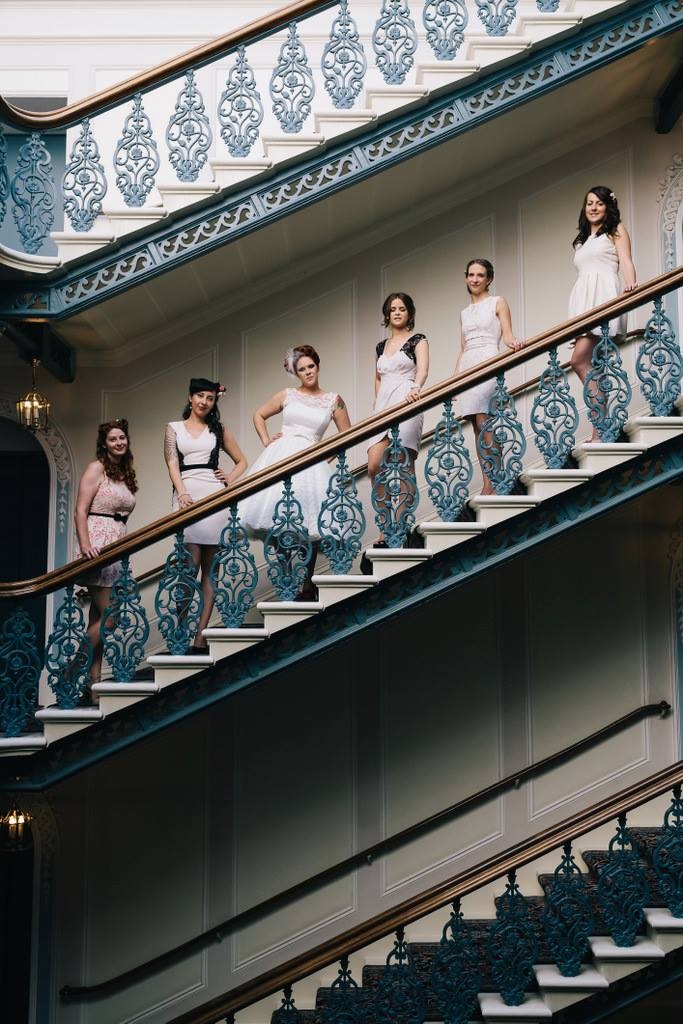 The Proposal
Mark whisked me away for an anniversary celebration in Paris to see a spectacular Rufus Wainwright gig at La Cigalle; an artist that we originally bonded over during the early days of our relationship.
Later that weekend, whilst strolling around the city, we ended up on the famous ' Le Pont Des Arts'. As anyone who knows me is well aware of, I am a huge Sex and the City addict. This is the exact spot where Mr Big tells Carrie she is 'The One'. Cheesy to some, I know, but perfect for me, as Mark got down on one knee on that famous bridge. It was perfect and the tears streamed...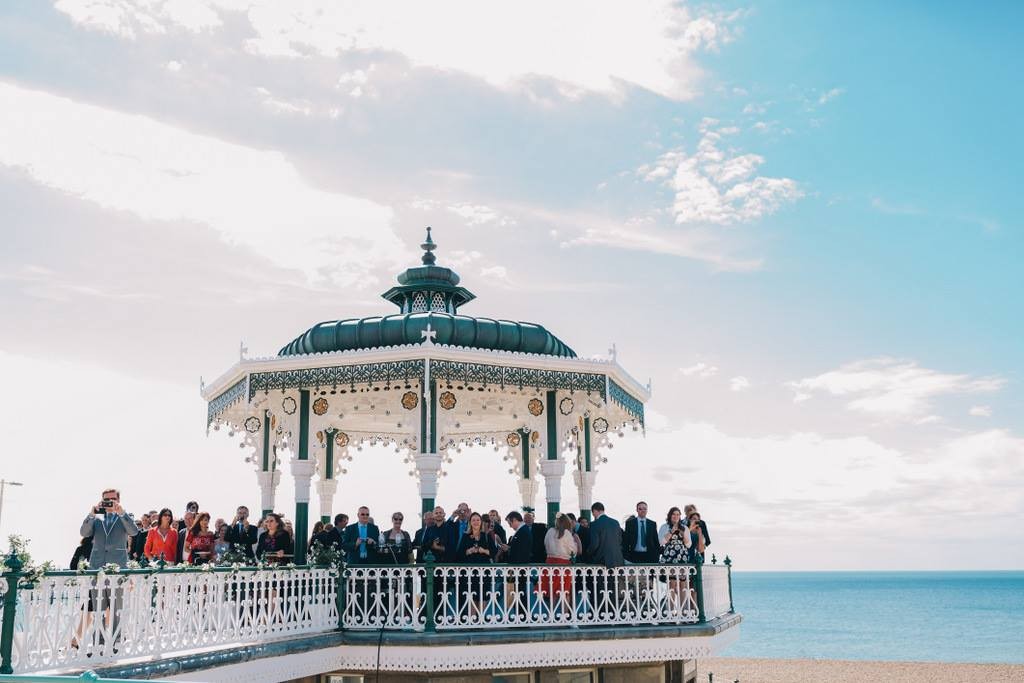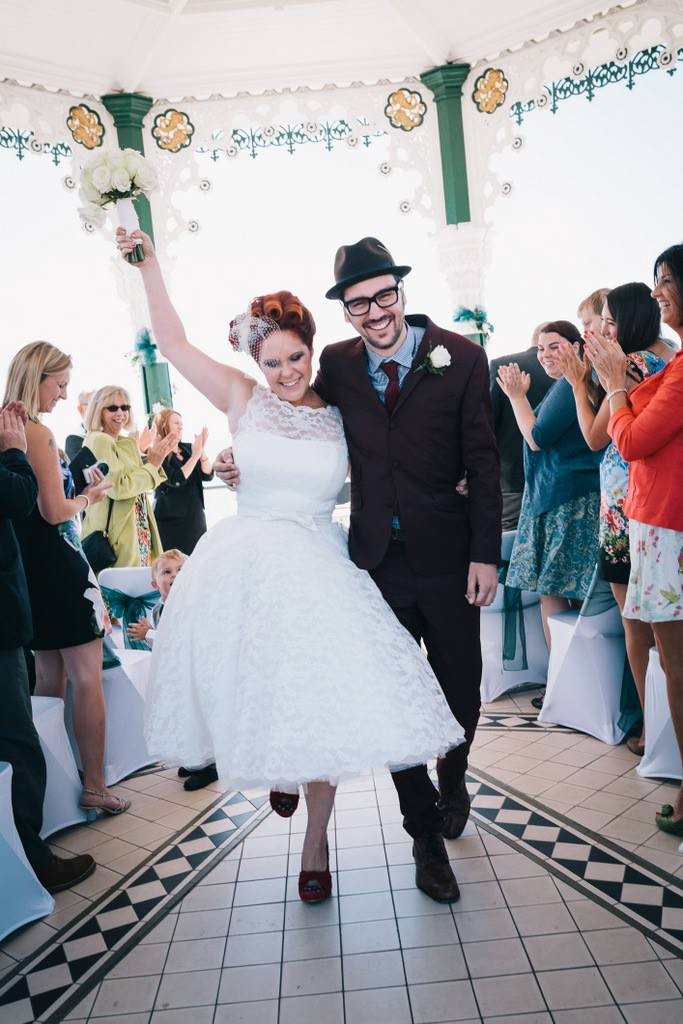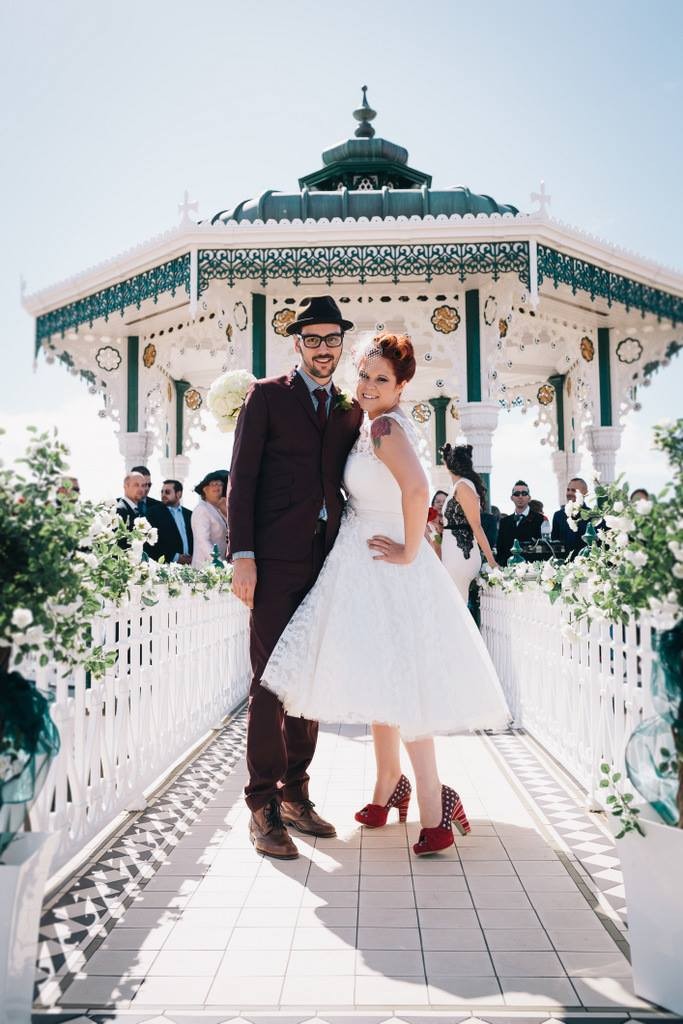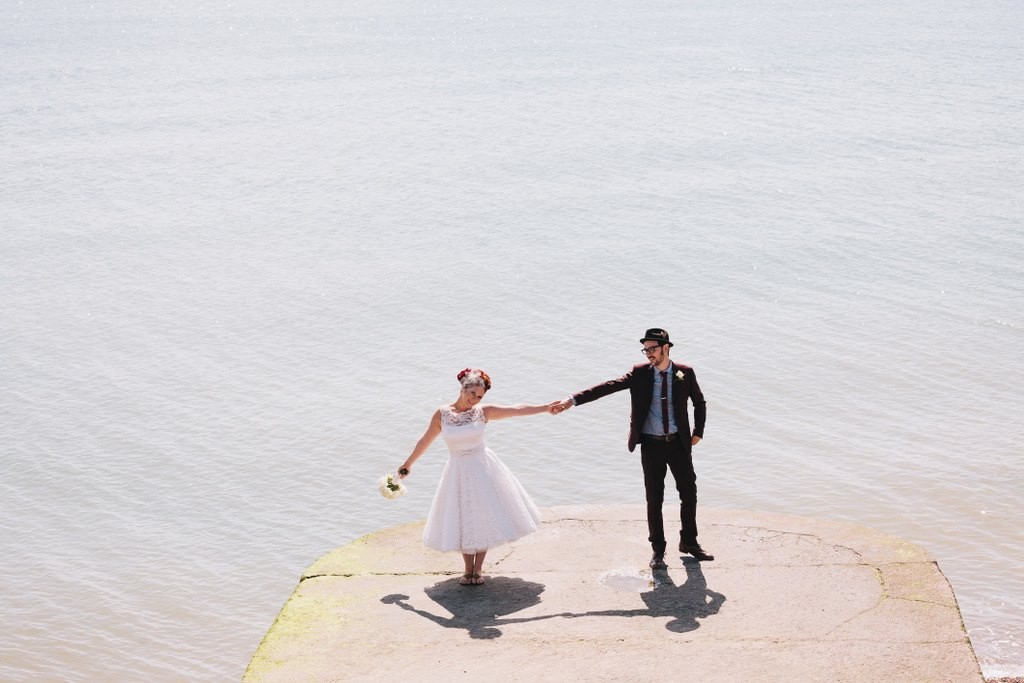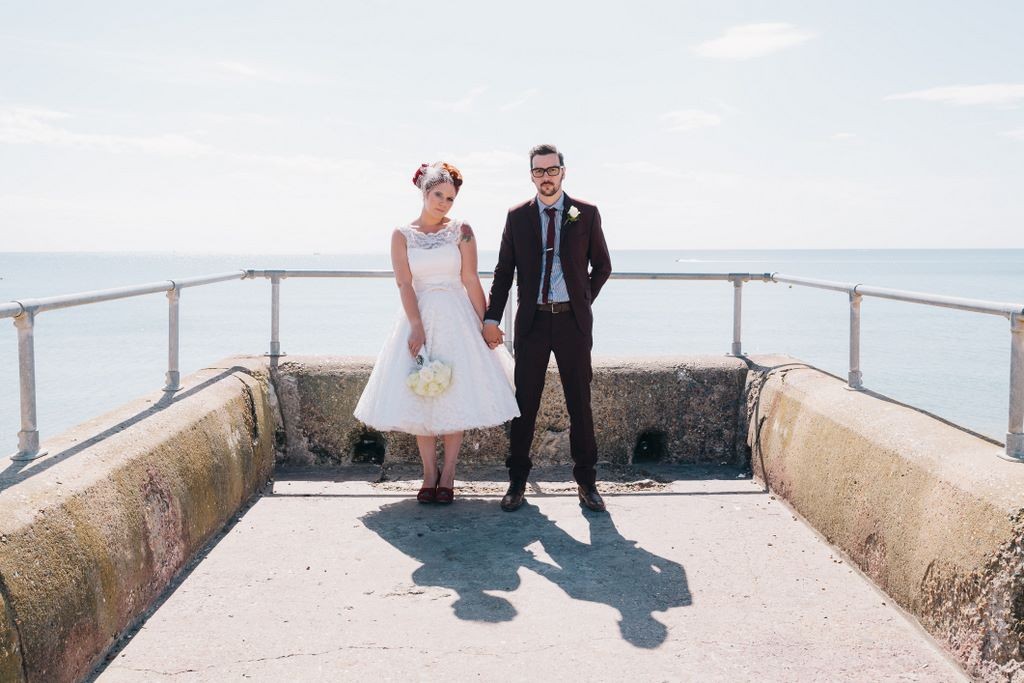 The Outfits
I wore a Candy Anthony 50's style circle-skirt dress, layered with double petticoats, vintage ivory lace overlay, bow belt and Irregular Choice red, peep-toe shoes, and Mark; a classic red mod suit from Brighton's super-cool Jump The Gun, complete with trilby and brogue boots.
My five bridesmaids wore a selection of cream, black and pink lace dresses from Warehouse… of all places; each wearing something unique to reflect their own personal style. Hairstyles were vintage inspired, created by the friendly team at Tea and Trim, all accessorised with beautiful, faux flower hairpieces, homemade by bridesmaid and cousin Vicky Giles.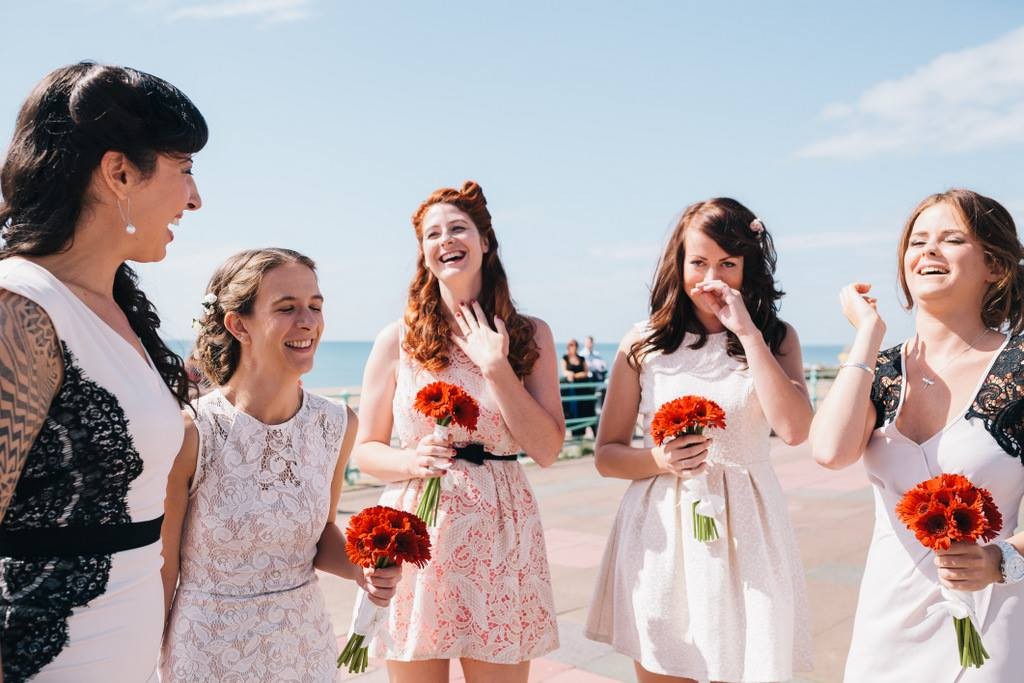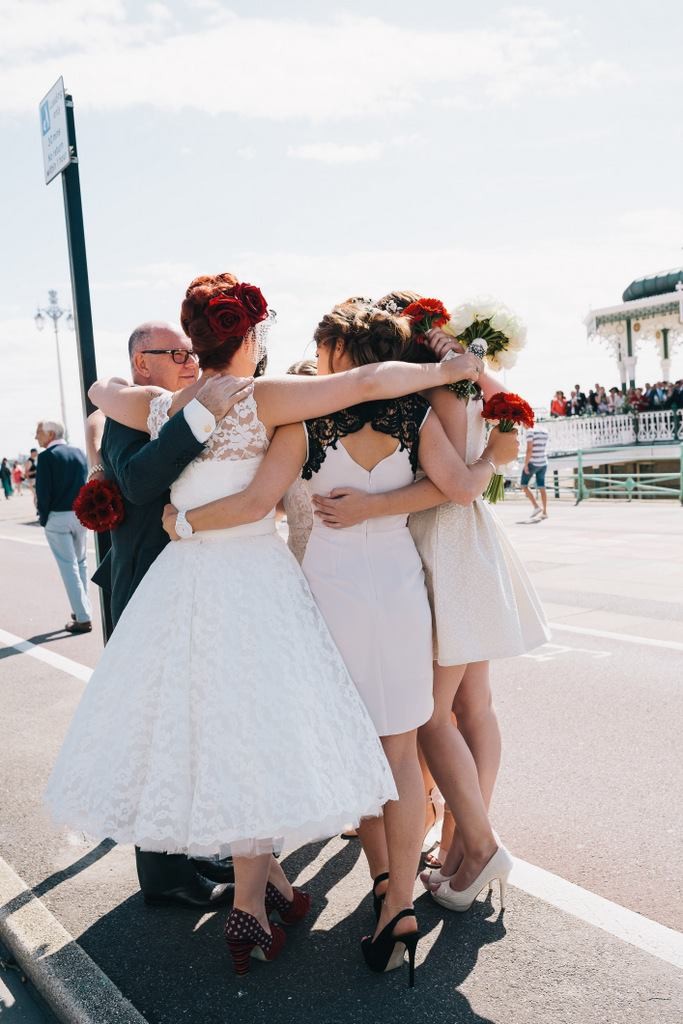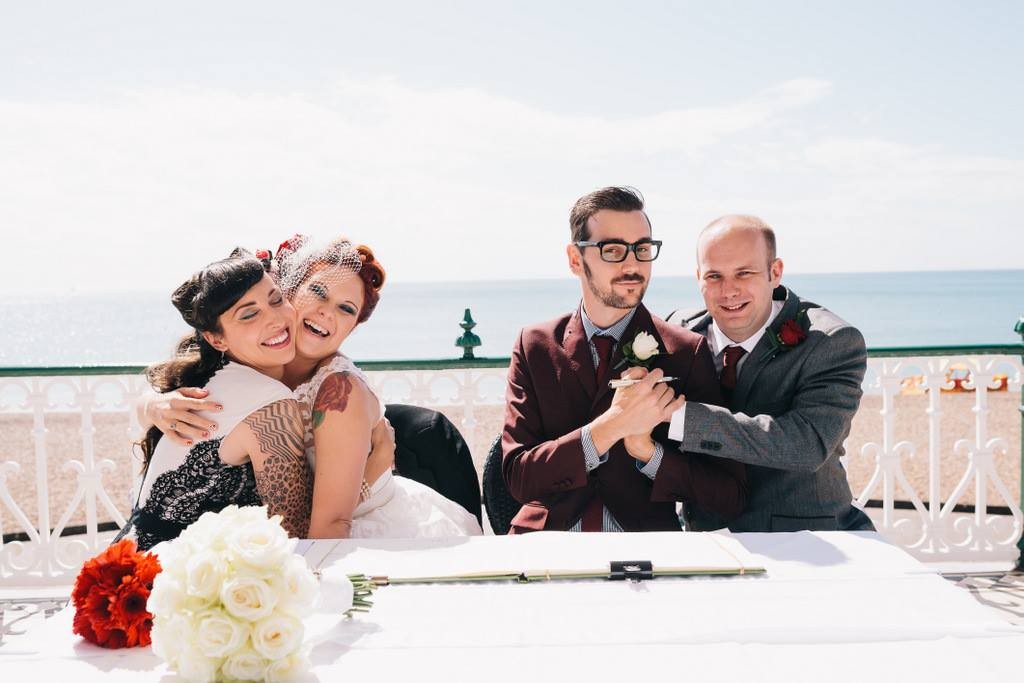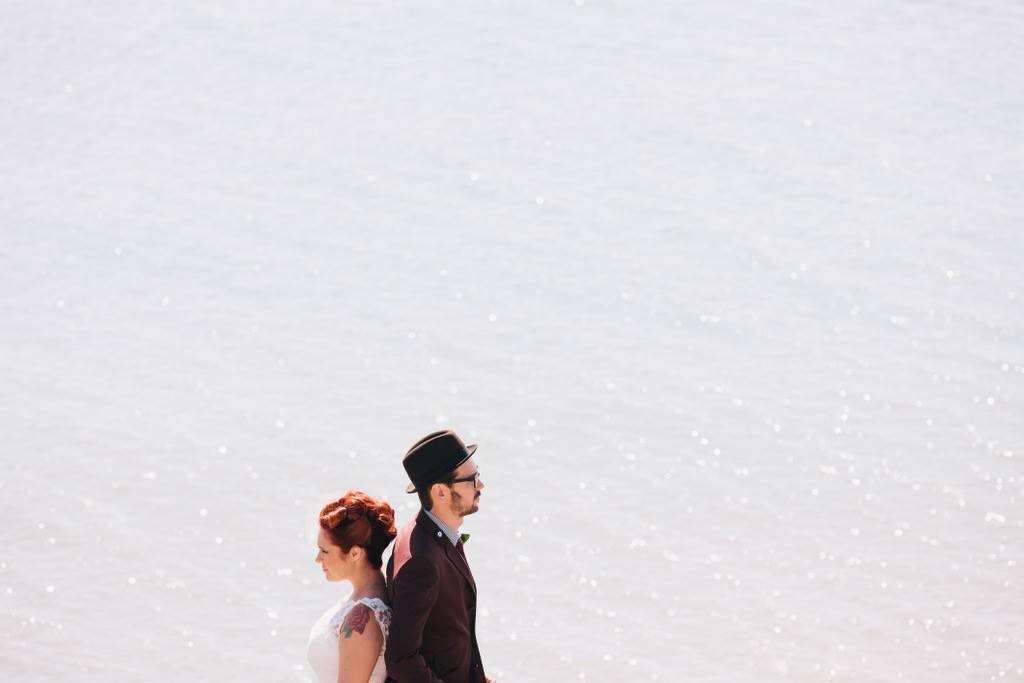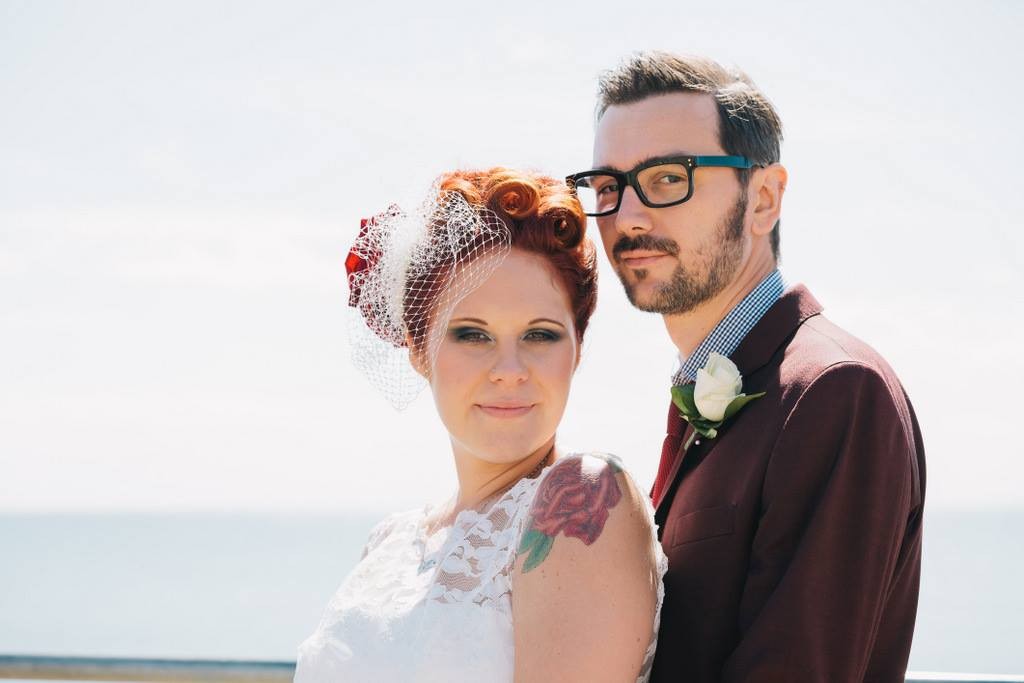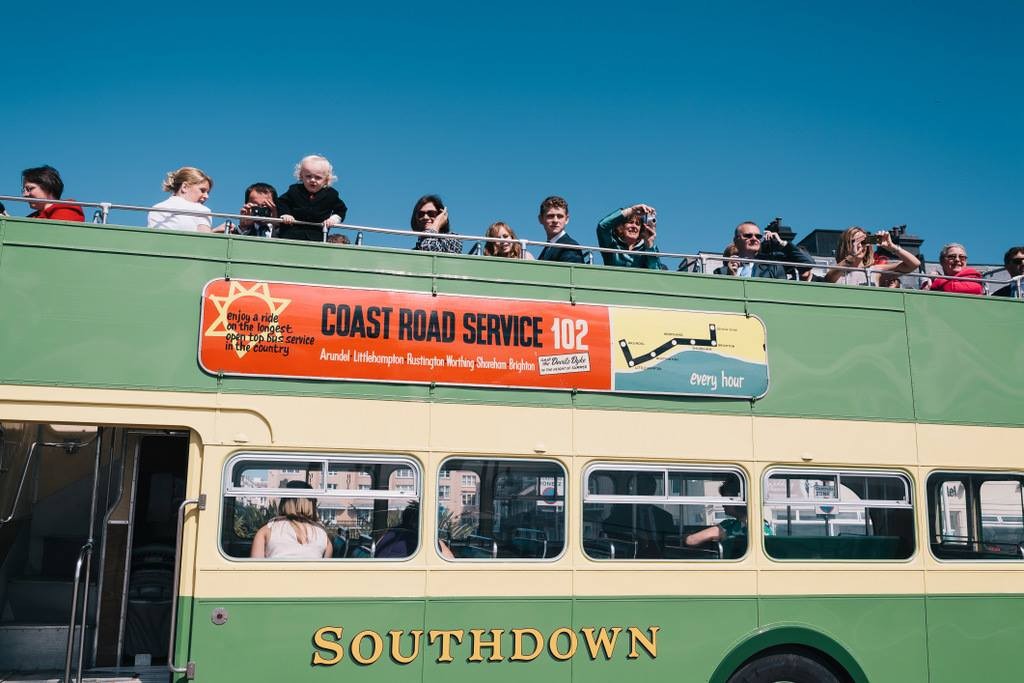 The Wedding Day + Venues
Our wedding day was utterly spectacular! After getting ready with the girls in the luxury of The Grand, we kicked off the ceremony on the Brighton Bandstand under glorious sunshine. Our guests were then transported in vintage open top double decker buses to the beautiful Stanmer House, whilst we travelled in a gorgeous 1960's campervan.
We were lucky enough to have hired the whole venue; a real treat! On arrival, three-piece vintage a capella group The Doo Wop Dolls filled the lobby with retro harmonies whilst our 90 guests enjoyed champagne and canapés.
We then held our wedding breakfast across the three adjoining restaurant rooms; an unconventional choice as most parties this size might opt for the marquee, however not making as much use of the beautiful ornate rooms as possible would have been an opportunity missed.
The day was utterly perfect filled with laughter and dancing, and we had so many wonderful comments from our guests.
The staff at Stanmer House were an absolute delight. Nothing was ever too much trouble and everything carried out whilst laughing and mingling well with our friends and family. Bruce and Mike in particular were my adorable and dependable wing-men.
The Decor
The table plan design was influenced by our joint love of festivals, with each of the tables named after a Glastonbury stage. The layout was announced on a large, easel-propped board, imitating a typical festival lineup. Each table marked their stage with homemade flags, nestled within the jam jar flowers.
We rejected the idea of traditional wedding linen or chair covers and chose to stick with the rustic style of the wooden tables and mismatched chair upholstery. The look was perfect as it was totally 'us'.
The table decorations were kept quite simple. Tea lights, layered, mismatched doilies and raffia-tied jam jars, filled with colourful roses from my Stepmum Jane's garden. Place settings were created with handwritten brown luggage tags tied to everyone's wine glass and the look completed with a special wedding favour from our Jack Russell, Winthorpe; a bag of Salty Dog nuts packaged within candy stripe bags and a bespoke branded label.
Continuing our Glastonbury theme, playing on the famous hill-side sign, we built 6ft high, patchwork covered LOVE letters for the garden; perfect for cute photo opportunities.
In the bar area, we used the plasma screen to advertise the schedule of the day with rolling, custom designed ads of key moments to come.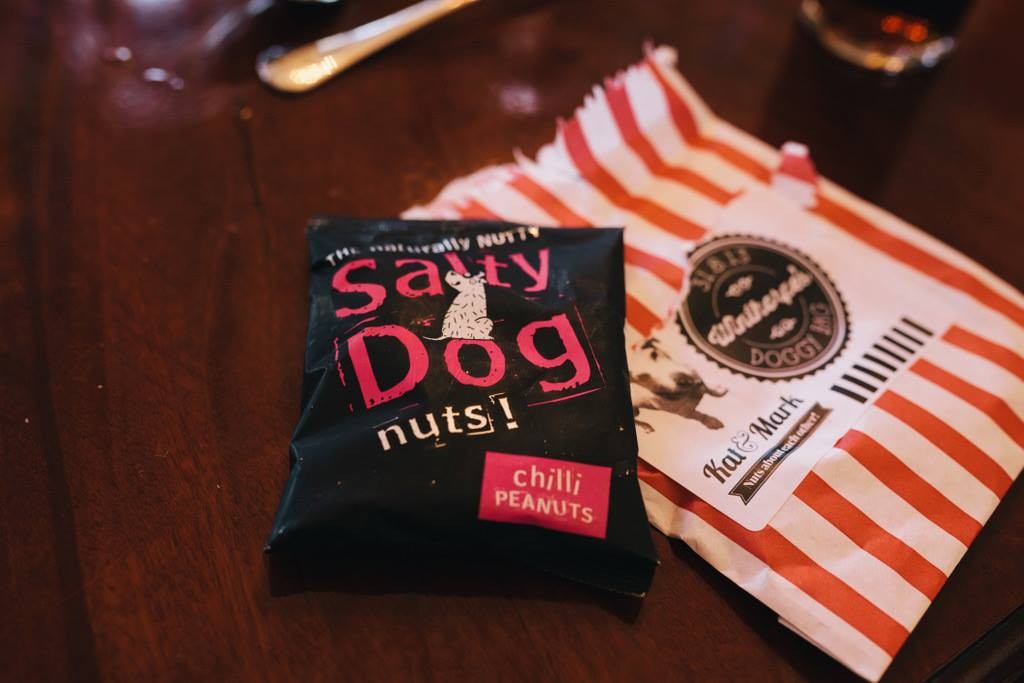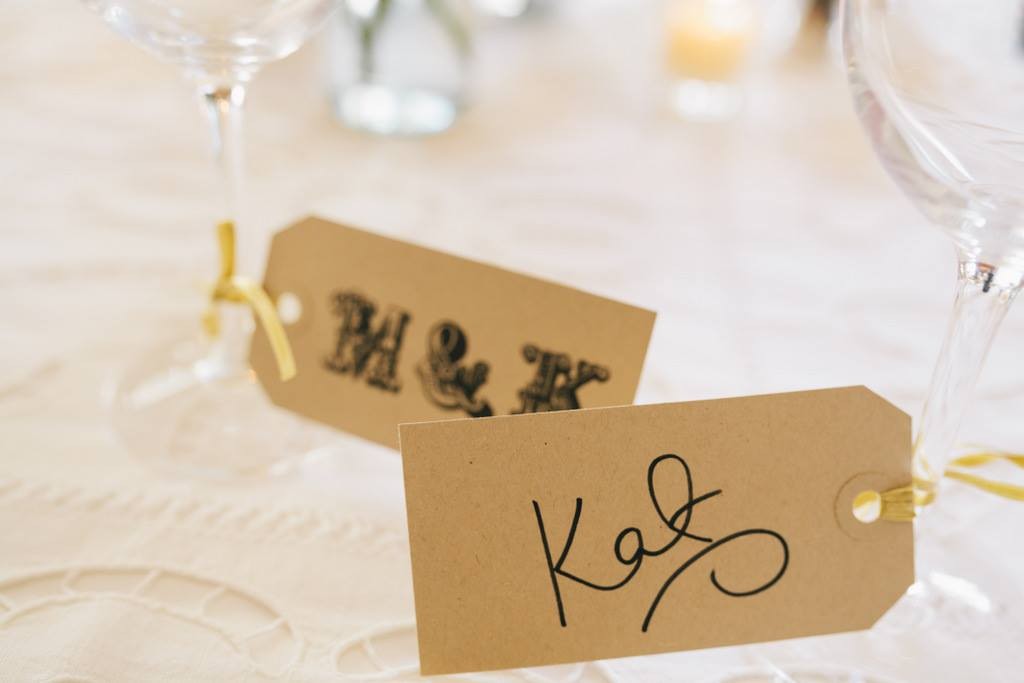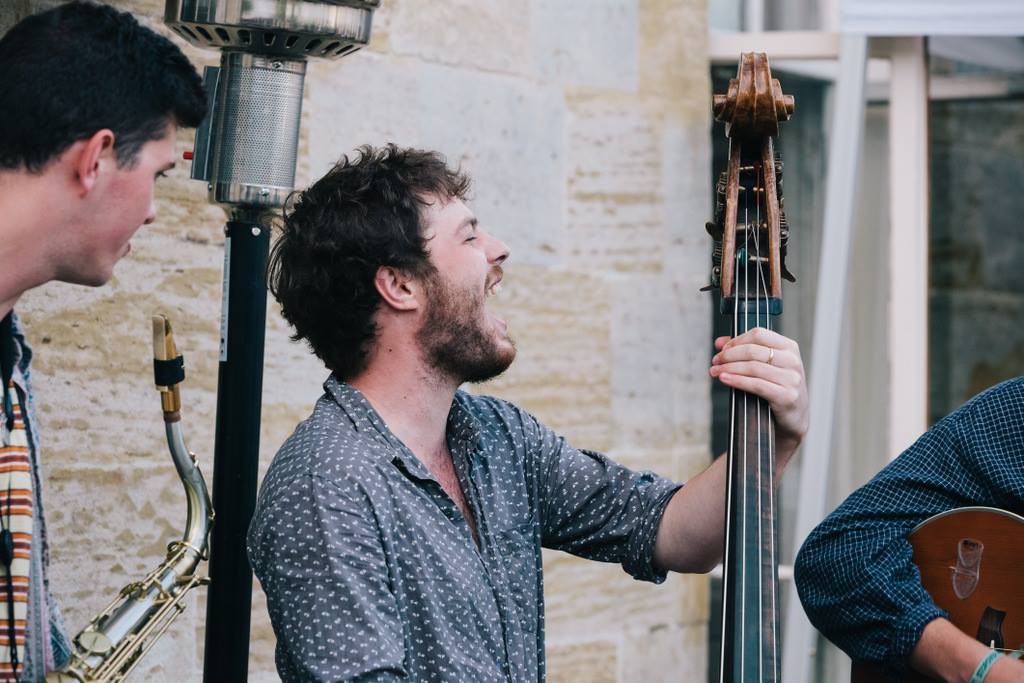 The Entertainment
Following the speeches that were held casually in the garden - and that were hilariously interrupted by a young guest choosing to go swimming in the pond! - came the entertainment!
We chose a local bluegrass/folk band Ouse Valley Collective that performed in the sunny garden for an awesome foot-stomping hoedown. We then kicked off a medley of indie disco with DJ Beach on a classy dancefloor of candles, moody red up-lighting and subtle white cluster lasers in the glamorous Henry Pelham room.
Although we are big music fans and regular gig-goers, the terror of the first dance concerned us. We felt the best way to combat the nerves was to do something unexpected, so rather than the traditional slow and smootchy number, we kicked off with an intro from Pulp Fiction's Jack Rabbit Slim's Twist contest and then leaped into a festival favourite of 'Diane Young' by Vampire Weekend. Although no one believed us, it was totally freestyle. We just let our hair down as we would at a sweaty gig and the result went down particularly well with the crowd!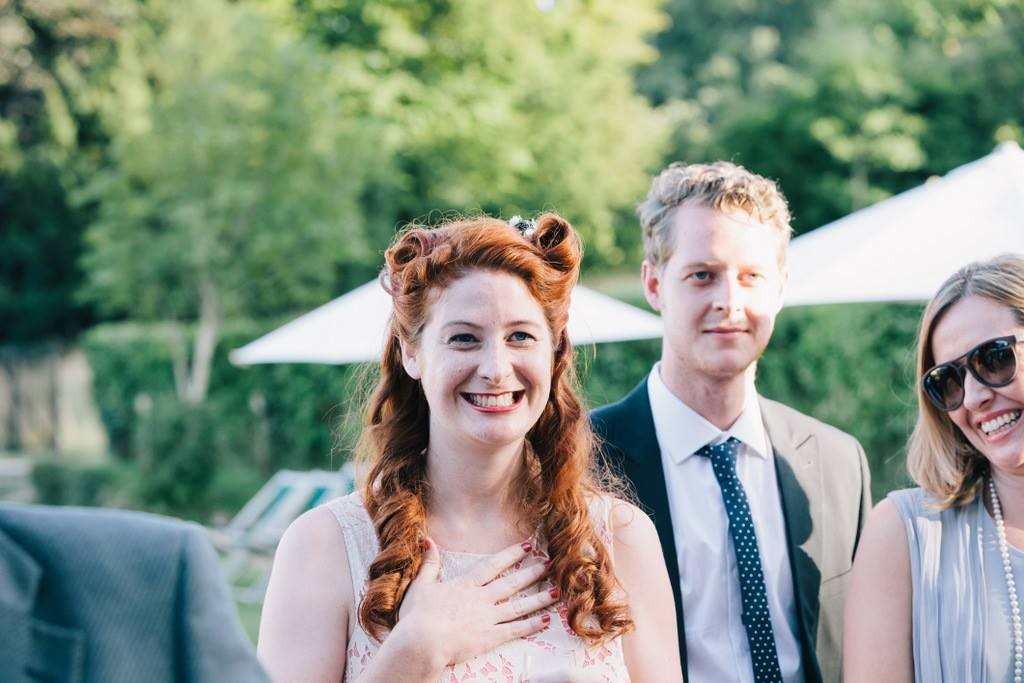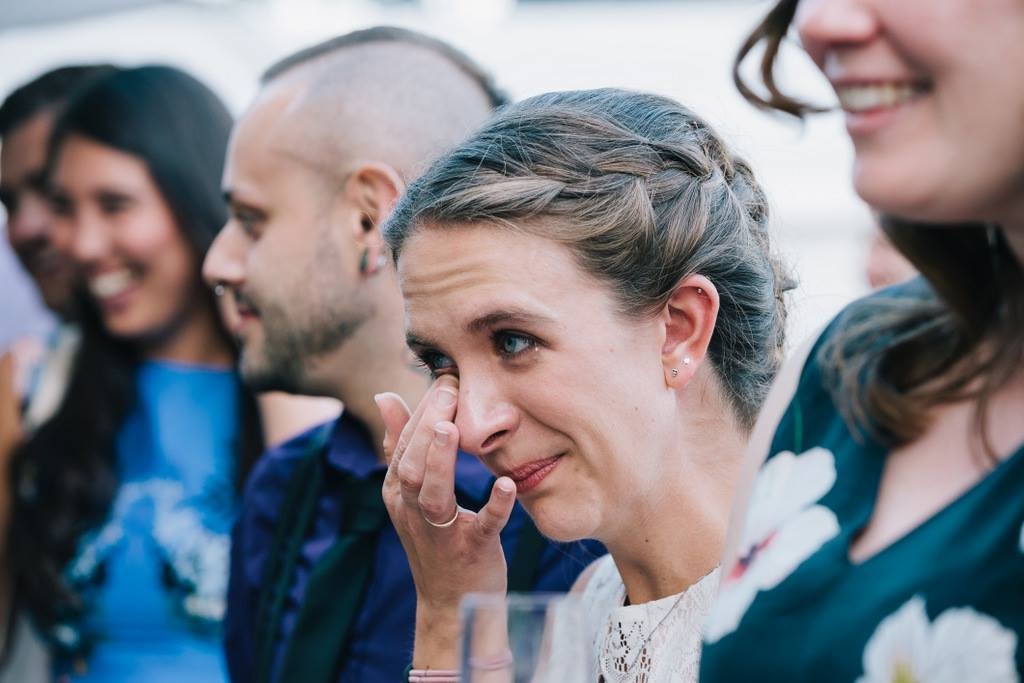 The Food
Our guests enjoyed a choice of three courses designed by in-house, talented chef Richard; Starters of crab and prawn tian, ham hock terrine or duck and pomegranate salad; Mains of marinated chicken, lavender smoked lamb or red snapper; Desserts of pear and chocolate trifle, sticky toffee pudding and fig frangipane tart. Yum!! Our evening of food tasting at Stanmer House was an utter delight and difficult choice, to say the least.
Later into the night we served a selection of hot, posh sandwiches and fancy sausage rolls. Delish!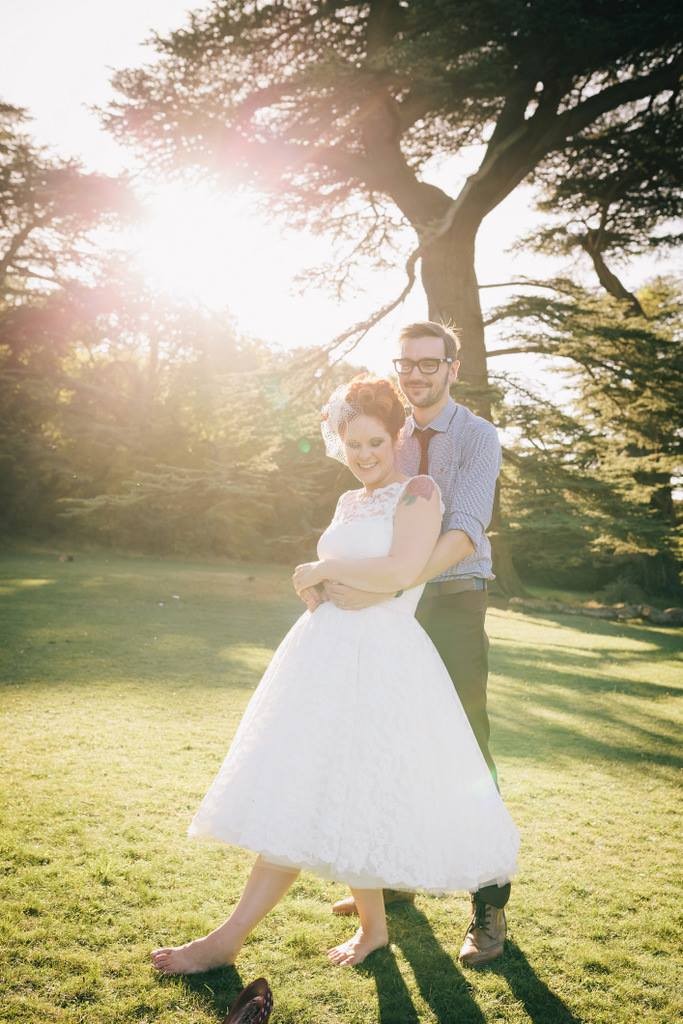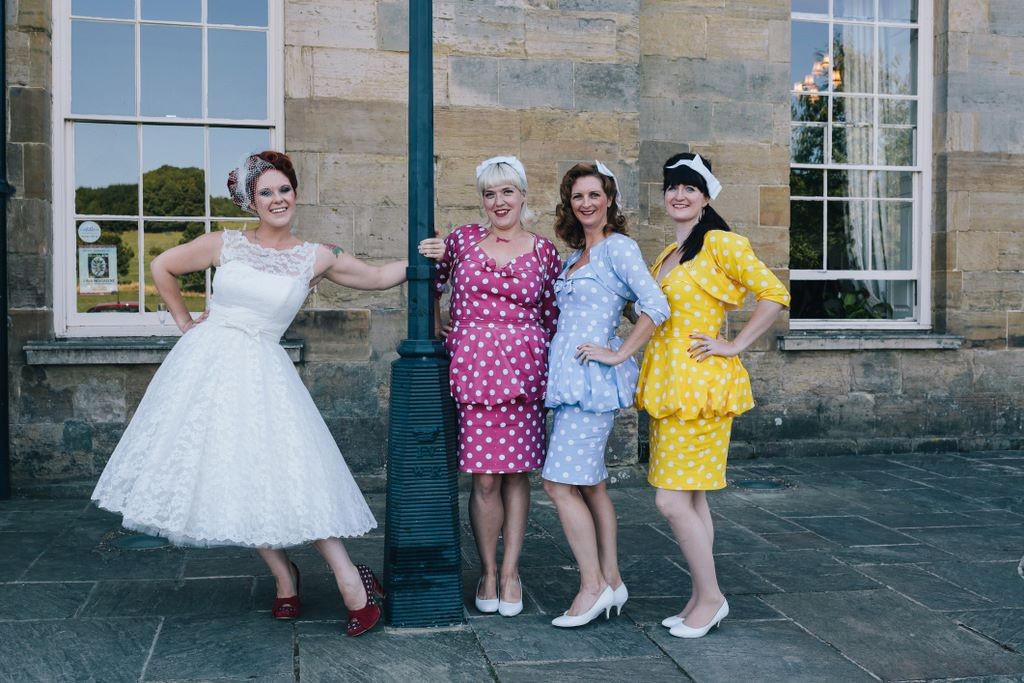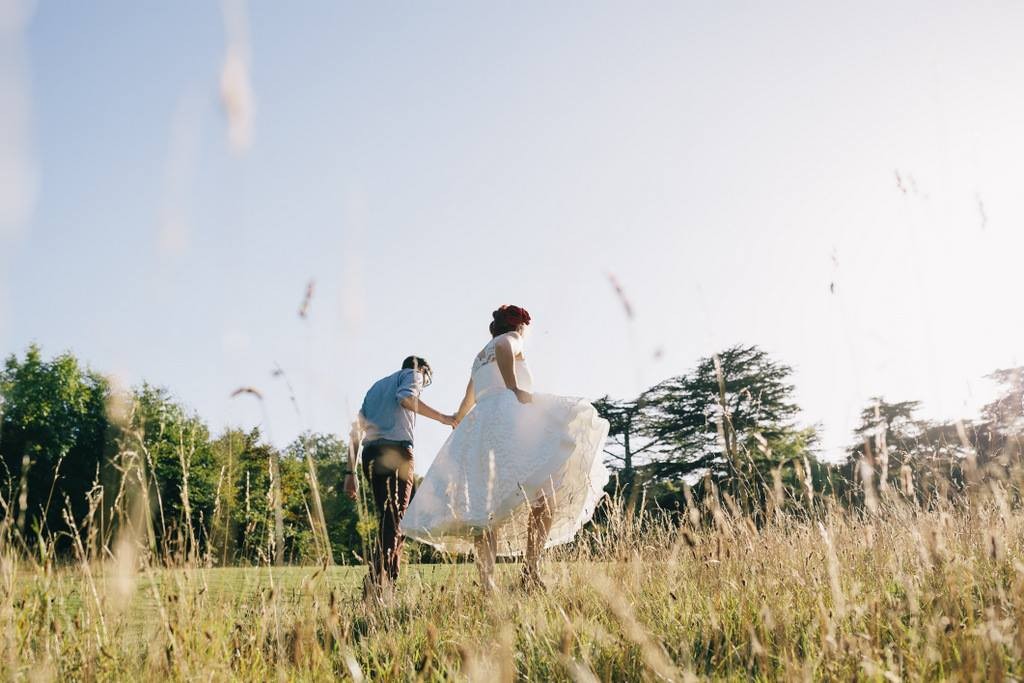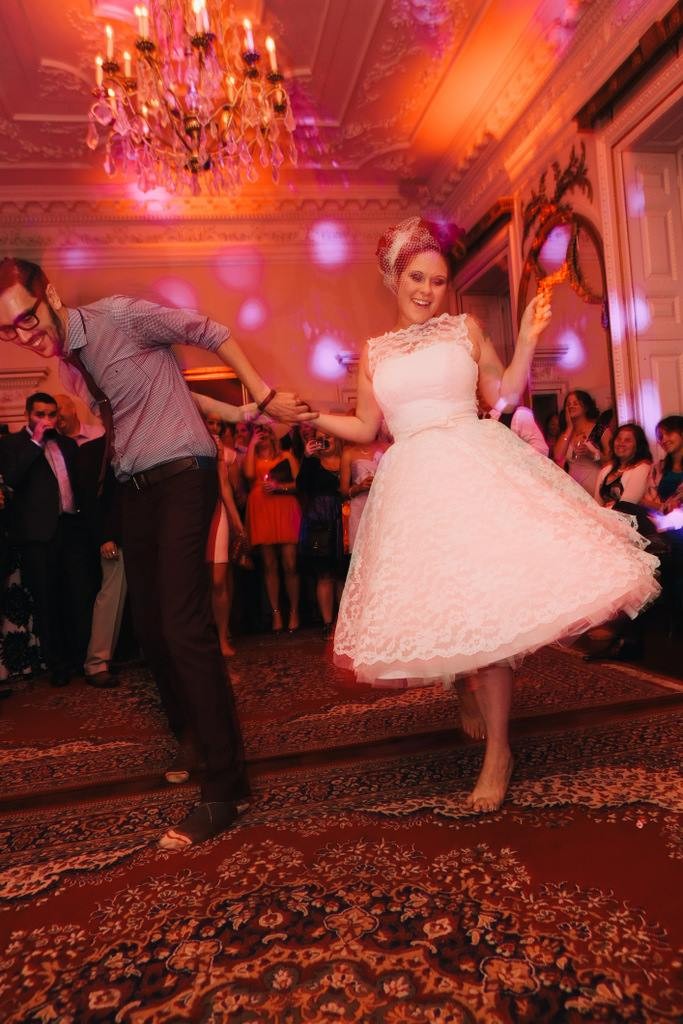 The Honeymoon
Soon after the wedding, Mark and I treated ourselves to six days in New York; an unbeatable week of finding film/TV hotspots (such as the Ghostbusters fire-station and Carrie Bradshaw's flat), trying 'real' American burgers, catching a show on Broadway, a gig from Passion Pit on the Hudson River and experiencing the Yankees in full swing.
Suppliers
Dress: Candy Anthony
Suit: Jump the Gun
Bridesmaid Hairstyling: Tea and Trim
Cake: Sara Autton (close family friend) / Decorations Jane Cunningham (stepmum) / Garden cupcake corner Margaret Baldwin (Mark's mum)
NOTES: The main cake was a three tiered wonder created by close family friend and Master Baker Sara Autton, with extra decorations from my Stepmum Jane. It featured a model of our wedding campervan, our little Jack Russell, Win, bright flowers and to top it off an unbelievably accurate model of the Brighton Bandstand itself, created using the original architectural plans of the structure. Inside was a little surprise with a different coloured sponge for each layer (red, green and Neapolitan), broken up with white frosting for a true seaside, deckchair effect.
Venue + Catering: Stanmer House otherwise known as Proud Country House
Photography: Heather Shuker, Brighton Photo
Music: Doo Wop Dolls + Ouse Valley Collective + DJ Beach
Bouquet Flowers: Gunns Florist
Table Flowers: Jane Cunningham (Stepmum)
Bandstand Decoration: Lisa Fox, Wedding Dressings
Transport: Campervan VW Wedding Wheels + Vintage Buses South Coast Motors