I've Had The Time Of My Life | Rebecca & Gary's Real Wedding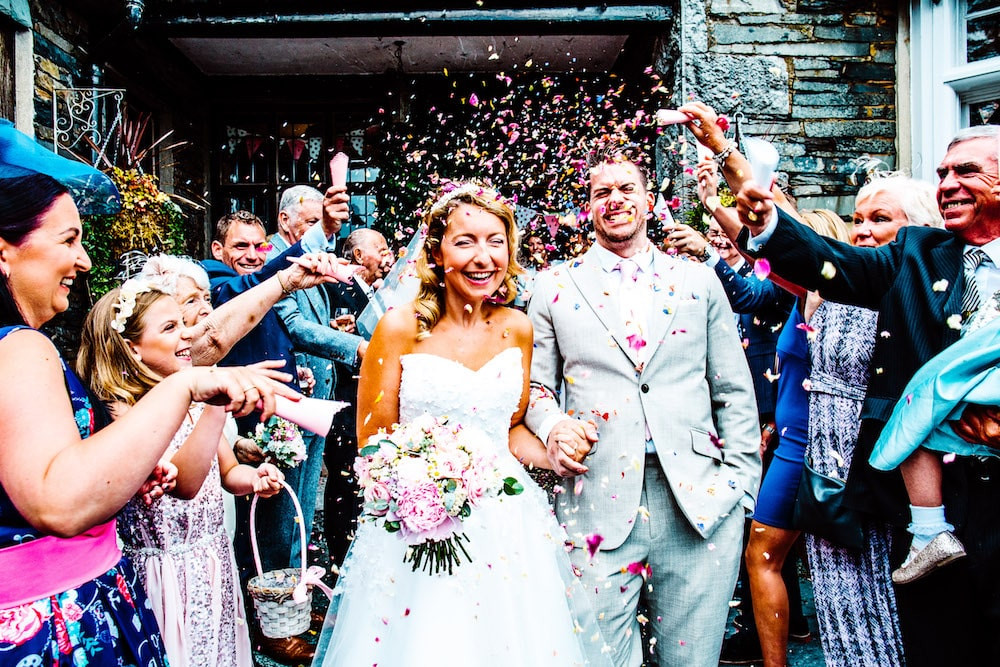 On the 13thof July 2018, Rebecca Fleming and Gary Arnold tied the knot in an utterly fabulous Dirty Dancing themed wedding at the gorgeous Broadoaks Country House in the Lake District! We chatted to the lovely couple to find out more about their big day and just how Broadoaks made it perfect for them…
Tell us a little bit about how you met and the proposal (we love a bit of romance):
We met when we both decided to take the stairs one day… we worked at the same place but had never met. Gary held the door, we got chatting and by the time we reached the bottom of the staircase we both knew something special was going to happen. Now we always say that good things happen when you take the stairs.
Gary proposed on a summer's afternoon, at home.. on the stairs…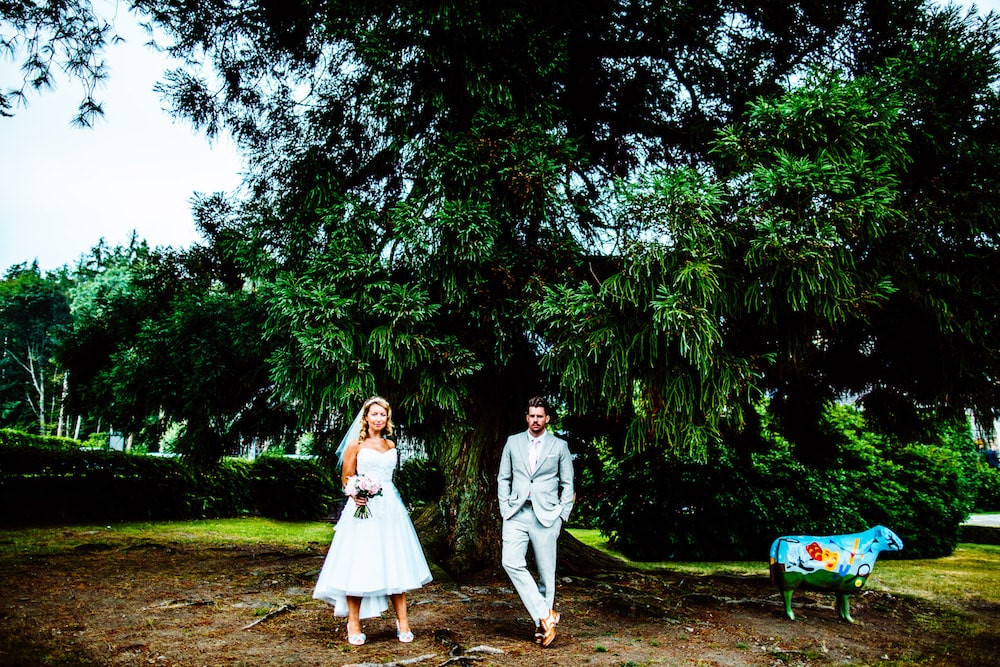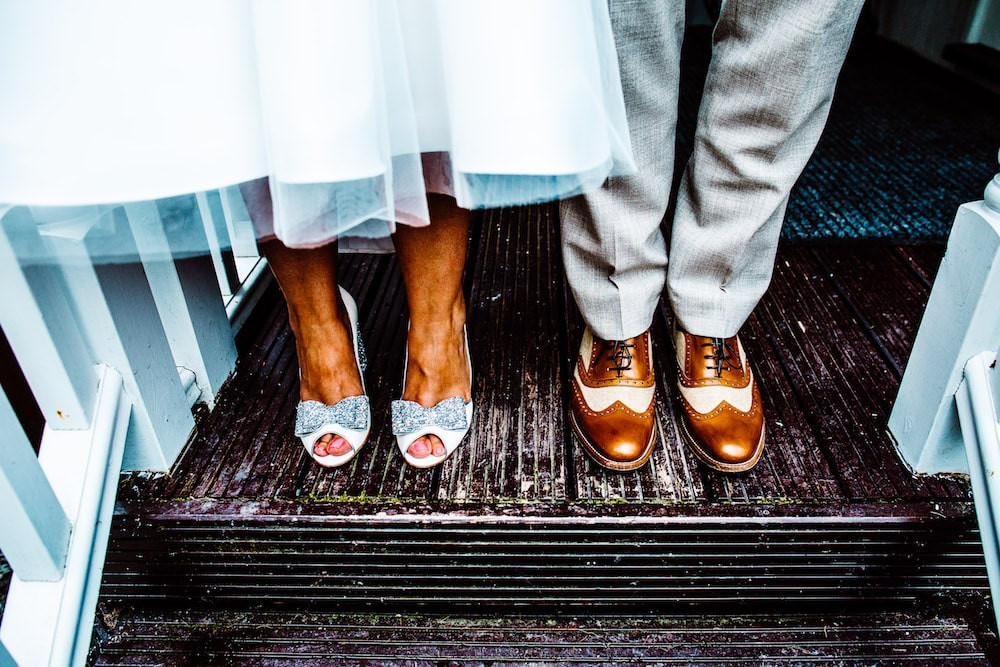 What was the theme of your wedding?
Our wedding was Dirty Dancing movie-inspired, with watermelon touches in the décor (confetti, bunting, colours and the cake – which was red velvet so it looked like a watermelon when cut into).
We both love the movie and it was part of the reason we liked Broadoaks - as the cabins reminded us of the staff quarters. The whole family plotted and schemed to stage a flash mob style singalong of a song from the movie, surprising Rebecca with a rendition over the meal. It was quite something! Another surprise was the life-size cardboard Johnny and Baby (in the corner, naturally..).
Rebecca's dress had daisies all over the bodice (and the dress name was Daisy) so that inspired the flowers – wild daisies, pink peonies and pink roses, plus various wild flowers in small vases. The bridesmaids also had pink, daisy-inspired outfits – and being a summer wedding, this was echoed by the guests' outfits too.
We both like vintage style, and used several props from our own home as decoration – such as the vanity case, home-made bunting made by Grandma and vases.
Did you instantly know the style of wedding you wanted? Did you both agree on the theme? Or did something else sway your decision on this?:
We knew we wanted to have 2 weddings. We are close to our families and wanted to be able to spend time with everybody on the day but we live in London and have a large circle of friends there – having one big wedding with friends and family would have meant we wouldn't be able to do that. So we knew that a small, intimate wedding up North would mean we'd be able to share the day with our families… and then we'd follow it with a friends-only wedding in London, where we could dance on the tables.
We knew we didn't want a formal, very traditional wedding. No speeches, no first dance, no standing on ceremony – the only formalities were to be the vows. The Dirty Dancing theme came after we saw Broadoaks (and in particular the white cabins)… and a lot of in-jokes came into play! The Lake District is meaningful to both of us and we felt that the setting would be perfect for not just the day itself but for the whole trip, as many of the wedding party guests would stay for a few days.
The style of the London wedding was more fitting to the city setting – we hired a whole pub, went out onto the street for our photos by the graffiti, in a local launderette and by a London bus. It was a great contrast to the more traditional setting of Broadoaks.
What were you looking for in a venue?
We knew that we wanted enough space for everyone to be able to stay at the venue that night, and also that we wanted it to be private with no other guests. Something we definitely wanted was outdoor space, as we wanted to have lawn games for everyone to join (although the wedding was during the summer heatwave, we were mindful of the changeable Lakeland weather – so the venue needed to be large enough that everyone could be inside comfortably in case it did rain).
The ability to have the ceremony on the premises was a big draw – some of our guests were not able to get around easily, so it meant we didn't have to travel between venues on the day. It also meant that logistically, everything became a lot easier… no car hire, no-one had to drive so everyone could enjoy a drink etc.
Gary is a foodie, so the food was really important – the idea of a typical sit-down wedding, with mass-catered chicken in a sauce really wouldn't cut it. A hog roast was ideal for our summer wedding; informal, fun and it appealed to different generations… The age range of our guests was from 2 to 86!
How did you come across Broadoaks?
Rebecca's Mum, June, had been to a wedding there a couple of years ago and really liked the venue. She had stayed there a couple of times since and recommended that we visit.. so the whole family piled into the car and headed to the Lakes for a day out and a look around Broadoaks. We knew as we left that it was the ideal place.
What was it that you loved about Broadoaks that made you choose it over the other venues?
We loved that the venue was tucked away so it felt very private and quiet, surrounded by beautiful views. Our guests were travelling a long way so it was important to us that the venue was stylish, comfortable and considerate of each of their needs – we felt that Broadoaks really cared that everyone enjoyed themselves. With divorced parents on both sides, we wanted to make sure that every guest felt that they were being treated – so it was great that every bedroom was individual and felt private. The bathrooms and four posters were a hit.
For the bridal party, the Retreat was great. It meant we could all get ready together, have our music on and relax, away from the main house.
The styling of Broadoaks also lends itself really well to weddings. It has natural light, the décor is lovely, and the setting is absolutely beautiful. The location was great too; easy to find and central so that we could explore the Lakes after the wedding.
Having an open dialogue with the events team right from booking through to after the wedding was a really important element. Naturally, you have lots of questions, things change and you want to make sure it all goes well. The team were helpful, patient and enthusiastic – which was really appreciated.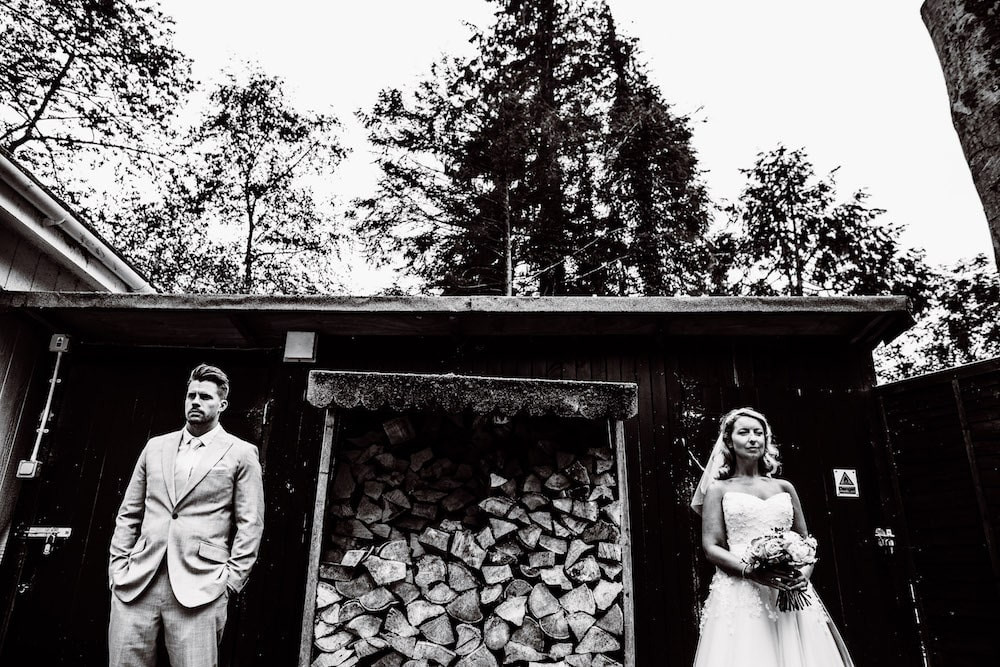 Tells us what the best bits of your wedding were? What made your day really special?
Saying our vows in the Orangery – it felt intimate, cosy and very special. We wrote our own vows and didn't know what the other would say until the ceremony. We also both loved the afternoon; the sun came out, everyone was outside playing games, chatting and enjoying the views.
Can't leave out the flash mob singalong too!
What would you say to any couple thinking of using Broadoaks for their big day?
Ask a lot of questions – the events team are really helpful. Visit beforehand if you can; photos don't do it justice and it helps to imagine how the day will go when you can see the space for yourself.
Which Suppliers Did you Use? And were any of them recommended by Broadoaks?:
Photographer: Andy Wardle.
Flowers: Made in Flowers (not recommended directly by Broadoaks but I did ask Vicki's opinion before I booked and got a positive response!).
Rebecca's hair: Ely Bartlett ('Hair and Make up by Ely').