Ben and Michelle's Rustic Wildflower Wedding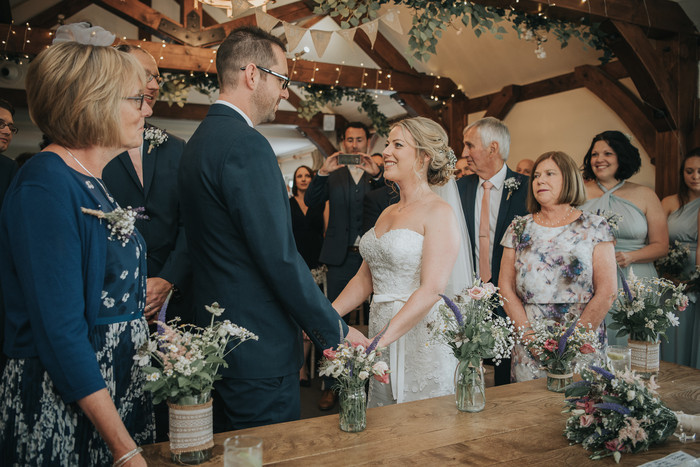 From dainty arrangements of wildflowers dotted around the venue, to an epic BBQ and a surprise singing waiter that resulted in a big conga line around the venue, Ben and Michelle's wedding feels perfectly relaxed with a real focus on the fun. Embracing natural, countryside tones from sage green bridesmaid dresses to hessian trimmings and soft tonal floral choices, their styling suited the modern countryside venue of The Compasses at Pattiswick beautifully.
To find out more about the details of the wedding from DIY decor choices to hilarious moments from the day, we spoke to the lovely bride Michelle.
The Couple
"We met four years ago in the good old fashioned way – through an online dating website! After lots of emails (and a very long phone conversation during a train ride to Cornwall) we had our first date in London Bridge. We now live in Chelmsford, Essex with our lovely cat Jessie!
The Proposal
Ben arranged a big surprise for me utilising the help of some of my sneaky friends. He told me we were going to their house in Kent for a BBQ (I dressed in casual shorts and flip flops expecting a relaxed day in the garden) Sinead even called me the day before to tell me she needed me to come to hers so she would have company during the football. On the drive to Kent, we carried on going – ending up at The Gallivant hotel in Rye which is somewhere I have always wanted to go! Ben had packed a bag of random clothes and toiletries for me (no shoes though!) and had also sneakily booked me the following day off work! I knew something was going on but wasn't quite sure if this was it! When we went up onto the beach, we sat down in a sand dune and Ben (who hates the beach!) got down on one shaky knee and popped the question - it was such a happy weekend – one I'll never forget.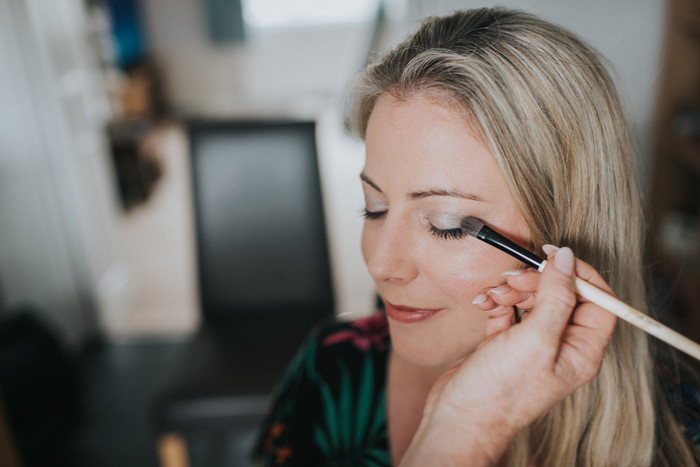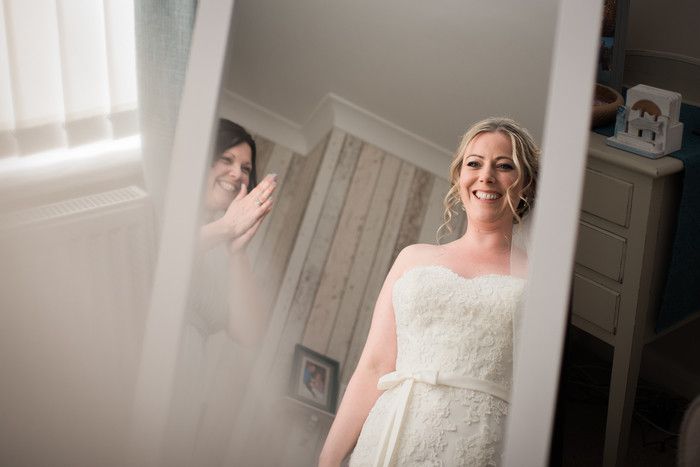 The Venue
After looking at a few venues around Essex, we stumbled quite by chance on The Compasses and instantly fell in love! From the moment we were welcomed through the door we knew it was the one! Relaxed, informal and beautiful, it was just perfect! The staff were all amazing and we instantly felt like it was meant to be.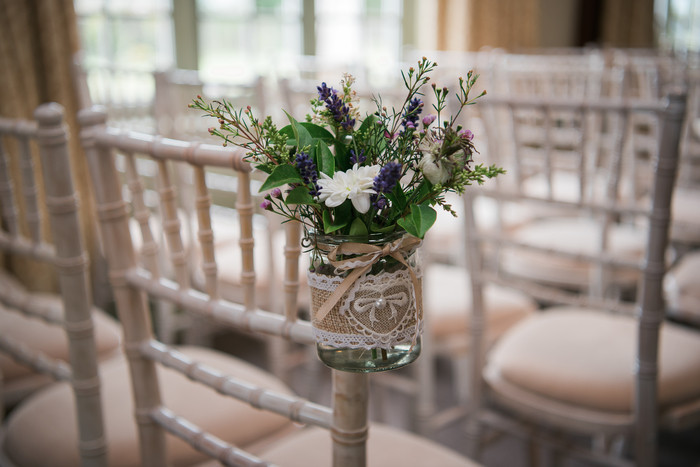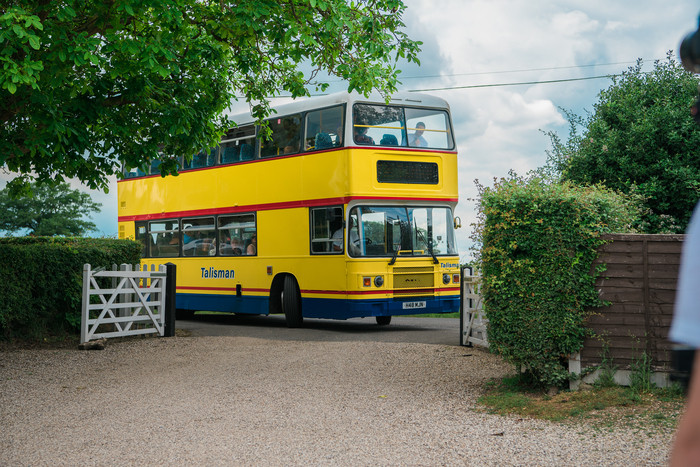 The Style
Because the venue is already perfect, it needed very little to enhance it. We wanted something informal and fun and that is exactly what we got. The style was rustic, with hessian decorations peppered with touches of sage and wildflowers decorating throughout. I made quite a lot of decorations myself, including a ladder table plan, rose petal confetti and little peg wedding favours.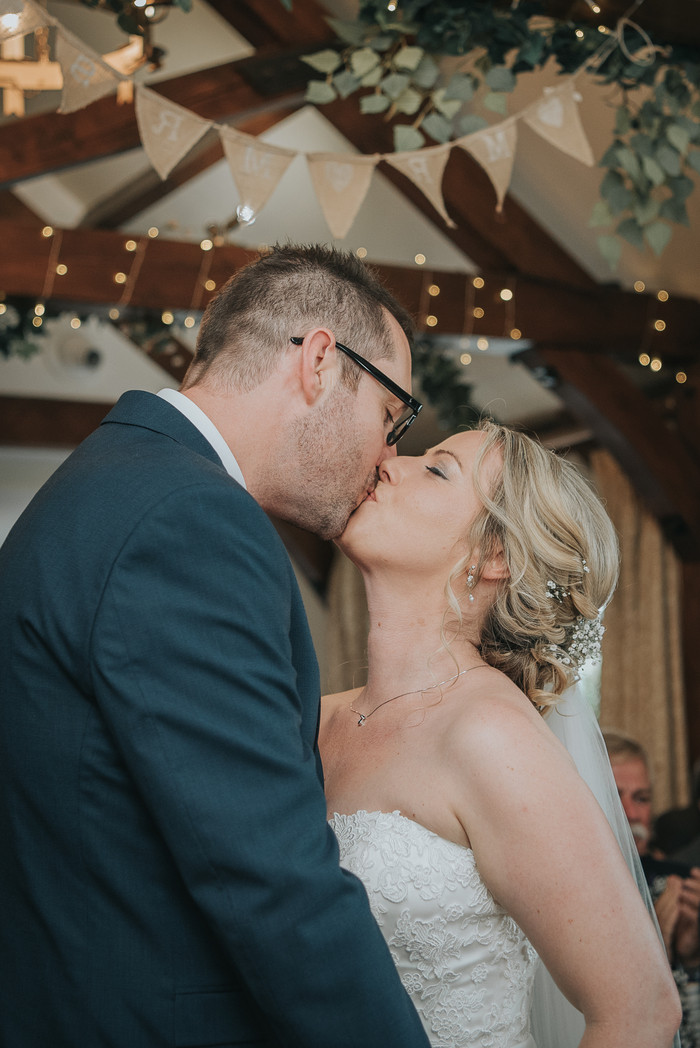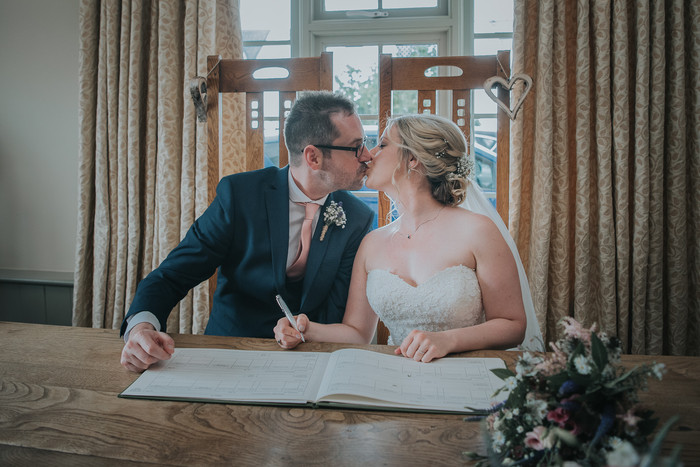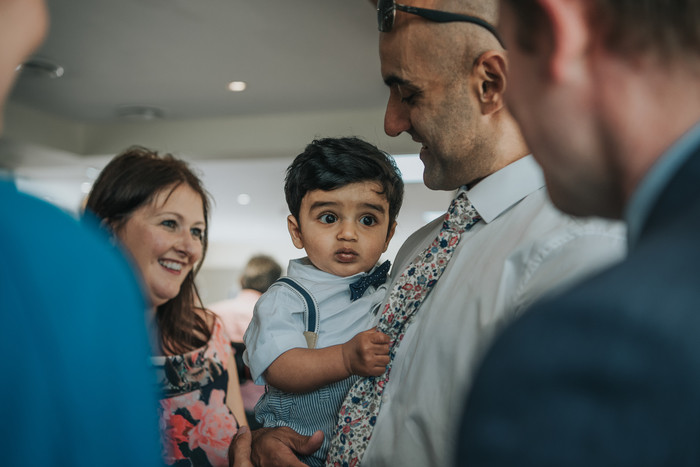 The Outfits
I actually bought the first dress I tried on in the first (and only) shop I went to. I popped into Bird's Bridal in Chelmsford one day (not expecting to find something) and ended up with my perfect dress! The staff were so good at knowing exactly what would suit me and I absolutely loved the dress! Ben's choice was just as easy – he used his suit from being a best man a few months before (with new ties and waistcoats for the boys). He had a lovely navy suit that made him look very Danny Dyer! For my bridesmaids, I chose the multiway dresses from Debenhams as they are so great for suiting a whole range of shapes and sizes. With my bridesmaids being tall/short and one who had only had a baby 6 weeks before the wedding these were perfect as the girls could choose the way they styled their dresses – which were in my favourite colour of sage green.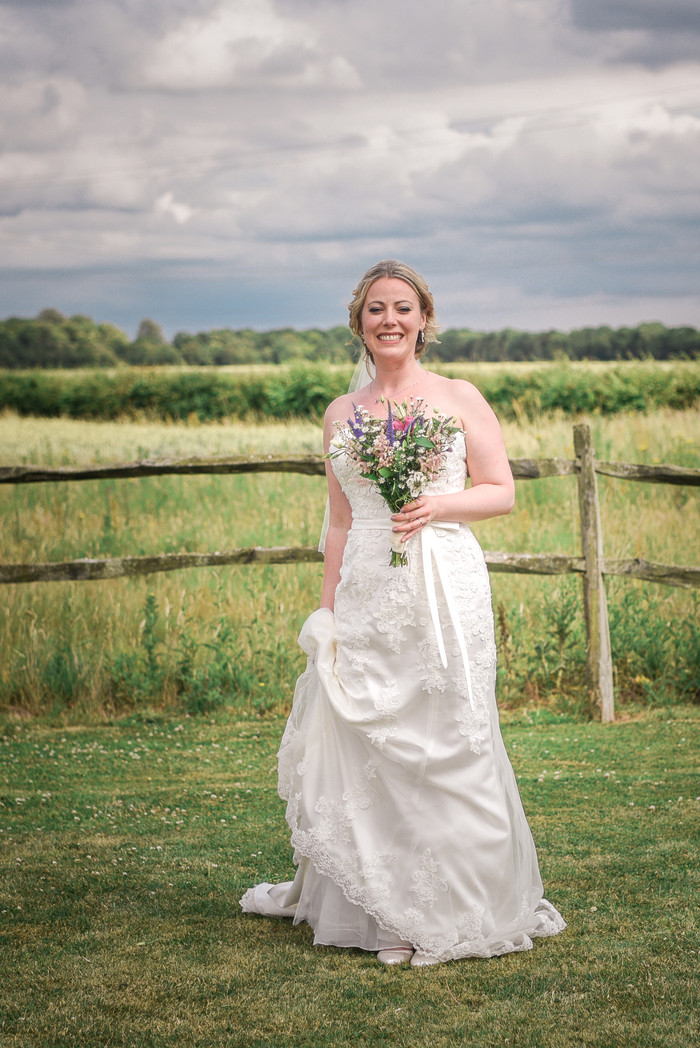 The Photograph + Videographer
A friend of a friend was starting out as a wedding photographer and after meeting Hiral and seeing her previous work, we loved her style and decided to go ahead. Hiral was great at communicating and met us at the venue before the wedding to make a plan. Her style is very relaxed and documentary and really told the story of our day. We are so pleased with the photos – the only problem now is deciding which ones to use! We also decided to use a videographer to put together a 5 minute montage of the day. This turned out to be the best decision we made as the video is short and sweet and captures the whole day perfectly – from us getting ready until we started dancing, it brings the day to life – the people, the venue and the atmosphere – so worth it!
The Flowers
I asked Jane who owns the Compasses' if she could do the flowers for us. She has such a natural eye for style and knows the venue inside out. All I asked for was rustic wildflowers with some gypsophilia and lavender – we had the most beautiful selection of flowers in jam jars and mismatched vases which complemented the style of the venue and our colours. Delicate and pretty, they were just beautiful!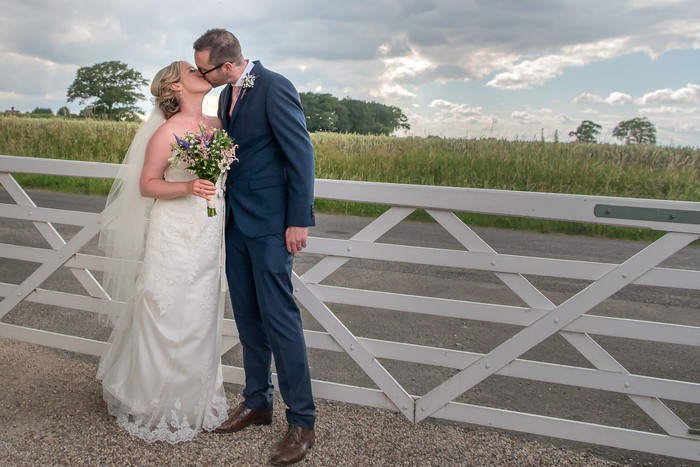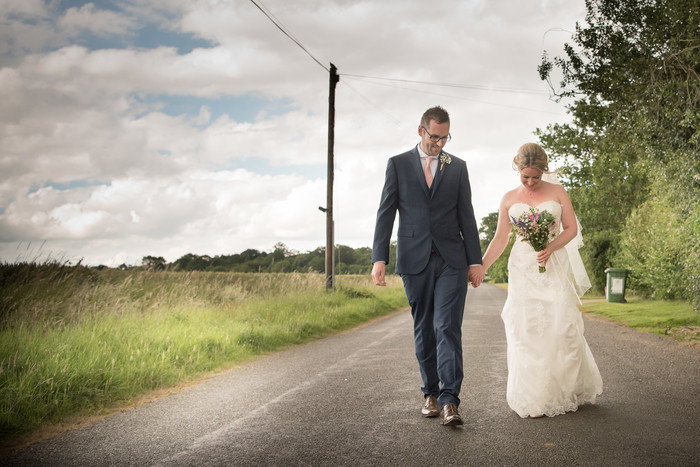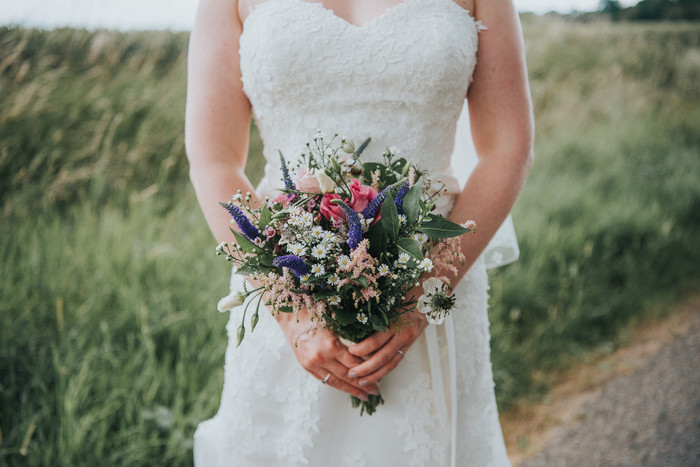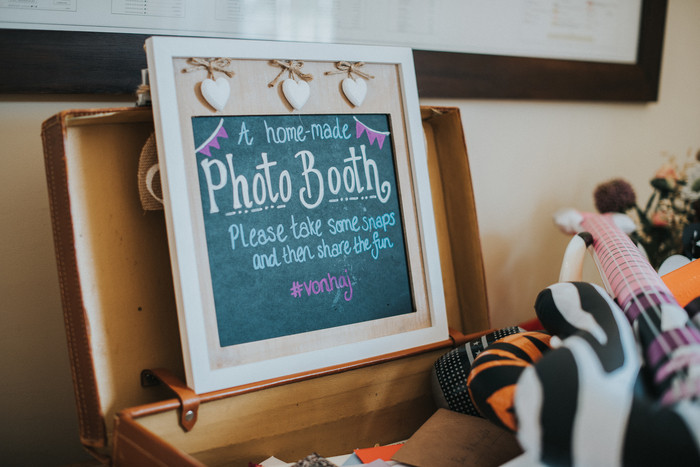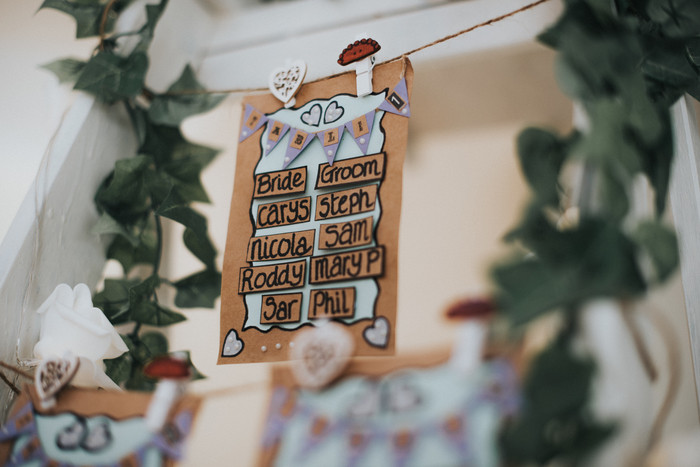 The Food
Coming from a BBQ loving background, this was the obvious choice for us. The Compasses did an amazing BBQ feast for us with a wide choice of delicious meats, salads and sides. The BBQ suited our taste for the informal and was absolutely gorgeous! We finished off with a trio of desserts – a little bit of everything so as to avoid food envy – perfect!!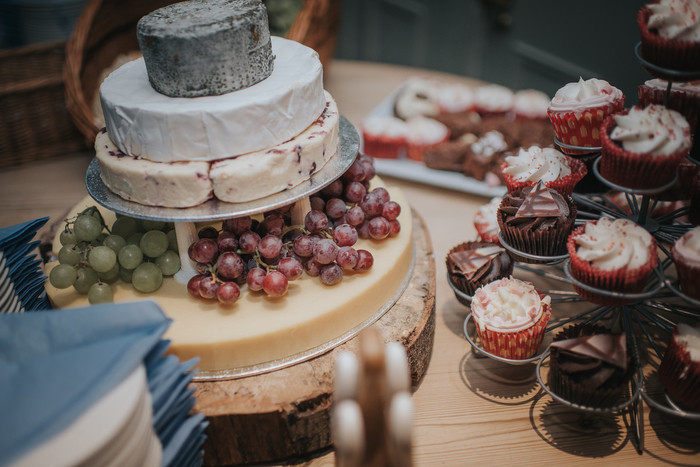 The Entertainment
As a surprise for Ben, I arranged a singing waiter! He blended in with the venue staff serving behind the bar and waiting tables - unbeknown to everyone except a few he then tripped over in the middle of desserts and burst out into song!! This was a brilliant ice breaker- he had everyone up dancing and we finished with a giant conga around the venue to 500 miles! We then had a great DJ in the evening who kept the dance floor filled until the very end. From doing the Dirty Dancing lift, to crooning to Bohemian Rhapsody – we had an absolute blast. Lucky there were lots of flip flops provided to help with the sore dancing feet!!
Funny Moments
We nearly didn't have a wedding party! The coach we booked to take the masses over to the venue broke down as they were leaving the carpark in Chelmsford. After a while and some attempts at re-starting, the coach shuddered to life and our guests made it just in the nick of time!!
Favourite Moments
Basically everything! I loved getting ready with the girls at home – it was so much fun and we had a blast! I also loved walking down the aisle and seeing all of our friends and family filling the venue from every nook and cranny - it was amazing seeing Ben at the end and then celebrating with everyone we love all in the same room at the same time! Everyone up dancing and doing the conga was brilliant as was dancing our socks off all night! Absolutely loved it all.
Words of Wisdom
I wouldn't have changed anything about the day – everything was perfect and just how I imagined it to be! The only thing I would say is to have the ceremony earlier (we started at 3) as the day goes by so quickly you want to have as much time as possible to enjoy it! Everyone says it goes quickly and I didn't believe it until our wedding – just be relaxed and enjoy – it really is the best day of your life!"
The Suppliers
Photographer – Hiral Jethwa
Videographer – If It Moves
Florist – Jane Clark at The Compasses at Pattiswick
Outfit – Bird's Bridal, Chelmsford
Bridesmaids – Multiway bridesmaids dress in Sage from Debenhams
Groomsmen – Next
Hair and Make Up Stylist – Hair by Carly & Makeup by Karen (Bride Beautiful, Chelmsford)
Stationery – Lily Pickles at Prettythingsfrompickle
Cake and Favours – M & S / Handmade favours and scratch cards
Catering – The Compasses at Pattiswick
Entertainment – David @ If you need a DJ & Raphael from Silver Service Singers
Décor and Styling – Handmade