Matt and Sam's Cosy Hack & Hop Wedding
One of our favourite pieces of advice when it comes to choosing a low-key and intimate wedding venue, is that opting for a pub might just be the best decision you'll make. With impressive architecture, interiors and history, an innate sense of cosiness and a destination that knows how to nail great grub and booze - we can't rave about them enough. Matthew and Sam's wedding at Hack & Hop in London just shows that the proof is in the pudding, with a wedding that just exudes effortless cool whilst still celebrating their mutual love of craft beer. To find out more, we spoke to bride Sam to get the full scoop...
The Couple
"Matthew and I have been together for 3 years, married for almost 2. We met on an 'all-hands' work summit held in the Dominican Republic. We worked for the same company, Matthew was working in sales in the UK and I was in Marketing in Philadelphia. After only 6 days together on this work trip we entered into a 10 month long distance, bi-continental relationship, after which I decided to take a leap of faith, leave my job, and move to the UK to see if we couldn't make a life together on the same continent. I moved to the UK at the end of February of 2015 and we were engaged by the end of May! We were married by the end of October. Whirlwind romance for sure!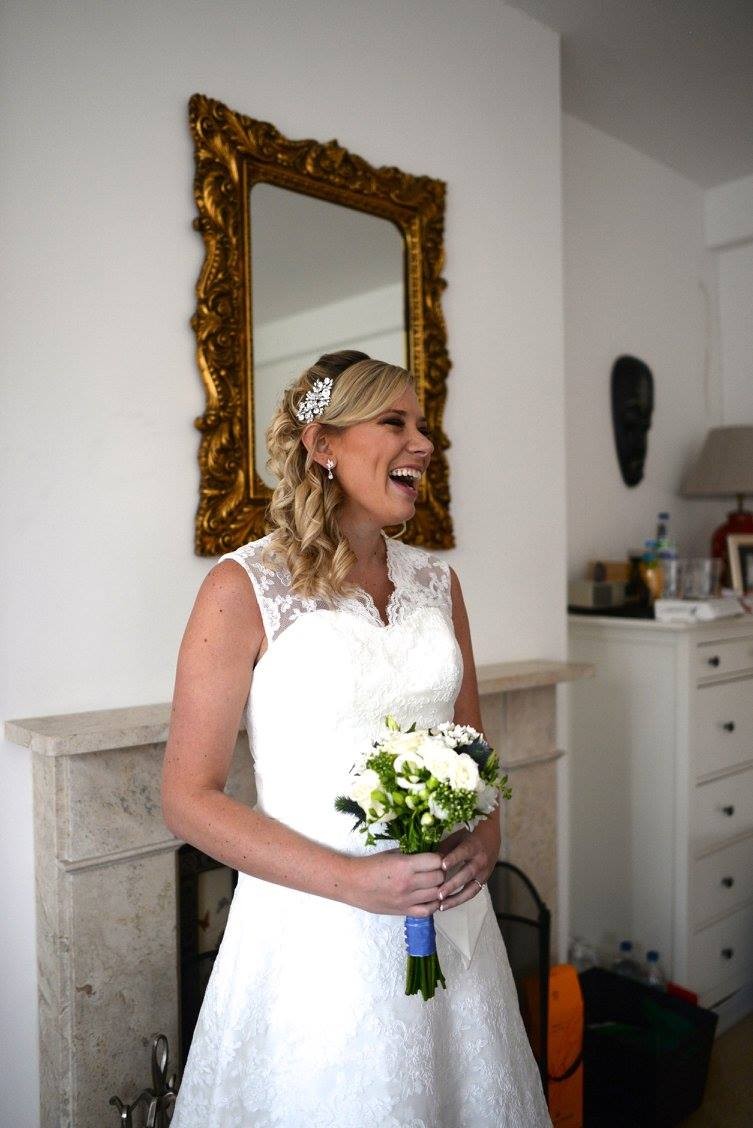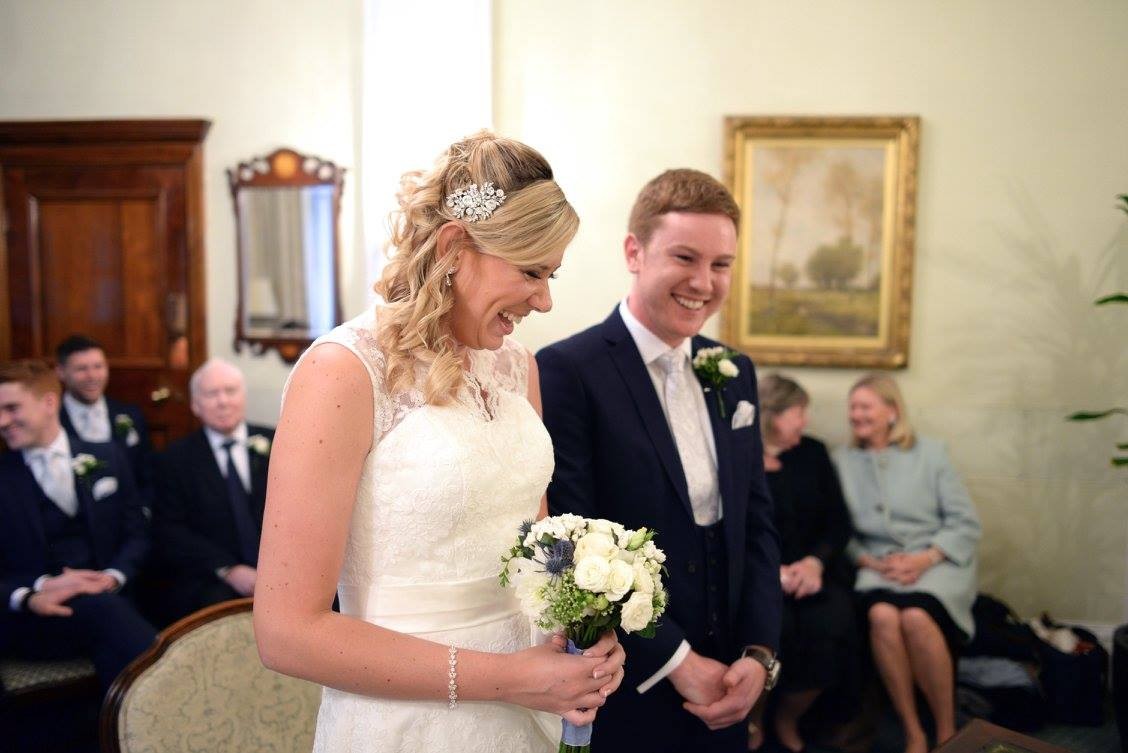 The Proposal
We were back in the states visiting my grandparents in Florida over Memorial Day weekend. I had spent a lot of time there growing up and is a very special place to me. Our first morning, he asked me to walk him down to the beach where my sister and I had spent some much time playing as kids. When we got down to the beach we set out our towels and Matt suggested taking some pictures to send back to his friends and family back in England. He told me to walk down to the water while he got his phone out. I walked down to the water and when I turned around he was down on one knee in the surf!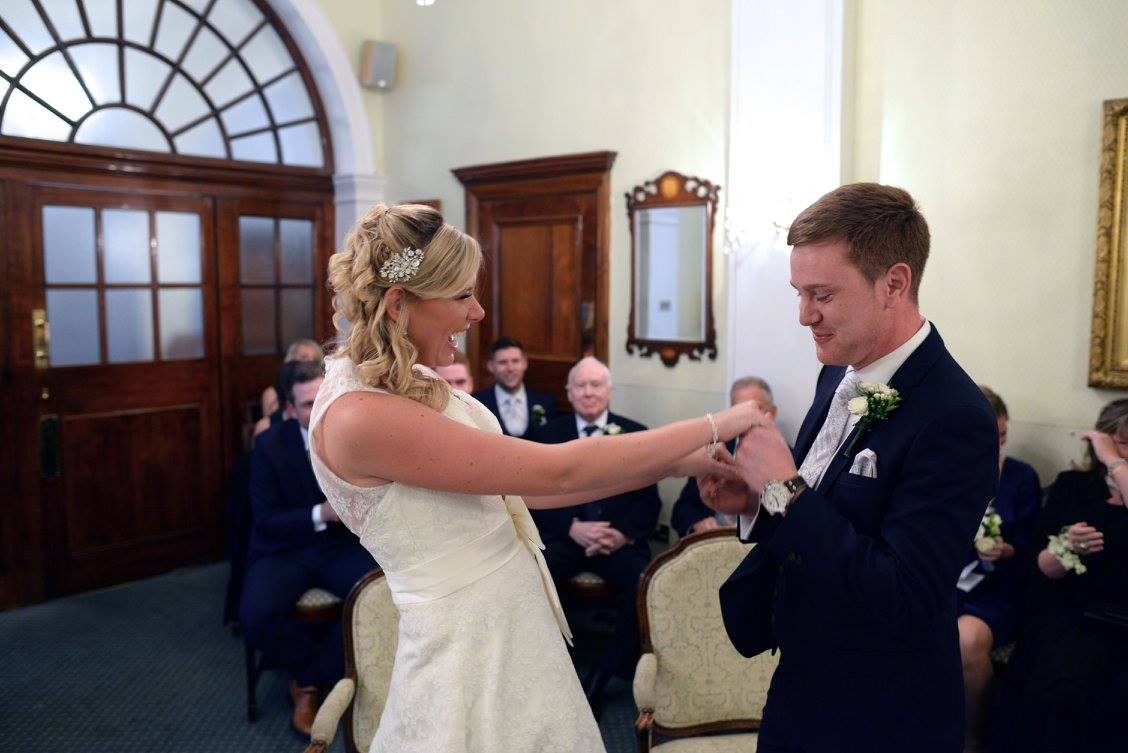 The Outfits
We went for nothing too flashy, as laid back was the name of the day. I wore a tea length sleeveless wedding dress with lace detail and an open keyhole back and matt wore a navy blue suit with a white shirt, pocket square and tie with white and silver detail. My sister was my only bridesmaid in a blue custom dress she had made in Singapore, and Matt's groomsmen all wore matching navy suits.
The Venue
We discovered the Hack & Hop purely by chance (or luck!). We knew we wanted a small, laid back wedding with a ceremony at a registry with a small audience and then a bigger reception/party after where everyone was invited. While we knew it wasn't going to be the most conventional wedding, we still wanted to the day to feel ceremonious while also reflecting both our tastes and personalities. We're both big craft beer fans, so we had batted around the idea about perhaps renting out a pub in London for the reception, but both of us not being from London, we had no idea where to start.
One afternoon before we got engaged, I talked Matthew into trying this brewery of an excellent beer I had tried up in London that I had just discovered was very nearby. We were living in Reading at the time, and Siren Brewery was just in nearby Wokingham. We arrived on Saturday afternoon to a cosy little tasting experience. A couple of couches, chairs, long wooden tables and a bar in the middle of a functioning brewery! It was really quite cool. We got our beers and settled in on a couch across from a lovely couple who were there celebrating their 35th birthdays. We got to chatting about beer and our story when they mentioned they had just thrown their engagement party a couple weeks back at an amazing craft beer pub in London. They raved about the venue, beer, food, service, and the affordability. I remember making a note of it in my phone for the future just in case. When we did get engaged in May and started talking about plans I remembered the note in my phone and we visited the website. We fell in love with it immediately, and emailed them to booked the date without even seeing it in person, and aren't we glad we did! The rest is history.
The Flowers
I'm lucky to have a 'Martha Stewart' type as a godmother who not only offered, but insisted she do my flower arrangements. She, my sister, and mother woke up at 4am to go to New Covent Garden Flower market to get the best and freshest flowers for the arrangements. They lived in our bathtub for the 24 hrs before the wedding, it was quite a sight. We chose white with shades of blue for the flowers, and they looked stunning!
The Photographer
Once again, we found our wedding photographer completely by chance. Our budget for our wedding was quite small and wedding photographers can be quite expensive. My mom suggested I look at local art schools or websites for those trying to break into the business, which is where we found Andrew Witt. I loved the lovely candid nature of his shots right away, he had also shot in the same ceremony venue before. Upon meeting him I was even more sure we made the right choice. Andrew was so nice and interested in what we wanted. On the day of the wedding he fit in like he was part of the family, he made all our friends and family feel so comfortable and captured such amazing photos. We actually got a ton of compliments from people about how lovely our photographer was as well.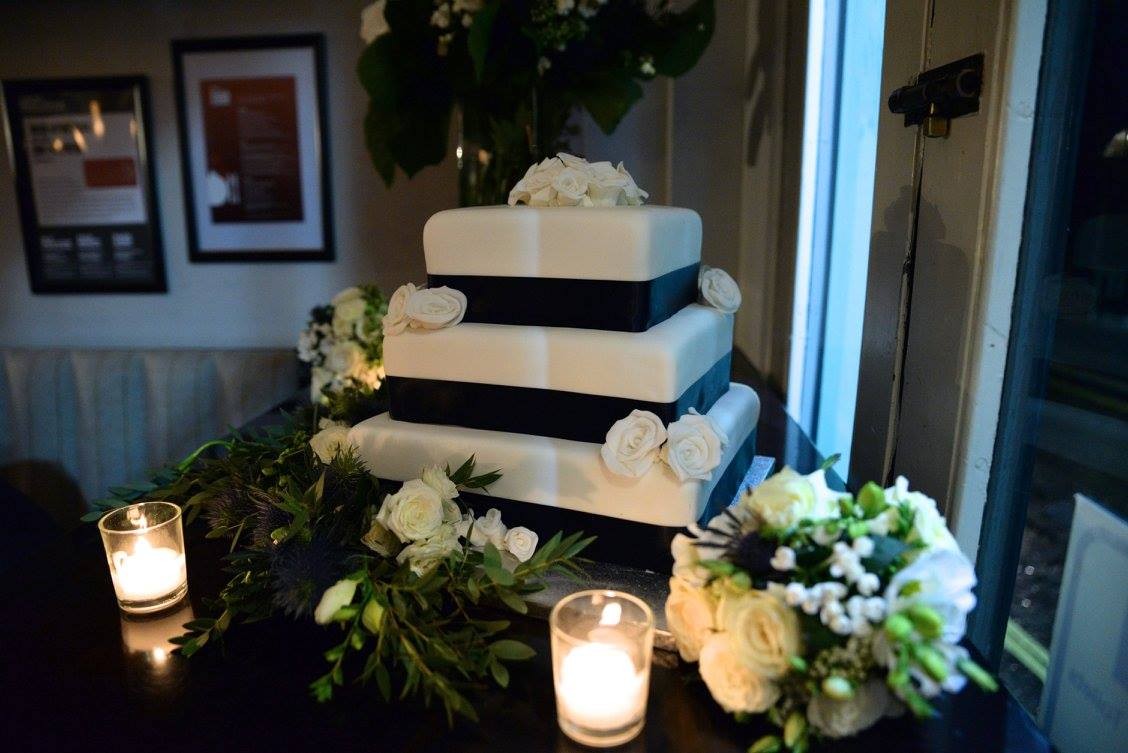 The Decor
As I said before, we really wanted our wedding to feel laid back and relaxed while still having that overall feeling of a wedding. The Hack & Hop provided the warm, cosy, laid back feeling we were looking for, but the dark mahogany walls, furniture and beautiful chandeliers still have a feeling of grandeur you would want from a traditional wedding venue. We loved the look of the pub so much we didn't feel it needed much more decoration. We decided less was more. We spotted the whole place with white tea lights, filled clear hanging lantern holders with little white flowers and placed them on all the tables. Our grander decorations included two larger flower arrangements, 2 large rustic style white boards (which had the drinks on offer and our wedding hashtag on them), a hanging wreath in the window which we tucked lights and live flowers into, and a light up 'M&S' (our initials) which we put on the bar. It made the pub look very festive and made it absolutely beautiful and charming, especially after the sun went down!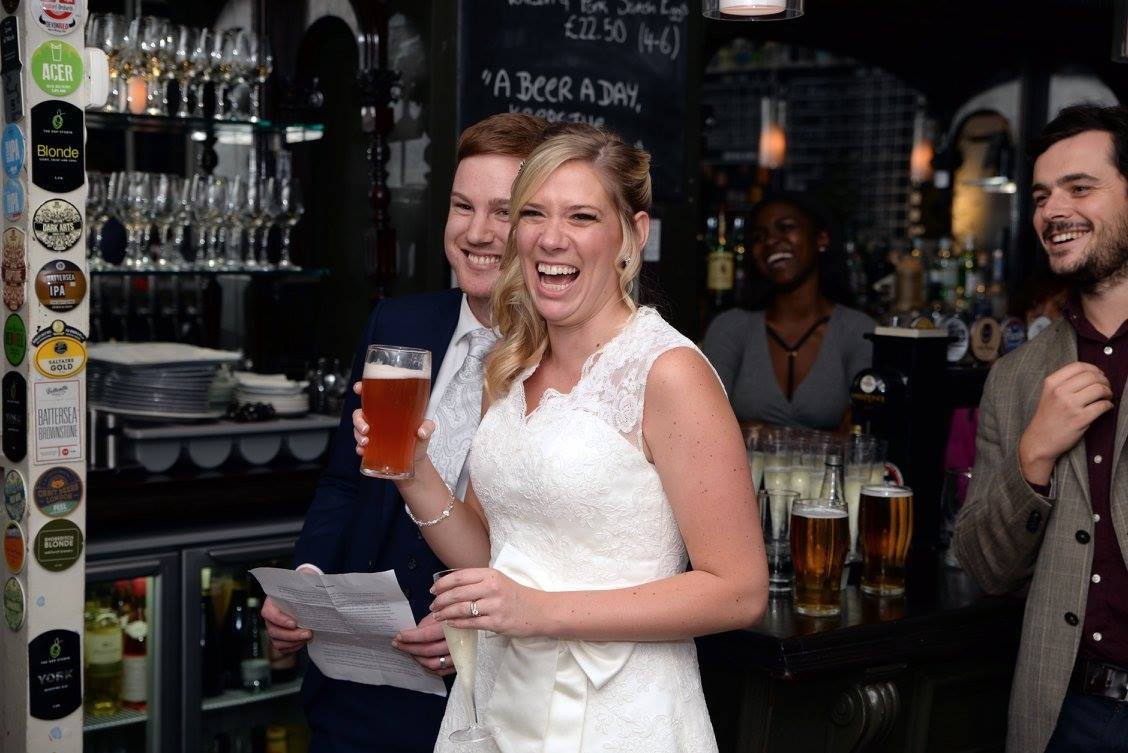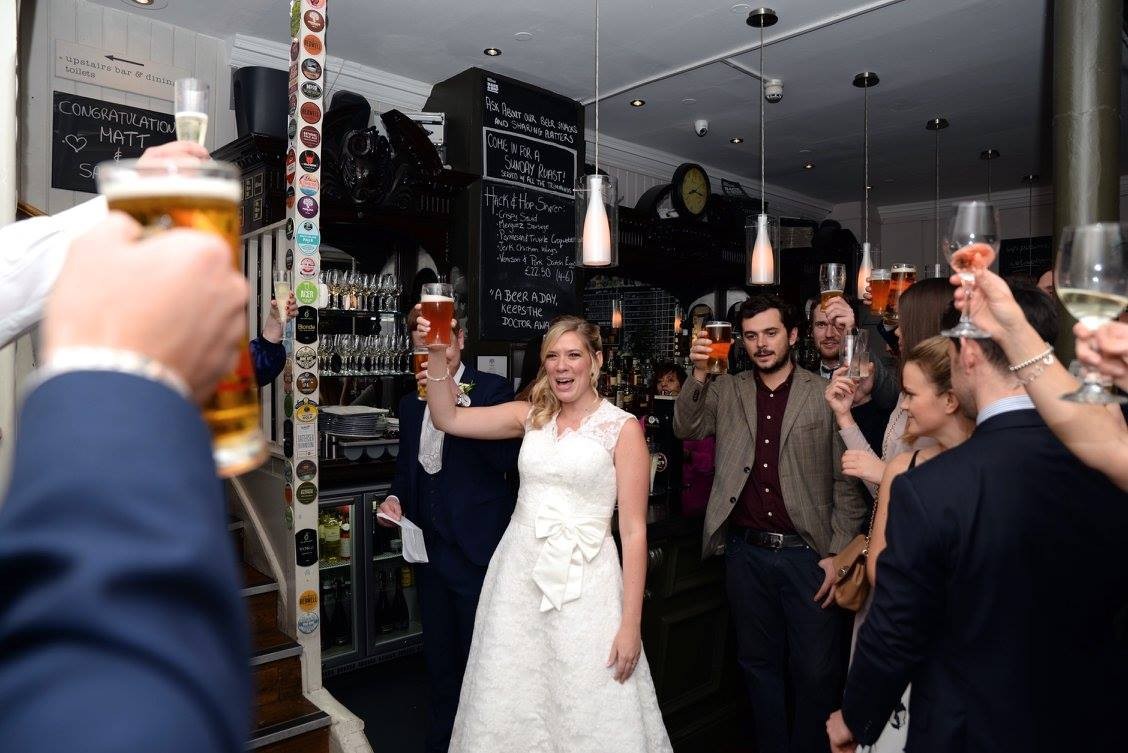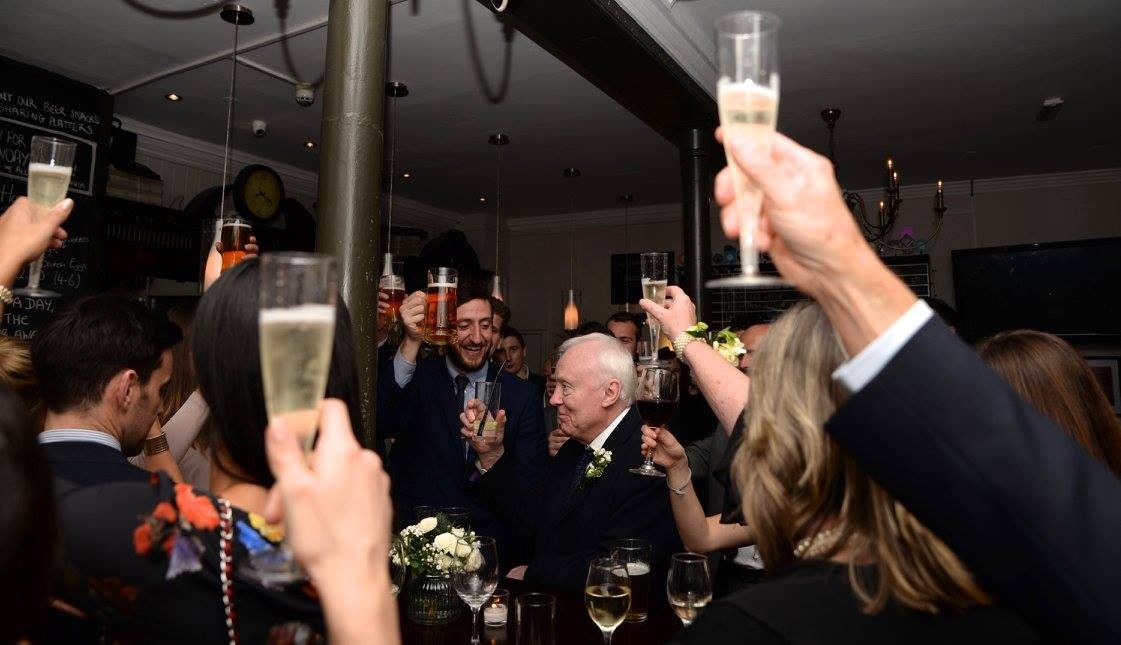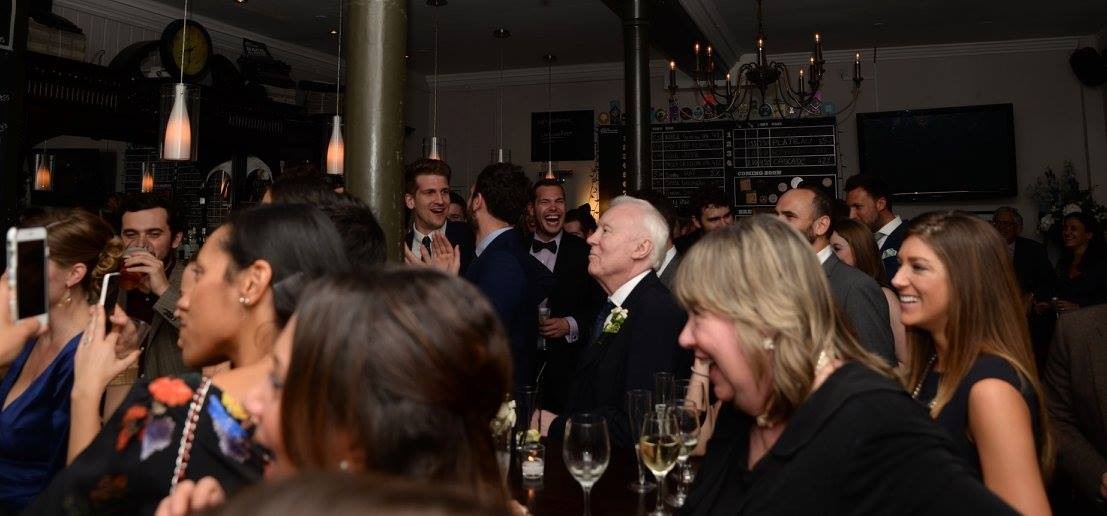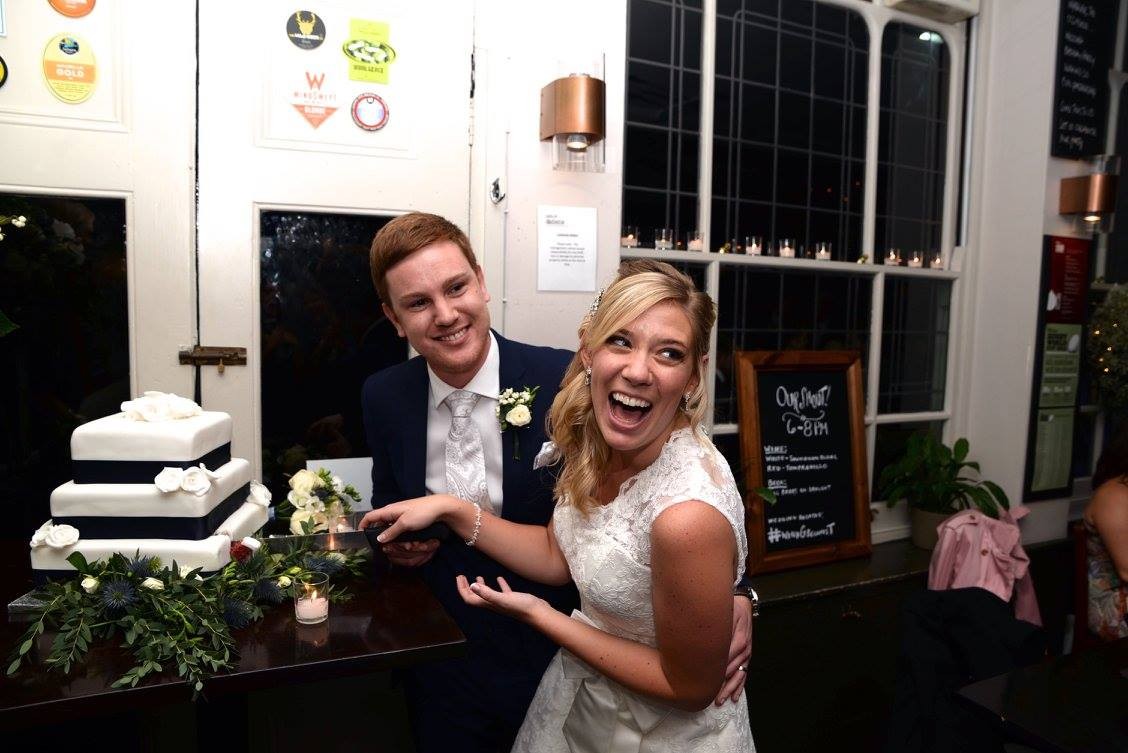 The Food
We had all our catering done by the Hack & Hop and it was absolutely delicious. As the wedding ceremony guests (there were only about 14 of them) came straight to the venue after the ceremony, which was at 2.30pm and the rest of the guests wouldn't arrive until 6, we had the Hack and Hop make two of their famous Shepherd's pies. Now I understand why they are famous. It was possibly one of the best things I've ever eaten. A hush came over the buzzing wedding crowd as soon as they started tucking in. People are still talking about it, I believe my late godfather tried to bribe them for the recipe at some point! We had about 90 guests in total at the party itself and decided against a sit down dinner in the interest of costs. We did passed appetizers throughout the night and they were a total hit. Particularly the scotch egg and the calamari. I don't think one plate was left with a crumb of food on it!
The Entertainment
We didn't hire any entertainment, the bride DJ'd the wedding with a playlist the couple had built. We did however send out a 'song suggestion' card with the invitation asking people to give some input to the playlist so we didn't miss anything people wanted.
Funniest Moment
As I mentioned before, we only had about 14 guests at our ceremony at the Chelsea & Kensington registry. Because of the intimate nature of a wedding like that, I think you feel an extra level comfort and ease. Maybe a little too much... as when we were exchanging rings I said my vows and slid the ring down my husbands finger and when it the bottom I without thinking said 'BOOM' out loud. The whole room exploded into laughter and became a wedding hashtag throughout the whole day. I'm now that bride that said 'BOOM' during one of the most important moments of her life. Thankfully husband tells me that moment just solidified why he wanted to marry me, lord knows why!"
If you'd like to host your wedding at the Hack & Hop, you can enquire with the venue here.