I'm Not Having Any Bridesmaids. And that's OK.
---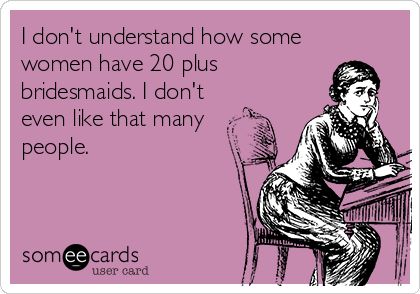 Fashionista and former star of MTV's 'The Hills' (& 'The City' but nobody watched that), Whitney Port, recently stated in an interview about her upcoming nuptials that she is NOT having a single bridesmaid. The interview went something like this…(
Cosmopolitan
)
Are you planning on designing your bridesmaids' dresses?
I'm actually not even having any bridesmaids. I feel like all my friends and sisters know their place in my life, and I don't need to designate labels on them or control their dresses or anything like that.
So is it a smaller wedding?
No, definitely not a smaller wedding, but just don't feel the need for bridesmaids.
And all at once a collective sigh of relief was felt throughout the wedmin world as brides facing this dilemma had their minds put at ease.
The thing is, weddings have become somewhat a spectacle in recent years. Not necessarily the bigger the better, but the pressure for it to be PERFECT is very real. Having a bunch of bridesmaids can only add to that pressure. Many a friendship has been tested by a bride being too demanding with her maids, or girls who are refusing to cooperate with the finely tuned colour scheme, and it's time to ask, is it worth it?
I, personally, am not anti bridesmaid, I'm only thankful that dear Whitney has raised the issue and made it ok. Only you can decide if the joys of having bridesmaids will outweigh the pressures and stresses? Choosing to 'go it alone' does not necessarily mean you will actually be alone. There are NO rules remember. Have your sisters, your best friend, your mum, all with you whenever you choose; dress shopping, flower arranging, DIY-ing, the morning of. They'll all be more than happy to help you and to share these special moments with you without needing to be labelled 'bridesmaid' and forced to pose for endless photos wearing a colour they hate.
Whitney puts it so well. The ladies in your life who you would consider bridesmaid material will all know how much they mean to you without needing this qualifier. What's more, due to financial and practical restrictions there always (usually) comes a cut off point where you have to choose between a couple of your friends as to who gets the last spot. It's like being back at school and being picked for the netball team. You really don't need to alienate your friends who don't make the cut by not including them, that's a sure fire way to dampen the spirits of those particular wedding guests.
Will your friends feelings be hurt that you're not having them (or anybody else) as a bridesmaid? Maybe a tiny bit, maybe just at first, but then as soon as they realise you're not doing it to exclude them from your wedding day, but merely to make it a more fuss free fiesta, they'll embrace it all the same!
Going bridesmaid free is still somewhat of a controversy, but as ever, don't be afraid to break the mould. Will your wedding photos look empty? Of course not. Your friends will all still be there and despite not wearing a dress chosen by you they will all look amazing. Opt for a few adorable flower girls and page boys for those Hello magazine worthy shots and then choose reportage style photography rather than formal portraits, it will look BEAUTIFUL and I promise you won't look friendless.
Whichever way you decide to play with the maids, my one piece of advice would be to make sure it's 100% absolutely a choice you're happy with. Don't feel pressured into choosing bridesmaids if it makes you feel uncomfortable, and don't just throw the rag in if you're scared of upsetting somebody you really don't want to have. They'll get over it. Eventually.
If you do decide to take a leaf out of Whitney's book, here are a couple of ideas for how you can involve your nearest and dearest in your special day:
Assign Extra Roles:
Ask them to do a reading during the ceremony, hand out and orchestrate confetti throwing or ask them to man the guestbook.
Pre-Wedding Events:
Not having any bridesmaids doesn't mean no hen-do! Ask a couple of your friends to help plan your hen-do and, if you're having a lot of DIY at your wedding, invite a group of girls round to help you one evening, accompanied by wine and a take away, of course!
Gifts:
Girls (and guys) who have really helped you out during the planning process, as a bridesmaid might, can still have gifts just like you'd buy for a bridal party. They're sure to feel appreciated this way, despite having no official role.
Photos:
Find space to display photos of you and all your friends somewhere in your wedding venue. This will let them know how much they mean to you and how happy you are that they're part of the day.
Register Signatories:
Asking friends to be the 2 witnesses you need to co-sign the marriage register is a really nice way to honour your nearest and dearest.