How To Make A Plain Wedding Cake Unique For Your Wedding
The wedding cake is such an important part of any wedding, whether you want it to be traditional or something slightly different. Either way, you will want it to have that 'wow factor' and reflect the style of your wedding.
Make the 'cutting of the cake' a moment to remember as it will be the only time your guests see your wedding cake that you've spent so long choosing! Don't forget you want your cake to taste good too. Make sure there is enough to go around for everyone, and don't forget to try some yourselves.
Do you already have a baker in mind? Do you know someone who is a brilliant baker? Here are 10 perfect ideas of how to decorate a plain wedding cake and make it one to remember.
1. Want a real showstopper and on a budget? This dreamy wedding cake design by Winifred Kriste creates a tiered look but only has one cake layer. All you need are some pastel coloured macarons and petals and… voila you have created a masterpiece!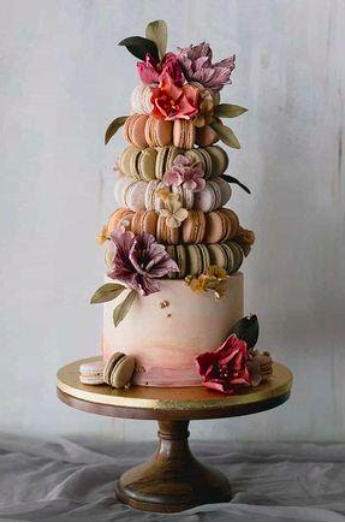 Credit - weddingforward.com
2. Incorporate seasonal colours in your wedding cake; oranges, dark greens and burgundy flowers for an Autumnal wedding on a plain white wedding cake are simply stunning. Dress the cake with pearls for a classic finish.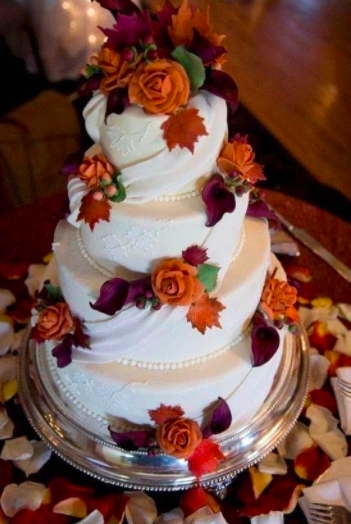 Credit - elegantweddinginvites.com
3. Delicately placed flowers entwined with gold leaves are simple yet effective. Choose white to keep it traditional, or match with your wedding colours or bridesmaid dresses.
Credit - Hayley Elizabeth Cake Design
4. A single captivating colour is eye-catching against a plain white cake. Match the ribbon with flowers the same colour as your wedding palette and your wedding photos will be simply gorgeous.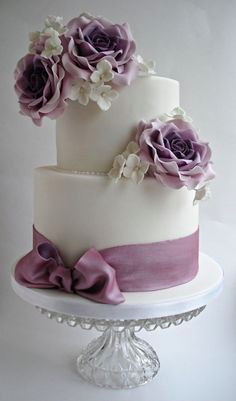 Credit - cakecentral.com
5. If you fancy something a little different with a rustic feel, incorporate copper into your wedding cake, and combine with greenery. Just exquisite.
Credit - onefabday.com
6. A little bit of bunting creates a sweet looking cake. Perfect for a barn wedding or a teepee style wedding. Add petit blush roses to finish the look.
Credit - etsy
7. Cake toppers are a great way to show off a bit of your personality. A totally plain wedding cake with a fun wedding topper will definitely be something your guests remember. Personalised with a figurine to make your cake truly unique.
8. Or keep it plain and simple and personalise with your names.
Credit - Barbara at LaserCupboard
9. For a woodland theme, we love this statement tree cake stand. Keep the cakes simple and let the decorations do the talking! Entwine some authentic leaves round the tree stump to create a truly magical cake.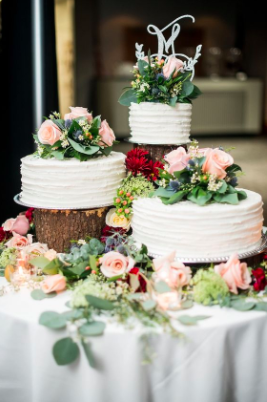 Credit - Btidewaterandtulle.com
10. For an impressive yet elegant style, add feathers to a plain white cake. If white is your theme, this is striking. Or add colour for a bolder statement.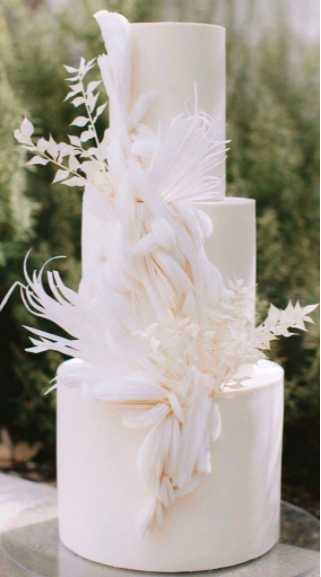 Credit - Photo by Jenny Quicksall
Whatever you choose, decorations are worth the spend and can really make the cake, and you'll find something to fit with every budget. Hopefully this has inspired you to decide on your dream wedding cake!