Frills and Flowers, Buttons and Bows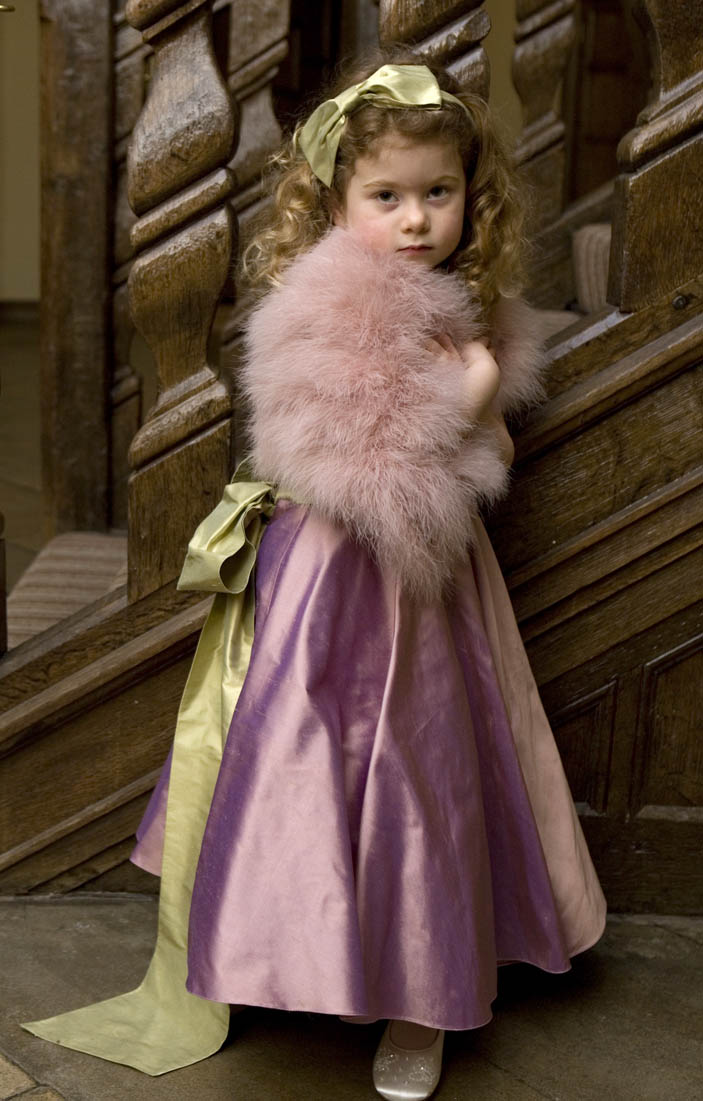 Today let's discuss those finishing touches, the crowning glories, the fripperies that will bring your bridesmaids' outfits to life. There are so many wonderful accessories available that you will be spoiled for choice, the only risk being that it is all too easy to get carried away and over-do the glitz. My grandmother had an absolute rule that, having dressed for an evening out, you should always take one piece of jewellery off before walking out of the door, and I think that is a bit of advice that still holds good today.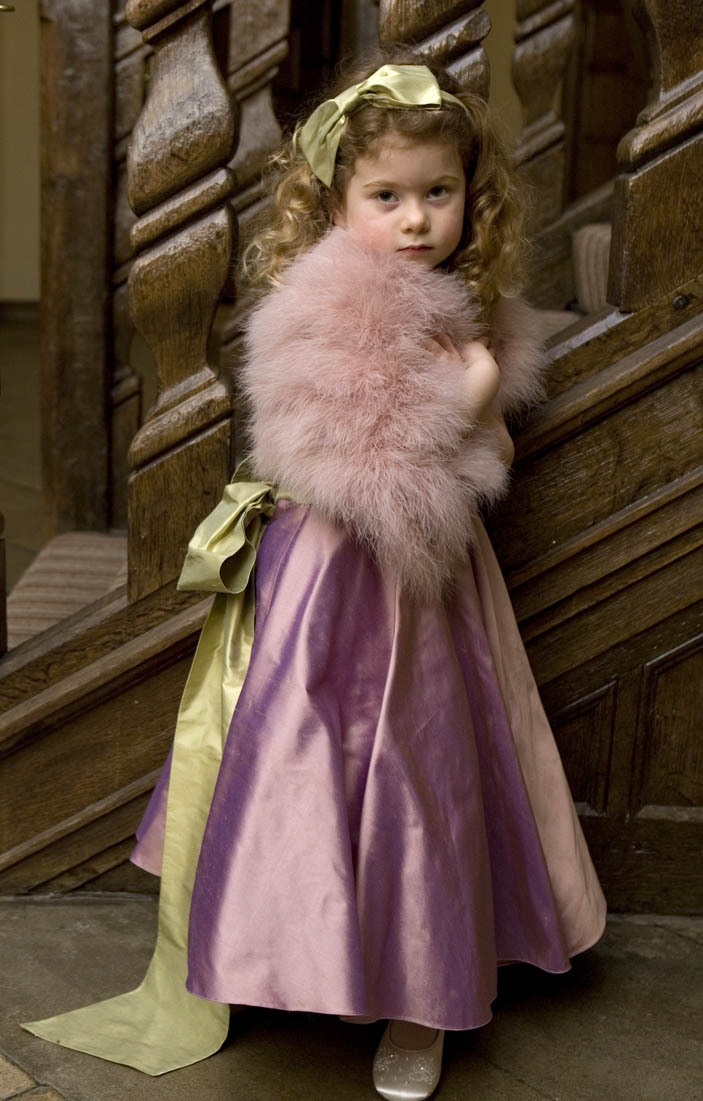 Take the lead from the dresses themselves. If they are lacey, frilly, or have copious corsages attached, then let them be the statement. A simple hair band, pendant and small hand-held posy will be enough. However, if the dresses are themselves a simple cut and fabric then they could be the backdrop for a bit more pizzazz. The choice of sparkly hair accessories is enormous, but a dramatic sparkle in the hair as well as around the neck would be too much. But either one could be echoed with some glitter on the shoes as well. If you prefer fresh flowers in their hair, and all the bridesmaids have different hair styles, it looks lovely if your florist can wire lots of either single flowers or small clusters onto clips, then they can be used on each girl in a way that most compliments each of them. Especially for the smaller members of your wedding party, it can be a good idea to have a hair band in the same silk as their dresses to hand for later in the day…to smarten them up again after they have decimated the flowers!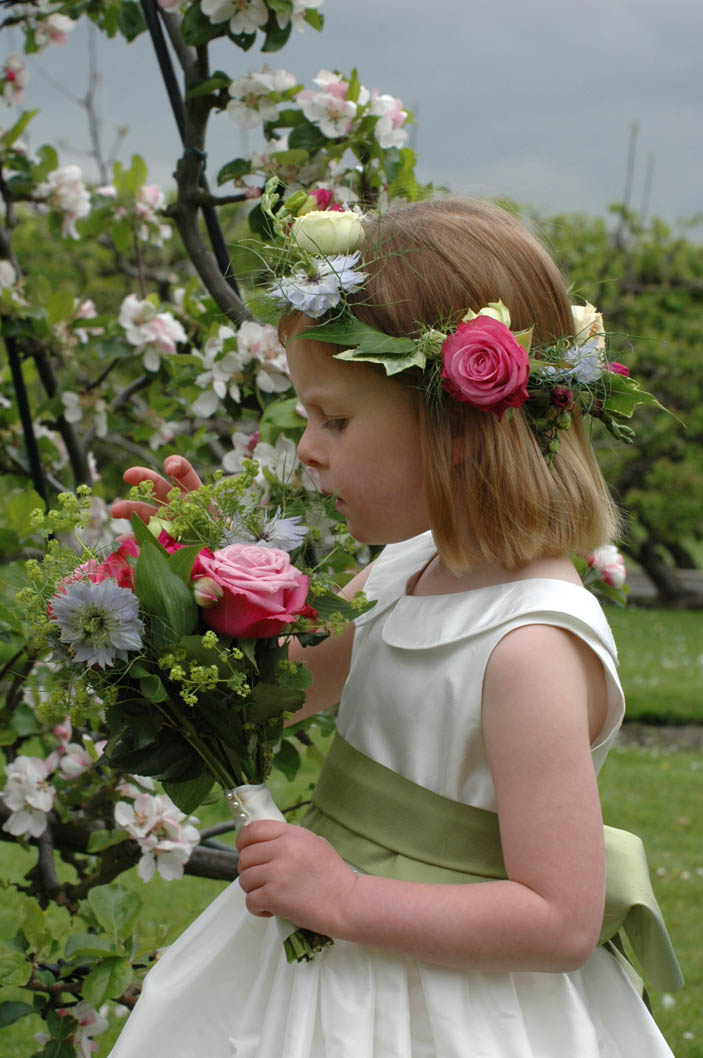 Speaking from personal experience, I should ask the mothers' of the flower girls not to go for the haircut-to-last just before your wedding. We discussed this phenomenon in the office recently, and several girls remember their mothers (mortifyingly, I was one of them!) insisting on dreadful pudding basin hair cuts, which have left the girls with indelibly ingrained, utterly miserable, memories through to adulthood. Little girls with slightly unruly hair look very much prettier. Another thing to bear in mind is that last minute radical hair colour changes can be a mistake. I know of one bride who decided to have an untried warmer colour put through her hair two days before her wedding…and got married with bright pink hair! Fortunately she completely carried it off and looked absolutely amazing, but only after a very fraught couple of days.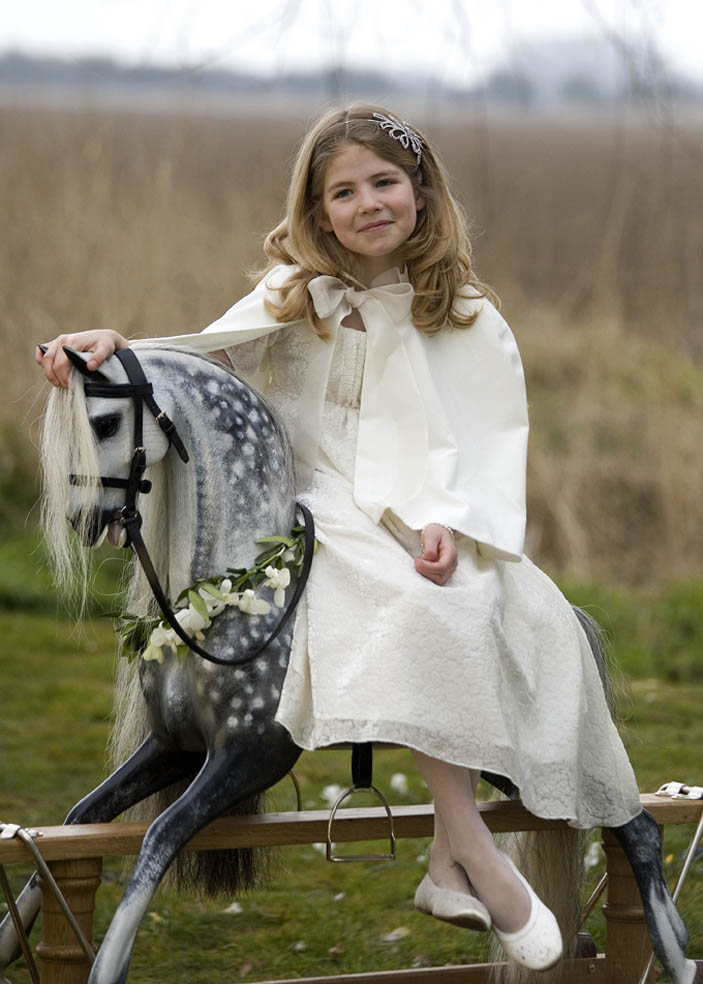 Frozen bridesmaids and flower girls don't look happy, so be prepared if necessary with cosy cover-ups. They are a glamorous addition, be it a beautiful cape, some fur or a pretty little cardigan.

A bag that matches the dress is a good idea as well. The adult bridesmaids will need somewhere to keep a lipstick and a hanky for themselves as well as the bride, and the little ones could have a few things to keep them occupied during the service in theirs. A few small non-edible, non-messy and completely noise-free interesting things will buy you a little peace and quiet while you take your vows.

When it comes to accessories, the world is your oyster, and there is absolutely none of the stress attached to choosing them compared to deciding on the dresses. Go forth and shop.