E.U. Hen Dos VS U.K. Hen Dos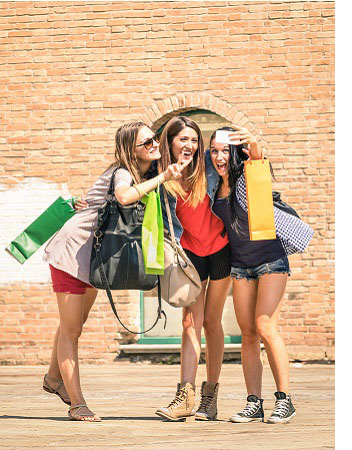 There's so much that goes into planning a hen do from who you're going to invite, to what the theme will be and what you're going to do. However before you make those decisions there's one you have to make before you book anything- where are you going? Are you going to have a Blighty based hen do or are you going to take it across to beaches a far? It's an important question and choosing where to go as well as when to go could make or break the hen weekend. So if you find yourself stuck at this point and don't know how to proceed then let me share with you my top picks…


Best places for a U.K. based hen party

The U.K has a lot to offer when it comes to hen parties, so if you're looking to party in the good old U.K then there are a fair few places you can go visit. There is of course, London the capital city and by far one of the most popular hen party destinations in England. It's also home to some of the best shops in the country (Selfridges and Liberty anyone?) and some of the weirdest restaurants (Archipelago.) Plus there are an abundance of touristy things you could do like visit the many museums, art galleries and the attractions (Madame Tussauds is my guilty pleasure.) However, if you're looking for something a little quirky and different then there's no place quite like Brighton. Considered to be "London by the sea" Brighton has got its own unique charm in the form of the Laines – a selection of boutique shops and cafes that will have you going "oooh" faster than you can say "Brighton Pier." Speaking of which, the pier on a good day is a great place for photos with your entire hen group, and if you're feel like some good old fashioned fun then there are plenty of games to play on the pier too!

If you want something more than just fun and games (and if you're more of a northern girl) then let's not forget the stylish capital of the north –Manchester. Much loved by the glitterati and gorgeously tanned WAGS Manchester is a city that has some of the best fashion stores outside of the "Big Smoke." It's also got one of the best nightlife scenes in the country with clubs like Bijou and K2 being filled to the brim with the hottest locals around… this is the place to be if you like getting glammed and hitting the town in style.

Bristol, on the other hand is more laid back, and whilst it too has a rocking music scene, it's less stylish clubbing and more about the actual music scene and experience. One of the most unique places I have ever been to in Bristol is the Smoke & Mirrors. Calling itself a boutique magic and theatre pub you get to have a drink with your girls and be entertained with magic at the same time. I know it sounds lame but it really was a great night out! However, if you want a classic girl's night out then head to The Bootlegger Cocktail Bar

and

Kitchen for some of the best food and drink in the city.


Best places for an E.U based hen party

Hands down I'm going to suggest Barcelona: the Spanish city is a great place to enjoy the sun, some culture and of course the food, drink and nightlife scene. Everything is pretty much within walking distance and did I mention there's beach? No? Well there is! Not to mention scatterings of modernism architecture, a museum of Picasso works, the magical Montjuïic and more tapas than you can shake a glass of Cava at! If it's all night dancing you're after though, then I suggest flying to somewhere like Ibiza, a well-known clubbing destination that really needs to intro. Keep in mind before you though that it's a seasonal place so make sure you go sometime from the beginning of May to early October as that's when the clubbing season starts and ends (my favourite clubs include Pacha and Amnesia.)

Another place that's very popular with hens is Dublin. Sounds like an unlikely choice I know! But this Irish city is actually very welcoming to hens what with its craic loving attitude attracts them in the thousands. Don't let that out you off though, because as well as being a haven for hen parties, Dublin effortlessly manages to retain its sophisticated, cultural charm. If you go, make sure you visit Oliver St. John Gogarty's Pub, St Patricks Cathedral and if the bride is a Game of Thrones fan then make sure you book the Game of Thrones tour!