Seasonal Flower Trends for 2014
Floral trends for 2014 will see the classic hand-tied bouquet remaining the popular choice for the majority of brides, with smaller posies becoming fashionable as well.

For bridal bouquets the glamour of soft apricot, pale blushes of pinks and dreamy creams provide a feminine softness. Spectacular arrangements and displays of blousy flowers such as peonies and hydrangeas give added luxe, while rancunculas and garden roses are strikingly romantic.

Brides will find inspiration from beautiful English country gardens, along with vintage colour palettes and beautiful pastel bouquets. Roses are one of my all time favourite flowers and make a stunning statement. Scented stocks and anemones all create a bridal innocence, while Lily of the Valley is a traditional favourite, just think of Kate Middleton, Duchess of Cambridge.

Vintage inspired bouquets, including our classic Vintage Rose Knot featuring Amnesia, Memory Lane, Faith and Sahara roses, simply exude luxury.




For a wedding reception, carefully created clusters of roses in soft colour palettes, perfectly placed, make each table a focal point for guests. An array of roses including Vuvuzela, Quicksand, Carpe Diam, Bombastic and Peach Avalanche all help to create a truly romantic mood.

This assortment of table arrangements in varying sizes and containers shows a fabulous mixture of roses including Faith, Memory Lane, Sahara and Caramel Antique. Along with a gorgeous selection of peonies, it creates a vision of spectacular floral beauty.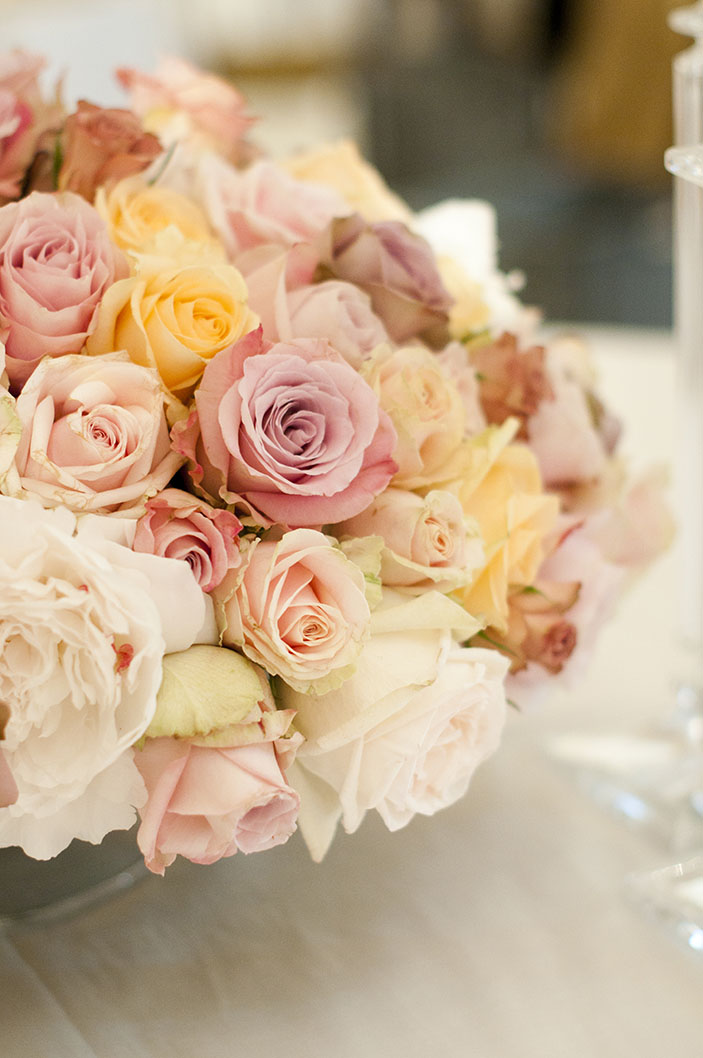 Spring and summer weddings are the perfect time to celebrate a colour palette of subtle pinks, blues and purples. Sweetly perfumed garden roses, I love O'Hara, delicately scented sweet peas, along with glamorous pretty peonies and dahlias are all sublime options.

Summer weddings embrace whimsical and romantic settings and with such a fabulous choice of flowers during the season, it allows for a full spectrum of colour palettes to be used.

These arrangements use an alternative soft colour palette that combine white and purple hydrangea, with frilly peonies, elegant stock, guelder rose, eucalyptus and a mixture of O'Hara, Sweet Avalanche and Secret Garden roses, magnificently overflowing out of grand white urns, giving a wedding ceremony the real wow-factor.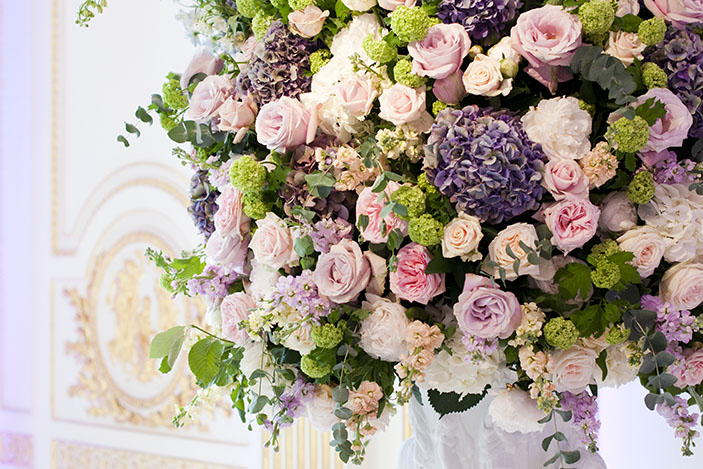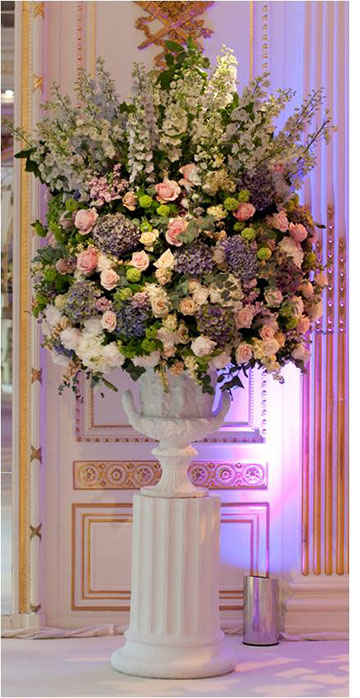 Embrace this years floral trends and opt for the most beautiful seasonal flowers for the most spectacular floral arrangements for your wedding.