Dreamy Fairytale Italian Wedding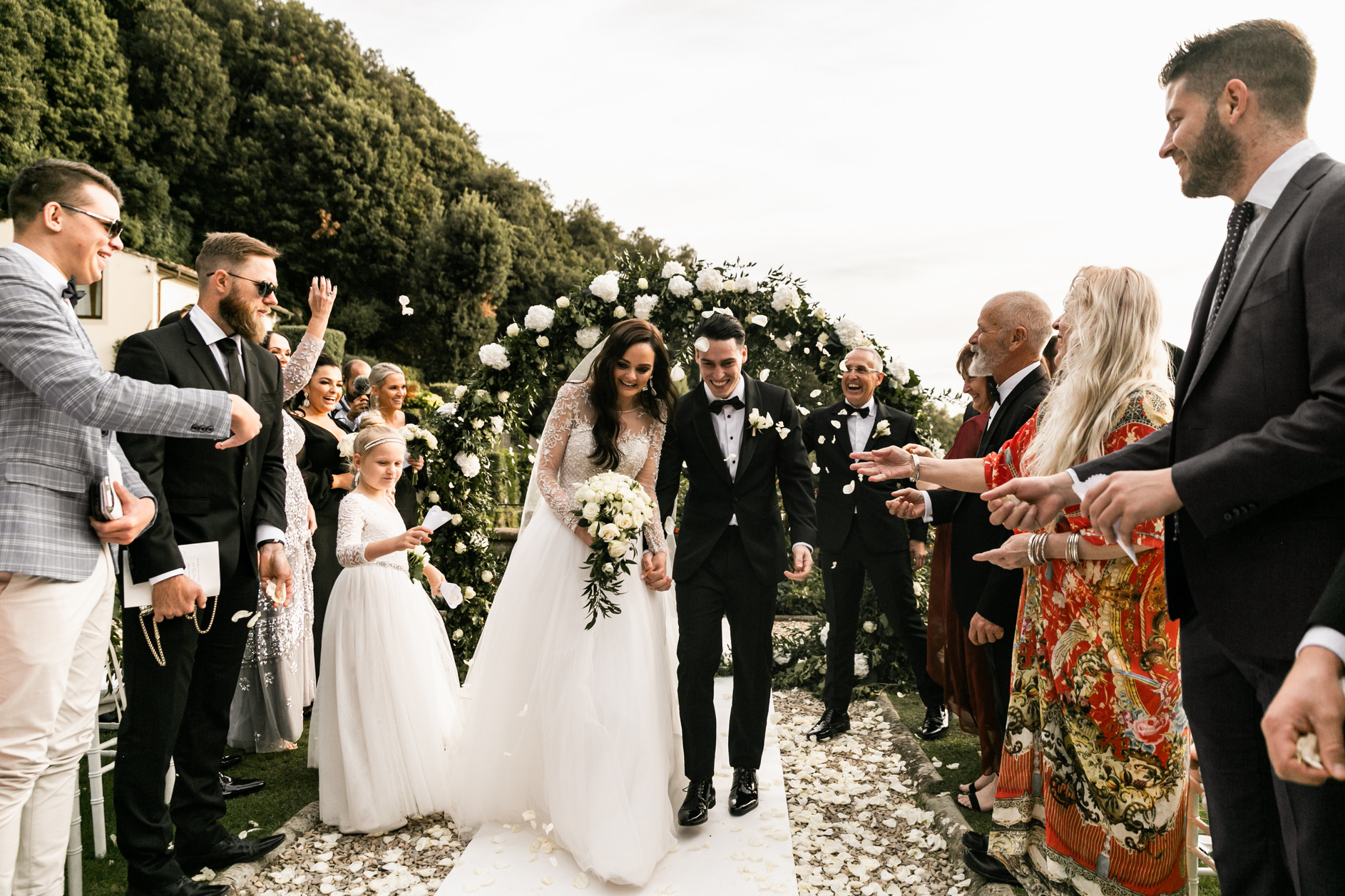 Love was certainly in the air when it comes to Emily & Nick. The couple both work in aviation and while you might assume that they met through work, they actually met through instagram!
We're thrilled to bring you their real-life fairytale wedding below set in Florence, Italy.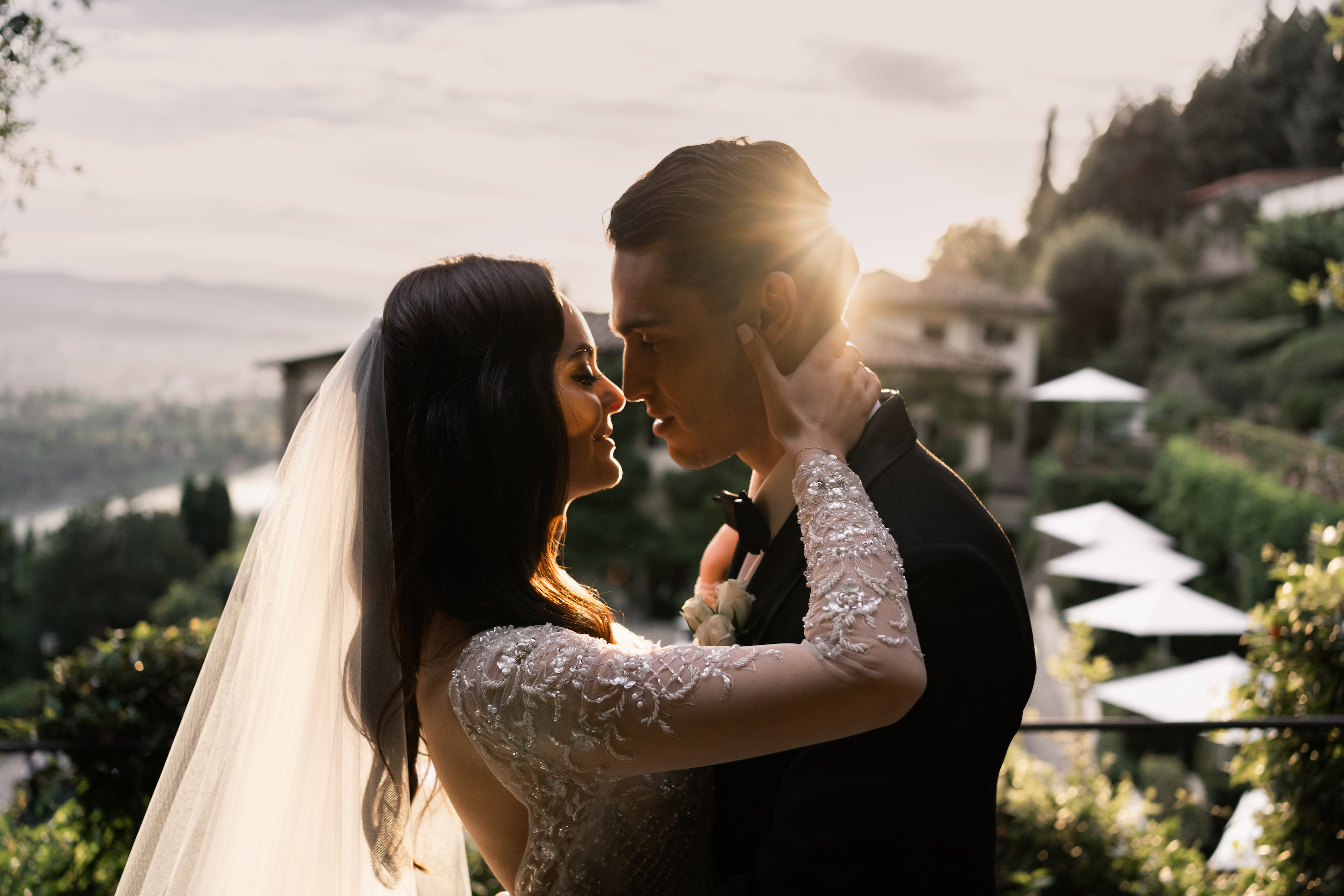 How did he propose?
"It was around our 1 year anniversary and Nick surprised me in the morning with my favourite flowers. He told me to pack a bag as we weren't staying at home. He then surprised me by taking me to brunch at the cafe he first asked me to be his girlfriend at. We started driving towards the city and turned in to Crown Casino. He had organised a night at Crown Towers in Melbourne CBD. We checked into the hotel and went for a walk around the hotel. He said we had to be ready by 6pm and I had to dress nicely. We walked downstairs and there was a horse and carriage waiting outside the hotel entrance!
He had organised an hour horse and carriage ride around the city with champagne. The horse and carriage dropped us off at the Royal Botanical gardens and he told me the restaurant was inside the gardens. We started walking through the gardens and got to a secluded spot where we sat on a park bench. He said we were early for our reservations so we should sit for a while and wait. We waited for about 5-10 minutes and then he asked if i wanted to go look at the lake in front of us. I initially said "Not really, it smells!" He insisted and so we went to look at the lake and he started saying sweet things and then got down on one knee and asked me if i would marry him!! He had organised a professional photographer to capture the moment and we got some photos afterwards.
Turns out we weren't having dinner in the Royal Botanical Gardens so we went back to Crown and went to dinner at a beautiful seafood restaurant. After dinner he said "I have one more surprise for you" we went up to the room and as soon as I opened the door there were red rose petals from the door to the bed. The bed had a huge love heart and the word FIANCÉ written in rose petals. There was champagne, chocolates and fruit as well! The man sure is romantic!! Our proposal is on Youtube if you want to see the real life proposal!"
(https://www.youtube.com/watch?v=YDfeRNu5UGM)
Tell us about your wedding gown and how you chose it:
"My wedding gown was purchased from Raffaele Ciuca in Armadale. I envisioned myself wearing something quite fitted and classical (something Audrey Hepburn like!) However, I chose a dress completely opposite to what I thought I wanted. As soon as i tried the dress on my mum, dad, sister and mother in law cried.. so i knew that was the one! I loved the detail and elegant sleeves of the dress. My mum actually said to me "Emily, this is the dress! Nick thinks of you as his Princess and thats exactly what you look like" I think she was right, I absolutely felt like a princess on the day!"
What sort of style did you envision for your wedding day?
"We wanted our wedding day to be ROMANTIC! Our style for the big day was quite formal, intimate and elegant. We got a lot of inspiration and ideas from Pinterest, Vogue Brides magazines and Instagram. Emily's mum was a huge help throughout the wedding and was constantly helping with decor ideas and styling for the big day."
How did you come to choose the location and venue?
"My mum actually found the venue on Instagram and sent it to both Nick and I. We absolutely loved the look of the venue, but kept looking in Australia as we didn't think a destination wedding would be something we would be able to plan in a short amount of time! Whilst we kept looking in Australia, nothing compared to the venue in Florence. We knew that after countless venue searching that we had to go with Florence! Nick and I had never been to Europe, let alone Florence so it was a big deal for us to choose a country and venue we had never seen! We were definitely not disappointed, both Florence itself and the venue was even better than photos, it was everything we expected and more! With both of us working in aviation it also seemed fitting that we would choose somewhere that involved traveling! We loved the look of the venue and Florence is such a magical and romantic city so it fit really well with what we were wanting for our wedding day."
Describe the cake (including the flavours) and cake topper:
"Given that we got married in Italy, we had to have some lemon flavours and themes! Our cake was lemon curd and was dressed with flowers from our florist."
What flowers did you use in the bouquet and at the venue?
"Our theme was quite formal and elegant so we chose some natural greenery with white flowers. We sent photos of flowers and arrangements to our florist and left it up to her on which flowers would be in season in Italy and which would go best with the arrangement and theme we had. We had white roses and hydrangeas placed into an arch for our ceremony. We also had hydrangeas placed on the aisle seats and white roses placed along the aisle and for guests to throw at the conclusion of the ceremony. For the dinner reception we had a long green and white wreath placed in the centre of the table with natural greenery, white roses and hydrangeas."
Any tips that you can give to future brides?
"I would recommend if you are having a destination wedding to make sure you have a hair & makeup trial prior to the wedding day. This will elevate any stress on the day and you can be as relaxed and comfortable during the preparations. For the dress shopping i would recommend going in with an open mind and be open to trying on all different styles so you can get a feel for a variety of different styles, rather than ruling out styles you may not consider trying on."
If you could sum up your wedding in one sentence, how would you describe it?
"By far the most magical and special day of our lives, in the most romantic city and a day that we will cherish forever."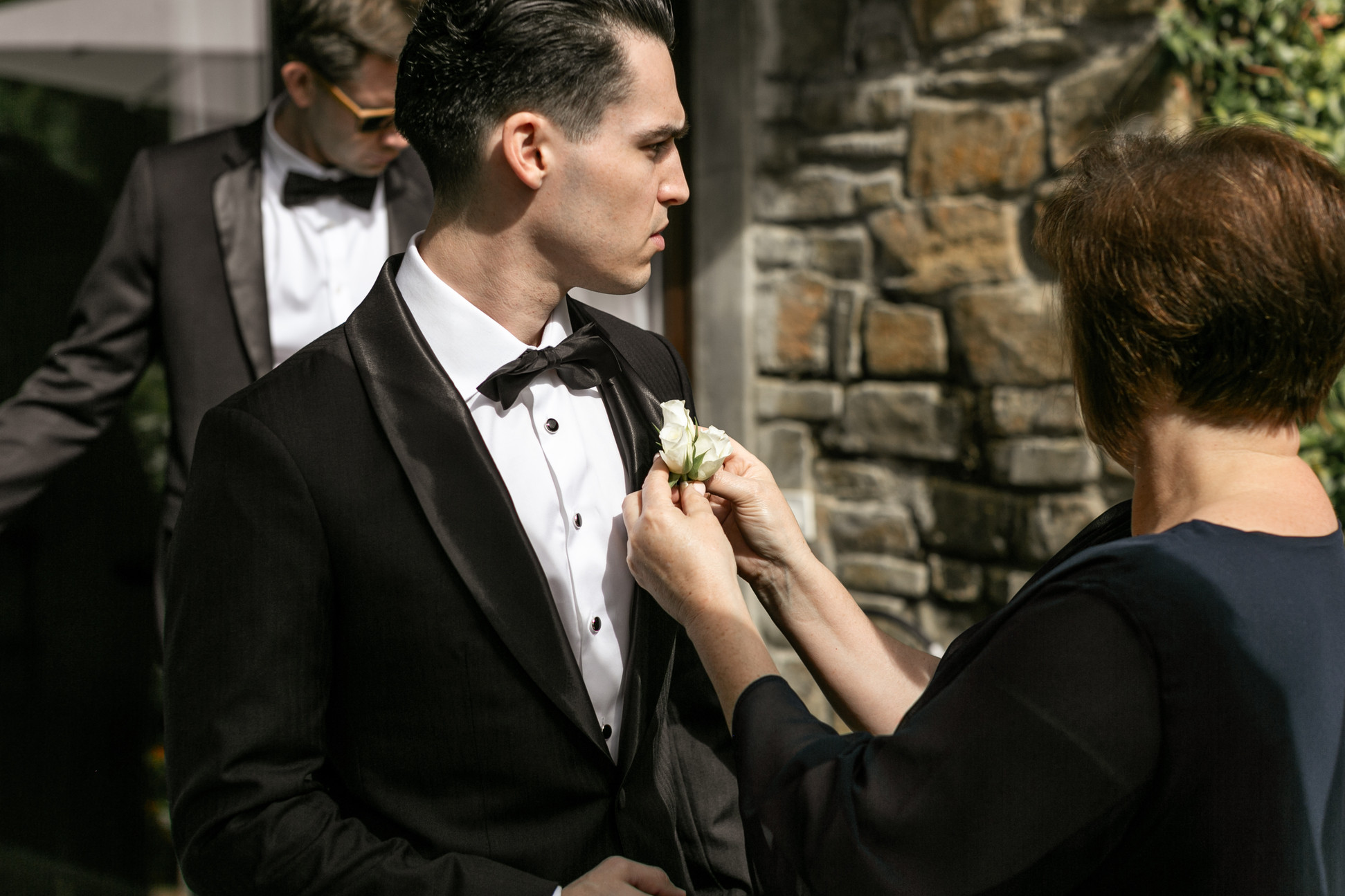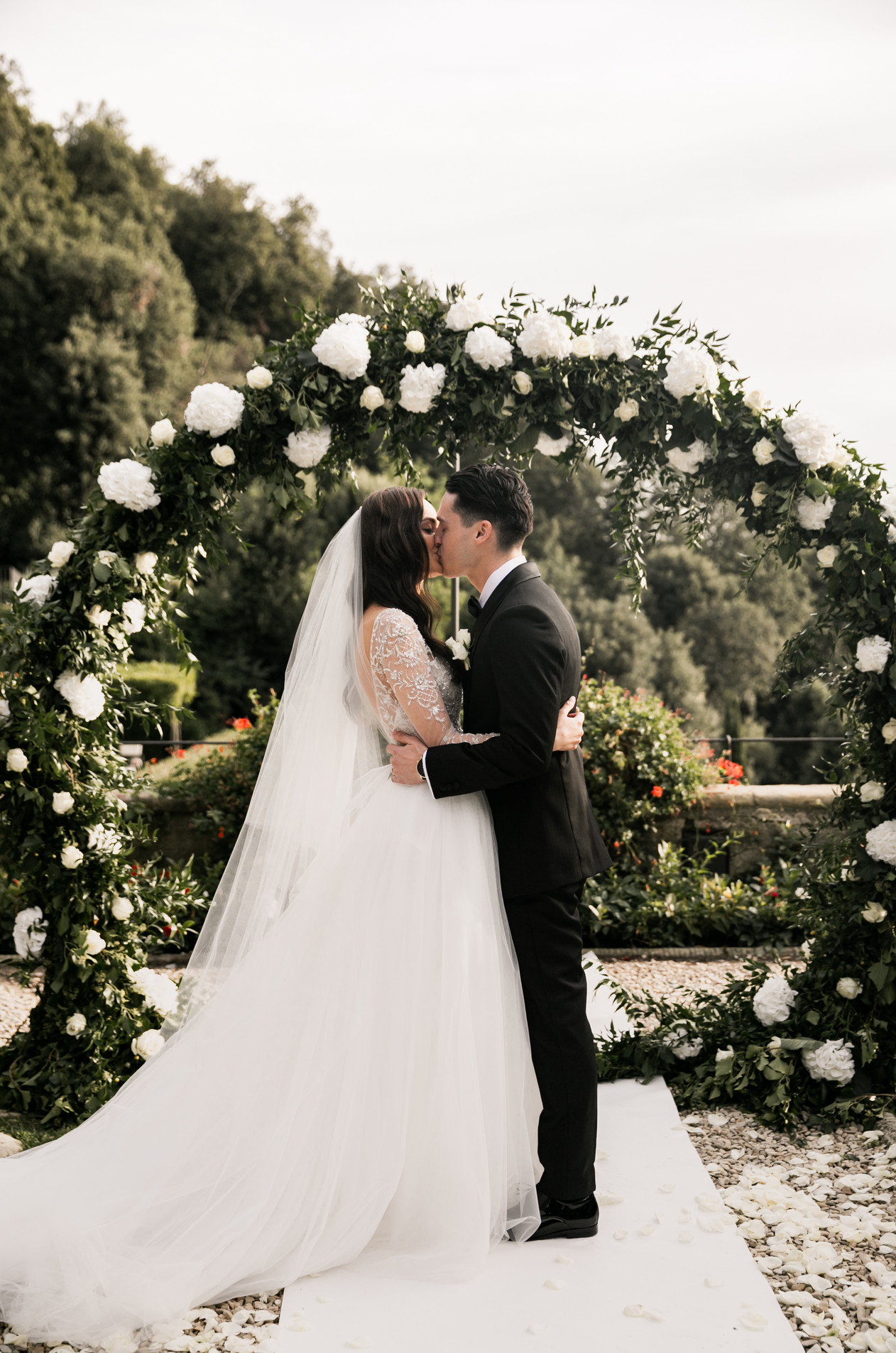 The Team
Wedding Invitations: Adorn Invitations
Dress: Raffaele Ciuca
Veil: Raffaele Ciuca
Makeup: Ruslana Regi/ Liza Samokhina
Hair: Ruslana Regi/ Liza Samokhina
Shoes: Jimmy Choo
Accessories: Earrings: Unknown gift, Bridesmaid Earrings: Zara, Bride bracelet: Aristides Fine Jewels
Bridesmaids Dresses: Elle Zeitoune
Groom's Suit: Tailors Mark
Groom's Shoes: Julius Marlow
Groomsmen Suit: Tailors Mark
Cake: Belmond Villa San Michele
Food: Belmond Villa San Michele
Flowers: FunkyBird Firenze
Photographer: Nora Mancini @noramphotography
Videographer: Anthony Venitis @bvaerial
Ceremony Venue: Belmond Villa San Michele
Reception Venue: Belmond Villa San Michele
Entertainment: DJ: Marco Garberoglio, String Quartet: Gli Archimisti String Ensemble
Celebrant: Blessings From Italy (Diane Rossi)
Wedding Favours: Sketch & Etch Creative (Luggage Tags, Guest Book & Neon Sign) Lemon Drop Lollies (local store in Florence)
Any Other Vendors: Fireworks: Allevi Fireworks, Rings: Janai Jewellery