Rachel & Andrews Dreamy Autumn Wedding
On the 13th of October 2018, Rachel and Andrew tied the knot in a gorgeous ceremony at The Normans. Surrounded by 100 of their closest friends and family, the gorgeous wedding had dreamy and rustic feel to it, with rich wood textures contrasting with an abundance of magical fairy lights and candles. This wedding embraced the warm colour palette of autumn colours, with a pop of orange, rust and burgundy tones. We sat down with the lovely couple to hear all about their love story and how they planned their big day!
How did you and your partner meet?
"At a hostel in San Francisco - we were both travelling around California with friends!"

How did he propose?
"At Camber Sands beach during a weekend away."
Length of Engagement?
"18 months."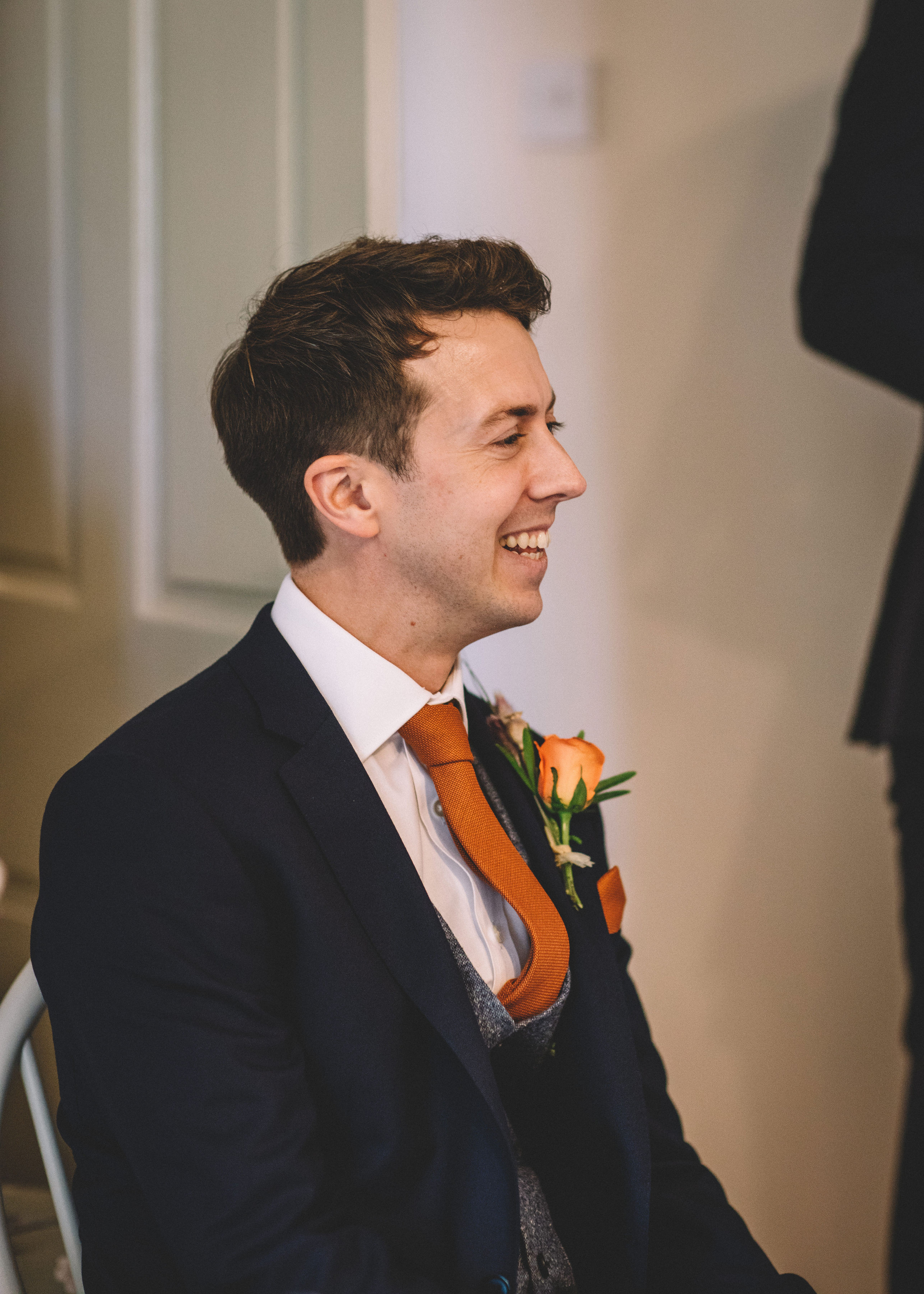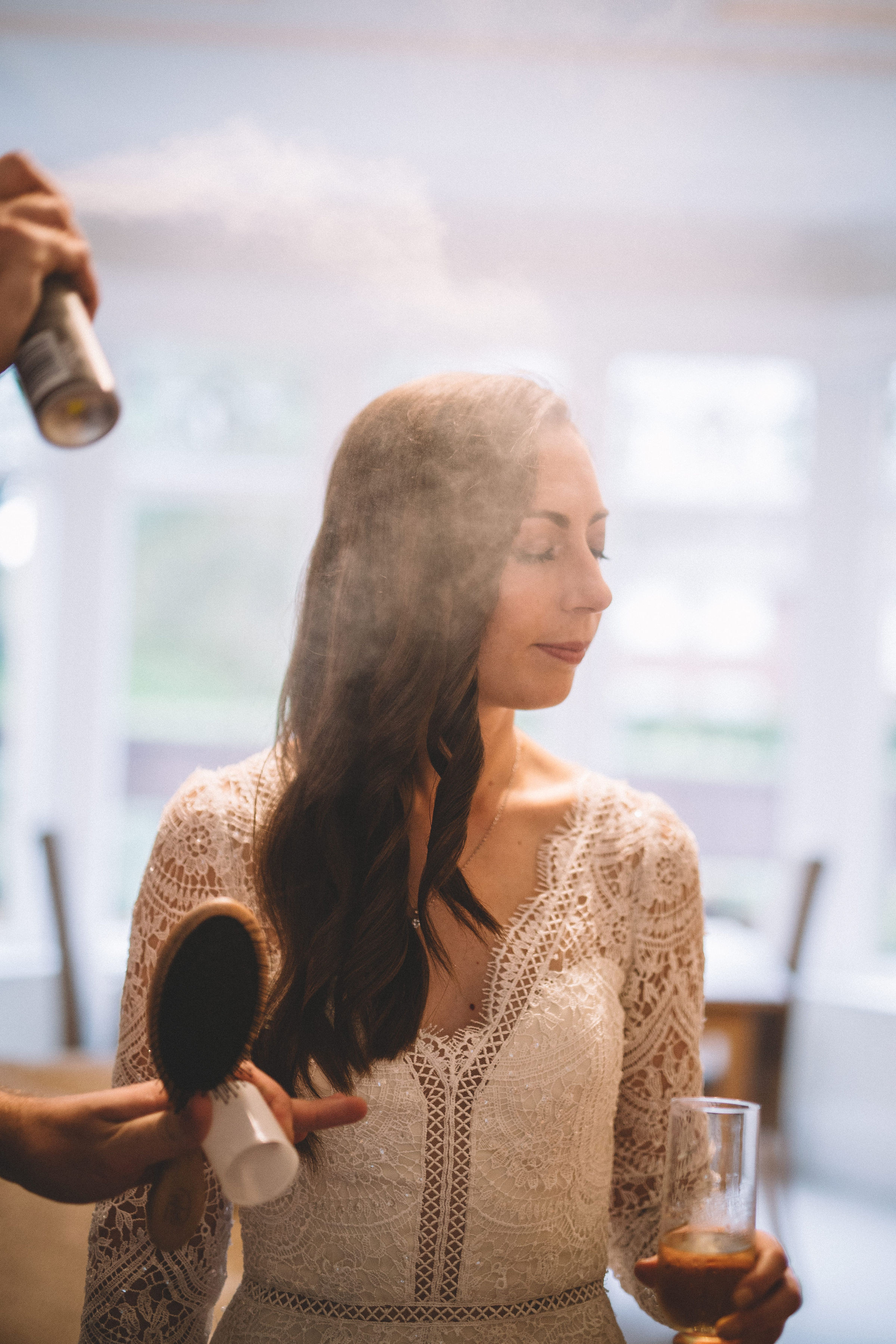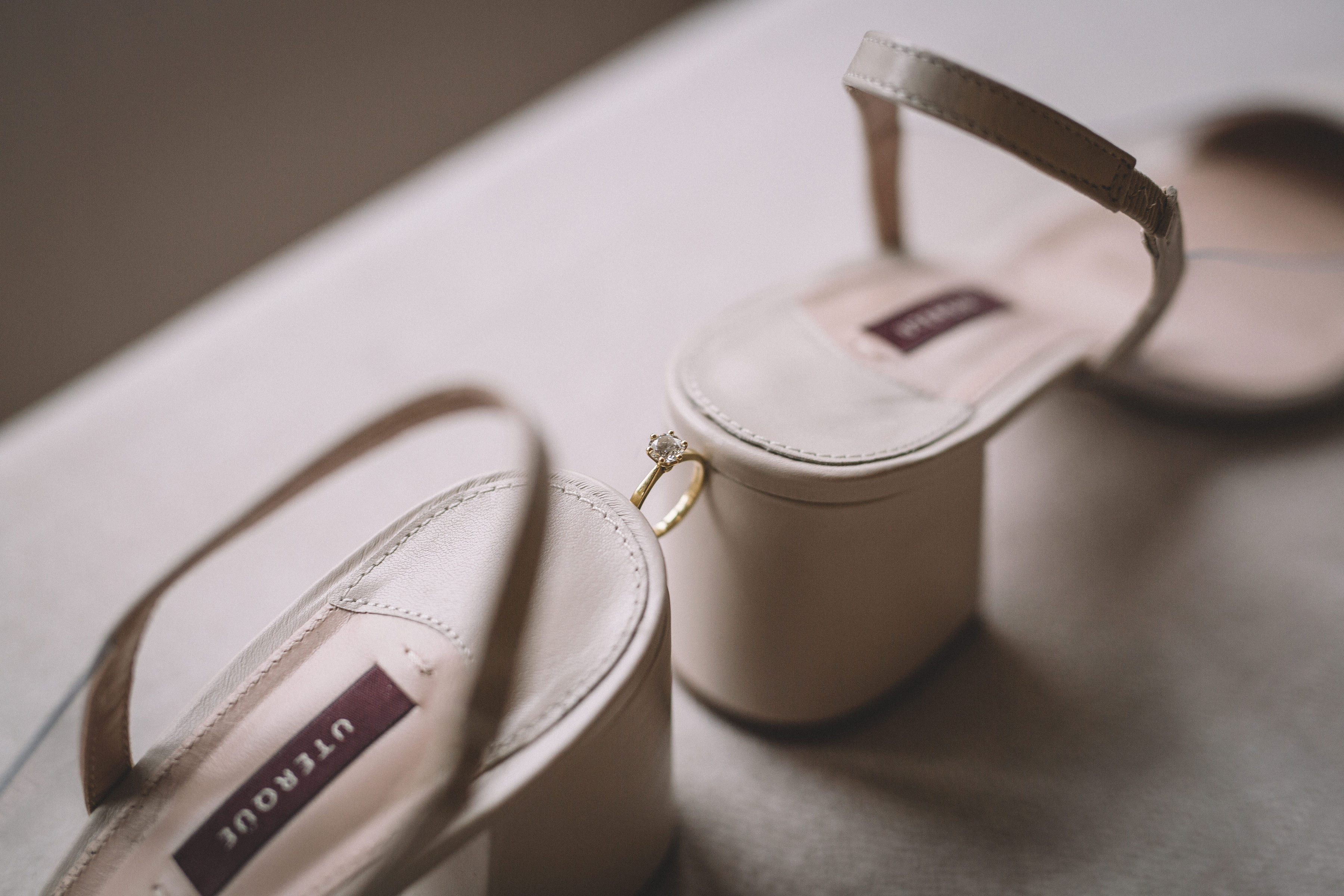 What do you love most about your partner?
"We're best friends and I can't imagine spending my life with anyone else. He brings out the best in me and supports me to be me."
How would you describe your wedding in one or two words?
"Magical and full of love."

Tell us all about your wedding gown and how you chose it!
"It was the second wedding dress I tried on. I thought I wanted something simple but as soon as I tried it on (along with a veil!) I knew I wanted something more dramatic. I tried on a fair few more dresses but kept on coming back to it. The Bridal Emporium were amazing at helping me choose the beading, colours and alterations so it felt like it fitted perfectly on the day."

Did you do a 'first look' before the ceremony?
"No - it was all a surprise!"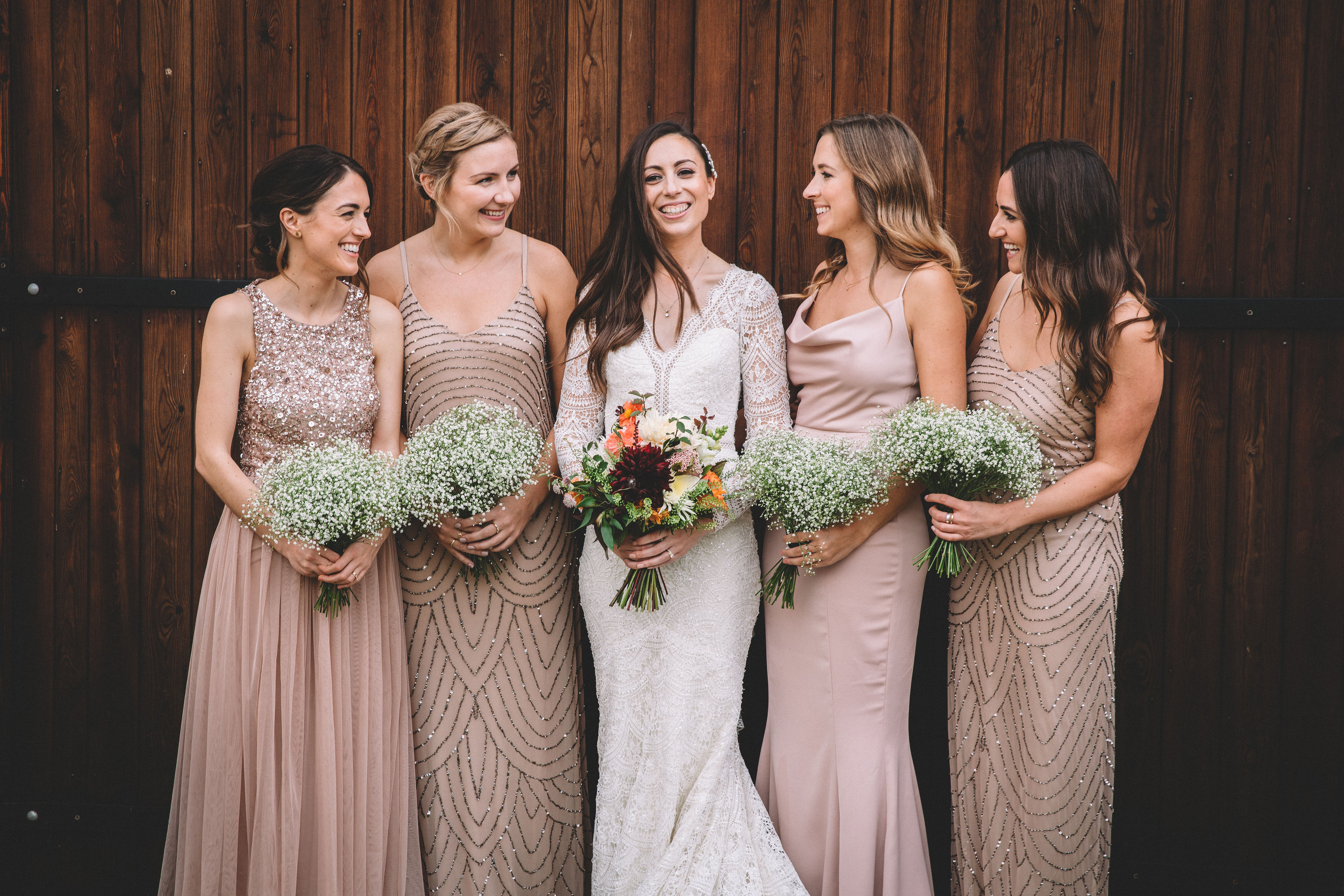 What sort of style did you envision for your wedding day?
"We wanted it to really feel like 'us' so quite informal where all our friends and family could relax and let their hair down. We tried to keep things simple and focus on how we could spend the most time with the people we love and what would help them to have a great time."
How did you come to choose the location and venue?
"Rachel grew up in Harrogate so wanted to be able to get ready at home with her bridesmaids on the morning of the wedding. We stumbled across the Norman's after a lot of searching and loved how beautiful it was whilst also being laid back."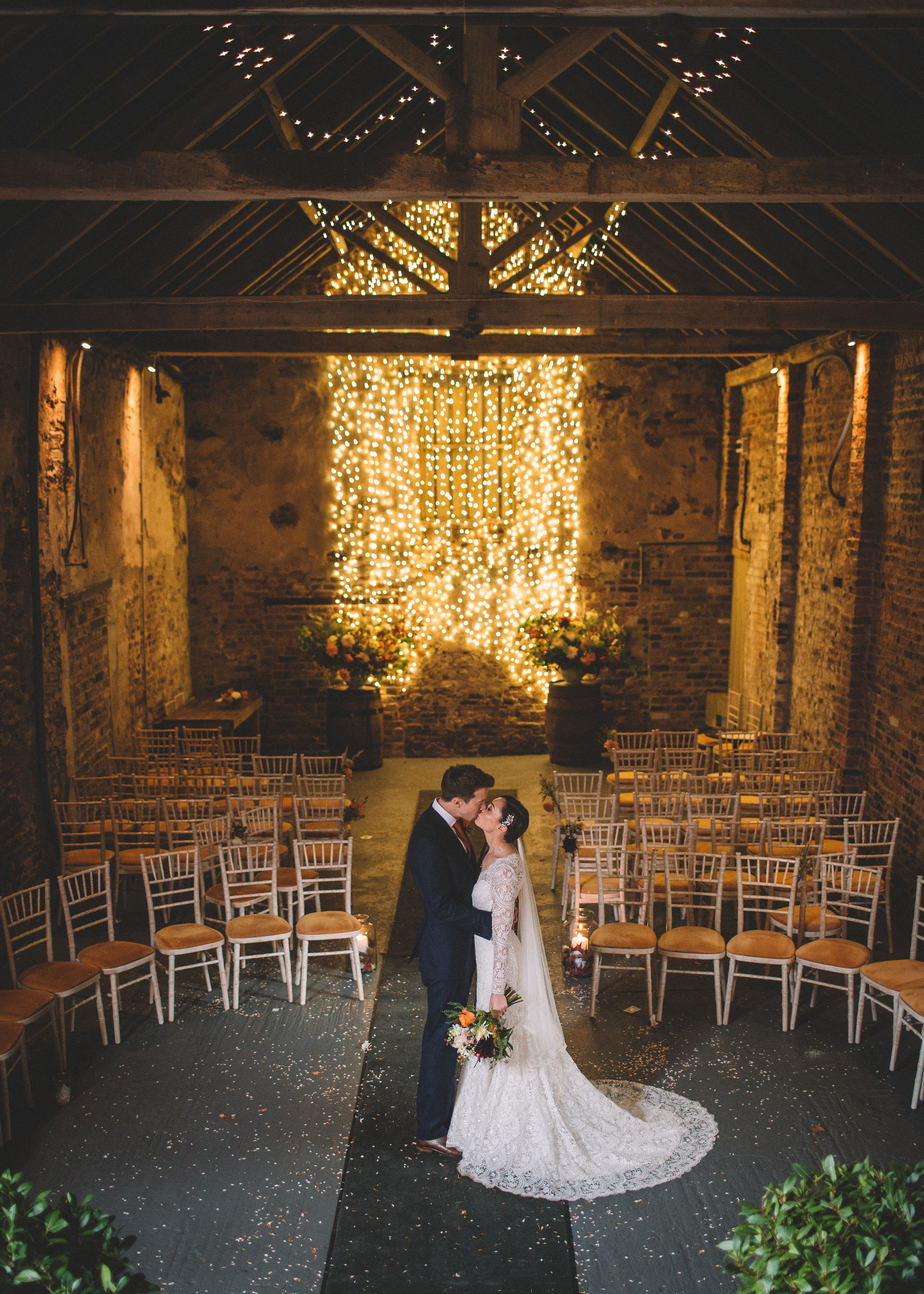 Can you describe what type of ceremony you had and how you were able to personalise it?
"Readings
o Touched by an Angel - Maya Angelou
o A reading from The Alchemist by Paulo Coelho
Vows – did you write your own vows, if so, would you be willing to share them in the feature. If you didn't write your own vows, can you share what you said or were asked by your officiant?
o No we picked the simple vows for the registrars to say
Did you have any symbolic gestures during your ceremony i.e. a hand-fasting, candle ceremony, wine ceremony or something else?
o Our band played whilst I walked down the aisle, during the signing of the register and when we walked back up the aisle (What a wonderful world - Louis Armstrong, I'm yours - Jason Mraz, Signed, Sealed Delivered - Stevie Wonder)
Did you have a wedding party? Did they do anything special during the ceremony?
o Yes - 4 bridesmaids and 4 groomsmen. Ben (best man) looked after the rings.
Were any of your guests involved in the ceremony in any way?
o Andrew's sister (Louise) and Rachel's brother (David) witnessed the signing of the register. Two good friends did the readings.
How did you enter your wedding ceremony?
o Rachel walked down the aisle with her Dad
What made you choose the type of ceremony that you had?
o We wanted to get married at the venue."
Tell us all about the cake (including the flavors) and cake topper!
"The cake was made by Rachel's best friend from university - Gayle Russell. Gayle made 3 different sized cakes, all of different flavours; white chocolate and orange, Victoria sponge and lemon and elderflower. The wooden boards were chopped down at her boyfriend's farm! She decorated the cakes using flowers from Clock Dandelion."
What flowers did you use in the bouquet and at the venue?
"Lots of different flowers and leaves in beautiful autumnal colours."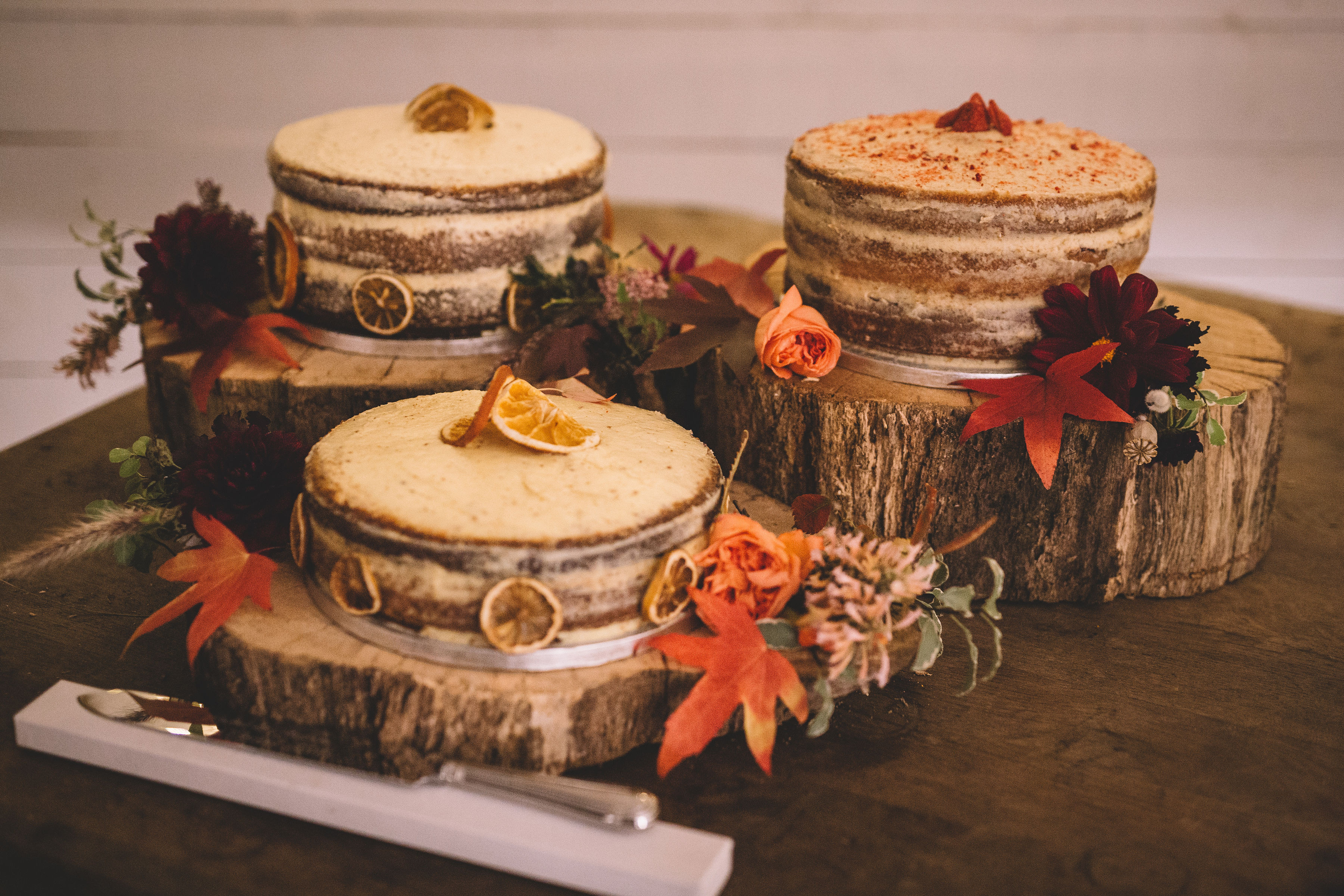 How did you choose your table décor?
"Jo from Clock Dandelion gave amazing advice. We wanted to keep it simple whilst also adding colour with the flowers in milk bottles and warmth with the tea lights."
What was the menu for the reception?
"Yorkshire sourced antipasti sharing boards, buttermilk chicken/flat iron steak with mac & cheese and a range of salads, lemon posset."

What were your favorite moments from the day?
"The weather being warm enough to have drinks and spend time outside, walking into the grain shed as a married couple, serving after dinner cocktails, having all our friends and family on the dance floor."


What was your wedding soundtrack?
● Aisle entrance: Louis Armstrong - What a Wonderful World (acoustic, no singing) - played by Free to Roam
● Exit: Stevie Wonder - Signed, sealed, delivered - played by Free to Roam
● First dance: Cyndi Lauper - Time after time
Any DIY décor elements?
"Polaroid cameras for the guest book, blankets to keep people warm, team bride and team groom 'tattoos'".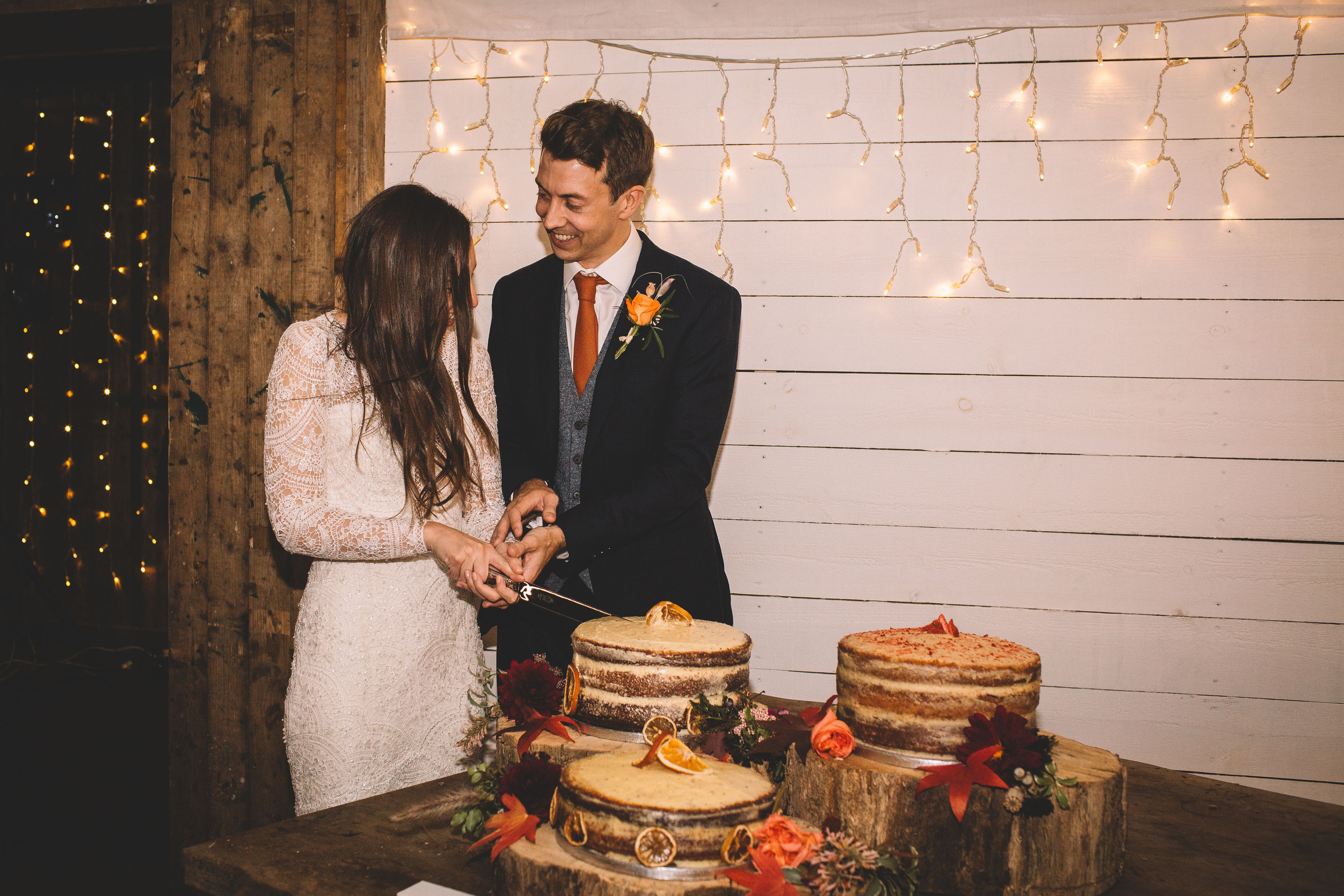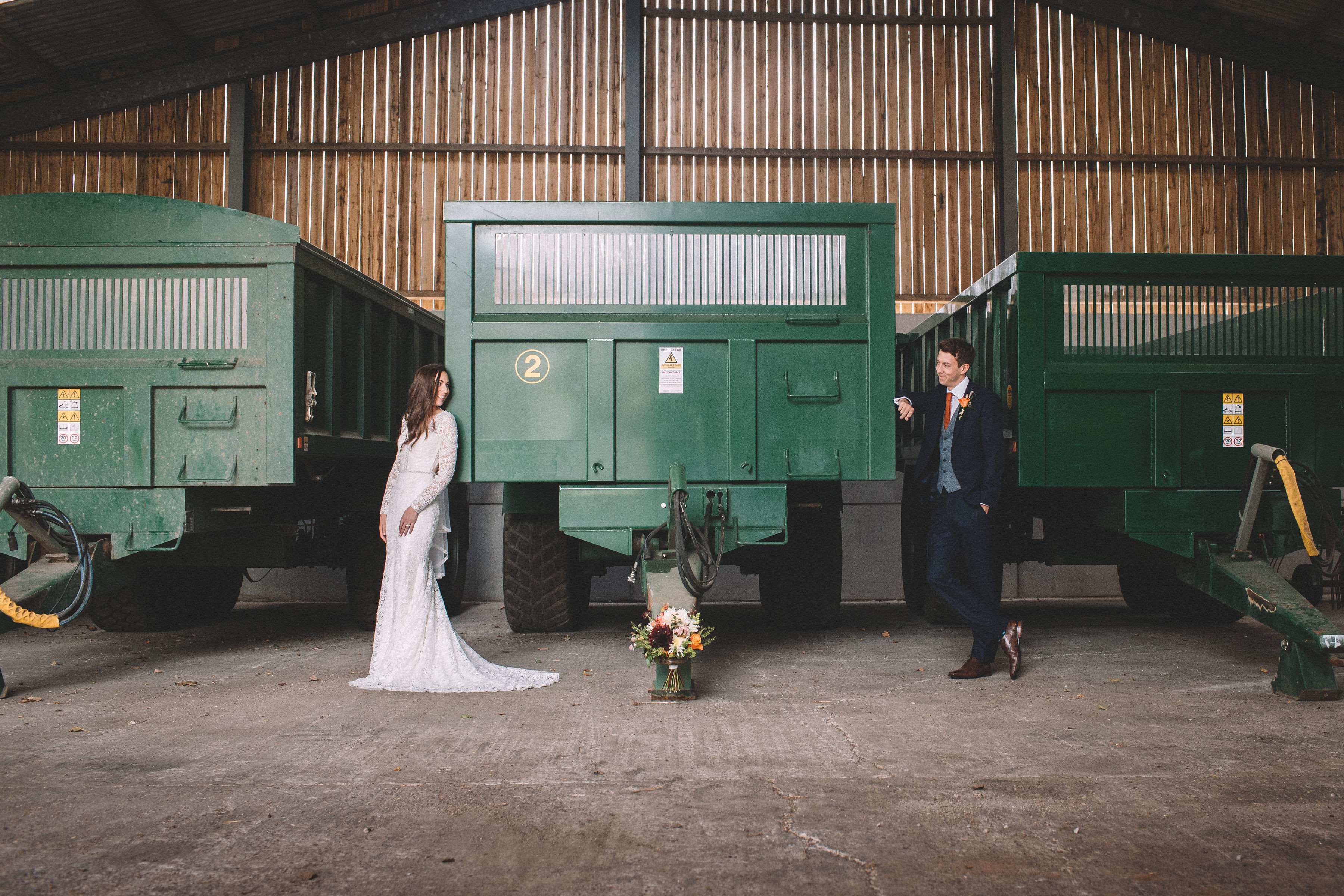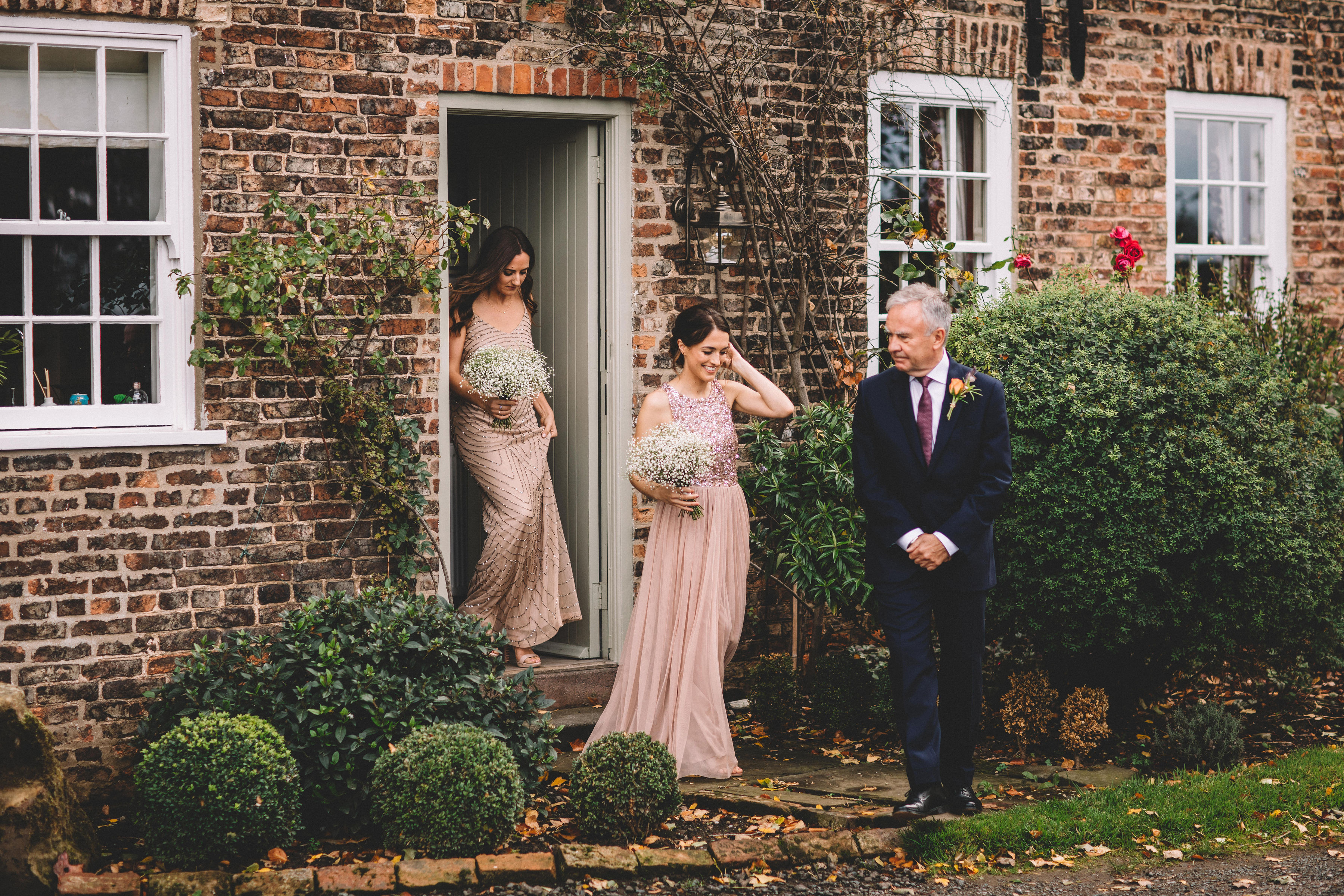 Any sentimental personal touches?
"Our wedding favours were chocolate coins from Bettys - a favourite of Rachel's and a link to Yorkshire."
What was the biggest splurge of the day?
"The venue - totally worth it."

How did you save on costs?
"We used Etsy to save on stationery/invitations. We used lots of candles to add to the atmosphere in the grain shed."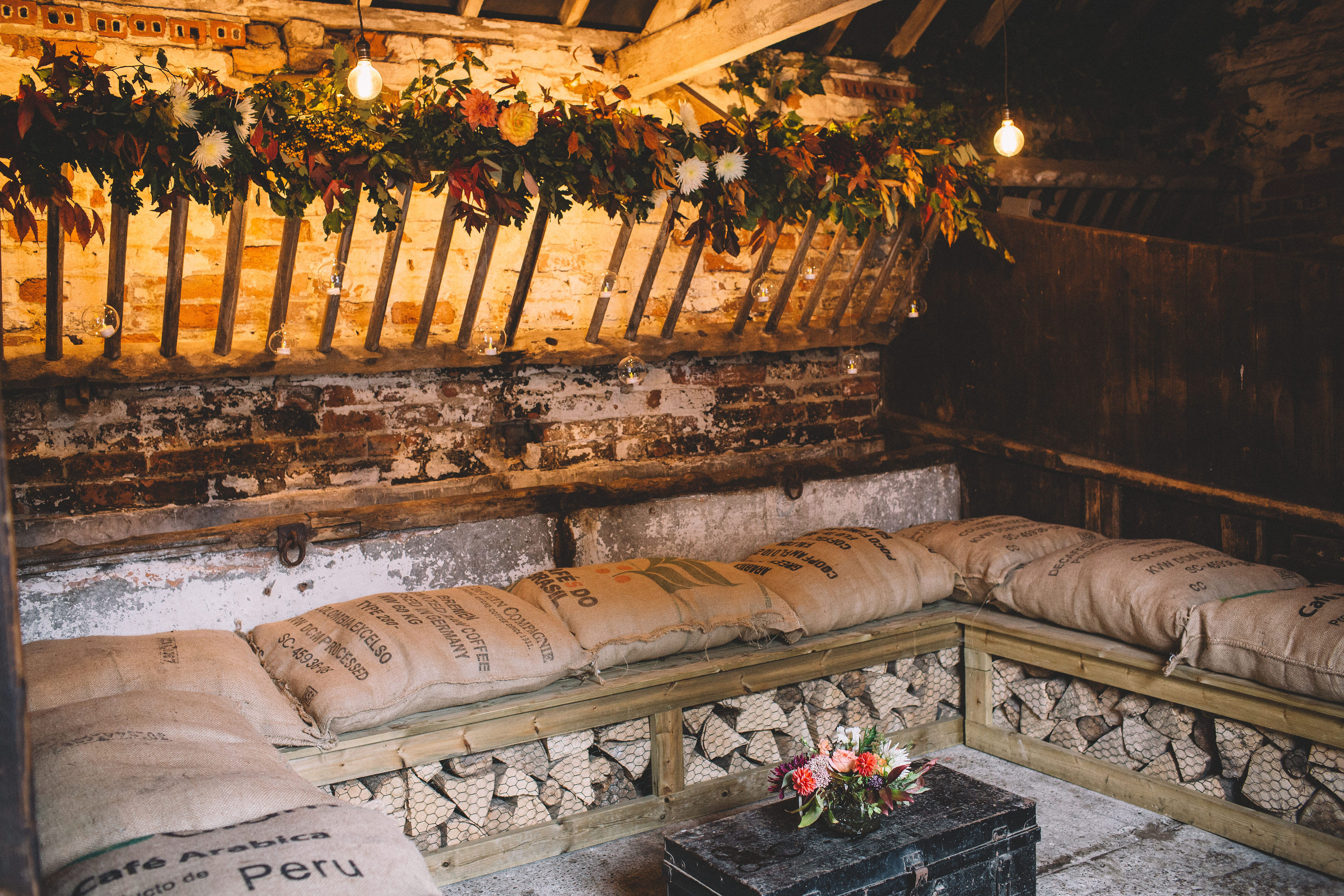 In hindsight, anything you would have done differently?
"Not at all!"

Where did you go on honeymoon?
"Gorilla trekking in Rwanda, a safari in the Masai Mara (Kenya) and relaxing in Mauritius."
Any tips that you can give to future brides?
"Enjoy it! The day goes so quickly so take all the moments you can to remember it and soak it all up."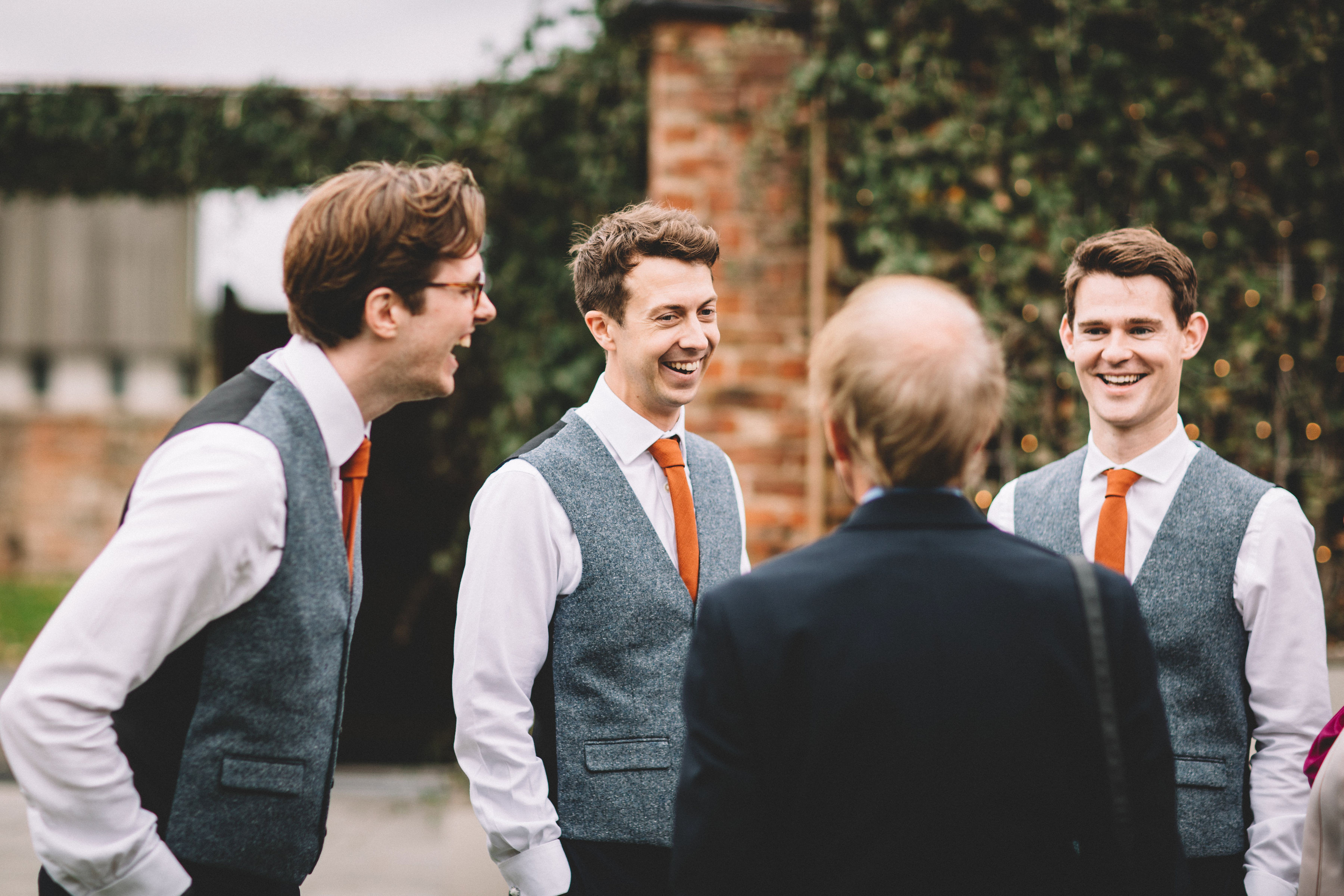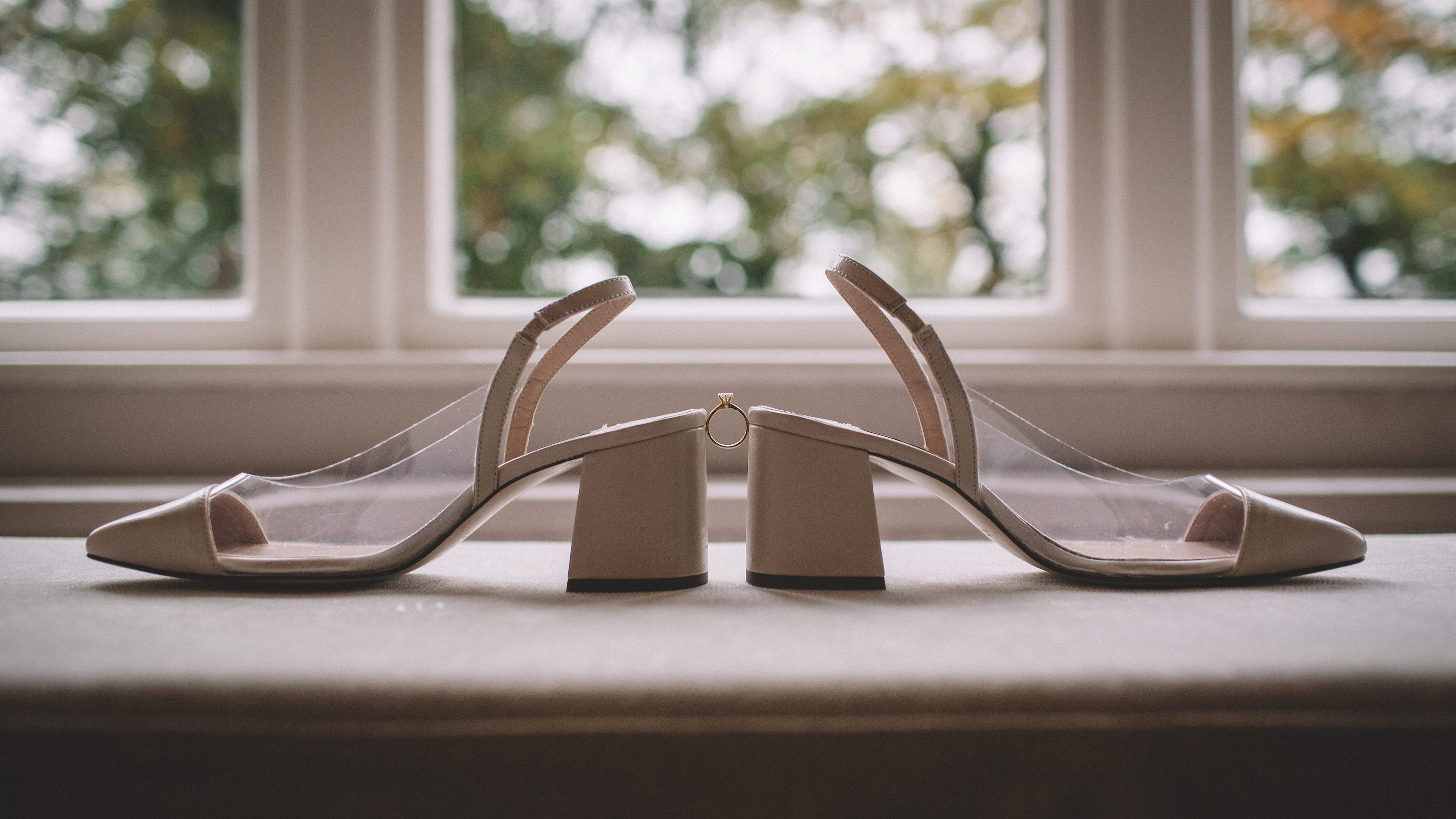 The Team
Wedding feature thanks to: BWedding https://bweddinginvitations.com
Wedding Invitations: Papier
Dress: Watters Wtoo – Anastasia https://www.watters.com/wtoo/wtoo-brides/
Veil: The Bridal Emporium, Leeds
Makeup: Jules Daniels
Hair: Craig Parkinson
Shoes: Uterque
Accessories: my late Grandma's diamond necklace
Bridesmaids Dresses: a range - ASOS and brands at Debenhams
Groom's Suit: Hawes & Curtis https://www.hawesandcurtis.com.au/
Groomsmen Suit: Hawes & Curtis
Cake: Made by Rachel's best friend - Gayle Russell
Food: Hog & Apple http://www.thehogandapple.co.uk/
Flowers: Clock Dandelion
Photographer: Lumiere Photographic https://lumierephotographic.com/
Ceremony Venue: The Normans http://thenormansweddings.co.uk/
Reception Venue: The Normans
Entertainment: Free to Roam, Hi-Life entertainment (provided DJ)
Celebrant: Selby registrars
Wedding Favours: chocolate gold coins from Bettys