Creative Ways to Make Your Socially Distanced Wedding Special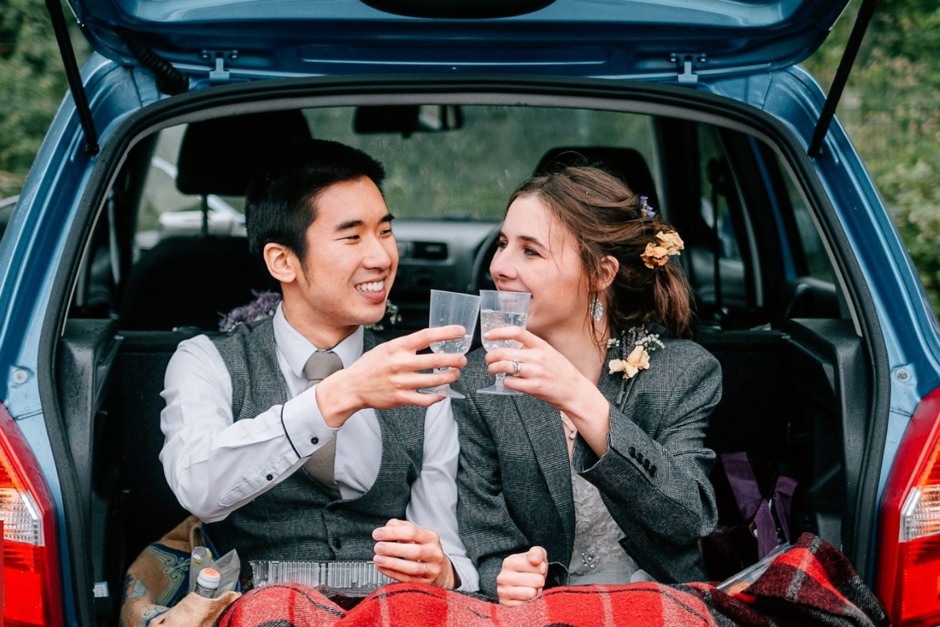 With the wedding ban recently lifted in the UK, many couples are adjusting their vision of a big white wedding and finding innovative ways to tie the knot on a smaller scale. In line with the new government rules released on the 17th July, both wedding ceremonies and receptions can now go ahead with up to 30 guests from the 1st August.
We've spoken to three couples about their socially distanced weddings and put together some creative ideas to make your day special and memorable, (if a worldwide pandemic doesn't already tick that box for you.)
Use Technology
One couple from Cardiff, Elizabeth and Ian Choi put together their socially distanced wedding in just three days. Elizabeth said, "the main thing was communicating with people despite it all, so we got everyone on a zoom call and saved the transcript so we could see it after." Ian's parents watched the wedding from Hong Kong via a video call.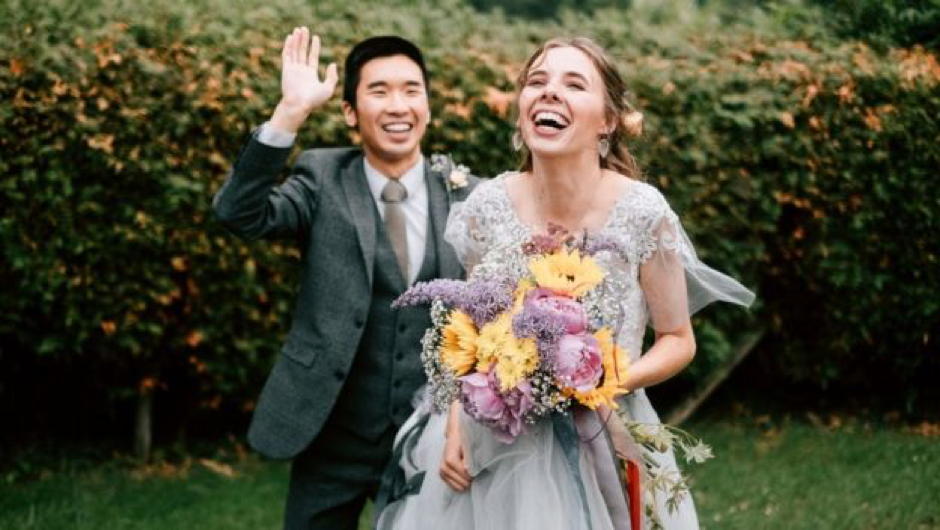 Images by Thomas Butters, taken from BBC article with permission from Elizabeth Choi
Live screening with apps such as Zoom can be an amazing way to include all the guests that can't be physically present at the wedding. All vulnerable relatives, and friends that didn't quite make the '30 guests' can still celebrate with you via video. Thank goodness for modern technology, the glue holding socially distanced weddings together.
For those 30 guests keeping their distance at the back, couples could also consider using a videographer and big screens to showcase the big "I do."
Source Local
Having a smaller wedding is a wonderful opportunity to support local businesses in this difficult time. Examine the needs of your community and use your wedding to help.
Consider last-minute invitations from that friend of a friend whose stationary business has stopped trading. Buy wedding cupcakes from the neighbour who bakes.
Having problems sourcing the flowers you wanted? Use seasonal British flowers from local suppliers. Use fruits and vegetables from local farms as table decorations, get creative!
Elizabeth Choi planned her socially distanced wedding in mere days and emphasised the importance of her local community in bringing her big day together. "If you're planning a wedding in lockdown, my advice is to source local. For example, my old Sunday school teacher made my dress, my friend from school made the wedding rings. Find people you already know who can help you out. I felt that made all the difference to our day."
Have a Theme
The upside to a small wedding? It's much easier to implement a theme.
Alex and Kiri from Brighton plan to get married in August with an Alice in Wonderland theme- (seemingly appropriate in this upside-down world).
In reference to organising a socially distanced wedding, Alex said "it is possible to do it, and it's a lot easier to manage social distancing with a smaller wedding party of those closest to you."
The couple have hired a mad hatter on stilts to keep their wedding guests entertained and they have made their own wonderland themed wedding decorations at home during lockdown. "I really wanted a lot of decorations at the wedding" explained Kiri. "We've made lots of characters that we're going to showcase on wooden sticks around the wedding, and we've made our own table decorations."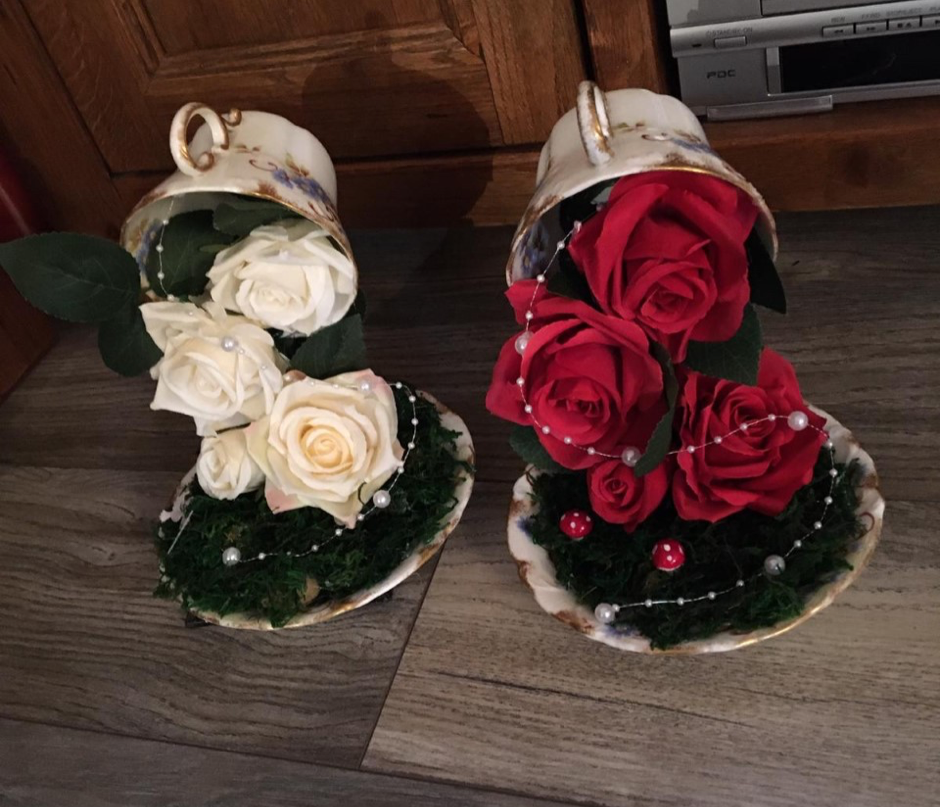 Wonderland themed decorations- Photo provided by Alex and Kiri in Brighton
Alex and Kiri will also be carrying handmade paper flower bouquets made from music sheets, showing us that imagination can make all the difference.
Handmade bouquets made from music sheets- Photo provided by Alex and Kiri in Brighton
If you're not the creative type, and arts and crafts aren't your strong suit, refer to Source Local and find some nearby talent to add a special touch to your day.
Outdoor Activities
The government rules may have put a stop to wedding singers and dancefloors but there are other ways to keep your family and friends entertained.
Phil and Rachel from Bournemouth were due to marry in October when we approached them for this piece. Wedding plans are a little up in the air for them, but Rachel spoke of her plan to provide evening entertainment at their wedding "perhaps a comedian, or a quiz during dinner."
Alex and Kiri said "we've had to envision our wedding completely differently. We originally planned outdoor games with sumo suits which obviously needs rethinking now. We'll probably do an outdoor bonfire."
Need inspiration for entertainment? How about an evening firework display? Some outdoor games? A round of wedding themed bingo after the speeches, with (sanitised) prizes?
Safeguard your guests by encouraging them to be outdoors (weather permitting) as much as possible. You are likely to enjoy your wedding more if you don't feel anxious about social restrictions and your guests are likely to feel the same about their own safety.
Marry Now, Party Later
Rachel from Bournemouth happily chatted away on the phone to me on Saturday morning, explaining that she has four different contingency plans for her wedding.
She said "the safety of our guests is such a priority. You want people to feel comfortable on your wedding day. I don't want any of my guests to catch Covid at my wedding, that would tarnish the whole thing and I would feel awful about it."
Rachel and Phil discussed having a marriage ceremony, followed by a big one-year anniversary party in 2021. "Rather than having a wedding reception a few months after the ceremony and expecting people to still be excited, we want to have a big party one year later to celebrate a year of marriage, with speeches and all the things you would normally have at a wedding reception."
If you don't want to give up on your dream wedding, but dream of getting married right now, the idea of a one-year anniversary bash, with all the trimmings of your perfect wedding reception could be a happy compromise.
Food and Drink
Ensuring your guests are fed and watered at your wedding is important, and a tricky one to overcome with the current government restrictions on food and drink.
Venues are unable to serve food and drink at the moment, but that doesn't mean you can't ask your guests to bring their own snacks- teddy bear picnic style.
Ian and Elizabeth Choi received a traditional English downpour on their wedding day in June. They resolved this by eating picnic style food from the boot of their cars with a positive attitude.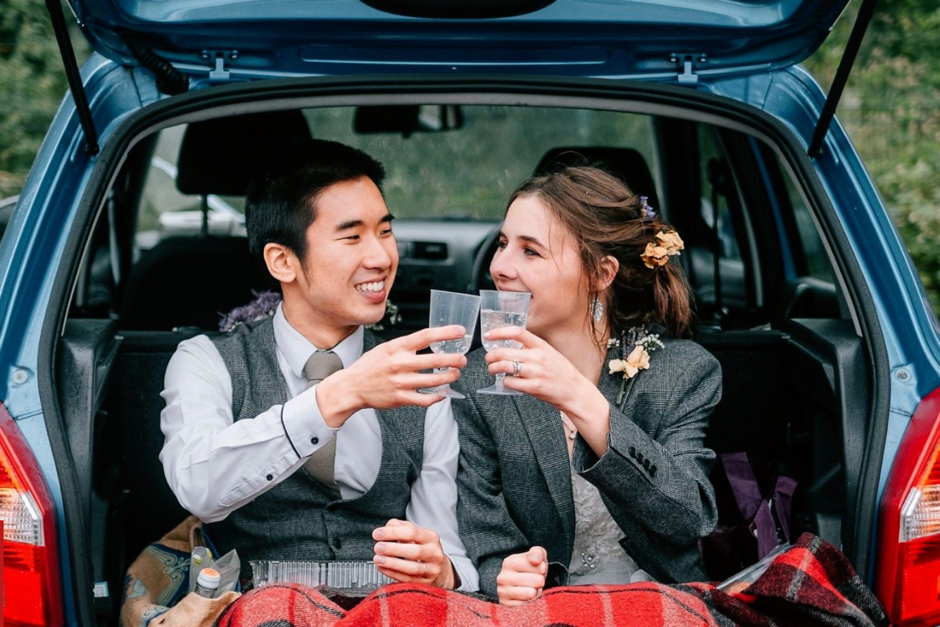 Image by Thomas Butters, taken from BBC article with permission from Elizabeth Choi
If your wedding is outdoors, you could get rid of table plans and socially distanced bubbles and have an informal picnic on blankets.
Rachel and Phil plan to order their wedding cake from a Covid-safe supplier and will ask somebody to cut the cake in front of guests while wearing a mask and gloves. However, they hope that by the time they have their wedding, the food and drink restrictions will have eased.
If you're not comfortable with a wedding cake at the moment, cupcakes could be a wonderful alternative as they minimise the risk of communal food contamination. Provide disposable gloves, everybody grab a cupcake and tuck in.
A Positive Attitude
Our three couples have shown that socially distanced weddings can be just as special with a positive attitude, and a little imagination. It might not be the wedding you planned for, but ultimately nothing can take away the magic of your big day.
Stay safe and have a happy socially distanced wedding day.
Written by Gabby Tuzzeo
Rachel and Phil from Bournemouth planned to hold their wedding in October but have since postponed until further notice.