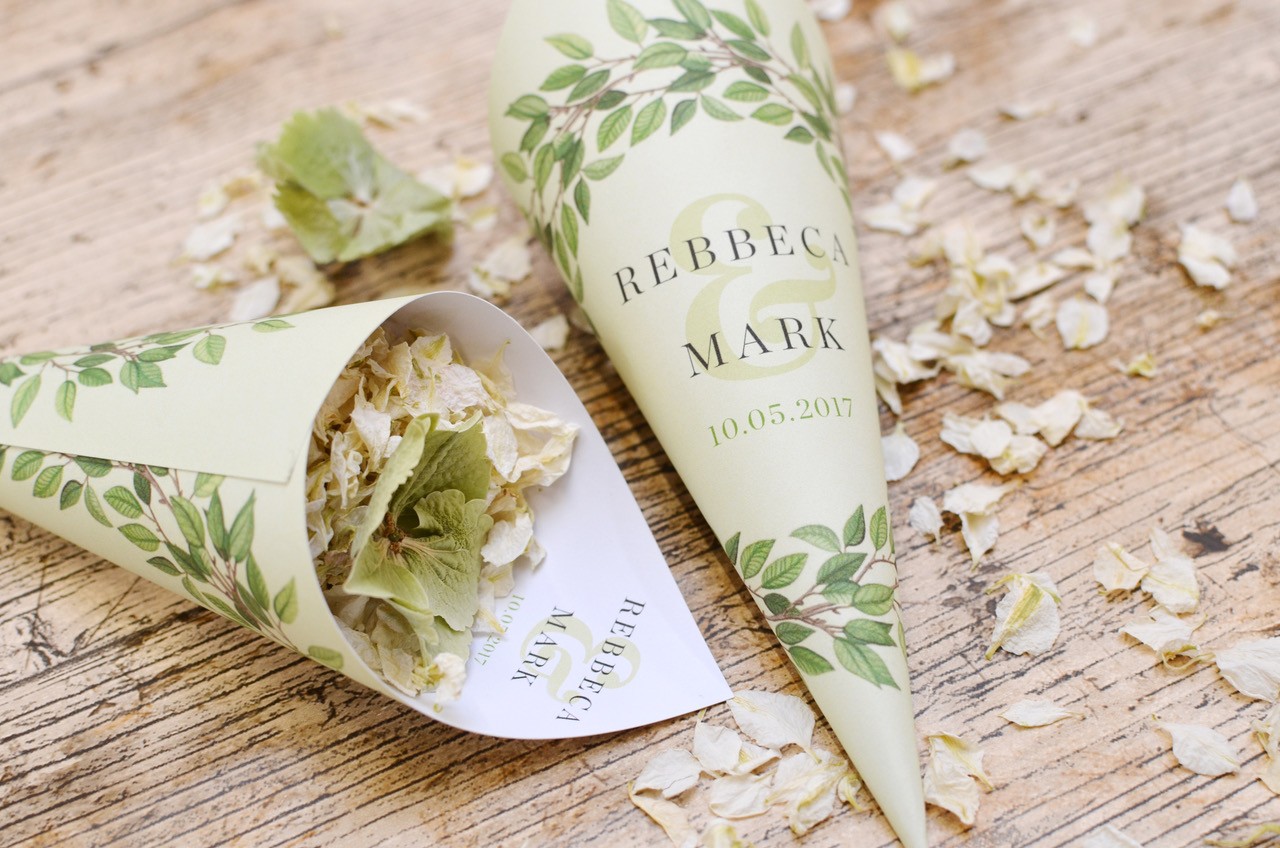 Create Your Own Unique Confetti Moment
---
Everyone wants their wedding day to be the one that guests remember for years to come. Adding your own unique style is the perfect way to make your day original and unforgettable. From the dress and the décor, to the cake and the styling, every detail can be personalised to your tastes and style.
Adding personalised details is one way to add the originality and distinctiveness you are looking for. The throwing of confetti is one of the most iconic moments on your wedding day, and with Shropshire Petals' brand-new range of personalised confetti cones, you can now create a truly unique confetti moment.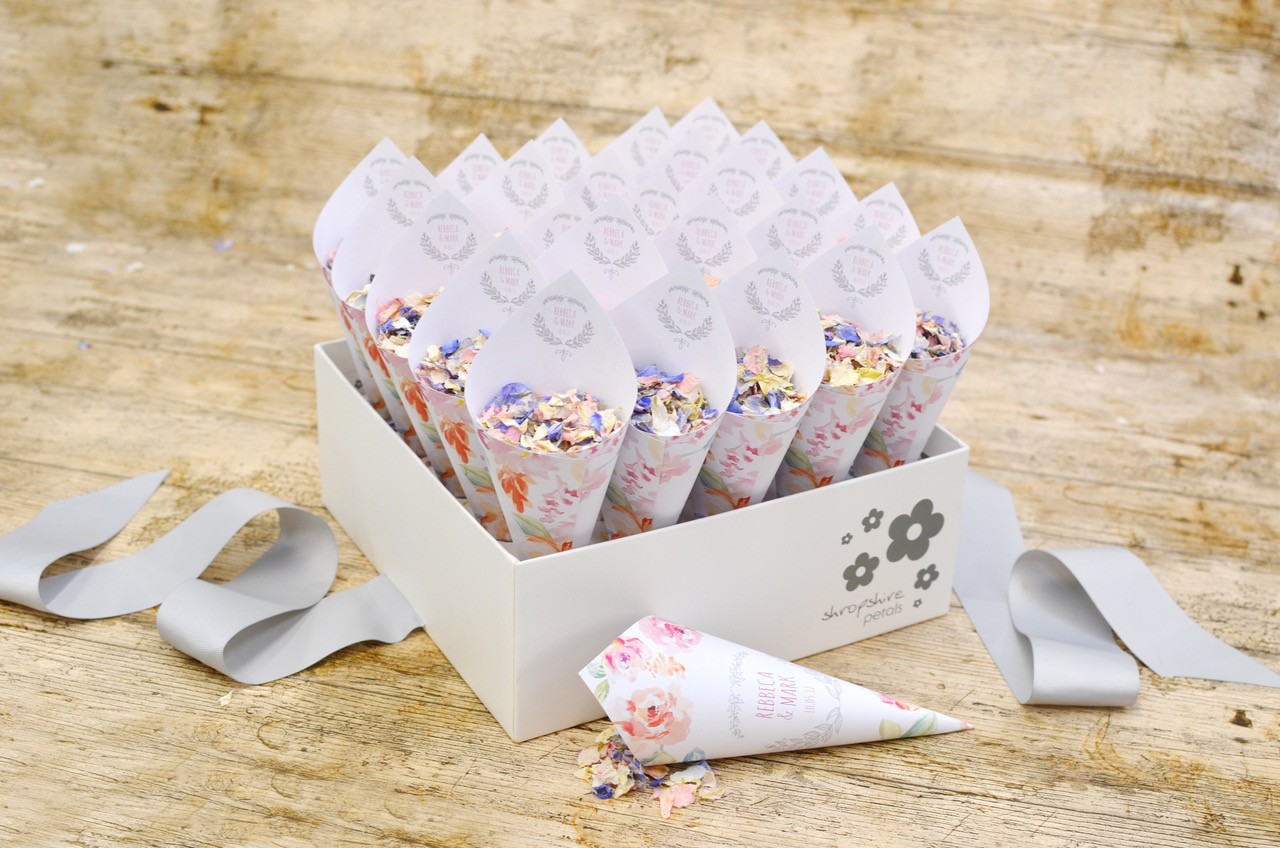 Choose your petals – Just like a sweet shop, you can pick and mix the colours of your confetti to match them to your chosen colour scheme. Have a play with colour by choosing from the wonderful range of colours and petal types or select one of the recommended mixes. Why not get really creative and generate a confetti mix to contrast colours used in your wedding to make your confetti really stand out on your photographs.
Can't decide on just one mix you have created? Why not share them with your friends using the share function to get their opinions and order some free samples to look at in the comfort of your own home.
Personalised confetti cones – With 11 stunning designs to choose from, you will be guaranteed to find one to suit your wedding or personal tastes. The themes are Bunting, Cottage Garden, Fairy Lights, Fairy tale, Heart, Lace, Photo, Rose Pattern, Travel, Watercolour Flowers and Woodland.
After you have chosen your preferred cone theme, you can use the innovative personalisation function to choose any colour you want for your cones. Select one of the standard colours, or choose a custom colour to exactly match your wedding theme.
Enter your names and wedding date how you would like them to appear. Some designs have font outside and inside, and on some of the designs, you can even change the colour of the font.
See your cones come to life using the interactive online preview. Get creative and play about with colours and themes until you find the one perfect for your special day.
Click here for 10% off Shropshire Petals!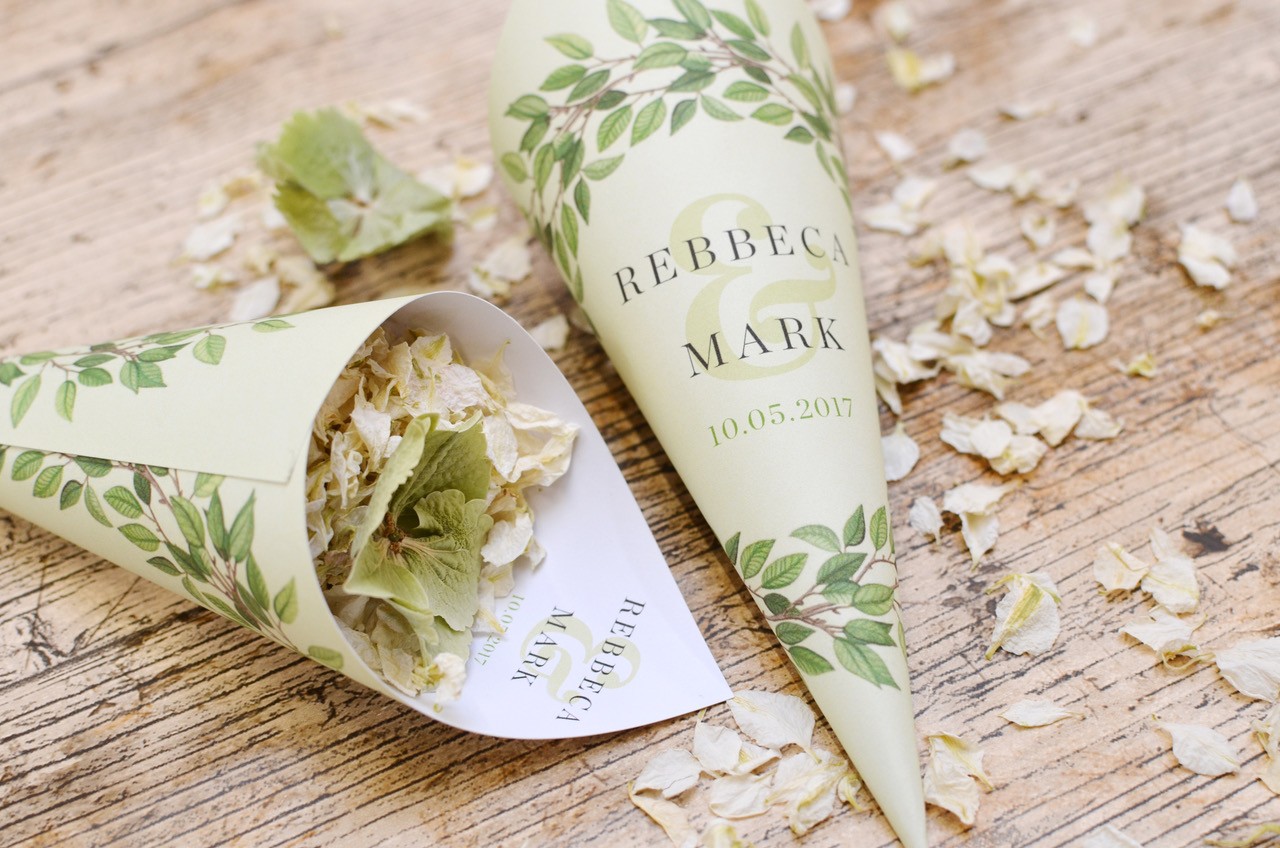 Packages
Personalised confetti cones are available in a variety of packages:
• Personalised confetti cone package – this includes 10 cones and a litre of the confetti of your choice
• Personalised Shropshire Box – this is a white keep-sake display box with 25 cones and plenty of your chosen confetti to fill them
• Personalised Bo-peep Basket – this is a pretty wicker basket complete with 20 cones and enough of your confetti mix to fill them
• Personalised confetti cones – cones are available to order empty as a set of 10, perfect for filling with delicious sweets for a candy buffet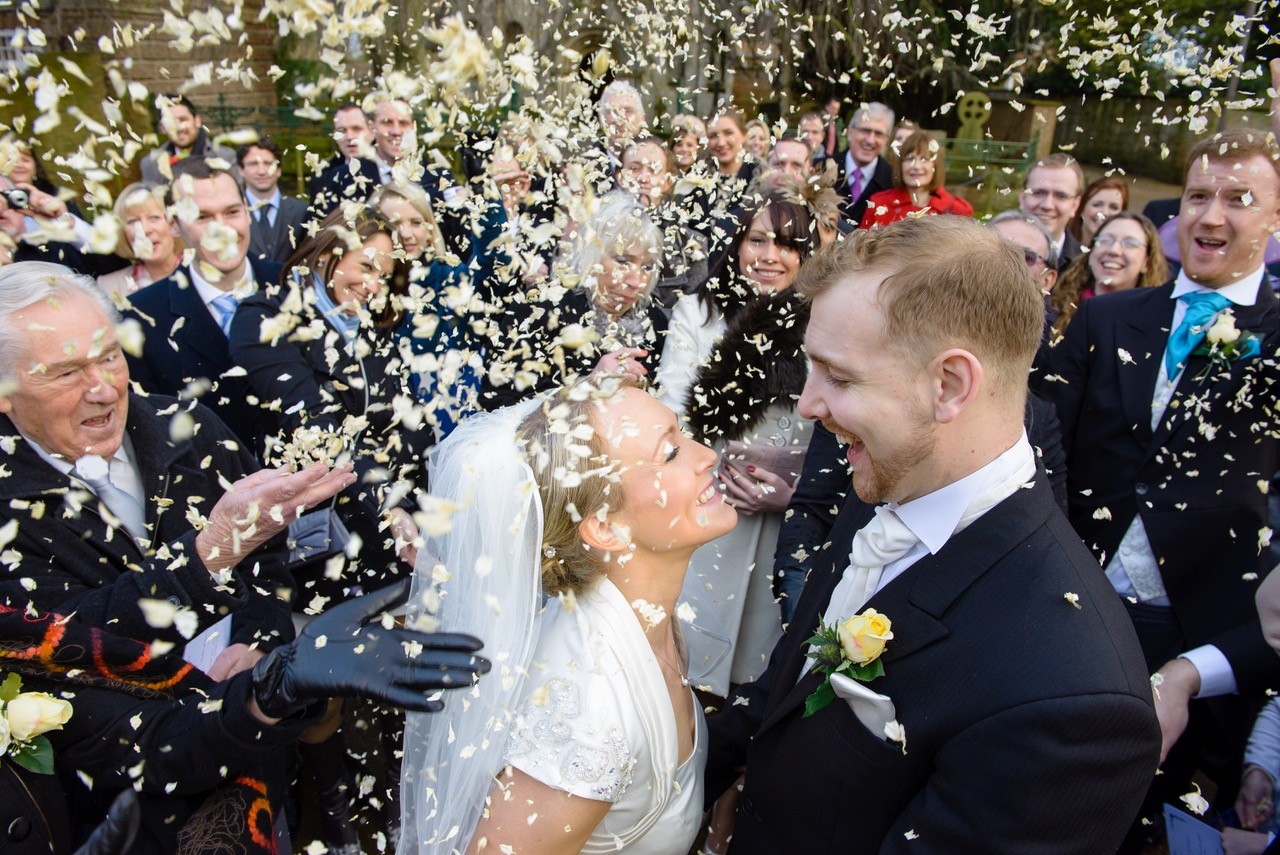 Photo by: David Golding Photography
5 tips for getting the perfect confetti photo
Now you have chosen your unique confetti, you will want to make sure that your confetti moment is as perfect as you have always dreamed.
1. Discuss how you want your confetti moment to be photographed with your photographer. Ask to see examples of previous confetti shots they have taken to get an idea of their style, then consider how and where is best to get the confetti shot you want at your venue.
2. The best petals for throwing are small petals such as delphiniums and wildflowers as they are light, creating the perfect flutter as they are thrown.
3. Choose colours that stand out with the background at your venue. If you are having your confetti moment against a darker background such as near a wall or under a lot of trees, bright and light mixes are best for standing out. If your photo is to be in an open area, then darker and mixed colours will really add a colour pop to your photographs.
4. Calculate how much you will need. You will only get one chance to capture the magical moment, so depending on the type of shot you want – a photograph full of petals or a light shower – you will need to know how much to order. You can use the Shropshire Petals confetti calculator to help. Shropshire Petals advise that usually only half of your guests will throw confetti (typically the ladies), so order enough for half and approximately 1 litre will be enough for 10 handfuls.
5. Make sure your guests know how to throw! Sounds simple, but you don't want a face full of confetti. Ask a member of the bridal party to ask guests to stand close together and throw as high as they can, which will create a beautiful confetti shower.
10% OFF for WeddingPlanner.co.uk Readers
Shop the full Personalised Confetti Cones range at www.shropshirepetals.com and have fun creating your own unique confetti moment.