Bride To Be | Supplier Spotlight
Introduce yourself and tell us a little bit about your business?
My name is Isabella, and I am part of the sales team at Bride to Be of Reading. I have been part of the team and helping brides with one of the most important parts of their wedding journey for 8 months. Here at Bride to Be we build special relationships with our brides, as we are with them from the day they say 'Yes to the dress' right through to their wedding day- sometimes even afterwards as they want to share their moments from their special day with us!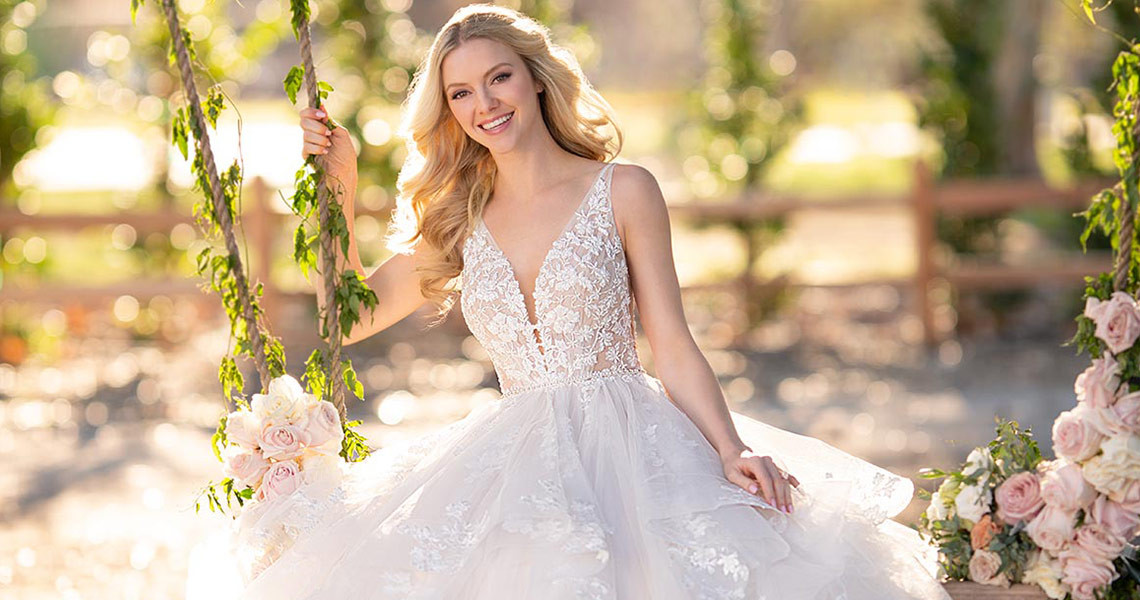 If you could provide a dress for any celebrity wedding, past or present, who'd it be and what would the dress look like?
If we could style a celebrity for their wedding day, we would choose Gal Gadot. We would design a glamourous, sexy, yet sophisticated gown with our in-house designer.
From your industry experience, what's your top tip for brides on the hunt for a wedding dress?
Our top tips, to brides, is to write down a list with everything you don't want for your wedding gown. Then try on a dress with as many things on that list… I know this might sound crazy but often that dress turns out to be 'The' dress!
How has Coronavirus impacted your business and what have you had to change as a result?
After all the hustle and bustle with the global pandemic, brides have had to postpone their wedding date once, some twice and some even three times! Due to all the lockdowns and releasing of restrictions, a lot of last-minute arrangements were made, which led to us to have a huge surge of brides buying 'off-the-peg' wedding gowns. Due to the usual length of the wedding gown ordering process.
The wedding gowns in our shop are all made to order. This process can take 4-6 months. This is because once we've placed your order they then make it in your size for you. Which makes it feel even more special!
Tell us about your existing dress collections
In the new year we are expecting the new seasons collections from our designers. Which include: Essense of Australia, Stella York, Martina Liana and Morilee. We also have a collection that is exclusive to Bride to Be. We are so excited for them to arrive and to show them to our new brides. When the sales team went buying, we definitely noticed the new trends which are starting to evolve. Some of these trends feature square necklines, daringly low V-necklines and thigh-high splits.
If you are wanting to go for a traditional and regal looking wedding gown, then we have the perfect Martina Liana dress coming soon. With its beautiful Mikado satin fabric, grand A-line shape and lace embellished bodice. We also have a traditional style from Morilee gown arriving. With its trending thigh-high split and its flattering criss-cross ruching across the bodice.
If sparkle is your thing, then you must see one our Essense of Australia dresses that is coming soon- It is a fitted gown with a fully sparkly tulle lining and layered with lace and sequins. This would be perfect for a destination wedding. Imagine how stunning this would look under the sunlight with the sparkle tulle.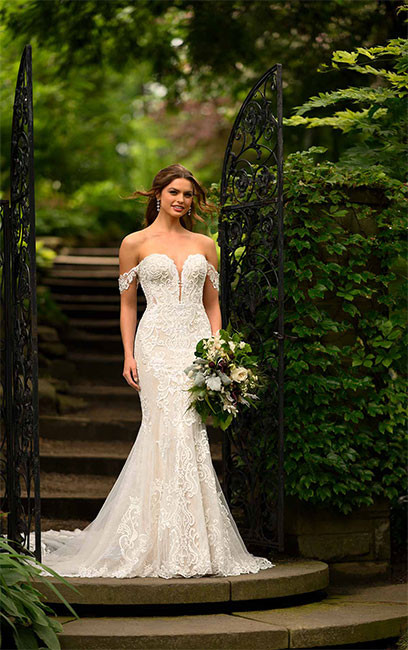 Alternatively, if you are looking for a more laid back, boho themed wedding then we also have a few dresses for you. We have two sister dresses one from Stella York and one from Essense of Australia. These gowns are a loose A-line shape. With layers of soft Ivory tulle. Embellished with a unique leaf lace. The Stella York gown has a v neckline which flows into off the shoulder straps. The Essense of Australia gown has a deep plunge. This would be perfect is you are looking for more of a sexy look. Each of these gowns can come in White, Ivory or Moscato. Our most popular colour is Ivory followed by Moscato. Having your wedding gown with a Moscato lining and alternating layers or ivory and moscato coloured tulle, gives the dress more of an individual look and allows the lace to stand out against the dress.
Do you have any special offers or dates coming up?
In the new year we also have a few Trunk show events happening in our store. This is super exciting as we have their whole collection straight from the catwalk exclusively, for one day only. Including an amazing one-off discount available on the purchase of your wedding gown.
The dates and designers are bringing the trunk show to us are:
22nd January 2022 Stella York
12th February 2022 Essense of Australia
12th March 2022 Martina Liana
Everybody Everybride 26th February 2022
If you are interested and are still in the search of finding your perfect wedding gown, book an appointment with us now!