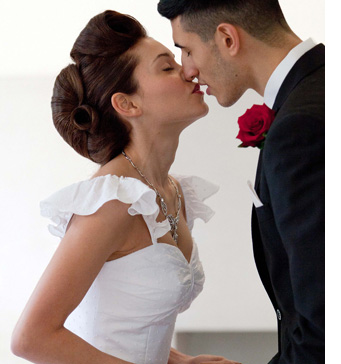 Which Era Will Influence Your Wedding Jewellery? Part 2
---
Big band, Hollywood Starlets and good old fashioned glamour! After looking at how to achieve authentic bridal style, with vintage wedding jewellery reminiscent of the Roaring Twenties and the Deco Dazzle of the 1930s, I'm excited to move on to two of the most popular and perhaps most glamorous for bridal fashion to date; the 1940s and 1950s.

Hollywood Starlet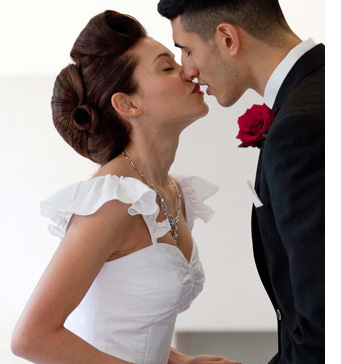 For most of us, the 1940s conjures up images of Swing, Victory Rolls and Hollywood's Golden Age starlets, from Rita Hayworth to Ava Gardner. Despite being a decade dominated by WWII, the 1940s still managed to become one of the most popular in terms vintage fashion. Hollywood's greats dazzled in gorgeous gowns and silhouettes focused on cinched-waists to emphasise womanly curves. Bolder, almost oversized, gems replaced geometric lines of the Art Deco movement in the decade where diamonds, quite literally, became a girl's best friend.

Incorporate classic Hollywood glamour into your bridal look with statement jewels to really make an impact against your slinky, floor-skimming wedding dress. Crystal chandelier earrings to sit against loose waves, a jewel-dropping necklace to balance a sweetheart neckline, a faux fur cape accentuated with a sparkling brooch, a gem-encrusted hair clip to dress a chignon – think sparkling accessories with classic style for a look worthy of an old black and white movie!

Let's Rock 'n' Roll


The 1950s embraced fun and fashion with a vengeance. A certain Ms Monroe was at her height of fame, Grace Kelly married Prince Rainier in what was dubbed 'The Wedding of the Century' and Rock'n'Roll was born. With a distinctive shift in post-war fashion thanks to the Dior's "New Look" collection, which made its debut in 1947, the 1950s has become renowned for its feminine silhouette; nipped-in waist and tea-length full skirt.

Whether you're going for the full-on retro style of the latter part of the decade or a more timeless look with a sensational mid-calf length full gown, a 1950s bride simply has to be adorned with pearls! Think pearl studs, a string of pearls sitting gracefully on your collarbone and a simple headband to achieve chic vintage bridal style. If you're not a fan of pearls, the 1950s saw focus on 'the bow'. Whether tied around a ponytail, the neck or waist, this pretty motif can be cleverly incorporated into your wedding jewellery with cute bow earrings or a pendant, a bejewelled bow hair comb nestled at the side of the head or an encrusted brooch perched high on the shoulder. In a decade where the female form was emphasised to the max, the key to achieving classic 1950s bridal style is simply to embrace your femininity on your special day.

Next month, in the final part of this series, vintage bridal fashion shifts dramatically as I look at wedding jewellery from The Swinging Sixties and Boho Beauty of the 1970s.