Bridal Accessories - Choosing the Right Amount of Sparkle!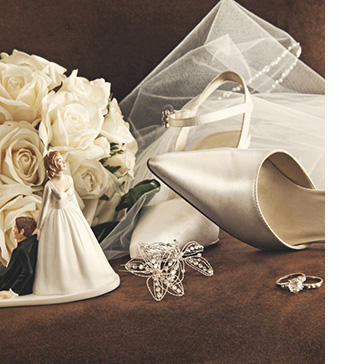 Bridal Accessories, Tiaras and Veils


Hair accessories, tiaras and veils… adorned with pearls, crystals or diamante, giving you that extra sparkle, on your big day! And what girl doesn't love to sparkle? Use this advice on how to pick the right accessories to compliment you on your wedding day.
Choosing the right amount of sparkle


Hair accessories, tiaras and hair jewellery have become extremely popular and affordable. They look great in photographs and can add a really stunning effect. Feather fascinators, for the bride or her bridesmaids, can also look fabulous! But choosing the right amount of sparkle is essential!
Tiaras:

The tiara, either worn with or without your veil, sits in the middle of the head and at a 45- degree angle. Choose your tiara carefully, considering your height and that of your groom, the shape of your face and how your stylist will do your hair. You can find tiaras in bridal shops, outlets or, if you wish, you could create one and have it designed especially for you.

Tiaras come in a range of sizes. If you are opting for a large, jewelled tiara then consider having more discreet hair jewellery.
Jewellery:

When considering other jewellery, earrings, necklaces, and bracelets- less is more! If you are wearing a tiara, consider either earrings or a necklace but avoid wearing all three. Keep to the same gilding too, if you are wearing silver, then stick to silver for all!
Hair accessories:

Some brides consider their hair to be more important in the overall picture. You may decide that instead of wearing a veil or a hat, you would prefer to dress your hair with different accessories. This could range from glittery hair accessories, hairpieces and even flowers. Talk to your hairdresser about different possibilities. You could wear your veil for the ceremony and then have it removed, leaving just your hair accessories in position.
Veils:

If having a veil is in your dream, it should not compete with your dress but complement it. As with style of dresses, the choice is endless. It is usually made up of four layers of material: silk, tulle, or lace and trimmed with pearls, crystals or embroidery.

If you veil covers your face decide beforehand whether you want it lifted by your groom after exchanging your vows, or at the beginning of the ceremony. Or you could have it lifted by the person who is giving you away. It is a good idea to practise lifting the veil beforehand.

Other Timeless Advice you might like to read:
'Veil Lengths.'
'Bridal Wear'