30 Ultimate Wedding Reception Entrance Songs 2018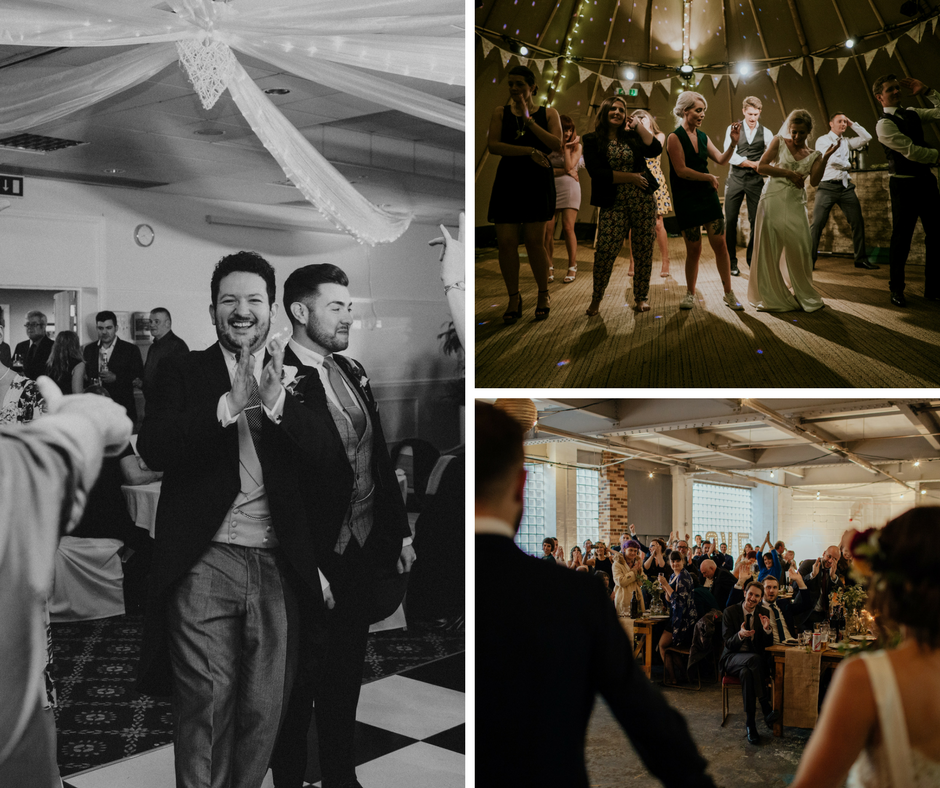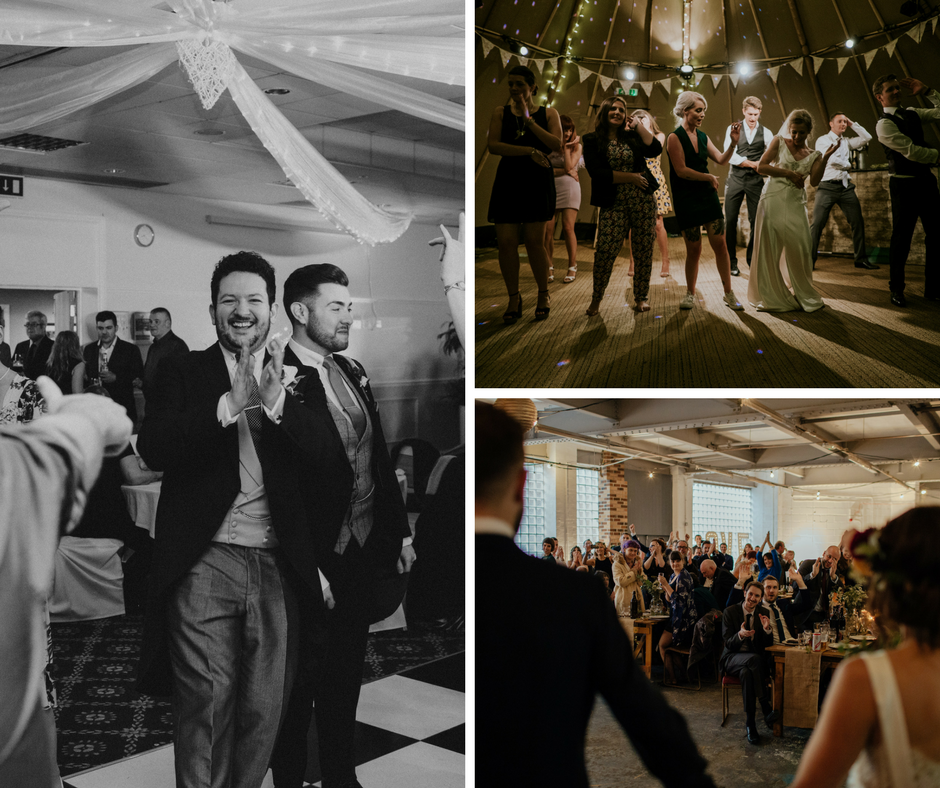 After months of endless planning, organising, and stressing, you've finally said "I do"...it's time to celebrate! Get your dancing shoes on and prepare to make an entrance that will get everyone in the mood to boogie the night away. We have a number of fantastic bands that can play just about anything you throw at them. Remember - the wedding reception entrance song is a chance to be creative - you have the first dance to be personal and romantic - so go for something cheesy, old school or down right silly. Have a look at some of the best wedding bands in the business here to make sure you keep on dancing.
We've made a list of our top twenty picks for great wedding reception entrance songs that are guaranteed to get the crowd going and get the party started…
1. "Marry You" – Bruno Mars
Lovely Lyrics; "Is it the look in your eyes, or is it this dancing juice
Who cares baby, I think I wanna marry you"
2. "All I Do Is Win" – DJ Khalid
Lovely Lyrics; "'Cause all I do is win win win /And if you goin' in put your hands in the air/Make 'em stay there"
3. I'm Gonna Be – The Proclaimers
Lovely Lyrics; "And if I grow-old (when I grow-old) well I know I'm gonna be, I'm gonna be the man who's growing old with you"
4. "I Got You (I Feel Good)" – James Brown (check our own Winklepickers doing a great rendition!)
Lovely Lyrics; "I feel good, I knew that I would/so good, so good, 'cause I got you"
5. "XO" – Beyonce
Lovely Lyrics; "In the darkest night hour/ I search through the crowd/ Your face is all that I see"
6. "You're The One That I Want" – Olivia Newton-John
Lovely Lyrics; "And I'm losing control/ 'Cause the power/ you're supplying/ is electrifying"
7. "Chelsea Dagger" – The Fratellis
Lovely Lyrics; "Call me up take me down with you/ When you go I could be your regular belle"
8. "You Make My Dreams Come True" – Hall & Oates
Lovely Lyrics; "I've been waiting for, waiting for you girl, oh yeah/ You make my dreams come true"
9. "Shut Up and Dance" – Walk the Moon
Lovely Lyrics; "This woman is my destiny/ She said oh oh oh/ Shut up and dance with me"
10. "Love Story" – Taylor Swift
Lovely Lyrics; "I love you and that's all I really know/ I talked to your dad, go pick out a white dress/ It's a love story, baby just say yes"
11. "I Believe In A Thing Called Love" – The Darkness
Lovely Lyrics; "Can't explain all the feelings that you're making me feel/ My heart's in overdrive and you're behind the steering wheel."
12. "White Wedding" – Billy Idol
Lovely Lyrics; "Wow, it's a nice day to start again/ It's a nice day to start again"
13. "There Will Be (An Everlasting Love)" – Natalie Cole
Lovely lyrics; "You've given me the thrill of a lifetime/ And made me believe you've got more thrills to spare"
14. "Let's Get It Started" – The Black Eyed Peas
Lovely Lyrics; "Burn it till it's burned out/ Turn it till it's turned out"
15. "All You Need Is Love" – The Beatles
Lovely Lyrics; "All you need is love, love/ Love is all you need"
16. "Party In The USA" – Miley Cyrus
Lovely Lyrics; "I'm movin' my hips like, 'yeah'/ I got my hands up, they're playing my song/ I know I'm gonna be okay"
17. "Celebration" – Kool And The Gang
Lovely Lyrics; "There's a party goin' on right here/ A celebration to last throughout the years"
18. "Accidentally In Love" – Counting Crows
Lovely Lyrics; "Spin a little tighter/ Come on, come on/ And the world's a little brighter"
19. "Can't Hold Us" – Macklemore
Lovely Lyrics; "Can we go back? This is the moment/ Tonight is the night, we'll fight 'til it's over/ So we put our hands up like the ceiling can't hold us"
20. "Crazy In Love" – Beyonce and Jay Z
Lovely Lyrics; "If you ain't there, ain't nobody else to impress/ It's the way that you know what I thought I knew/ It's the beat my heart skips when I'm with you"
21. "Can't Stop the feeling" – Justin Timberlake
Lovely lyrics – "Nothing I can see but you when you dance"
22. "For once in my life" – Stevie Wonder
Lovely lyrics – "For once in my life I have someone who needs me
Someone I've needed so long
For once unafraid I can go where life leads me
Somehow I know I'll be strong"
23. "You Sexy Thing" – Hot Chocolate
Lovely Lyrics - "Yesterday I was one of the lonely people
Now you're lying close to me, making love to me"
24. "We Are Family" - Sister Sledge
Lovely lyrics - "All the people round us say/ can they really be that close / just let me state for the record / we're giving love in a family dose"
25. "Best day of my life" - American Authors
Lovely lyrics - "I stretched my hands out to the sky / we danced with monsters through the night
26. "99 Problems" - Jay-Z
Lovely lyrics - "If you're having girl problems I feel bad for you son / I got 99 problems, but a bitch ain't one"
27. "Viva la Vida" - Coldplay
Lovely lyrics - "And that was when I ruled the world"
28. "On Top of the World" - Imagine Dragons
Lovely lyrics - "'Cause I'm on top of the world, 'ey / I'm on top of the world, 'ey / waiting on this for a while now"
29. "Hey Ya" - Outkast
Lovely Lyrics - "Hey Ya, I gotta tell you how I feel / Hey Ya, O baby you are the only one for me"
30. I gotta Feelin' - "Black Eyed Peas"
Lovely lyrics - "I gotta feeling that tonight's gonna be a good night"
For some great band suggestions in your area, why not take a look here.