Beautiful Bridal Earrings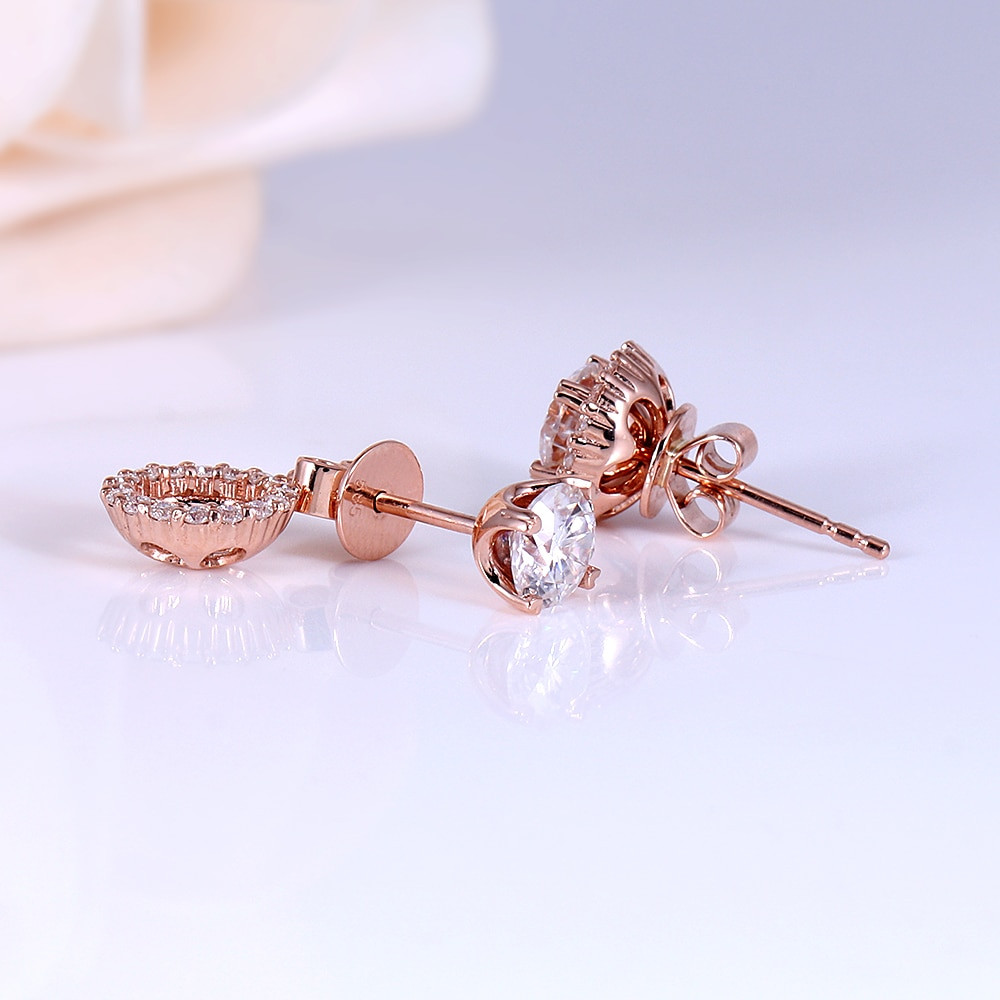 Firstly, congratulations on your up-coming wedding! Planning a wedding is one of the most incredible times of your life and as you work through your to-do list, there are a few things you may have overlooked, but won't want to leave until the last minute. Once you've selected the engagement ring of your dreams, you've sorted your wedding bands and picked your dreamy wedding outfit, there are still fun and important choices to make.
One very important consideration for your big day is your bridal earrings. Imagine how many photos you're going to be in and how many eyes will be on you! And those photos are going to be around forever and with your ears most likely on show, it's definitely worth a good think about what you will be dressing your lobes. I think it's also important that you select something you'll want to wear for years to come – and there's even more to think about!
A greener option
Whether your engagement ring has a sparkly moissanite, morganite or diamond, Infinity Diamond Jewellery offers a beautiful range of bridal earrings to compliment any style.
And, if you want to go bigger with your bling, their moissanite earring range is the perfect accompaniment to your special day, as not only are they super sparkly and eye-catching, but they're up 80% cheaper than their diamond equivalents! They're still a natural stone so are durable and won't go cloudy over time, but are produced in a lab, which eliminates the need for environmentally damaging and expensive mining. This makes them a much greener option than a traditionally mined diamond, if that's an area that's important to you.
While mined diamonds will always maintain an appeal to some, lab-grown alternatives, such as moissanites are rapidly growing in popularity among the newly engaged, especially as many younger people are starting to question many out-dated, unethical traditions. This makes moissanites much more suited to 21st century nuptials – as well as being more affordable, which is much needed in the current economic climate.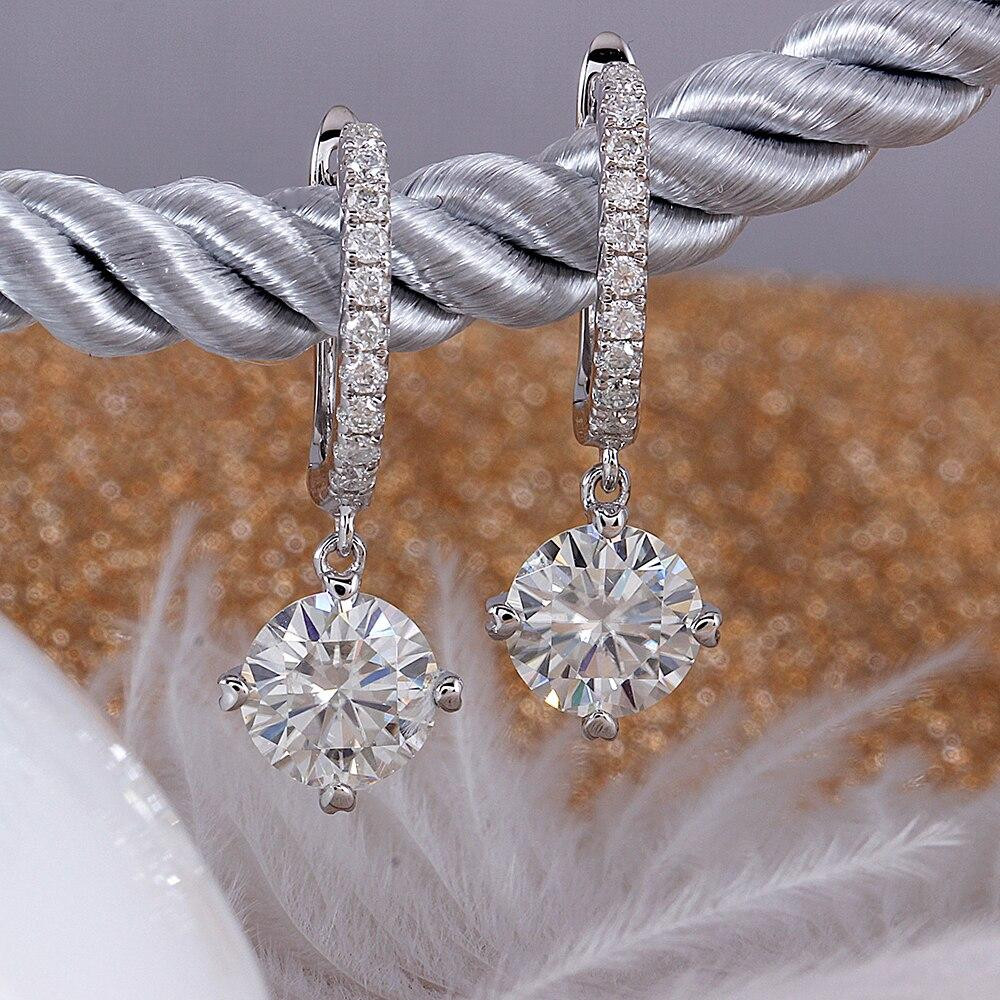 Images: Round cut moissanite drop earrings, art deco design, white gold
Consider the whole look
Are you struggling to decide which style of earrings to go for? It's important you take the time choosing the perfect set for you, which you'll still love, long after your wedding day. But it's not simply a matter of picking a pair you like. A good place to start your hunt for the perfect earrings, is to look for styles that compliment your engagement and wedding rings. I'd suggest selecting the same colour metal as your rings, then consider the stone cut you've already picked. They don't have to match, but if you're struggling to decide, it's a good place to start.
It's important the earrings compliment your whole wedding look. Whether you're going for a traditional wedding dress, or something more contemporary, a good indication of what will work, is to consider the shape of the neckline.
The neckline of your outfit – and how you'll style your hair on your big day – should both influence your earring choice, to create the perfect, complete look. Whether you go for a delicate drop or a traditional stud, remember to pick something that suits your own personal style and isn't too trendy, so they won't look dated in years to come.
If you're opting for a lower neckline, a pair of small drop earrings will add just enough glamour to complete your dream look. One of my personal favourites are these cushion cut moissanite halo drop earrings, in white gold from Infinity Diamond Jewellery. The gorgeous art-deco style and the cut of the moissanites make them so sparkly, and the style is timeless.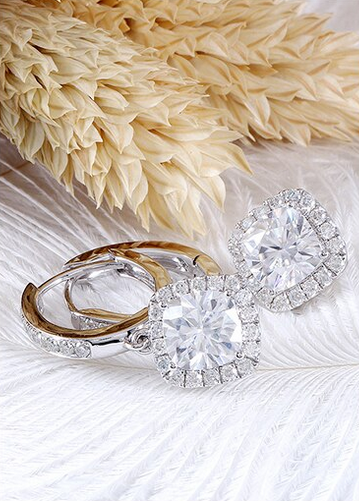 Images: Cushion cut moissanite halo drop earrings, art deco style, white gold
Bridal jewellery trends
When it comes to wedding jewellery, the biggest trend in engagement rings for 2022 has been a return to the traditional solitaire style rings, with one large, individual sparkler on your fourth finger. And this is also reflected in the rest of the bridal jewellery.
The only snag with this look is the bigger the stone, the bigger the price tag! A large diamond can work out super pricey, so opting for a fabulous lab-grown alternative, like a moissanite, means you can still go-large on a much smaller budget. These stones definitely give a traditional diamond a run for their money and are even more sparkly as they are double refractive. Diamonds rank at 2.42 on the refractive index, where a moissanite is a glistening 2.65! Moissanites give off a rainbow sparkle, while diamonds give off a less saturated sparkle, which all of which makes moissanites more intensely sparkly, so it's certainly not a compromise.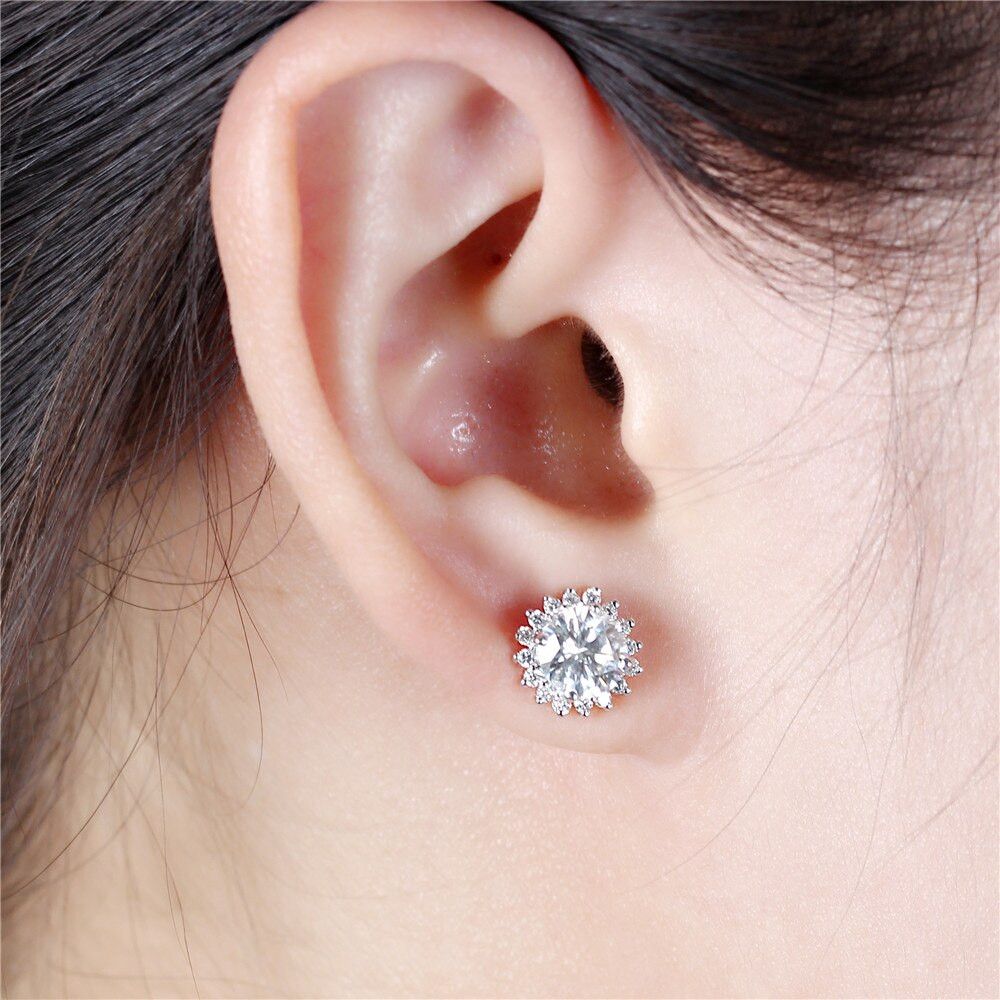 Images: Round cut moissanite earrings with halo
Buy smart
When it comes to wedding earrings, less is definitely more and with all the finery you'll be wearing on the day – the dress, rings, hairstyles, veil or headdress and other jewellery – it's best not to go too over-the-top with the earrings.
Infinity Diamond Jewellery offers the most amazing wedding jewellery, including earrings. One of my absolute favourites in their collection are these ingenious moissanite convertible earrings. They're so beautiful and the jacket can be removed for a totally different look, making them twice as wearable – you're really getting two pairs of earrings for the price of one! It also gives you many more opportunities to wear them for different occasions in the future. They're so sparkly and really wearable, with and without the jacket and are such a brilliant idea.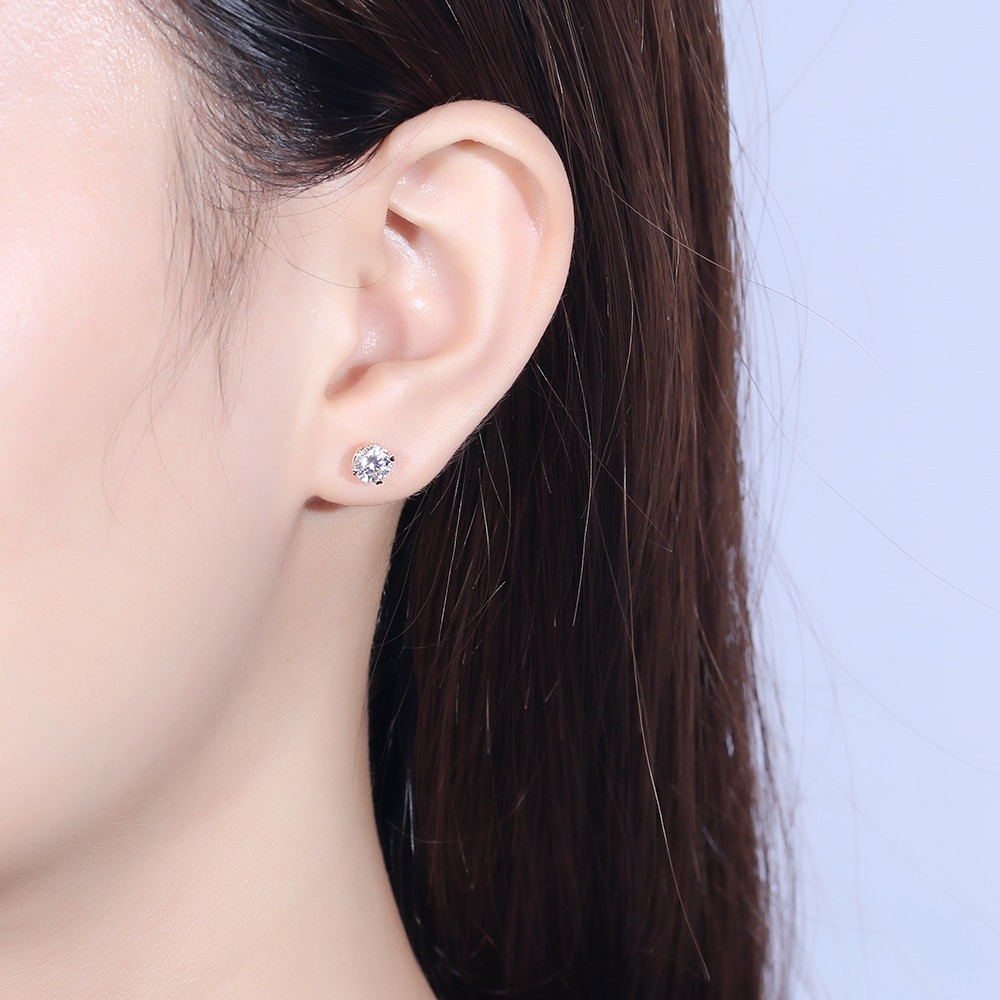 Images: Round cut moissanite halo earrings, removable jacket
Affordable with no compromises
By opting for moissanite earrings you will be getting all the luxury with a much smaller price-tag, and they're still available in a range of timeless designs and stone cuts. With Infinity Diamond Jewellery, you can choose the metal you want, as well as the size of the stone, so you can customise them to your specifications. All the gold they use is recycled and you can pick from white, yellow or rose gold. So whichever style you fall in love with, can be made to suit your style, with minimal environmental impact.
And another eco-benefit benefit of buying from Infinity Diamond Jewellery is that they support the One Tree Planted initiative, which means for every purchase made, they pledge to donate a tree to support global reforestation – what's not to love?!