Autumn Weddings - Fall in Love the Wedding Planner Way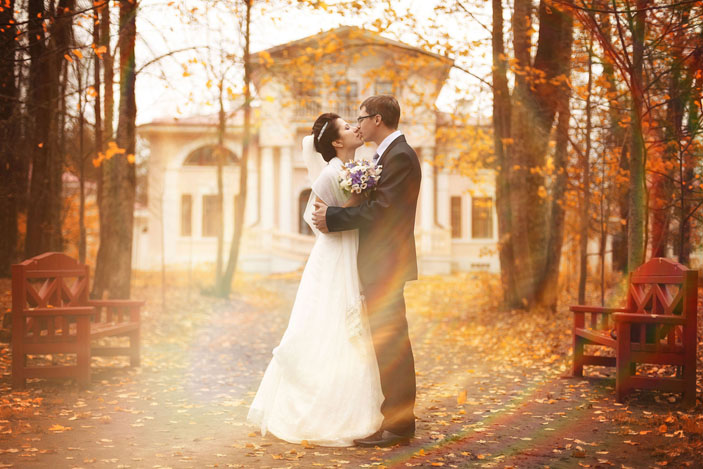 The trees turns orange, deep green and rustic brown. The nights draw closer and the cold begins to creep its' way in. It's the perfect time of the year to wrap up and venture out on long country walks followed by a cosy cuddle and a scrummy hot chocolate. We're talking about autumn; a beautiful season full of wonders that we're ready to share with you. Wedding related wonders, of course!


Decoration

Autumnal decorations never cease to amaze me, whatever style you are trying to achieve, all decorations seem to possess a certain charm. Maybe it's the colours… rich tones all coming together to create the autumn effect or maybe it's the materials used – twine and wood being a particular favourite of mine.

Either way, make sure you use your choice of materials wisely. Pick decorations that work well with your venue. If you're looking for that country theme then why not create wooden hearts and entwine them with berries, autumn leafs and foliage. When it turns to dusk turn on some fairy lights and let your seasonal wonder shine.

If you are choosing a more traditional wedding then let your flowers do the talking. Choose an extravagant bouquet to really help decorate your day.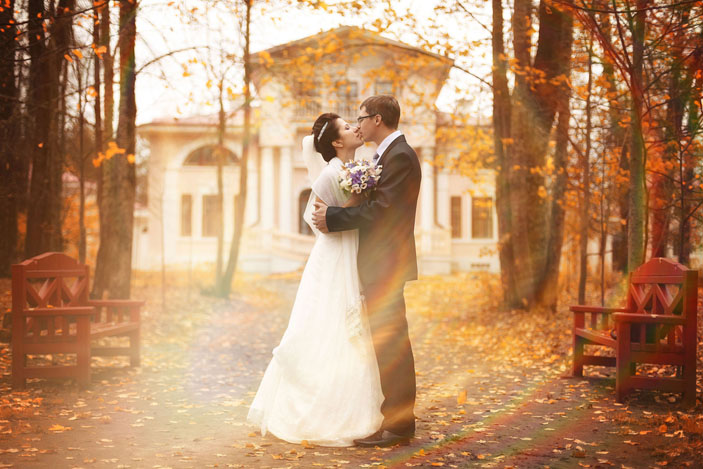 If you're having an autumn wedding then candles, tea lights and fairy lights are a must! Especially if you place the lighting strategically in with your decorations. Again, it's all about creating a seasonal effect – a little tip from me, pumpkins work great and they look absolutely fab!

Another quick and easy idea is to dry, or buy, autumn leaves and sprinkle them across your venues. The colours will look dazzling and you could even personalise your leaves and get them printed with your names. How about you leave one for each guest, with a permanent marker? Your guests could sign the leaves and you could collect them at the end. A stunning way of creating your guest book, a gorgeous autumnal collection of messages.


Colours

Autumn is one of the only seasons to offer you that perfect, pre-made colour palette. It's full of deep, inviting tones that you'd be silly not to use! Burgundy and green, orange and yellow, gold tones and plum, navy and peach. These are just a few of the colours that I really love; they say 'autumn', they're gorgeous and they work well for weddings.

Try mixing two colours together – how about a sage green with rich orange or a burgundy red. Or peach tones and a bold navy.

You can use these colours for your bridesmaids, your flowers or your general wedding theme. Maybe you could wear a shawl or a sash in your chosen colour, a fabulous way of keeping warm and out of the autumn chill.


Favours and Gifts

I don't know what it is about autumn but it makes me want to get creative – how about you? Favours and gifts are the perfect opportunity to get really stuck in and create breathtakingly beautiful favours and gifts for all of your guests.

How about creating little pumpkin lanterns for your tables and letting your guests take these home? Pop in little tea lights and these will not only bring a autumnal atmosphere to your big day, but they will look incredible in photographs too.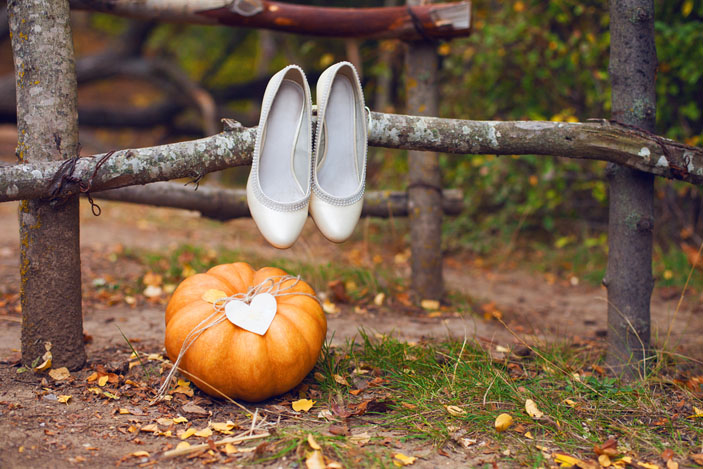 If you want something that will last a bit longer, how about hand-making twine hearts? This is something that won't take too long but will give your wedding a personalised edge, something that all your guests will love. For the men you could create something different… be creative and let us know your ideas!


Catering Trends

As it's nearing the colder months you can really play on the food that you serve. Talk to your caterers about providing hearty meals that will warm your guests leaving them ready to party.

Pumpkin bread or pumpkin soup would work well too. Your guests will definitely notice the theme if you let them see the menu beforehand!

For desserts you could provide a selection; apple tarts, chocolate brownies, pies and even doughnuts dipped in chocolate. Cinnamon apples and cinnamon doughnuts also lend themselves nicely to the autumn months – why not give these a try?

If you're an autumn wedding bride then fall head over heels with your wedding planning because, after all, fall is a very romantic season to work with. I hope these suggestions have inspired you to create your autumnal dream!