24 Fun Wedding Sign Ideas Your Guests Will Love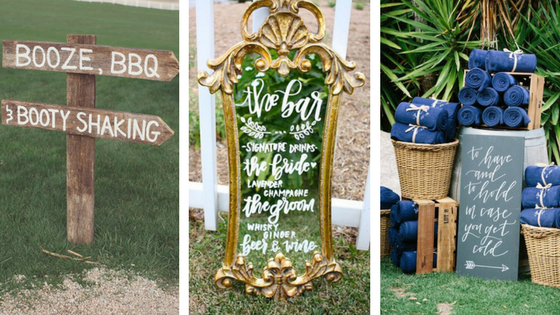 One of the best ways to inject some real personality into your wedding is through fun and quirky wedding signs. These don't need to be expensive at all and just require getting creative with some chalk, a paintbrush and a lick of paint. So pop on your thinking cap and get inspired, here's a list of some of our favourites...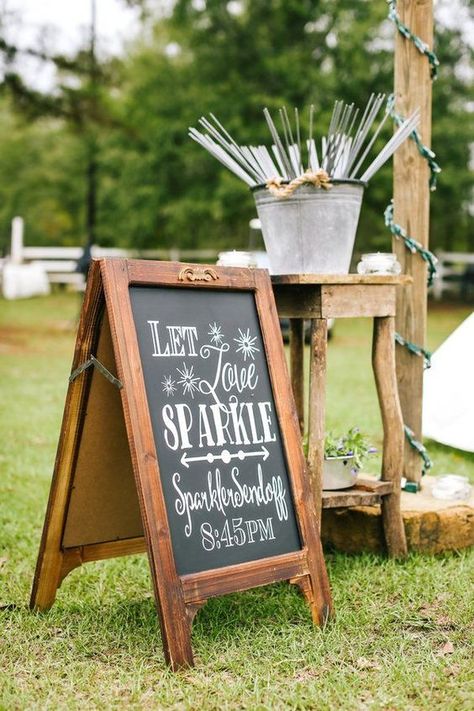 1. "Sparkling send-off at 8.45pm"
Gather your guests together for a sparkling send off guaranteed to make for a magical moment. Setting the sign out early means the guests know exactly where they need to be and when.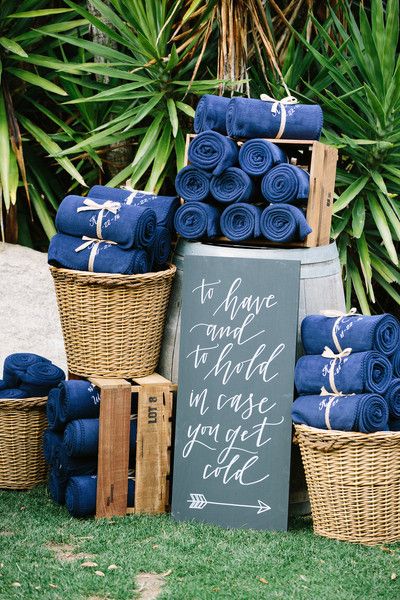 2. "To have and to hold, in case you get cold"
If you know your wedding is going to get a little chilly as the evening sets in, show your guests you care by offering up bundles of blankets for them to snuggle up in.
3. "Dancefloor Rules"
Encourage your guests to get creative on the dancefloor by setting the tone before the dancing begins. The rules can be relevant to you as a couple or perhaps to a friend who might have an interesting style of dancing...
4. Bride and Groom
Make the bride and groom's chairs stand out by decking them out with gorgeous foliage and calligraphy signs. These will also make for fab photos on the night.
5. "Has anybody seen the rings?"
For the ultimate cute factor, create a sign for your page boy to make the guests giggle whilst they're waiting for the ceremony to commence.
6. #BestWeddingEver
Undoubtedly people will be lifting their phones throughout the day to snap tons of pictures for social media. These lovely signs make sure you get to see the pictures by assigning a hashtag to your special day. Feel free to get as creative as you like with what this might be!
7. Pick up a Playlist
If you've spent forever perfecting the best wedding playlist to guarantee everyone is on the dancefloor, why not make the most of it and offer the soundtrack to your wedding as a favour? There's nothing better than music to remind you long after the event of a day well spent.
8. Beer Pong Rules!
Get your wedding guests mingling by setting up a Beer Pong station for a fun addition to your wedding games. For those of your guests who may not of heard of it before, a rules board is the perfect way to set the tone and get them in the know.
9. Festival Vibes
If you're going for the festival vibe, colourful sign posting is the best way to get the look. The more colourful and creative the signs, the better!
10. Are We There Yet?
As with many wedding venues, they tend to be kind of in the middle of nowhere! Let your guests know they are heading in the right direction by keeping them updated along the way. These could be simple signs or funny anecdotes to keep guests entertained on the drive.
11. Signature Drinks
Find a gorgeous antique mirror and a white calligraphy pen and get inspired. We love this idea of letting the guests know the signature favourites of the new Mr and Mrs whilst also signposting the bar.
12. Welcome
Welcome your guests to your wedding with a beautifully decorated board to signpost the entry to your venue. This will require minimal effort but will have a wonderful impact on your guests arrival.
Another lovely spin on a welcome sign, we're in love with this simple but effective easel sign which offers the opportunity to place little jam jars of flowers at it's base.
13. Show off your Colours!
We love the pop of colour on this sign through the addition of loose hanging ribbons. This is a great way to show off your wedding colour palette before the guests enter the venue.
14. Why So Serious?
In a world where everyone loves a good meme or a funny quote, why not showcase some of your wedding related favourites around your venue. We think this one is fab at setting the tone of the evening and the dancefloor.
15. Flip Flops
The last thing you want is people not dancing because they are regretting their fabulous but hugely uncomfortable shoe choice. So why not offer up a stack of flip flops alongside a sign to ensure everyone is still dancing as late as you are.
16. Embrace the Countryside
Rustic wooden signs are a great way to add some quirk to your wedding without distracting from the lovely countryside setting. Any word related puns or rhymes are welcome when it comes to creating these signs.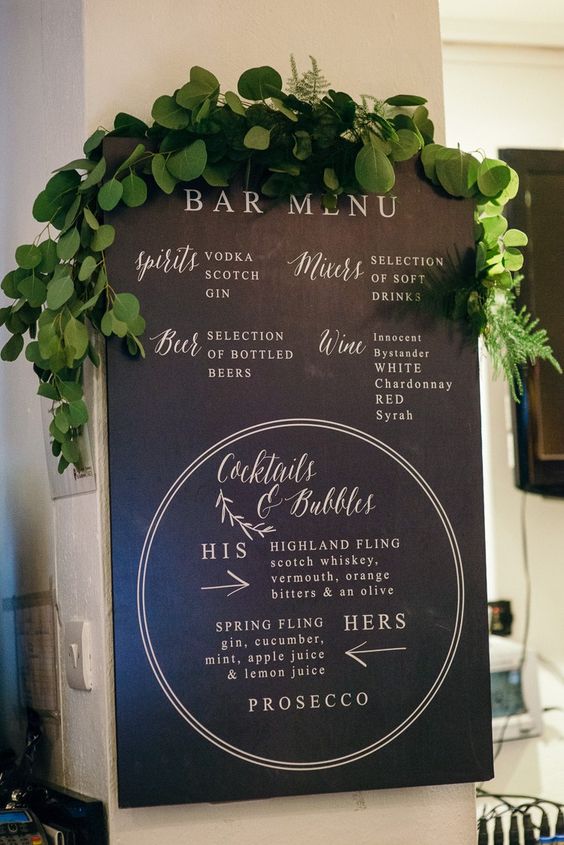 17. Minimalistic
Keep things cool and low-key with black and white printed signs for a laid back look. This is also a fab way to let your guests know exactly what is on offer at your bar that evening.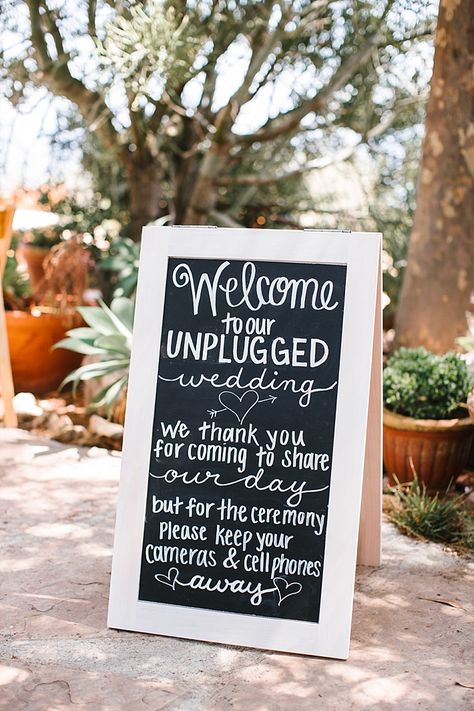 18. Phones and cameras away please
To ensure your guests are completely engaged in the moment, these signs are a great way to politely say to your guests that phones and cameras should be popped away during your ceremony.
19. Decorate the Aisle
Want to place something down the aisle but not too sure what? Why not alternate glass hurricane candle lamps with sweet wooden plaques featuring some of your favourite wedding quotes? It could be part of the wedding vows, an excerpt from a book or film or something that's really relevant to you two as a couple.
20. "Sweet dreams are made of cheese"
If you are known for loving a pun or two, why not have a bit of fun with your wedding signs? We love this one that accompanied the cheese board at a wedding. It's also guaranteed to get stuck in your guests heads for the rest of the evening!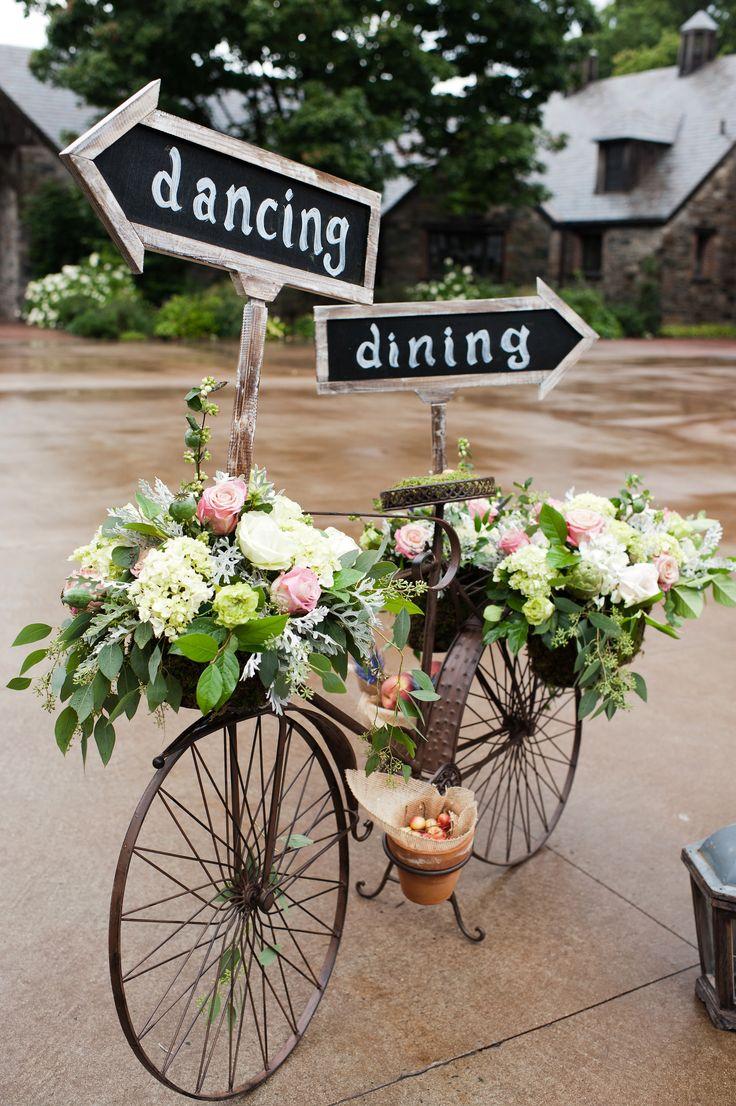 21. Focal Piece
Make a real statement of your sign posts by basing them around an object that is specific to you. The addition of flowers and foliage will of course always make it an extra special focal piece.
22. Bucket List
Nobody knows you better than the people gathered together on your wedding day, so why not set up an area where your guests can add various different things to your bucket list a newly wedded couple. Guaranteed to encourage some exciting, interesting and down right cheeky suggestions.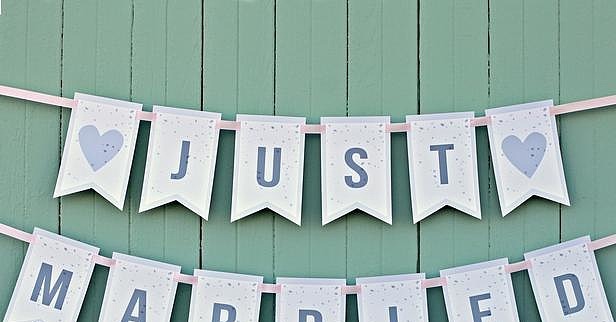 23. Bunting
Strings of bunting dotted around the venue is another lovely way to decorate your wedding venue in a pocket-friendly but effective way. Stick to traditional flag bunting or string letters and phrases on to add some fun.
24. Mirrors
Add a touch of french elegance to your day by adding romantic phrases to gilt mirrors and placing these around your venue. If you're both book worms or film fanatics, adding iconic love quotes to these makes for a lovely touch.
Need more inspiration?
Here's a list of some more things you can pop on a sign....
For the Ceremony
"Choose a seat not a side, we're all family once the knot is tied"
"And the story begins..."
"Here comes the bride"
"Let's do this"
"Seriously awesome couple getting married this way..."
"We've decided on forever"
"When bride and groom exit as a pair please joyously toss your pom poms in the air" - Supply your guests with bags of little furry pom poms!
"Happily ever after begins here"
"This way to the "I do's" and the kiss!"
For the Reception
"Our wedding has an Open Bar. It is also being heavily photographed so any drunken shenanigans will be well documented and thoroughly mocked for years to come. Proceed with caution"
"Kick off your shoes and dance!"
"We're so glad you're here"
"Food trucks, ice cream and bad dance moves straight ahead..."
"You can find your seat here, but your place is on the dancefloor"
"Alcohol! Because no great story ever started with someone eating a salad"
"You are my favourite"
"Welcome to our firepit, where friends and marshmallows get toasted"
Get Kids and Pets Involved
Get your flower girls and page boys to hold signs or pop them on your pets!

"My humans are getting married"
"Hurry up I want cake"
"Here comes the bride"