Why Do We Have Wedding Cakes?
Regardless of the size of your wedding, or even the theme, there are some traditions for the day that just can't be forgone. One of these is, of course, the wedding cake. Special to guests and couples alike, a wedding cake is a tradition that dates back to the medieval ages. For your special day it's important to choose the right cake for you, so why not join us here at World of Wedmin and celebrate the rich history of the wedding cake.

The symbolic wedding cake dates back to medieval times where, instead of the cake we are familiar with today, couples would have a pile of spiced buns assembled by wedding guests,  a bit like the French Croquembouche. The tradition was for the couple to kiss over this towering pile, and if it remained un-toppled the couple would gain a lifetime of prosperity within their marriage. Modern day trends for cupcake towers or even piles of doughnuts are quite a nice hark back to this!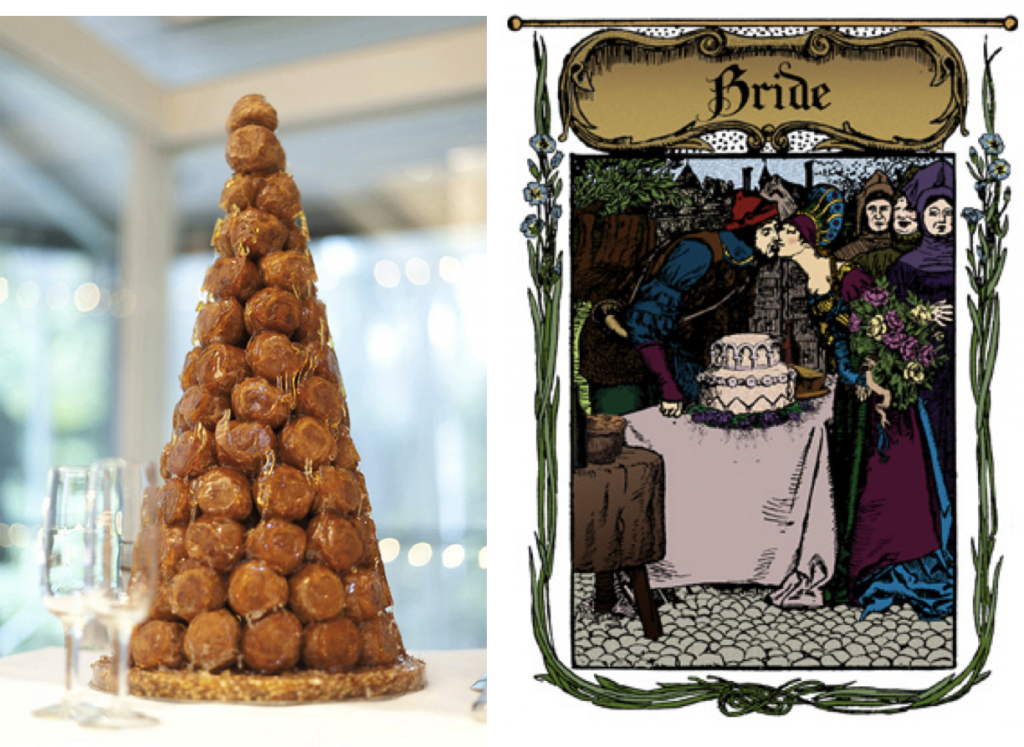 The earliest known recipe for the wedding cake (known as Bride's Pye) is found in the 1685 edition of The Accomplisht Cook and was recorded by Robert May. The Bride's Pye is very unfamiliar to the wedding cake we know today, being a large intricately decorated pie with a filling of oysters, pine kernels, cockscombs, lambstones, sweetbreads and spices. When we consider our sweet iced variety of the traditional cake then, it seems bizarre to think that once we would have had a savoury feast with such a vast array of fillings. That being said, we're seeing more and more savoury wedding cakes pop up in recent times, and why not hey? If you're a couple who prefer your pork-pie to your pudding, go for it!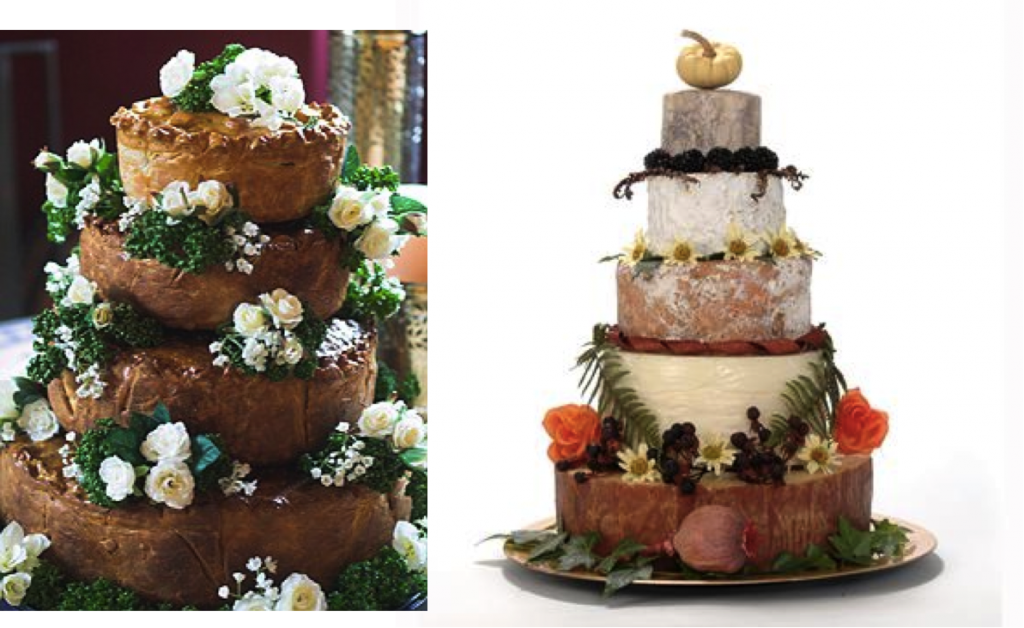 Although wedding cakes evolved into fruit cakes over time, it wasn't until much later on that the tiered cake we are now so familiar with materialised. Although there's no factual proof, the legacy of the tiered cake has been accredited to a bakers apprentice working in Ludgate Hill during the 18th century. The apprentice, William Rich, is said to have fallen madly in love with the daughter of his boss and, to impress her and win her hand in marriage, he created a large cake inspired by the spire of St Bride's church, thereby giving us our tradition of a tiered cake, as demonstrated below left by cake makers, Sophisticake.


Whether the story of the advent of tiered cake is fact or fiction, given the rich history of the wedding cake it is clearly a huge focal point of a wedding day. And these days there are sorts of crazy, whacky cake trends which inspire us every day! Here at World of Wedmin we understand the importance of finding the perfect cake to suit your tastes and budget, so whether you want a St Bride's church spire inspired creation, something simple, or something quirky and un cake-like, choosing one of our high quality wedding cake suppliers to create your cake will take you one step closer to that perfect day. Here's a selection of some of our favourites from the World of Wedmin gang, click your favourite to visit the supplier pages!