Tom & Chloe's Rainy Festival Wedding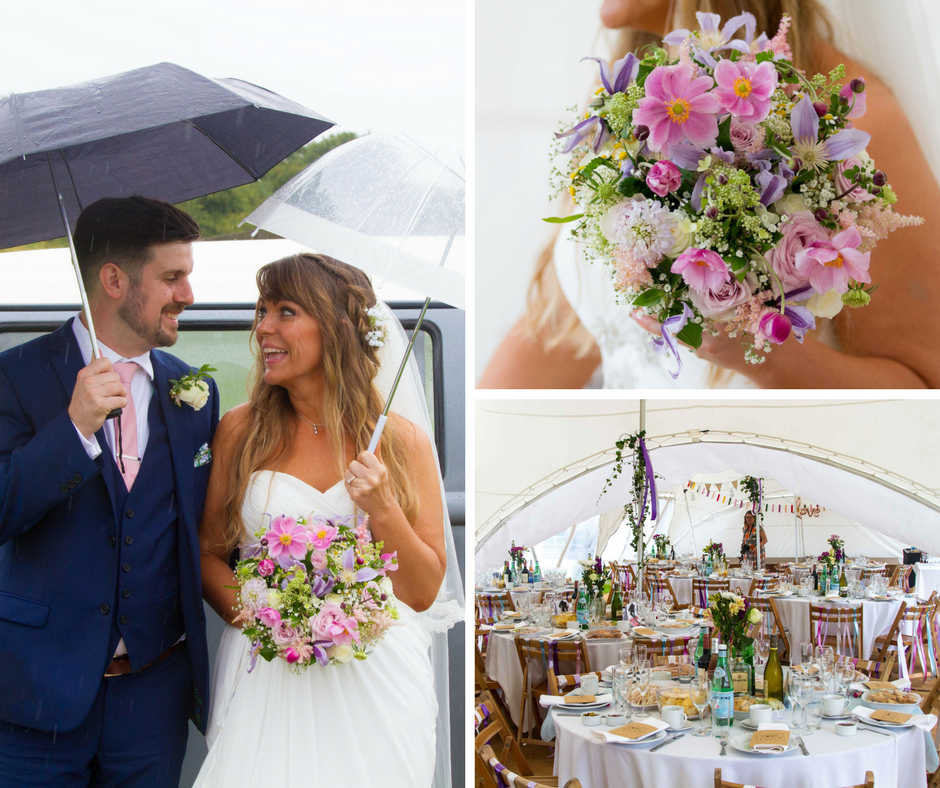 When it comes to a summer wedding, there's one thing that looms over you as a soon to be married couple - the British weather. As we very well know, during the summer our weather can either be delightfully sunny or torrential rain, almost as if it's just a flick of a switch! So when on Tom and Chloe's wedding day in July they woke up to find themselves battling with torrential rain and 55 miles per hour winds, they decided to just own it. They managed to take it in their stride and had the best time celebrating with all their friends and family, with the rain and umbrellas making for some wonderful photos. Plus with it being a festival wedding, it ended up suiting the theme perfectly!
To find out more about their day, we spoke to hilarious bride Chloe who filled us in on the details of how it all began through to their big day.
The Couple
"We met on Tinder. Tom messaged me and I ignored him for 3 weeks as it was Christmas at school so beyond manic. I was hungover and suffering from the new years blues when I remembered a handsome dark haired indie boy who could use their, they're and there properly had messaged me. Tom cut straight to the chase date wise and we've been together from then for 4 years. We are the proud humans of Pickle the cat, affectionately known as the pig and share a love of festivals, gigs and lounge floor picnics.
The Proposal
I'd been in France with my parents for a week and when I got back to our flat Tom was manic, buzzing round showing me all the things he'd done since we moved in. I thought he'd had too much coffee and told him to sit down for a minute and when I went to sit down he was there on one knee on the lounge floor, ring in hand. Tom had always had in his head a massive OTT proposal (being the show-off that he is) but realised I would want something simple, understated and just for us. It was our first memory in our first home together and still so lovely to remember when I'm sat in the same spot eating a mid week stress induced takeaway!
The Venue
Budget was a huge part of our choice, we didn't want to spend the earth for a day. Having researched every outdoor / festival type venue in Hampshire and finding nothing that could fit us financially, we looked further afield in beautiful Dorset and found Bennetts Water Gardens for our ceremony and Dewflock Farm for our reception. Bennetts is the most beautiful family run water lily garden, complete with Gardens of Giverny Monet style bridges that allowed us to get married in a gorgeous pagoda surrounded by lily filled lakes. Dewflock Farm was a great choice for the reception as it gave us the freedom to decorate the marquee how we wanted, bring our own booze and the time to make a weekend of it. They also provided the most delicious hog roast.
We took a gamble with an outdoor wedding and the weather (and lost!) but both venues were still completely amazing.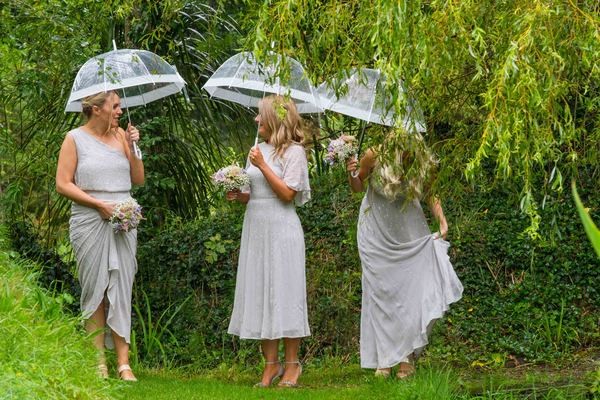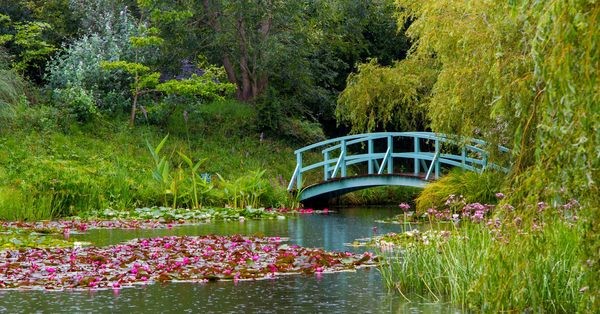 The Vibe
We really wanted a laid back, festival feel that didn't feel like it was part of a wedding factory. As we're both teachers (and have access to all the glitter, sellotape and staples you could wish for) we styled the venue ourselves and made all of the decorations and table settings (with the help of pinterest and a very cheap French party shop! ) Music was a massive part of our day as it was on our first date and our DJ was the same DJ we saw on that night, plus he is also a close friend of the groom so we really wanted to have him with us. Our band was one we had seen and loved at a festival called Thrill Collins; skiffle pop rascals who play everything from Britney, Whitney to Rage Against the Machine and they kept the dance floor full from start to finish! Our wedding favours were mix CD's with songs that have been important to us in our time together (hearing all our friends and Tom's 90 year old Nan belting out Bon Jovi Always at the close of the night was a pretty special moment.)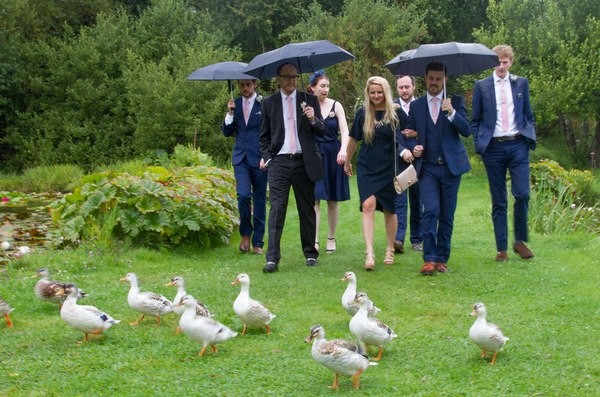 The Outfits
I was on dress number 2 by the time the wedding rolled around. I had lost a bit of weight having stopped raiding the school biscuit tin and looked like a potato in dress number one, which broke my heart as it was beautiful, quirky and the most gorgeous mix of blush pink and gold. As our budget was tight I looked for sales in local bridal shops and found my second dress reduced hugely. It was completely different to my first and the opposite of what I thought I wanted / would actually look good in but the second I tried it on I knew it was the one. It was simple, laid back but with a bit of sparkle and I couldn't have felt better in it. The staff in the bridal shop were great and 'got' me straight away. I loved the whole experience, which was a shock seeing as I'm a scruff at heart. The boy's suits were easier to find as Tom had a clear idea of what he wanted from the beginning. We knew they were the ones when we saw the peacock lining. As a lover of loud shirts, Tom is known as a peacock by us all, so it was meant to be! The only tricky part was finding one big enough to fit a 6'7'' best man!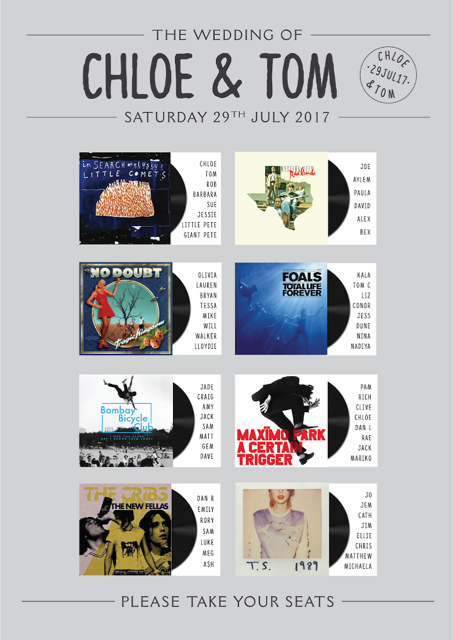 The Flowers
We worked with a company called West Dorset Wedding Flowers and Jessie the Director was amazing to work with. She offers a budget friendly package called to have and to hold where you don't know what your flowers will look like until the morning you receive them. You send her your colour scheme, any fabric swatches you may have and any info you have on the feel of the day and she will create something amazing for you. Having kept pretty calm the morning of the wedding my cool, under control exterior cracked when I opened the flowers as they were so beautiful I let out a squeak of happiness which my bridesmaids still haven't let me live down. Our table flowers were budget friendly supermarket bunches found the night before. We had saved up booze bottles from the year before the wedding to be our centrepieces so they were used as vases, wrapped in tiny fairy lights and looked amazing.
The Photographer
Our budget prevented us from using most photographers we had found online. The prices just seemed to keep escalating and escalating! Luckily a colleague at school has a very talented husband who has a passion (and great skill) for photography so they worked as the most amazing team to capture our day. It was so lovely to have someone who was not just a colleague but a friend there not only to take the pictures but to tell me what to do / what not to do and there were so many laughs along the way. I think the photos really reflect that feeling of warmth and comfort. They got us as a couple and caught all those natural moments we wanted. They were also amazing in the most ridiculous of weather conditions!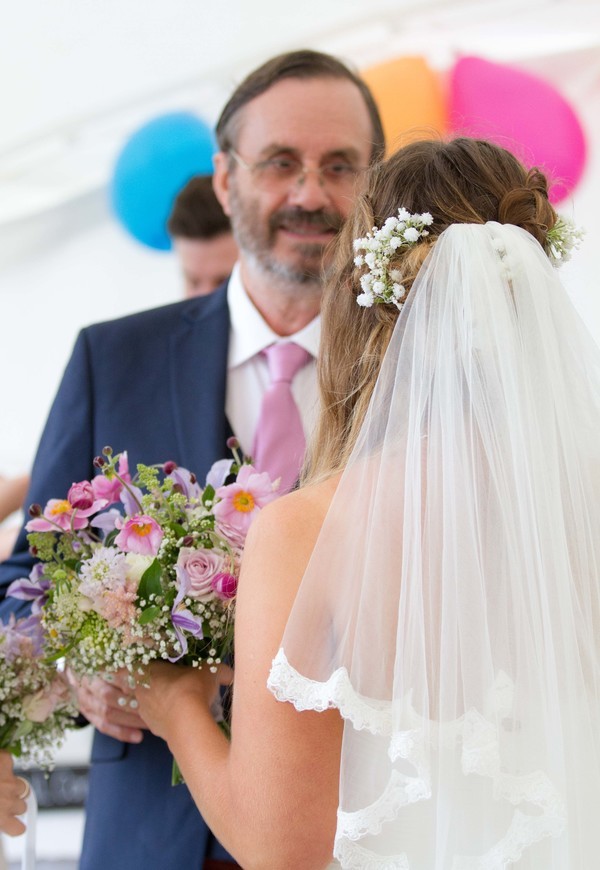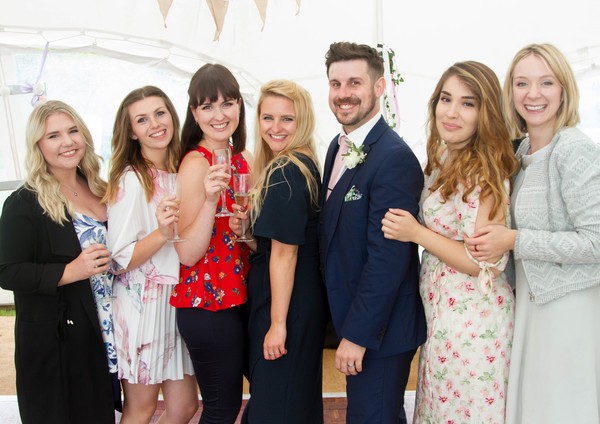 Funny Moments
The weather was a pretty funny story from start to finish; torrential rain and 55mph winds almost took out the marquee the night before and gave my dad lots of water laden tree branches to deliberately hit with our carefully planned clear umbrellas, soaking me as I walked down the aisle! We also managed to put Tom's ring on the wrong finger in a moment of panic and it took Sarah, the photographers wife in a way only she can, to tell me 'it's on the wrong finger love!" it was brilliant as it broke the tension and made it feel more us. Later in the day, during a break in the rain, one of the bridemaids decided to challenge Tom's 11 year old cousin to a race. Despite taking off her heels, she managed not to win the race and to fall flat in the mud and spent the rest of the night covered in mud and grass. Perfect for a festival feel!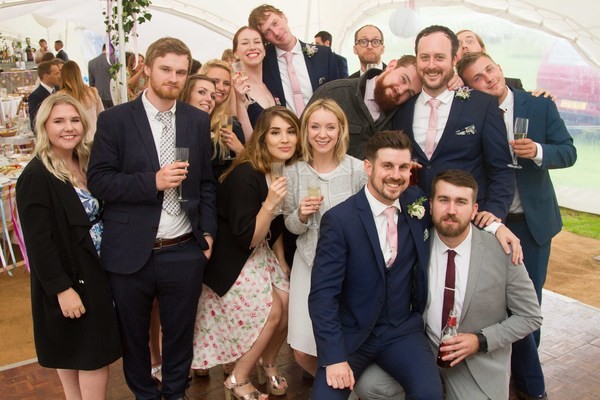 The Food
As lovers of floor picnics and picky bits we decided to go for a posh picnic. We felt it fitted our laid back feel and would force our guests to interact and hopefully break that awkward nice to meet you wedding bit! We had some gorgeous meat and cheese platters then all your picnic classics. Our caterers were great and helped us through the DIY wedding organisation from start to finish, making sure we had every base covered, including the bases we didn't know were there. They made the day run so smoothly. We also had a hog roast from the farm later in the evening to keep everyone going / soak up the booze!
The Entertainment
We had our close friend, first date DJ and local legend DJ Hammy DJ for us, which was a stroke of luck as it was his wedding anniversary that weekend! We were so touched that he had agreed to be there for us so we surprised him during the speeches with a Saints shirt, which was a lovely moment. Our band were festival favourites Thrill Collins who kept the dance floor buzzing all night. Tom's 90 year old Nan was the star of the show, getting down with the bridesmaids to a skiffle pop medley of 90's gangster rap.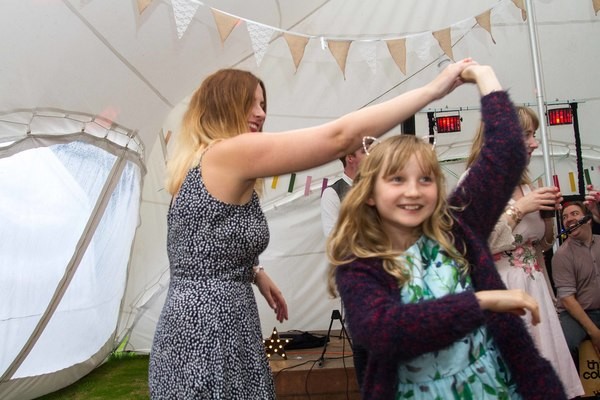 Favourite Moments
Some of my favourite memories are from getting the venue ready. Everyone from my family, Tom's family and our friends pitched in in the most miserable weather to help us make it look amazing. I also loved having everyone together in the cottage we rented for the weekend, stuffing our faces with a fry up and prosecco on the wedding morning. Having hired my dream camper van to take us to the venue I also loved the will it / won't it struggle up the Dorset hills in the lashing rain! For Tom, the highlight was seeing his friends and his family all coming together to have the most amazing afternoon, with his wonderful Nan centre stage. We were also treated to 2 brilliant best man speeches, one memorable for it's gorgeous words and one for it's surreal and hilarious ramblings.
Advice for Future Couples
For us, both having busy jobs in school, we weren't able to stress too much about the wedding so we were lucky that we avoided lots of stress. I think not dwelling on all the little things really helped us enjoy our day and focus on all the things that went brilliantly. It is so easy to get carried away thinking you need this and that, but less really is more. Just focus on the things that reflect you as a couple as the rest doesn't matter. You will spend less money, have a lot less to stress about and have more space to truly enjoy your day together. Also, have lots of selloptape and a stash of umbrellas!"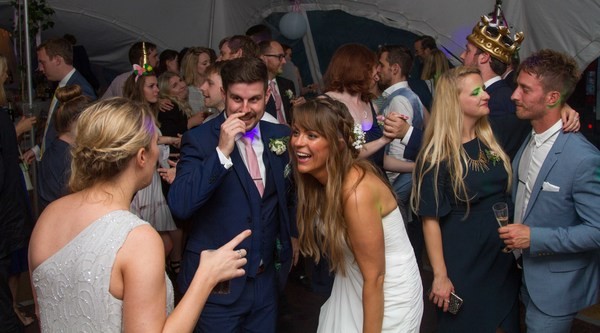 The Suppliers
Photographer – Alistair Morey
Florist – West Dorset Wedding Flowers
Outfit – Daga by Pronovias. Brides of Southampton
Bridesmaids – Asos
Groomsmen – Ted Baker by Moss Bross and Asos
Hair and Make Up Stylist – Jenny Dayton Hair pins : GypsyRVintage
Stationery – Table plan: PIPdesignstudio Invitations: Emmydesigns87 (both Etsy)
Cake and Favours – Cake: Marks and Spencer Colin and Connie the Caterpillar Favours: CD sleeves by SixpencePaperie (Etsy)
Catering – Claret Catering
Entertainment – DJ Hammy and Thrill Collins
Décor and Styling – Us.