Roses are Red...and so are our Shoes!
With Valentines Day looming just around the corner, we are all getting giddy with the mood of love and opulence. There are many aspects to this season that make us want to pull out our sketchbooks and cameras but none more than the beautiful flowers that appear in their droves. From traditional red roses to the opulence of orchids the floral trends of this season can provide inspiration for many aspects of any wedding.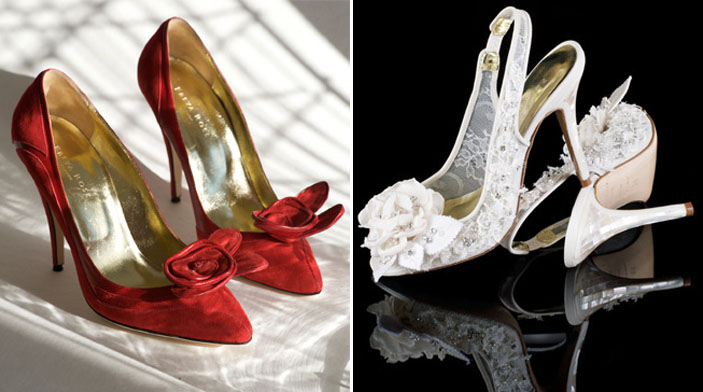 Although some brides (and grooms) are straying away from having flowers at their wedding and ceremony in the traditional way, there are many ways to consider adding, or enhancing, the romance of flowers to your big day. Your bridal shoes can be an excellent place to start.

Ivory floral detailing, like embellishments or even shoe clips can be a beautiful way to approach this idea.  Keeping with the ivory tones, or hand-dyed to match your dress, this floral accent will add texture and structure or delicacy without detracting from the dress. If you are a more traditional bride playing on the inspiration of 'February Floral' this way will compliment the look of your dress and venue whilst adding a delicate and romantic undertone.

However sometimes this floral inspiration can lead you to a less traditional look. Drawing on the colours of the season like Reds and Blush Pinks can be a fun way to inject a little bit of personality and colour into your wedding outfit. Whilst hinting at the romantic trends of flowers. A beautiful idea that we have seen within bridal footwear is brides dying their shoes to match their colour schemes and flowers. Majority of satin shoes on the market can be dyed from their original white or ivory to any colour you can think of, therefore don't worry if you fall in love with the shape of an ivory shoe as it can be personalized for you.

Tailoring this floral trend to suit your outfit, wedding and most importantly personality is a great way to show off your romantic side. I know I will be slipping on my beautiful hand-dyed red shoes this Valentines Day, how about you?