Professional Wedding Timeline & On The Day Wedding Itinerary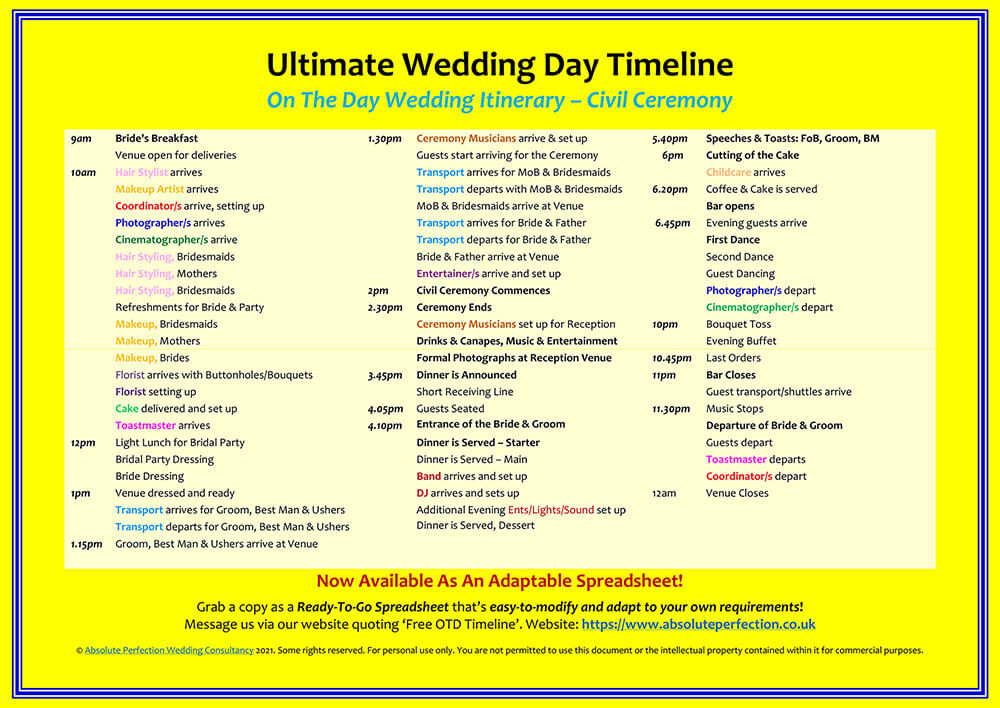 As each day passes, more people are vaccinated against Covid and the closer we get to a world where weddings can once again be celebrated exuberantly with family and friends. And when the restrictions are lifted, the sensible ones among you will be well prepared. In today's post, Sam Ketterer, Director at Absolute Perfection Wedding Consultancy, has drawn up 2 professional wedding timelines to help you understand the precise running order of events on the wedding day. Sam has been planning weddings since 2003 and tutoring students in the art of wedding planning since 2007 so you are in good hands!
In much the same way as no two weddings are ever the same, it follows that no two wedding timelines are ever the same. That's because there are a vast number of unique considerations that each itinerary is based upon, all of which depend upon the couple's personal preferences and choices made during the wedding planning process.
That being said, you'll be relieved to know that most weddings do follow a general structure throughout the day, from the moment dawn breaks to the end of the evening when all the guests have departed. Today I'd like to present 2 wedding timelines for two of the most popular types of wedding in the UK.
The first timeline accurately breaks down all the major timings for a Civil Wedding, where the ceremony and reception take place at the same approved venue.
Whilst the second itinerary accounts for a Religious Wedding, with a church ceremony followed by a reception in a separate, local venue.
Both schedules are a running order of the day's events and outline all the major aspects that occur during a wedding day. They also include many of the minor elements that are so easily forgotten. All the timings are highly accurate and are recommended based upon a ceremony start time of 2pm. And they are colour-coded for added convenience.
If you would like a free copy of either of these timelines as a Ready-To-Go Excel Spreadsheet that's easy-to-adapt and personalise according to your own requirements, click here to message Sam quoting FREE OTD SCHEDULE.
Civil Wedding Timeline
Religious Wedding Itinerary

Author Bio
Sam Ketterer is a Director at Absolute Perfection Wedding Consultancy. Established in 2003, AP are one of the longest established wedding planning companies in the UK and one of a select few who specialise exclusively in weddings.
Alongside his wedding planning duties Sam also runs popular home-study wedding planner courses for aspiring wedding designers and DIY brides! You can find out more about AP at: https://www.absoluteperfection.co.uk/