Pizza: The Ultimate Wedding Food Alternative
With catering being one of the largest areas of your wedding budget, you often wonder how you might be able to reduce this cost and still keep your guests delighted with the food that's delivered. In the past few years, there has been a real trend towards ditching the usual three course shebang and opting for something more relaxed and easy-going. This usually comes in the form of sharing plates and buffets but more recently food stands are having a real moment as a way to give your wedding a cool, laid-back edge. These make for the perfect option as your main wedding breakfast or best of all, as a late night snack when everyone has danced their socks off and needs refueling.
Pizza is an absolute winner with so many different people, so it's a no-brainer that this is the new option many couples are turning to. Soho Pizza, based in Hertfordshire, provide a mobile catering service across the UK, using a range of custom made wood burning ovens that provide a great focal point for your wedding day. They have catered for a host of weddings, corporate events and some of the UK's leading universities such as The Royal Veterinary College and University College London (UCL) - so they know how to feed the five thousands!
Weddingplanner.co.uk spoke to Kris from Soho Pizza, who clearly understands what couples are going through when planning for the big day.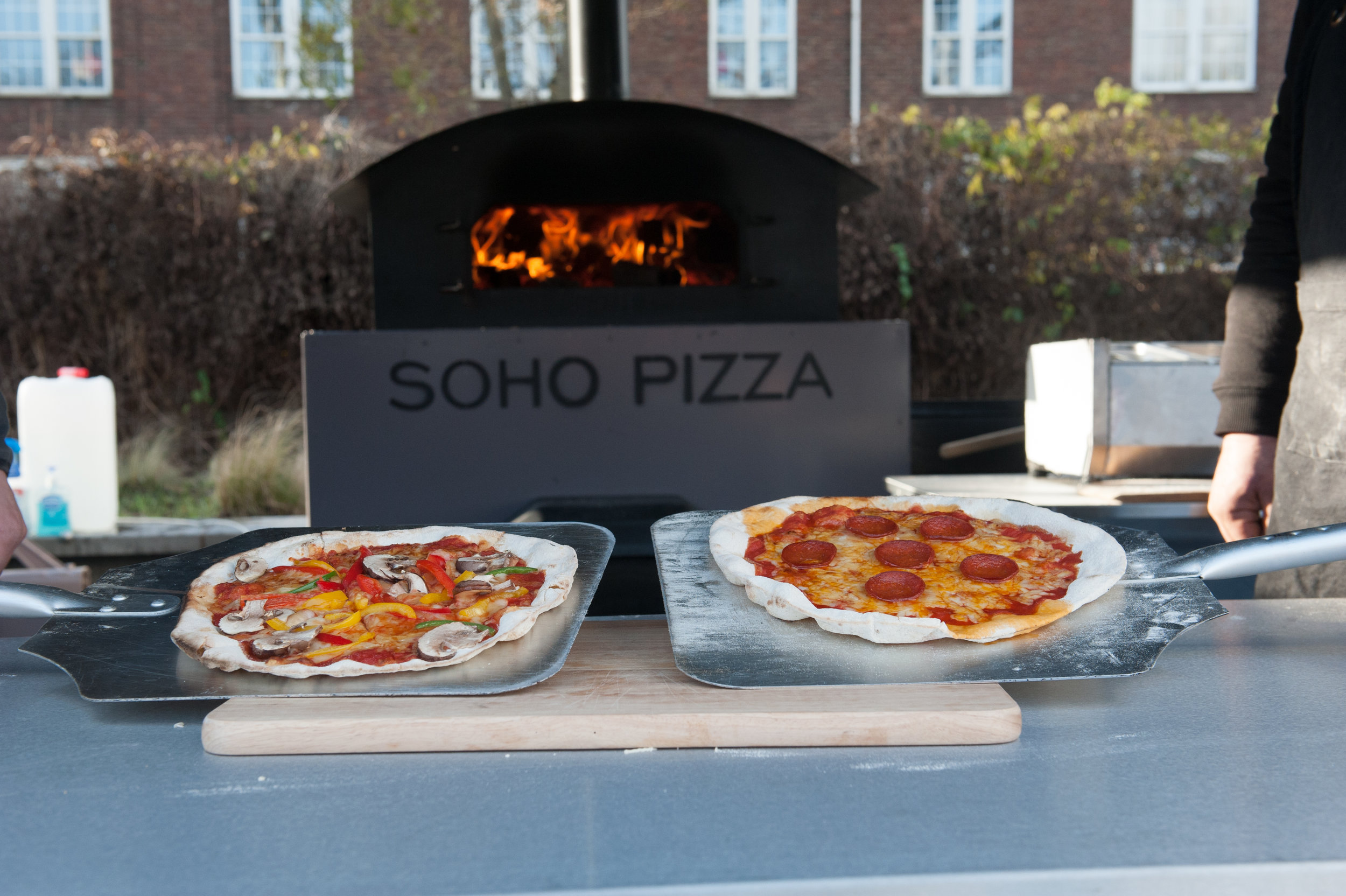 "If you are lucky enough to be planning a wedding, we know all about the process you are going through. Weekends become a blur of the same questions:
What wedding fair are we attending this weekend?
How many weeks have we got?
What is next on the list of actions?
Will this wedding feel special for our guests?
Making all the right decisions on such a big day isn't easy. Not only that, but more and more people are trying to do something a little different for their guests. According to a recent report, last year the wedding industry was worth a whopping £10 billion. The key underlying fact however, isn't the average cost (a whopping £36k by the way) but the fact that over half of the bill is spent on other people - yes you spend 50% of your budget on your wonderful guests. Are you sure you like them all that much?!
Of course you do. Let's not forget it's a big cost for them too. According to a Daily Mail survey, the average Brit spends a substantial £440 attending each wedding - that amounts to an entire week's salary every time someone ties the knot. And with most of us attending five weddings per year (don't feel bad if it's less) these parties are costing a total of £2,180 every year.
So how can you make this amazing day feel a little different for your guests? Simple. You feed them freshly cooked Pizza. Traditionally cooked in a wood burning oven, serving several fresh and flavoursome pizzas every 60 seconds, your peckish guests needn't wait long for amazing food. Simply choose your toppings, choose your dough and away your guests will go, happy as a clam with a delicious pizza in their hands – ready to tell all their friends about the memorable and different catering they had at your wedding. Convinced?
Our favourite requests of the Month: Soho Spicy with Pepperoni & Jalepenos, Gluten Free Vegetarian.
So if you like the sound of having pizza at your wedding (who doesn't?!), you can get in contact with Kris and the Soho Pizza team here for further details and booking enquiries.