Luxury Bridal Show with Les Trois Soeurs Bridal and Condé Nast Brides Magazine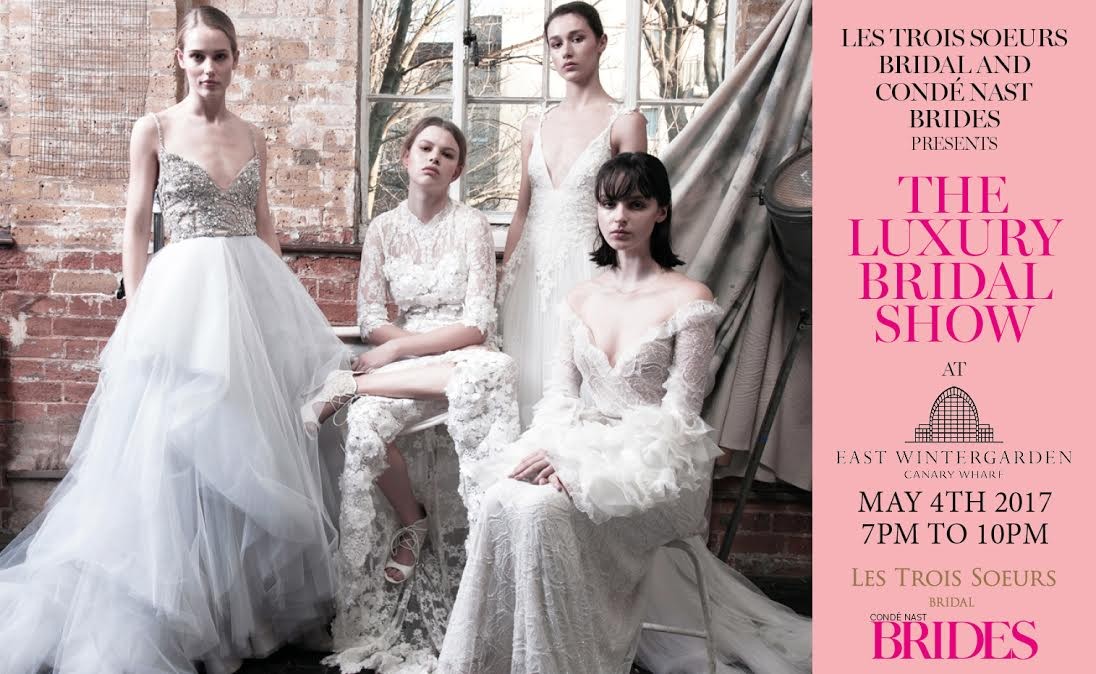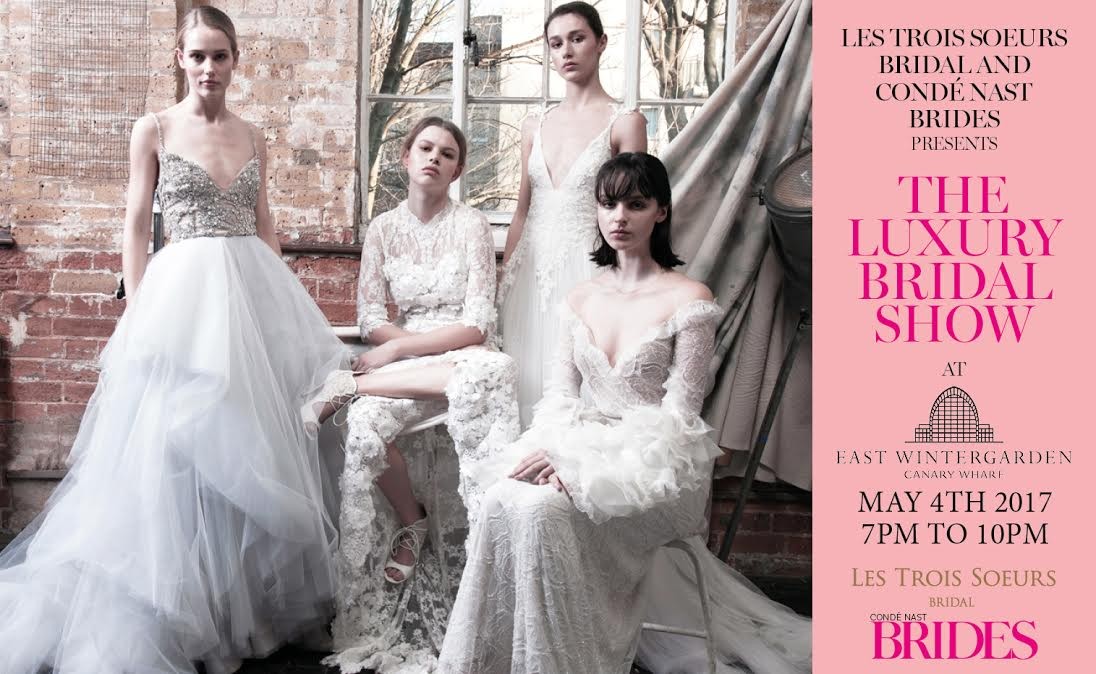 Grab your girlies, your fiancé or your lovely mum and head to London the evening of Thursday 4th May for this gorgeous luxury bridal event, presented by Les Trois Soeurs Bridal in Partnership with Condé Nast Brides Magazine. With VIP's including Professor Jimmy Choo OBE in attendance along with three designer catwalk shows hot from New York including the premiere of Hayley Paige's new collection, this beautiful event is not one to be missed.
When you arrive at Canary Wharf's East Wintergarden where the event is being held, you will be greeted with a glass of Ruinart bubbly and canapés from Ampersand, one of the preferred caterers of Buckingham Palace! You'll then get the opportunity to explore all the stunning exhibitors, from the classic jewellery displays at Tiffany and Co., style inspiration from Savile Row's Henry Poole & Co., beautiful bridal scents from Penhaligon's and honeymoon advice from the co-founder of Mr & Mrs Smith. If you're unsure on your wedding day look, Bobbi Brown and Michael Van Clarke will be offering make up and hair tutorials too. Once you've taken a look around the exhibitors and well and truly tucked into the canapés, head to the catwalks shows featuring collections from Amanda Wakeley, Alon Livné, Anna Kara, Caroline Castigliano, Daalarna Couture, David Fielden, Hayley Paige, Lazaro, Lova Weddings, Phillip Treacy, Temperly London and Victoria Kyriakides.
Not only is this an event that's filled with lots of delights, ticket sales will also be going to the World Vision charity to support their mission to prevent forced and early marriages, a cause that is of great importance to the team at Les Trois Seours Bridal. As an ambassador for World Vision, Lady Louisa Collings will be speaking on the night about World Vision and the wonderful work that they do.
When: Thursday 4th May, 7pm - 10pm
Where: East Wintergarden, 43 Bank Street, Canary Wharf, London E14 5NX
Price:
Standard tickets are £25 plus booking fee. This includes catwalk shows and a goodie bag to the value of £100.
VIP tickets are £50 plus booking fee. This includes catwalk shoes and a goodie bag to the value of £150, plus a free weekend Trunk Show Appointment to meet Hayley in person.
This event is now finished.
Nearest Tube: Canary Wharf
About Les Trois Soeurs
As the only bridal boutique in Canary Wharf, Les Trois Soeurs was founded in 2010 and now has three stores in the Canary Wharf area. Travelling the world sourcing cutting-edge designers, they have a real fashion-forward and unique take on the bridal market and are one of the top luxury boutiques in the UK.