Lizzy & Rob's Springtime Donnington Valley Wedding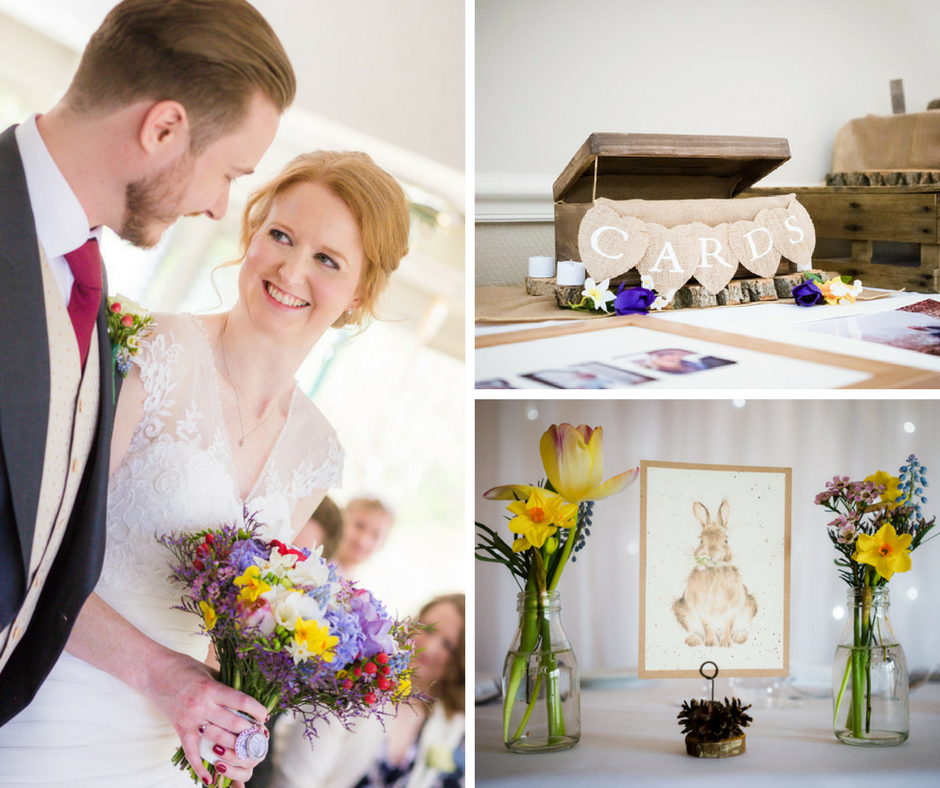 Looking to the great outdoors for wedding inspiration, Lizzy and Rob really embraced the woodland theme with a bright and vibrant springtime feel. With the bridal bouquet filled to the brim with all the gorgeous flowers spring brings, from tulips to mascari and sweet smelling hyacinths along with dainty stems of each dotted in bottles down the table, the look was perfectly finished off by illustrations of woodland creatures for table names. By choosing to get married in one of Berkshire's finest country house hotels, Donnington Valley fitted their woodland theme beautifully.
To find out more about their special day and how everything came to be, we chatted to bride Lizzy...
The Couple
We met 4 years ago through a mutual friend who knew us better than we knew ourselves as we did not even want to meet, but after meeting on a night out with friends we have never looked back. We moved in together 3 years ago and got engaged a year later and in the meantime we adopted 2 rabbits named Apollo and Rigby.
The Proposal
On our two-year anniversary, we had planned to have a quiet evening together with nice food and a bottle of wine to celebrate. Unbeknown to me, Rob had booked the day off, and after dropping me off at work as normal, he went shopping for a gift and ended up with a ring after he spotted it and realised what he really wanted to do. All of this would have remained secret to me if my mother hadn't panicked after receiving a call from Rob asking to meet my dad so he could ask for permission, and misunderstanding what the reason was. The penny dropped after she rang me to find out if I was OK, which I was and had no idea what she was talking about. I then spent the afternoon wondering what was planned for the evening now, not wanting to assume but dearly hoping. After finding out what had happened, Rob had to change his plans and bring the event forward, and get straight on with asking the question rather than sitting through an awkward meal, and so after saying the perfect words which neither of us can remember in the emotions of the event, and after nervously asking if it was really happening, I said yes.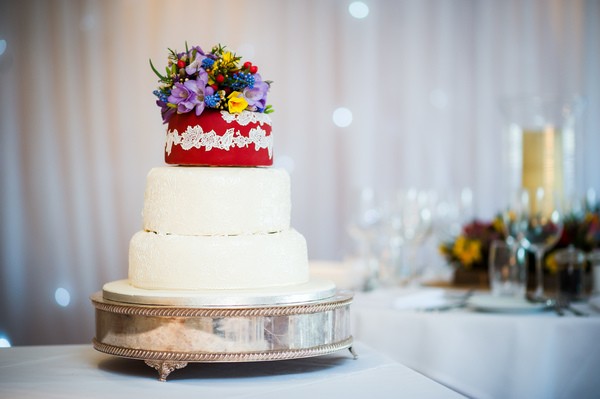 We got married on Saturday 25th March, the closest Saturday to the anniversary of our first date which was not April fools day. We decided to have the ceremony, wedding breakfast and reception all at the Donnington Valley Hotel which made the day relaxed, easy going and stress free, and we got the best luck with it being the first weekend of the year which had gorgeous sunshine. Whilst there was no specific theme, we tried to go for a springtime country feel to the decorations and flowers, choosing woodland animals for our table names. Everything we did was simple and fairly traditional.
The hotel was local to the majority of our guests with plenty of rooms for those having to travel. We fell in love with the ceremony room, with its intimate feeling, beautiful ceiling mural and amazing views of the grounds. We loved the rest of the venue but we didn't need any more to sell it to us.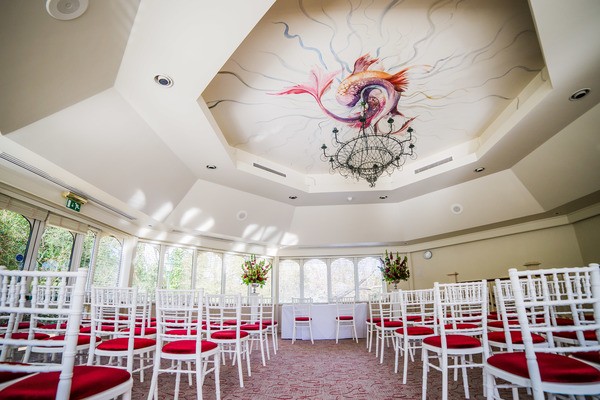 The Decor
We did a lot of the planning and decorations ourselves, but we had huge help from friends and family, especially when making our invitations. We overloaded all our ideas onto a friend who took it upon herself to provide us with the direction we needed, the motivation to get going and massive support in the making of them together with many of the other decorations. We were hugely grateful to Rob's sister Jo who made the cake with almost no input from us, as we were very unsure of exactly how we wanted it to look, only taste. For us one of the most important aspects was the photographer, as they provide the most visual and lasting memories of the day, and to ensure they were as natural as possible as neither of us are very photogenic.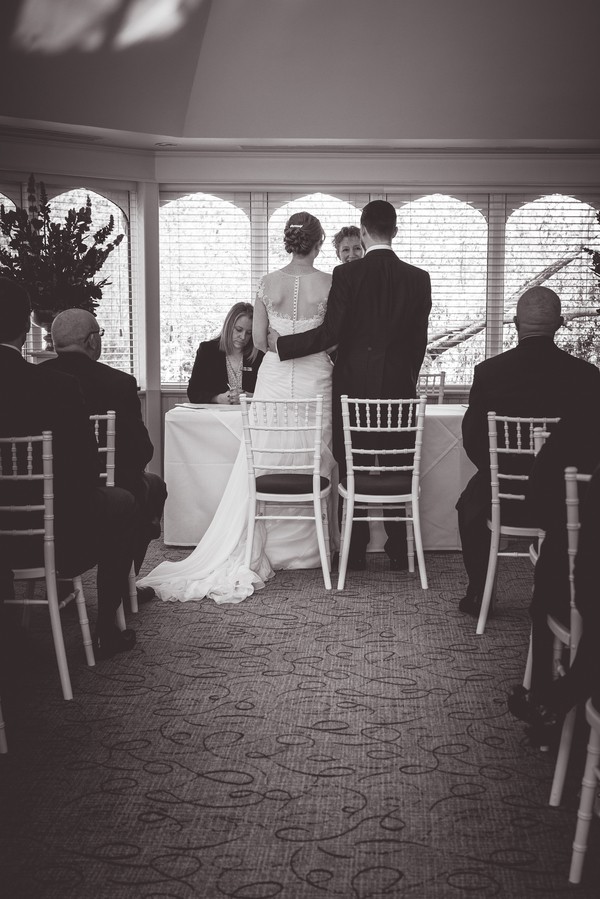 My dress was from Sofi Designs, who was recommended to me by a friend at work. I went with some close friends and my mum, where we were greeted by a larger than life character who spent the whole time calling me Cinderella. Everyone picked out a few dresses each which were very similar in style and material. At the last minute before I went to try them on, we decided to pick something a bit different, just to say I'd tried something else. After parading around in dresses which made me feel too much like a princess rather than a bride, I tried on the one which was a bit different. To my surprise I immediately loved it and as soon as I walked out everyone's reactions spoke volumes, with one of the girls breaking out in tears. The whole experience was surprisingly fun, and whilst I'm not the most feminine girl, trying on pretty dresses and tiaras was surprisingly liberating and drove home that I was actually getting married.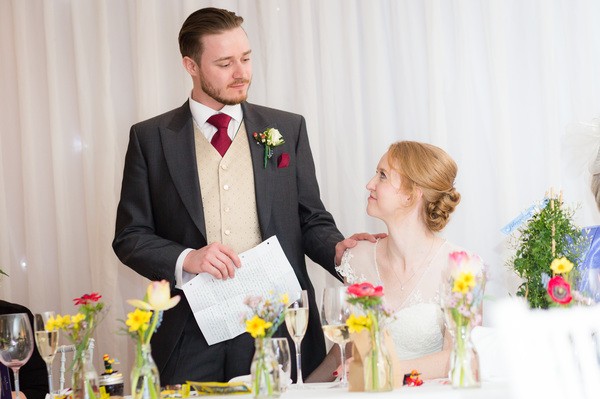 Favourite Moment
Whilst having the bride and groom photos in the grounds, Rob was asked to spin me around in a romantic way, he took this to mean a Firemans lift, which far from being romantic or elegant was one of the most hilarious things we or our photographer had seen, and resulted in the most fun filled and natural photos of the day.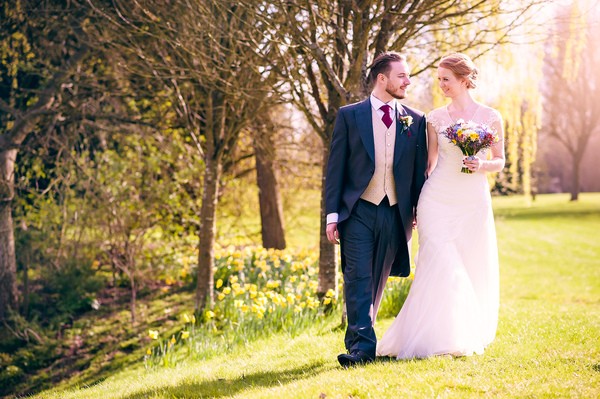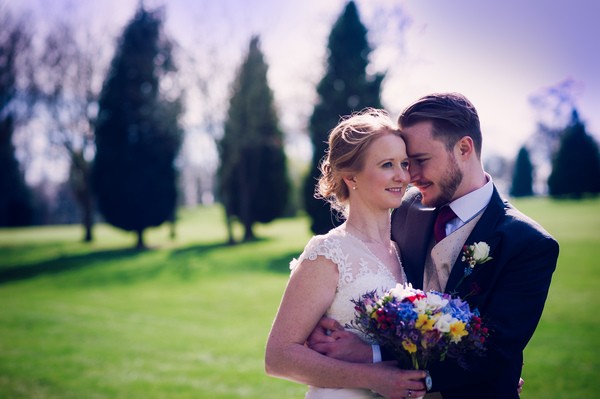 Advice to Future Couples
Let people help you do the things you are unsure of or haven't got time for, and do it the size you want, don't feel you have to have a big wedding because you feel that's what people expect. The day will be memorable either way because it is you they have come for.
Suppliers
Photographer Helen Sarah Pictures
Venue – Donnington Valley Hotel & Spa
Florist – Sarah Styles Florist
Catering – Donnington Valley Hotel & Spa
Cake – Homemade by Groom's Sister
Music – A1 DJ
Decor & Styling - Homemade
Dress – Sofi Designs Basingstoke
Hair & Makeup – Annie from Natasha Wiggins Hair and Makeup and Aaron Brewer of The Unruly Newbury
Groomswear – Suits of Newbury
Flowergirls Dresses - Debenhams
Beer – Towcester Brewery