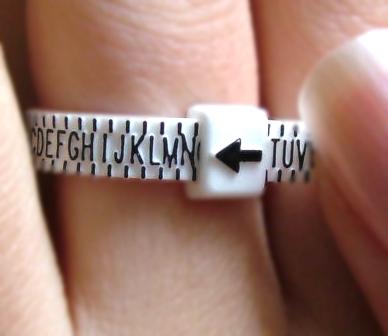 How to Work Out Your Finger Size!
---
Wearing a ring on your finger everyday is more normal for some than others. A large portion of the population have never worn rings before, so the prospect of wearing a ring every day "till death do us part", can seem a little odd! It is therefore important that you get the right size ring to fit your finger. It is also important to note that different styles can feel different on the finger even if in the same size. For example, an 8mm wide ring in a size S is likely to feel tighter than a 4mm wide ring in the same size S. We therefore recommend, that when trying to determine your finger size, that you try on a ring similar to the final product.


Where to start:

If you are beginning with no idea of what ring size you are, a great place to start is with a ring sizer. You can find them online easily. We offer a free ring sizer

This will give you a good starting point to work from.

UK ring sizes are measured on a scale of A to Z, A being smallest, Z being the biggest. The average ladies size is between a J-O and mens P-T, however every person is different and most rings will be available in the full range of sizes.

Although there is an industry standard measuring scale, where the measurement is taken from, a ring can vary from jeweller to jeweller. The two most popular being "leading edge" and "centre" measurement. Once you have an idea of your finger size, you now have the option to go straight ahead and order your ring, or try a sample of your chosen style to ensure a perfect fit first time.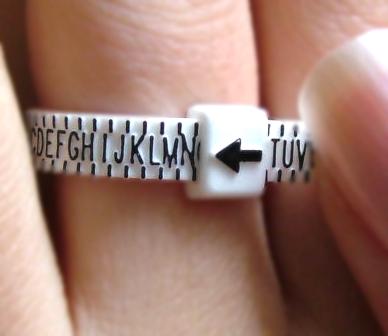 Several online jewellers offer a sample service, where by a silver replica ring is sent to you in your chosen specification so you can try on the exact ring you intend to buy. As there are many different profiles/widths/depths available, this is a great way to determine exactly what feels comfortable to you.


What if the ring is a surprise?

Ok, so this adds a bit more difficulty. First ask their close friends/ family if they have any idea of what their finger size might be. If you have no luck there, then it's time to get imaginative.

1. Does she/he wear any rings normally on her engagement/wedding ring finger? If you can take an opportune moment to "borrow" it for the day without her/him knowing, take it to a local jewellers and ask them to size the ring for you.

2. Wrap a length of string around her/his finger whilst she is in a deep sleep. Be careful to be gentle as she/he will wonder what an earth you are doing leaning over them in the night with string tied to their finger if they wake up! Measure the loop of string using a sizing chart.

3. You could also just try playing with some string, entwining it with their hands and yours, tying it around their engagement/wedding ring finger as if part of a game. Slip it off their finger and use a sizing chart to determine the size. You will be able to find a ring size chart on-line easily.