How to shop for your perfect wedding dress….the bits the magazines don't tell you!
There's no two ways about it, shopping for your wedding dress is at once the most exciting and potentially terrifying experience of the whole wedding planning process. For some brides, it's all they've dreamt of since the day they came out of nappies, whilst for others, it's a daunting and overwhelming task. Whichever camp you fall into, the best way to approach the task is with your eyes open, and armed with some insider tips! Today, Lindsay, from Dress In Love Bridal and Honeymoon Boutique in Hertford, lets us in on the industry scoop, the bits the magazines don't tell you!
"It was the first Saturday in January and the phone at Dress in Love Bridal & Honeymoon Boutique was going crazy with newly engaged ladies eager to start the search for her dream wedding dress.
As I was having the familiar conversation with one bride-to-be, while booking her in the diary, I was reminded about the exciting yet overwhelming task of just where to start on the hunt for the "One", the perfect dress that will take you from Miss to Mrs in one fabulous "I Do"
For some girls, this is the highlight of wedding planning, the bit they have dreamed of since they were a little girl playing dress up. But for some it's daunting, intimidating and altogether overwhelming.
But don't worry, there is a dress out there for everyone, you just have to find it. So here is our guide to everything you need to know about dress shopping to help you on your way.
So let's start at the beginning. The search for your perfect dress has to start with finding the perfect boutique for you.
How to start the search
My first tip would be to do your research on the boutiques in your area. Take a look at their website, is it informative and friendly? A website should reflect the boutique and give you an indication of the designers they carry and the style of dresses the house. Stalk their Social Media pages, do they make you feel inspired? Do they come across as empathetic on Facebook? Check out their style on Instagram. Do they keep their pages up-dated with news & events?
Have a look at the price range of their dresses, does it suit your budget? Are their sample dresses the right size for you? If you are working to a tight timescale can they get a new dress in time for you? (Some boutiques need up to 9 months for your dress to arrive). Ask lots of questions; do they offer any additional services? Do they offer in-house alterations?
You need to love the boutique you're buying your dress from, you also need to feel comfortable with the staff and your bridal consultant as you'll be working with your chosen boutique for quite a while; from that first appointment through fittings and finally collection.
It's important that you have confidence and trust in the boutique.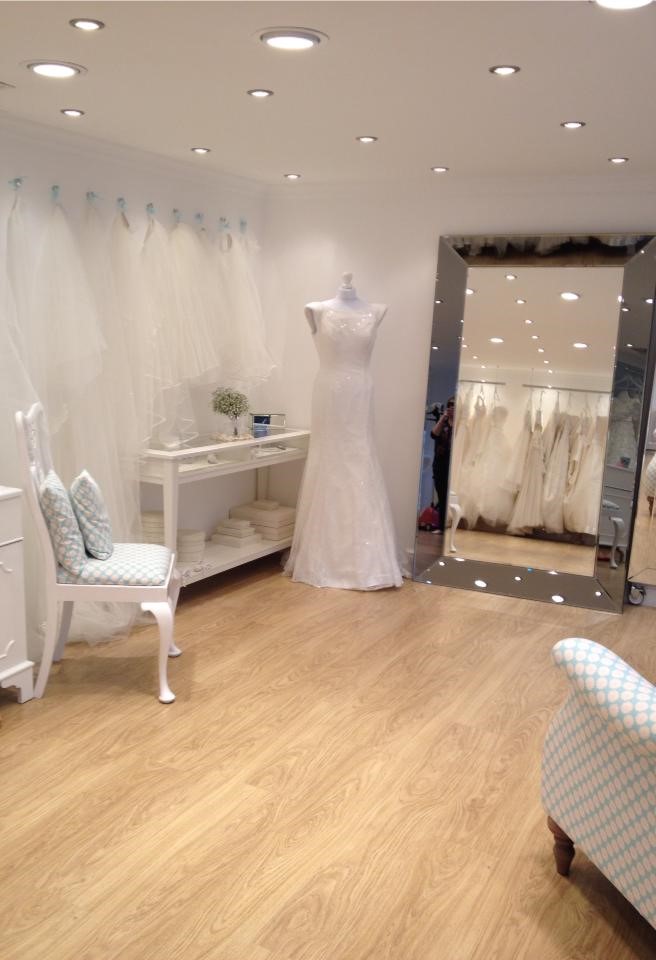 Next is the tricky question of a budget. Set yourself a budget and stick to it. If you have a price point you are comfortable with make sure your bridal consultant knows at the beginning of your appointment. There is nothing more heartbreaking than a bride falling in love with a gown which is beyond her budget.
But be realistic with your budget and expectations. Dresses cost what they cost for a reason, whether the money has gone into the fabrics, the design, structure or production you will feel the value and quality when you put it on.
When to start shopping for your dress
Hopefully you now have a shortlist of boutiques you would like to visit, so now is the time to make your appointment. Don't be daunted by the fact that you have to make an appointment. It's not because we bridal boutique owners want to put you in an intimidating, pressured environment, we want to give you our dedicated, undivided attention, to switch off the phone and the laptop to focus on you.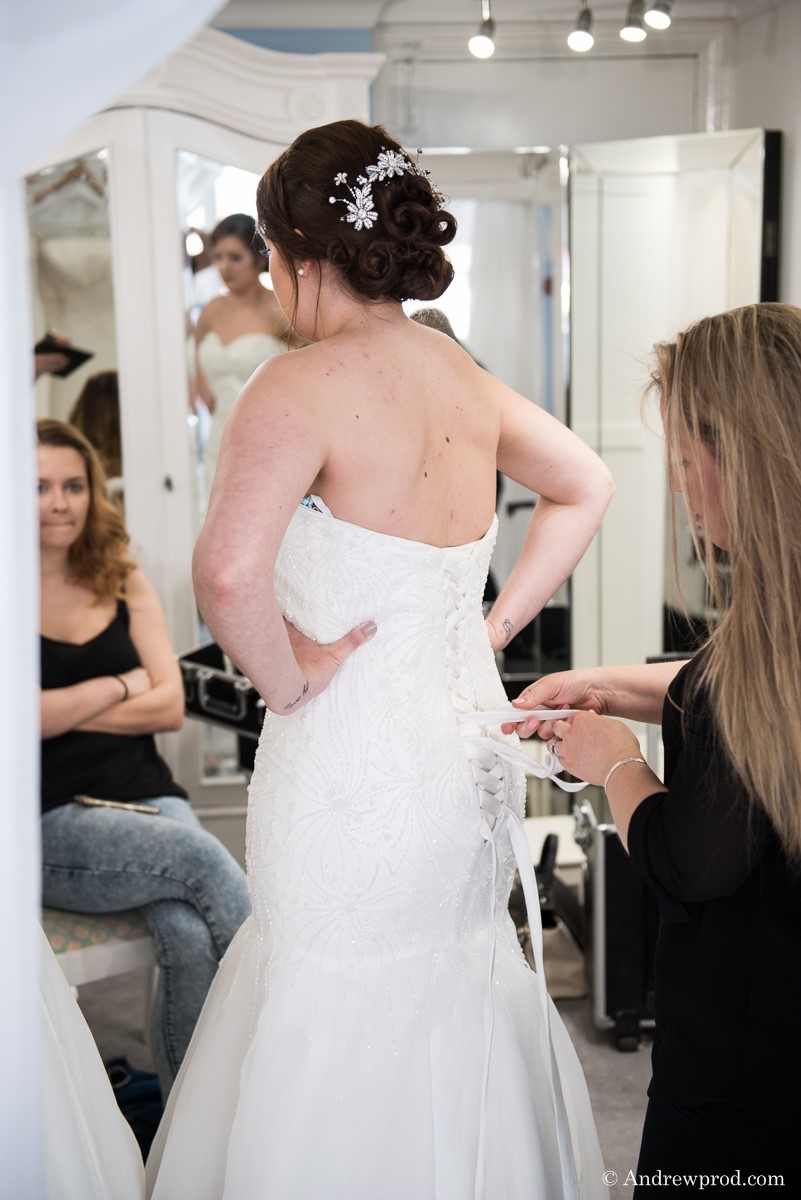 You will find it helpful if you have a confirmed wedding date and venue. This will give you an idea of the time frame you are working towards, and your chosen venue may impact on the overall vibe to your wedding and you will want your dress to reflect that.
As exciting as it is, resist the temptation to try on dresses before you are ready to purchase. If you have two years before your wedding and you are not ready then just wait and use your anticipation to research dress styles and find out what you like. Looking over a long period of time will cause confusion and when the time comes to seriously shop for your gown you will forget what you have seen where.
In an ideal world a bride would start looking for her dress about a year before the big day, and look to place her order around nine months before. Just remember dresses usually take 4 - 5 months to make and you need to allow for fittings and alterations, but always check with the boutique.
But here is my top tip…..If you fall in love with a gown, go for it, place your order and stop looking! You need to be sure it's the "One" but often a bride doesn't trust her own instincts and bows to pressure from well-meaning friends to "try on lots more just to be sure." But this will just leave you confused and you will forget how you felt and why you fell in love with the dress in the first place. Think of it like this….when your fiancé proposed you said "yes!" you didn't say "hang on, I need to try a few others to check you are the One!"
It is also a common misconception that you shouldn't fall in love with the first dress you try on or from the first boutique you visit….but it happens more often than you think, you just got lucky!
Who should you bring with you?
This is a tricky one! Try not to "crowd-please" and invite too many people. It is super exciting and it's lovely to have so much attention on you (or not as is often the case) but too many opinions will be confusing and make you doubt yourself. Instead take one or two close friends or family who you trust.
At Dress in Love we offer all of our brides a Bridal Styling Appointment with our stylist to help inspire your hair & makeup choices. This is an ideal opportunity to bring along guests who you want to involve in the dress shopping experience without having so many people there for the dress selection.
Ultimately your friends and family want you to be happy on your wedding day and if that means you wearing a dress that may not be their first choice, well that's ok, as long as you are happy and confident in your choice.
What happens at your appointment?
Personally, we love to have a chat over a cup of tea to get to know a little about your wedding plans; what you are looking for in a wedding dress, what overall look you are wanting to achieve and we help you with the dresses you choose to try on. But each boutique will have their own appointment format.
Once you have shared your ideas, brows the rails, make your initial selection of dresses to try on and be open to suggestion….that old adage of "you will choose a dress which is completely different from what you thought you wanted" is so true.
Be prepared for the fact that you are going to be in a changing room, with somebody you have just met, in only your underwear! The Bridal Consultant will need to help you in and out of the gowns. But don't worry, we think all of our brides are beautiful and there is no such thing as the perfect shape or size, we just want to help you look and feel fabulous in the dresses.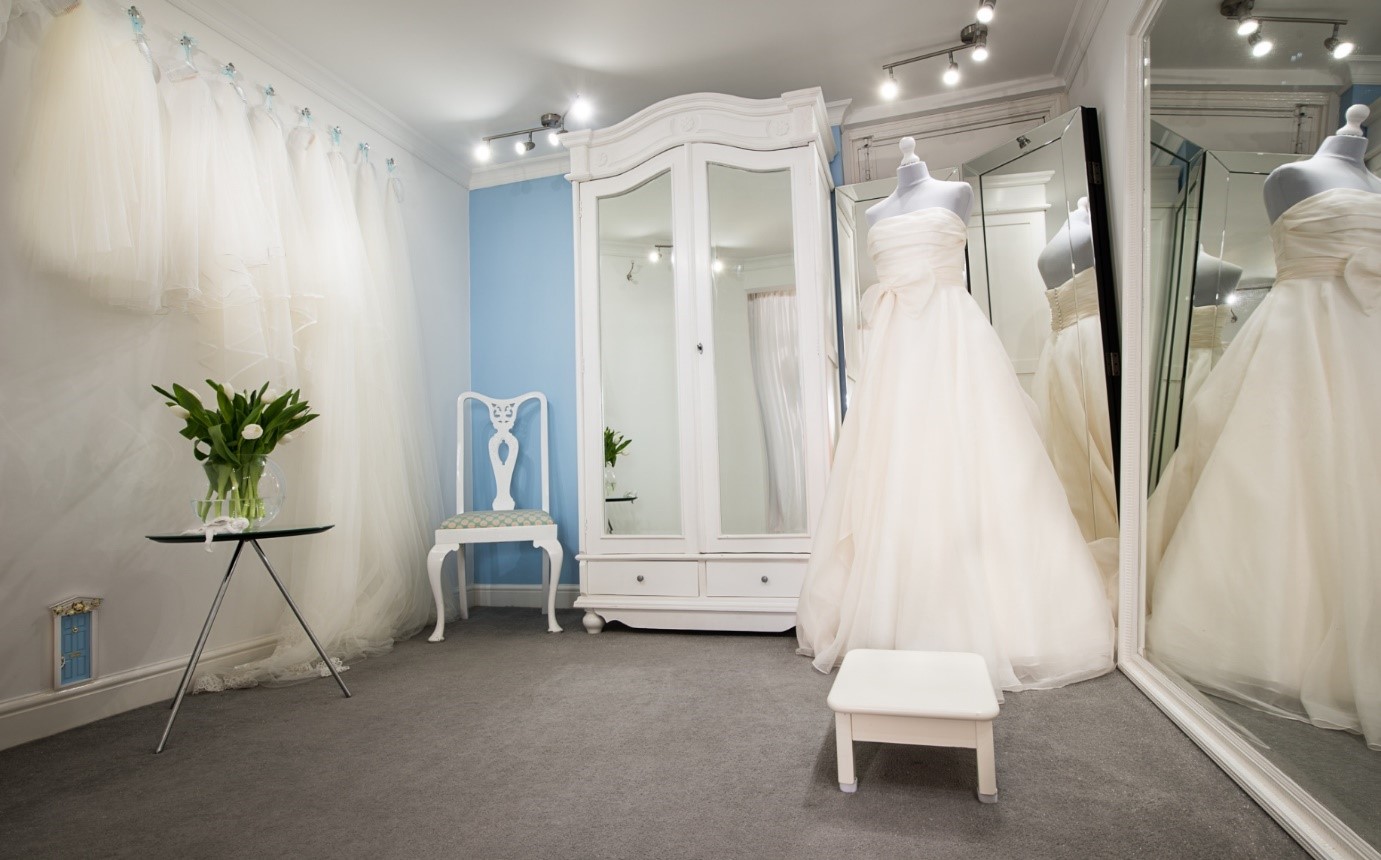 Be honest with your Bridal Consultant, the dresses don't have feelings so say how you feel. But be constructive, it will help the consultant refine your search and select dresses better suited to you. Concentrate on how the shape of the dress works with your figure and how the dress makes you feel, details and trends such as belts, sleeves and necklines can often be changed or added.
You might think it helpful to take photos to help you remember, but try to avoid relying on pictures to help you make your dress choice. Remember it is unlikely that the sample dress will be a perfect fit. Coupled with camera-phone-photography and poor lighting you may not get an accurate impression. It's much better to concentrate on how the dress makes you feel.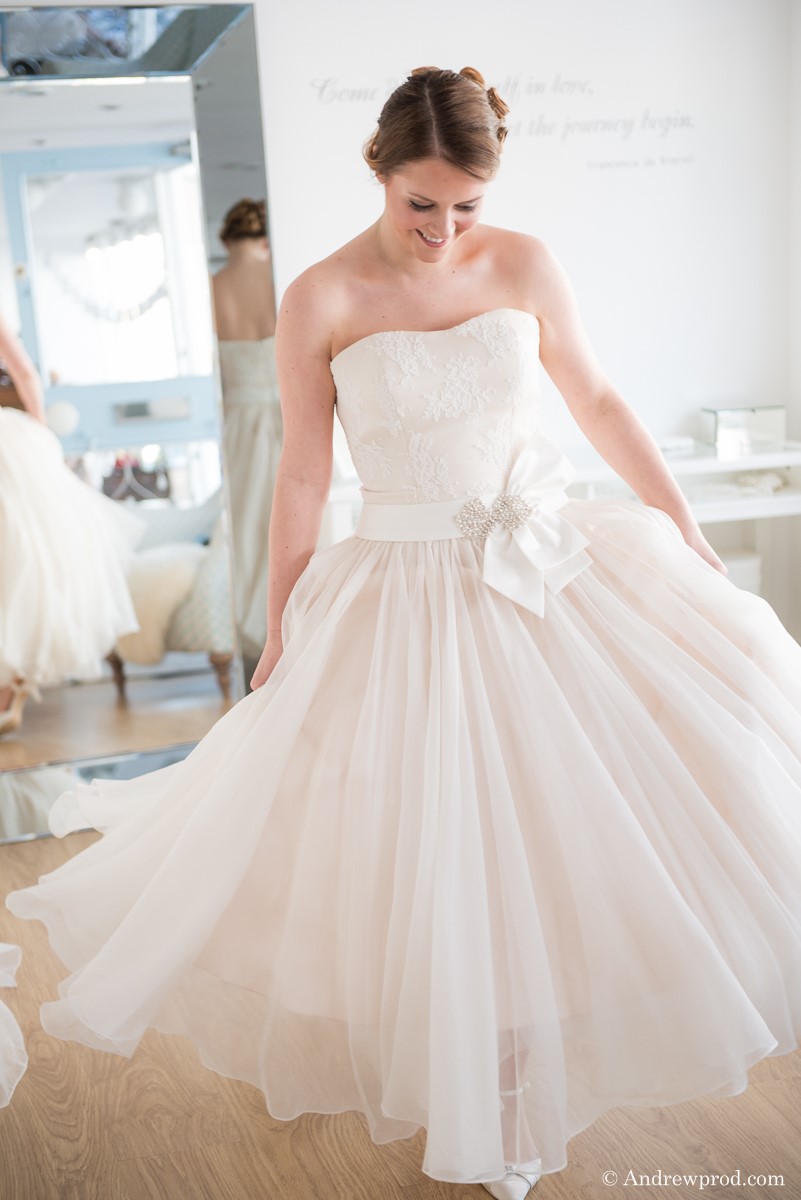 Final words of advice!
Every bride is different and each bride will go on her own journey to find her dream wedding dress.
You may not have that heart-stopping moment where you just know it's the One, but what I can guarantee is that you will have that pinch-me-moment when you see yourself in the mirror and say "I am actually getting married"
The dress IS really important but it is only a dress to be worn on one day. Ultimately the wedding isn't about the dress, it's about you and the one you love declaring your commitment to each other. A dress cannot encompass every facet of your personality but as long as it makes you feel happy, confident and fabulous then it is the dress for you.
Trust yourself and go with your heart. It is a moment to be savored, an experience to be treasured."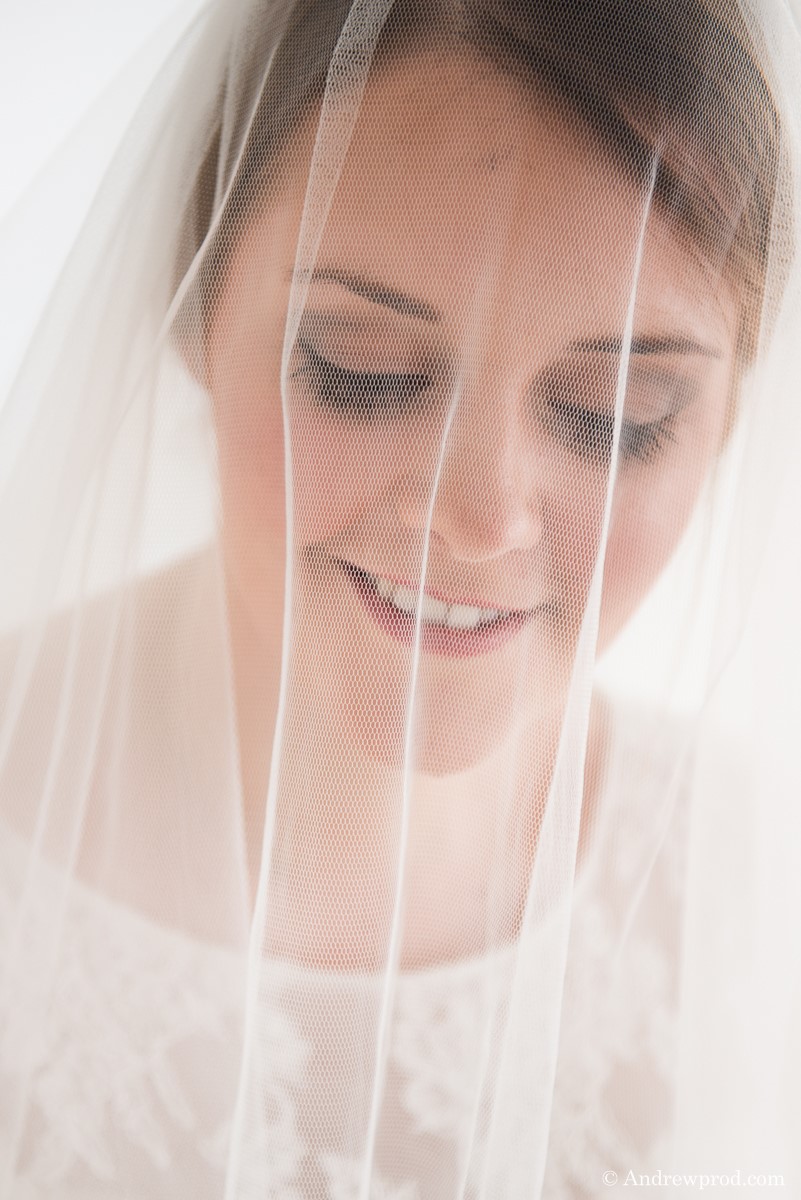 Dress in Love. The Bridal & Honeymoon Boutique. Hertford
Photography credit to Andrew Prod Photography
Hair & Makeup Francesca Fonzarelli MUA