Emma & Robins Fun Filled Spring Wedding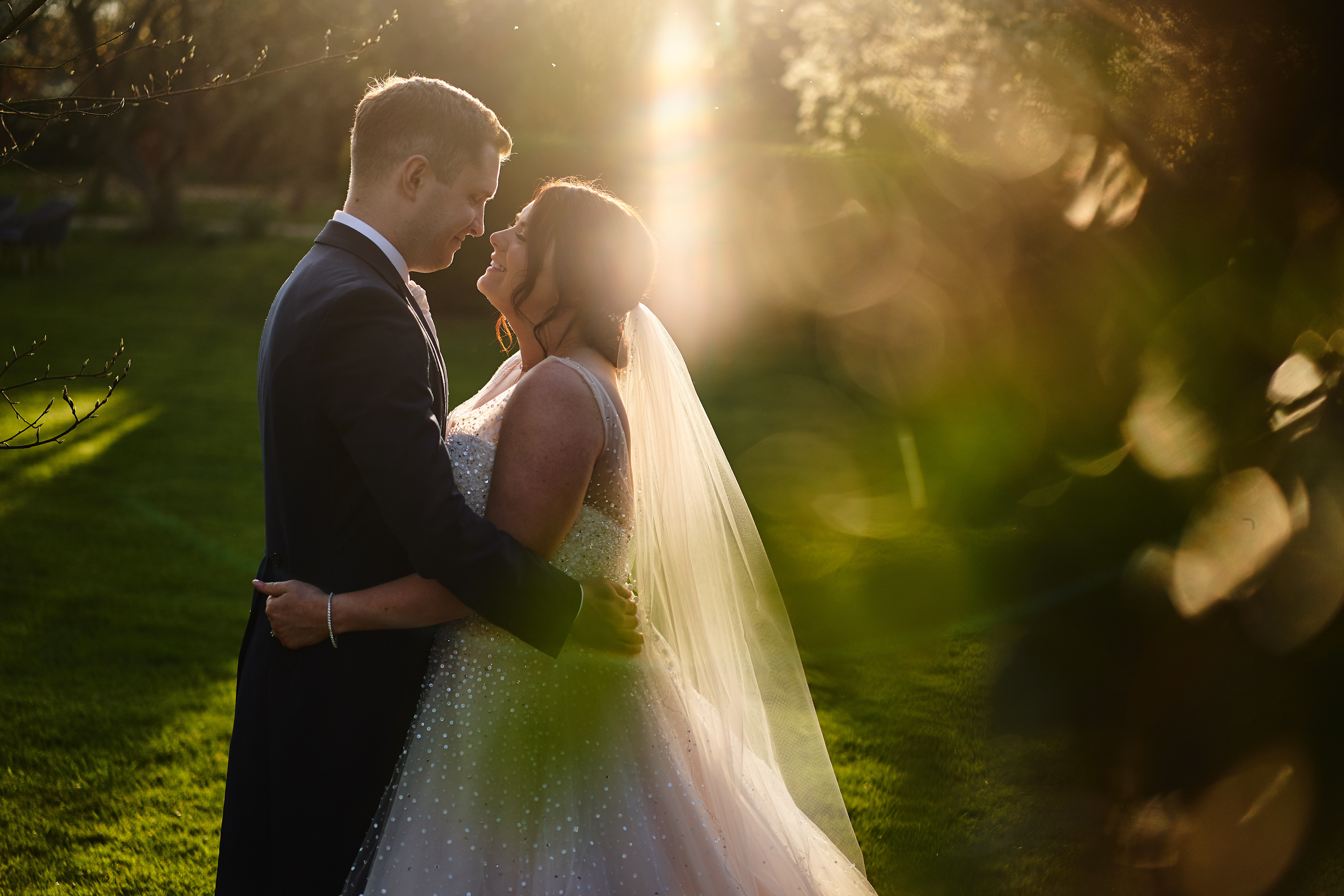 On the 11thof April 2019, Emma and Robin tied the knot during a fun filled wedding day that centred around friends and family at the beautiful Dodmoor House. The couple opted for a laid back feel with a BBQ, Ice Cream, and games but still had undertones of elegance and classic wedding themes. We sat down with the lovely couple to find out all about their love story and big day!
How did you meet?
"We swiped right on Tinder!
Emma was living in Sheffield at time whilst at university, and Rob was in Nottingham. We must have both swiped right whilst Emma was visiting family in Nottingham."
What was the proposal like!?
"Amazing!
Emma had booked a night's stay at the Shard in London as a 30thbirthday present for Rob. He said he had booked a fancy breakfast for the next morning…
Late that evening, after a lovely meal and a couple of cocktails in the Shard, he proposed in our room overlooking London with his late Nanna's ring. That 'Fancy breakfast' was actually a booking at a jeweller to pick out an engagement ring (Nannas was too small and brittle to be worn)."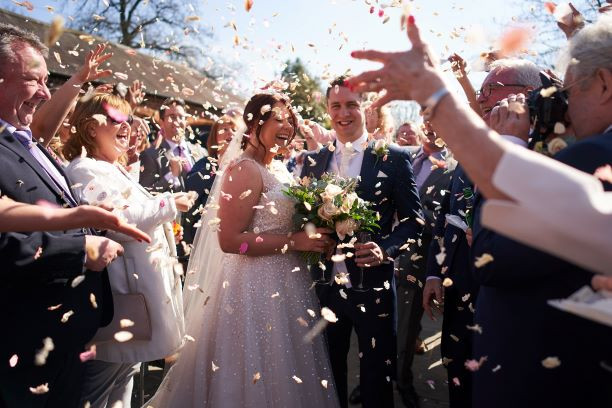 What was your vision for the day? Did you have a theme?
"We wanted a day that was as relaxed and laid back as a wedding could be, with a good dose of fun thrown in. Our main priority was that everybody that we love was able to join us in celebrating as our friends and family are spread all over the country (and beyond!).
We opted for blush pinks/rose gold/copper colours!"
Tell us about your outfits!
"Emma wore a Mori Lee gown in a 'light gold' colour with plenty of sparkle! Single tier veil by Richard Designs and shoes from Rainbow Club
Rob opted for a Navy slim fit tails hired from Slaters. Dusky pink ruche ties for the groom's party to tie in with the bridesmaids dresses."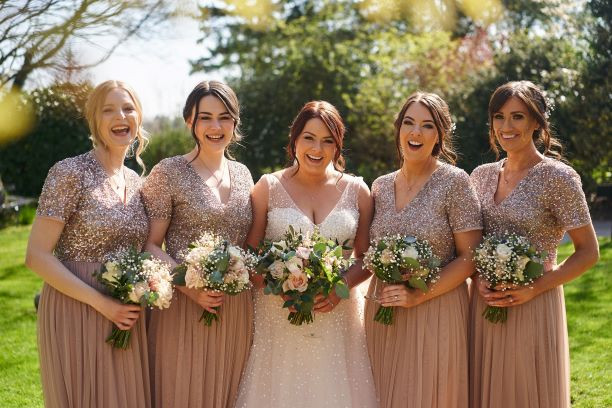 What did you feed your guests?
"BBQ provided by The Arden Pig Company
Ice Cream cart in the courtyard for dessert from The Lucky Cow
Pizza provided by The Wood Fired Pizza Company (our guests are still raving about this two months later!)"
What was your favourite part of the day?
"What an impossible question!
Rob - The first dance – I felt like it was one of the few intimate moments where it felt like only Em and I were in the room
Emma - the whole day was absolutely amazing and I'd agree with Rob about the first dance. Although, I'd also say that having the option to get ready at Dodmoor in the morning with all the girls was wonderful and so relaxed…that was really special and something I think back to quite often as I never get to see them all together usually."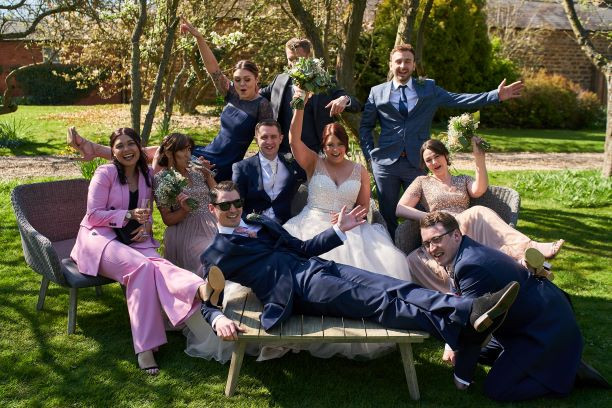 What was the plan/idea that you felt really worked on the day?
"All of it!
Although the games that we hired (air hockey, table football and skittle alley) were a big hit!"
What entertainment did you put on?
"Games mentioned before and a string quartet for the ceremony and drinks reception.
DJ in the evening."
Where do you feel that your budget was really well spent?
"Dodmoor's Diamond drinks package – this was fantastic value for money and all guests commented on how often their drinks were topped up throughout the afternoon."
What personal touches really made the wedding day reflect you as couple?
"Games – for a bit of fun (we tend to be the ones to throw bbqs/parties)
Having banqueting style tables rather than round ones (mainly dictated by or numbers) but it felt more inclusive to us.
Small details such as our "who's who" pallet with guest photos and descriptions of how we know everyone + memory photos for loved ones who are no longer with us – part of our main priority of portraying how much our wedding day was also about all the people we love and having everyone together."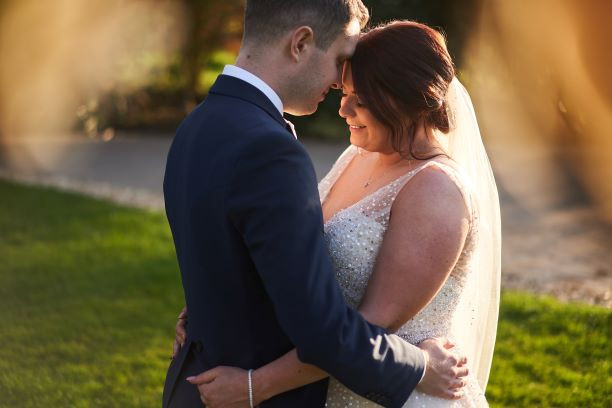 Tell us about any recommended suppliers you used and what you loved!
"Ben Pollard (photographer) – fabulous from the beginning, highly recommend booking a pre-wedding shoot in order to get over the awkwardness of being the centre of attention!
Lukas and Laura (wedding videographers) – a lovely professional couple who just blended into the background and created a wonderful video of our day
All of our food suppliers!
Games – Garden Games UK
Cake – The Confetti Cakery
Props (e.g. wine barrel for cake, table plan and table name holders) Nerissa Eve and Booze Bath and Beyond
Cutlery and Crockery – Top Table Hire
Suits – Slaters Hire
String Quartet – Highly Strung
And of course, Dodmoor House!! We honestly couldn't have wished for a more perfect venue or wedding coordinator team.
:: And finally… If you could give one tip to other couples, what would it be?
Remember what it important to you as a couple and don't try to please other people. It is your day and there will always be somebody that won't be happy with a particular decision no matter how hard you try."