Cecelina Photography Workshop - Robin channels his creative side!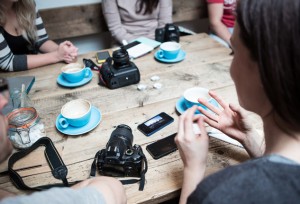 Last Sunday I signed up to attend a photography workshop with the wonderful Cecelina on Brick Lane in Shoreditch. Having found a new passion for photography and gaining a new insight into photography and the camera I can only highly recommend that anyone who has the opportunity to learn more about this wonderful skill should definitely take the chance! Cecelina arranged for 5 of us (2 men and 3 women) to meet at a coffee shop on Brick Lane at 11am. The group ranged in experience from a complete novice (myself) to a photographer who already shoots weddings and events and was looking too learn from Cecelina's extensive experience. The session started with everyone in the group sharing their favourite photo and telling the group what we were hoping to gain from the workshop. Cecelina had thoughtfully put together a detailed slideshow covering what she believed were the main techniques behind getting the most out of your camera before giving us more of an insight into wedding photography and dealing with specific example scenarios.
Even after half a day, my understanding of photography and the camera has come on in leaps and bounds and I will certainly never take a photo the same way ever again. What did become clear though is that understanding the techniques is just the tip of the iceberg and becoming a good wedding photographer takes years of practice, patience, dedication and a being able to form a strong relationship with your clients and colleagues. After the workshop I asked Cecelina a few questions to gain more of an insight into her life as a photographer:
How did you get in to wedding photography? I was photographing catwalk at London Fashion Week and editorials when I brought along my camera to my friends wedding. I took some images throughout the day, pairing it with my duties as bridesmaid, and when sending over the photos, I fell in love with the emotional effect they had; how you can be creative photographing beauty whilst at the same time capture relationships where the photographs become so incredibly valuable. It is the only day you have all your friends and family together in one place – it is such a special time in person's life and such an honor to capture for them. That is how it started – I got hooked and it has been a strong, burning love ever since! How would you describe your style? I photograph connection and relationships, so emotion is very prevalent in my images. My style is bright, colourful and I love beautiful details; while my brand is also about creating an experience for my clients - where they feel listened to and taken care of – giving great service and being an advisor in the often challenging wedding planning. If you had to pick a favourite wedding venue in the UK and a favourite venue abroad for shooting weddings at, where would they be? Oh, what a difficult one! I adore countryside weddings, elegant receptions, fields and forests – but the magic of a wedding is always in the couples and their families. A strong family bond (in venues with light walls and lots of natural light) is always a winner for me! As for a destination wedding, Italy gets me every time – the texture of the buildings, colours and the light is just a dream. I would also like to shoot more weddings in my native country Sweden. Could you share 3 of your all time favorite wedding photos with us? It is impossible to choose just three, it is all about emotion and I remember all weddings with such warmth. But I can tell you some of my favorite moments on a wedding day which I encounter again and again but always seem unique: the bride nervously and excitedly getting ready with her bridesmaids; the fun, friendship and support among the groomsmen; the walk down the isle when they see each other for the first time; just before and just after the ceremony; when the family embrace with such happiness and feeling; and the very special moment when the bride and groom are alone together after the ceremony.
Cecelina is a wedding, lifestyle and editorial photographer in London and abroad. She is passionate about service, teaching, loves baking, shoes and her native country Sweden. Find her at www.CecelinaPhotography.com