20 Ideas Instead Of Guest Book
Check out these fun, alternative ideas to a traditional wedding guest book.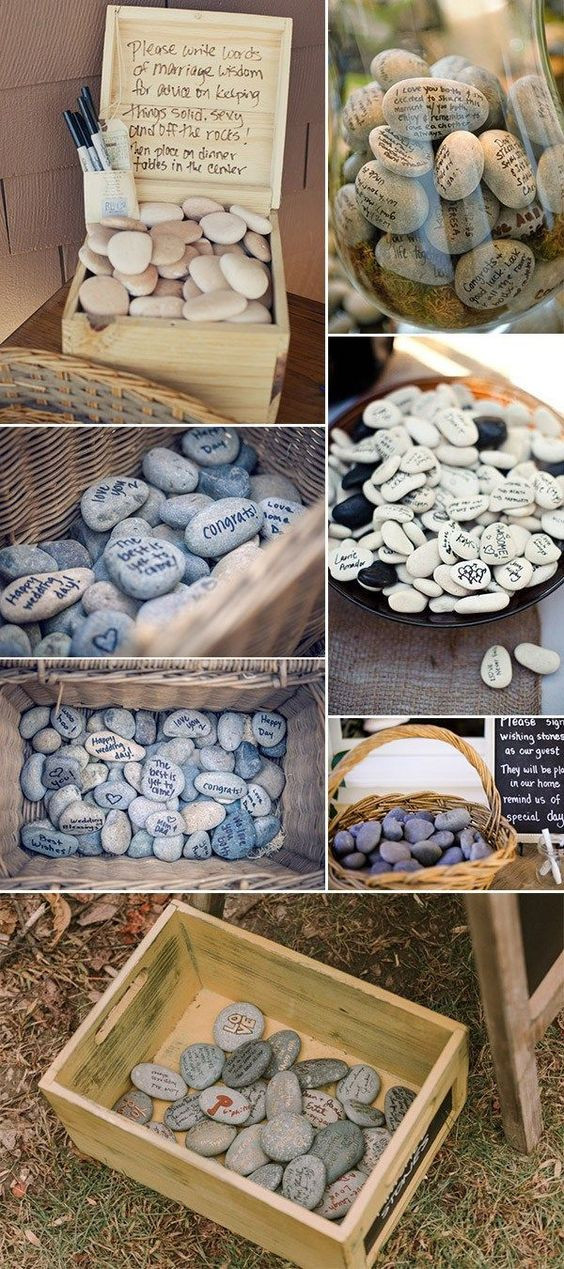 1. Fingerprints (now popular to incorporate them into a large drawing, such as large bundles of balloons, the latter being the fingerprints of the guests, or another variant of a fingerprint tree)
2. Polaroid Camera for Guest Photos along with a beautiful scrap book.
3. Canvas and paint for guests' creativity - let your guests release their inner child!
4. Heart Tree: A tree with branches so your guests can share their warm wishes for you with small wooden hearts
5. Photo booth - like the instant camera, create a scrapbook from the big day!
6. Wooden cards neatly cut on a stand - this works really well if you've incorporated wood into other areas of your wedding stationery.
7. Stones (for example, flat, white) on which your guests can write their well wishes.
8. Wine corks: Your guests can write one word to share their wishes for your future together. Put these in a beautiful glass vase.
9. A composition of vinyl records (especially if the you and your partner are music lovers) on which guests can write their wishes for you.
10. Draw a tree on a large piece of paper and guests can write on leaves which is the perfect idea for an autumnal wedding.
11. Wooden Wish Book
12. Globe - let the guests wish which corners of the world they'd like you to travel to.
13. Sporty well wishes - if you're into sports why not get guests to write their wishes for you on a rugby ball or a football or even a surfboard!
14. Antique suitcase with post cards for well wishes.
15. The picture of the vowels is a large picture lined with tiny envelopes, each designed for cards with wishes or beautiful words of guests
16. White guitar or a wooden acoustic guitar if you love music or maybe play the guitar.
17. Jenga game blocks are an ideal choice for fans of this board game - Similar to the corks above, why not get your guests to write one word on these blocks.
18. Puzzle - Get your guests to draw their well wishes on a white puzzle
19. Ancient typewriter for guest thoughts and wishes
20. A beautiful glass bottle for well wishes. Get your guests to write these on sheets of "oldish looking" paper or card, rolled into tubes, tied with thick thread and put into a bottle.
For more ideas and suppliers who can help you, check out the fantastic creative suppliers and ideas in our wedding stationery section.