14 Best Mother of the Bride Gifts for All Budgets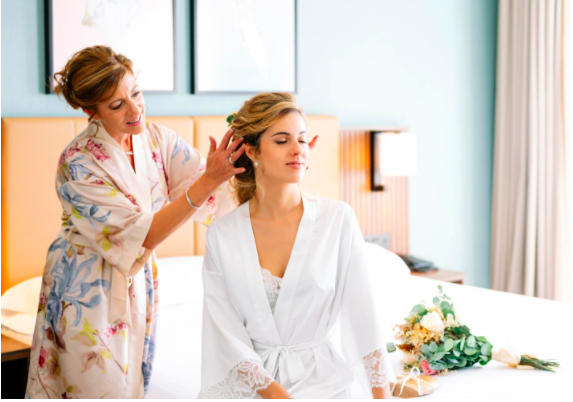 While a wedding might be all about the bride and groom to be, planning a wedding often requires many hands on deck. Close family and friends are invaluable when it comes to putting together such an event, and one person who is usually knee deep in all of this planning is the mother of the bride. Often right there with advice when needed, unwavering support, love and continuous guidance. So, it's never a bad idea to say thank you with some mother of the bride gifts.
If you remember that this day won't only be about celebrating you, but also celebrating the people you love, then mother wedding gifts would always be a good idea. Choosing a thoughtful and personalized gift would tell her, 'thank you for always being there, thank you for being my mom, and thank you for helping me plan this wedding'. This would also be a great opportunity to get her something you might have always wanted to, and she wouldn't want to indulge on her own. Whether it's a luxurious throw or spa weekend, take a look at a few of our favorite ideas to help you out.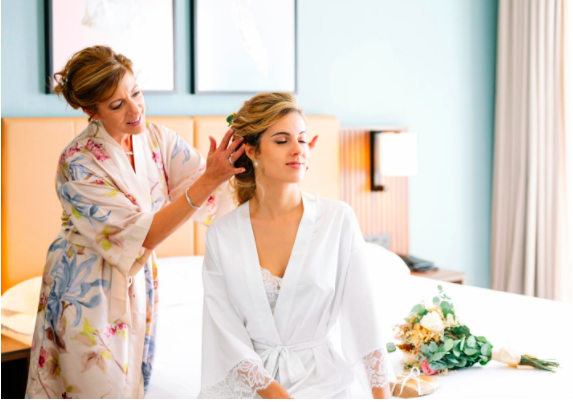 1. Cocktail Napkins
Is she a fun hostess to her friends? Then a personalized cocktail napkin set wouldn't be a bad idea at all. Choose napkins in her favorite color that would go with her table setting and customize in the words you choose. Perhaps even in her favorite font.
2. Hand Cream Collection
You can never have enough hand creams, in fact they run out all the time. A most thoughtful mother of the bride gift from a daughter would be a hand cream collection in her favorite scents. A perfect way to say, thank you.
3. Leather Overnight Bag
One of our top sentimental gifts for mother of the bride is a quality overnight bag. If she loves to travel, she would definitely need some time away after all of the fuss is over. Give her the gift of going on a relaxing weekend away in style with a plush leather overnight bag. It can also be personalized with a monogram.
4. A Kindle
If she already has a kindle, you can upgrade her current one. Either way, this is a most thoughtful gift for the mother who loves to read. It's also something she might not be willing to indulge on her own, so always a welcome surprise.
5. Personalized Handkerchief
Looking for perfect mother of the bride gifts ideas? You won't have to look too far. A personalized handkerchief is a genius idea, especially since she might need it during your wedding. Something classy to wipe away her tears of joy as she watches you walk down the aisle.
6. Leather Journal
If your mom is the writing type, then she would adore a leather bound journal. The writing possibilities are endless when you have such beautiful and unique tools. She can pour out her heart or record memorable moments in the best way.
7. Trinket Box
If you can't decide on a specific piece of jewelry to buy, then a trinket box might make a great mother of the bride gift idea. Just find a unique one you're sure she would enjoy using everyday.
8. Hand Painted Sculpture
If she values art, then a simple but unique sculpture that depicts the love you both share, could be the best gift. Could also serve as a great paperweight.
9. Photo Collage
A collection of your favorite photos together can be a great gift idea if you are stuck wondering what to get the mother of the bride. She would adore it.
10. Earrings
Perhaps you've seen it in her favorite store, or you know a pair that she loves. Women never have enough jewelry and a beautiful pair of earrings are always welcome.
11. A Charcuterie Board Set
Also for the mother who loves to entertain her friends. The perfect charcuterie board set would give her the opportunity to serve her snacks, fruit and cheese spreads in style.
12. Lush Wool Throw
Don't hesitate to get her a luxurious wool throw, especially if she lives in a location with warm temperatures. Something super cozy that she would remember you by everytime it gives her a hug.
13. Coffee French Press
If she loves her morning coffee, then a French press might just be the perfect gift. Something useful to sit on her countertop for many years to come. A gift to remember you by every day.
14. A Bracelet
If she adores jewelry, then a yellow gold, rose gold or white gold bracelet would be a hit. Something she can add to her jewelry collection and remember you by. She might also enjoy showing it off to her friends as a gift from you.
Yes, it might be a very busy and stressful time with all of the wedding planning, but don't forget to show some love to those closest to you. Pause and find ways to say, 'thank you and I love you' with the best mother of the bride gifts. The thoughtfulness and show of appreciation would always be remembered. Start your life with that special someone in only the best way, with your mother having your back.
Author: Kate Motina
Kate heads the Wedding Forward content department. She's an expert on wedding showers, honeymoon plans, destination weddings, photography, videos, and themes. Give her a wedding vision and she will give you a perfect wedding plan from her fingertips. She also has her unique articles on the site. She is a health and fitness enthusiast, and she's crazy about photography!