10 Beautiful Off The Shoulder Wedding Dresses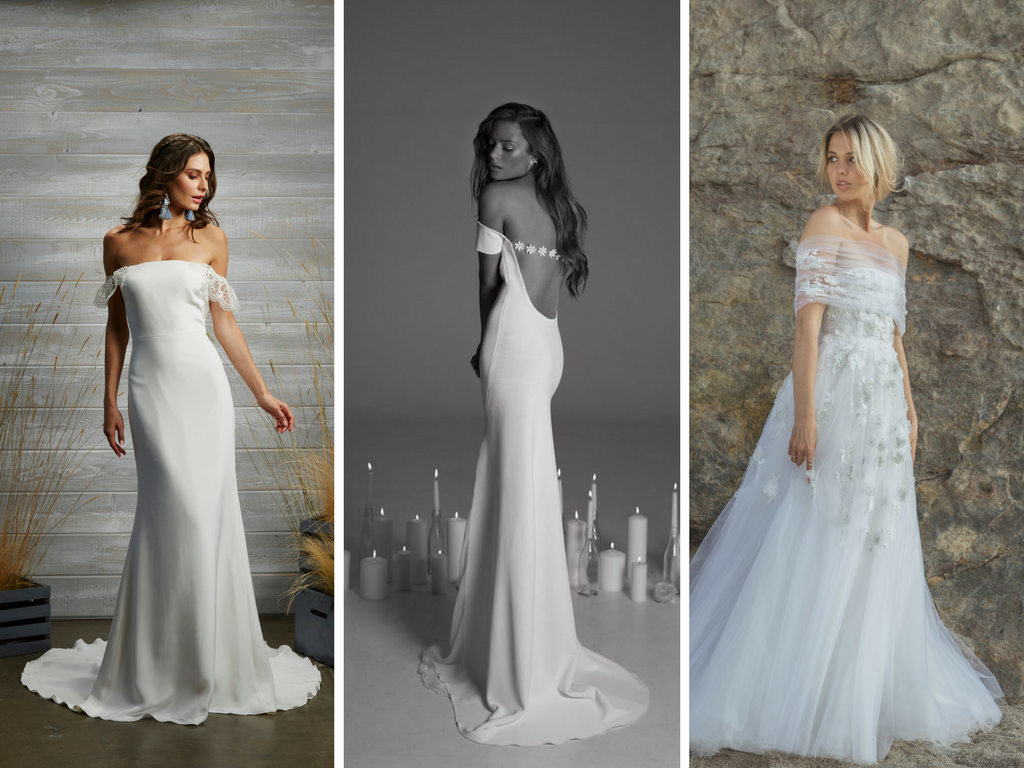 With every other woman you see this summer wearing off the shoulder dresses and tops, it makes total sense this fashion trend has worked it's way into the bridal world too. As such a flattering and different cut that still feels very feminine, it works well for both the glamorous bride or the whimsical bohemian bride - it's versatillity is perfect.
So to celebrate one of the biggest trends this season, we're sharing with you 10 of the hottest off-the-shoulder dresses you can get your hands on at the moment.
1. Rime Arodaky
With a wonderful mix of Parisian and Bohemian style, rock and roll brand Rime Arodaky have the cool bride look down to a T. With an abundance of stand out dresses in their collection, this off the shoulder number is one of their best. With the low dipped back and delicate lace floral ribboning, this dress is the ultimate in seductive cool.
2. Tara Lauren
With an aim to bring out every bride's individuality, Tara Lauren's dresses embrace a fresh, romantic and bohemian aesthetic with inspiration coming from the confidence of today's modern brides. With the lovely sculpting of this dress, we love the delicate touch of the dainty lace sleeves that give it a laid-back look.
3. Val Stefani
Based in sunny Southern California, Val Stefani has a unapologetic love of all things feminine. Expect their collections to include ruffles, lace, delicate beading, rolled rosettes and all things girlie. This dress is a wonderful take on a long sleeved off the shoulder look, with immensely detailed layers of gorgeous lacing running down the whole length of it.
4. Moonlight Tango
With a focus on incredible fit, luxurious fabrics and lace, Moonlight Tango wedding dresses focus on bringing out the lovely features of their brides and this one is no exception. With a flattering and low-key cut, the delicate lace sleeves bring an etherial feel to the look.
5. Alexandra Grecco
Finding inspiration in the designs of eras past and cinematic landscapes, Alexandra Grecco's designs are classic and feminine with a feel of nostalgia for past times whilst still achieving that timeless look. We're obsessed with the delicate ruffles featured at the bottom and on the sleeves of this dress, creating a really pretty bridal look. The cut of the dress is so flattering and is ideal for the modern bride.
6. Sabrina Dahan
Most notable for her soft touch embroidered masterpieces, Sabrina Dahan draws her influences from her southern Californian upbringing and Parisian summers spent with loved ones. With a real originality to her designs, this look is so dainty and delicate and is a different take on off the shoulder dresses than we've seen before.
7. Galia Lahav
With every dress being custom made to the bride's measurements, the attention to detail and fabric is of the highest quality. Their collection includes everything from classic and low key designs all the way through to more elaborate and stylised designs such as this one. An absolute feast for the eyes, this dress has delicate detail at every turn and really channels that victoriana vibe.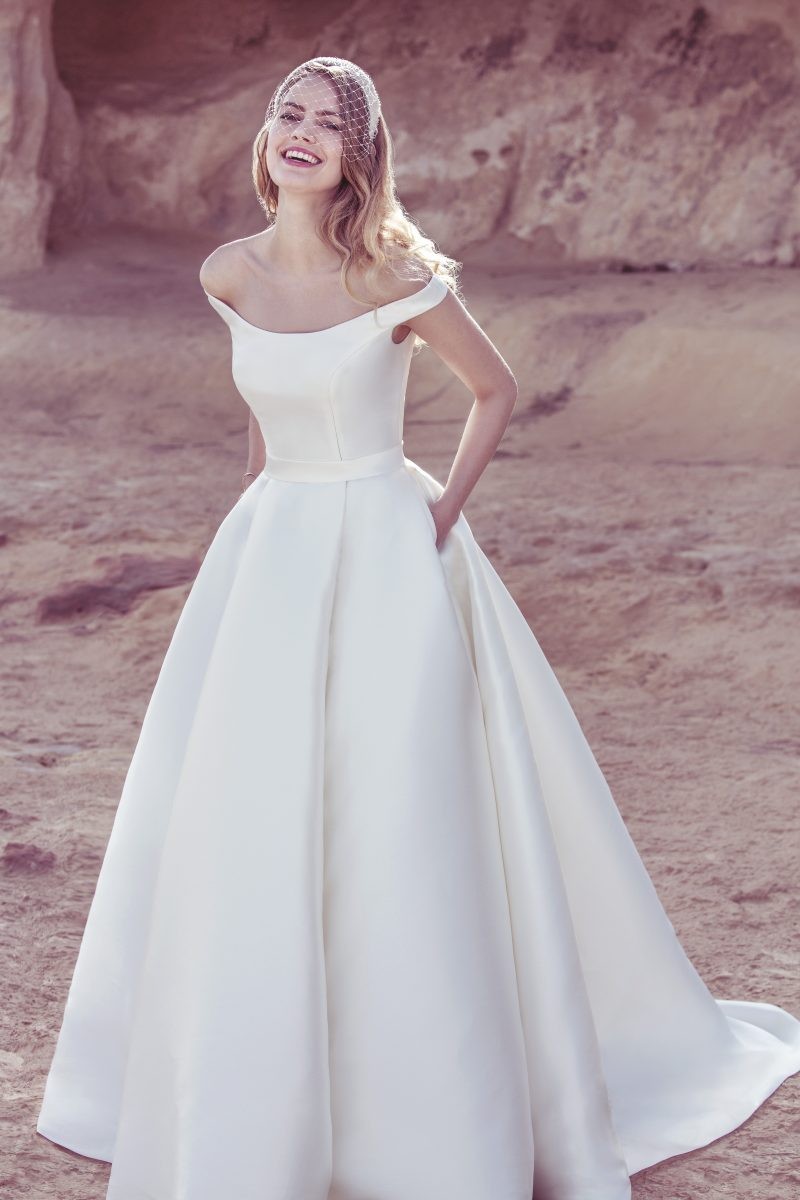 8. Ellis Bridal
As a brand that is over 100 years old now, it's fair to say Ellis Bridal know a thing or two about dress design. With a lot of love going into the creation of each gown, their dresses are tailored and cut to absolute perfection. We adore this dress for the reason that it is fairly simple in way of details, but actually it's far from simple in it's complexity of cut that leads to such a flattering fit.
9. Essence of Australia - Style D1982
Combining amazing fit with couture finishings, Essence of Australia's dresses are made using angel satin, alluring laces and satin chiffon to give the perfect movement that the bride requires. They use authentic Swarovski crystals to make the dresses dazzle, which can be seen in the lovely delicate crystalised belt seen on the dress above. With a flattering sculpted bodice, this dress is an ideal mix of embracing sensuality and daintiness at the same time.
10. Veromia
With a plus size range within it's collection, Veromia is a bridal designer who has their finger on the pulse and are at the forefront of catering to the modern bride. Not only do they do a bridal collection, they also cater for the mother of the bride and bridesmaids too. This stunning dress keeps the classic simplicity of a lace wedding dress but adds real interest into the design with such a flattering neckline.