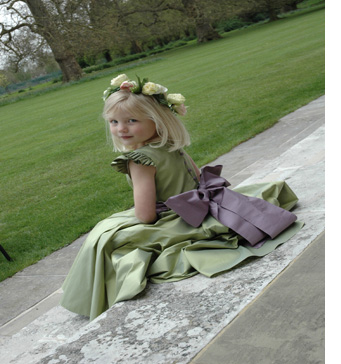 Summer Loving
---
I don't know about all you gorgeous brides-to-be, but I am already bored stiff of the endless torrential rain, howling winds and my winter wardrobe – and we still have months of this to go. So, with all the lucky brides who are planning their weddings with sunnier climates in mind, and the rest of us who wish we were coming too, let's all transport ourselves for a moment to the sunshine……… perchance to dream, if only for a moment.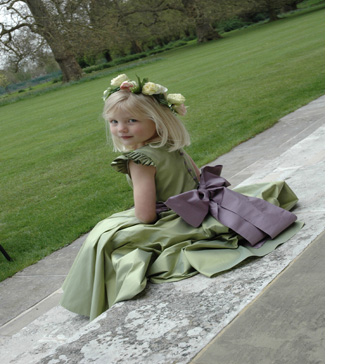 So, now we are on the terrace of a to-die-for hotel overlooking a white sand beach or a stunning countryside view, sipping cocktails and basking in the warmth of the setting sun. Dressing your bridesmaids, flower girls and page boys for this glorious occasion requires a slightly different slant from the quintessentially English wedding. Whereas all the gentle vintage and soft, subtle colours work so well here, there is more scope for clear, zingy tones in a hot environment, and which will look wonderful in the strong sunlight. You can get away with so much more in the sun, especially with a light tan. The available flowers are likely to be bright – oranges, shocking pinks, limey greens – so this is an opportunity to really go for it.

Less formal, floatier dresses will be much more comfortable in the heat and reflect the feeling of a holiday-mood wedding. Maybe consider empire line dresses in fabrics in hot colours that drape well and move prettily in the soft evening breeze. Or, alternatively, white broderie anglaise, soft tucked lawn or ethereal georgette with the colour brought in with the vibrant flowers – lots of them. Bare feet and loose hair would set off this slightly boho look beautifully.

If you would like to keep the ceremony more formal, what about putting your adult bridesmaids, for that part of the day, in dresses with a strappy bodice and a full, soft skirt………which can then be removed for the dancing to reveal a very short, very sassy dress underneath? They would certainly cause a sensation.

Flower girls in skirts of multiple layers of coloured tulle with little sleeveless t-shirt type bodices and organza sashes would still fulfill the required princess look without being too restrictive in the heat. Tiny, bright blooms woven through their hair would work well too – or even a belt of flowers instead of a sash. For the little boys, sharp French shorts and white linen shirts with rolled up sleeves would look cool in both senses of the word. Jackets, ties and waistcoats could make them uncomfortably hot, so less is more for them.

Now the scene is set and we must return to the frosts back at home, but remember how much fun those twinkly winter weddings can be too! Chalk and cheese, but both memorable.