Sarah and Anthony's Elegant Wedding at The Vineyard
As a family of three with their gorgeous daughter Millie, Sarah and Anthony's beautiful wedding at The Vineyard in Stockcross was not just a marriage of two, but it was a celebration of a very special day for the three of them. With their daughter declaring to everyone 'we're all getting married!' on the lead up to the wedding, they wanted their day to be a wonderful celebration for their lovely little family. With loving touches throughout their big day and choosing a venue that held a real place in their heart, their wedding has all the ingredients for a really touching and heartfelt day. From the matching bride and flower girl dressing gowns to the romantic pale blush pink and ivory floral choices, the whole day feels wrapped up in elegance. We spoke to bride Sarah to get the full scoop on the day.
The Couple
"We have been together 9 years, we met at work and we live in Boxford, Newbury, enjoying the outdoors and beautiful countryside around us. We had our beautiful, fun loving daughter Millie in January 2012. We are essentially very different people (city girl meets country boy) but we do very much have the same goal to live a happy and fun family focused life.
The Proposal
It happened on my 40th birthday, 18th February 2013. Anthony arranged for my mum to look after our daughter for the weekend, who was just over 1. He took me out for breakfast and then surprised me with a day at the Vineyard, including spa, dinner and an overnight stay. We checked into the Vineyard, spent the early afternoon in the spa, after which we went for a walk in Marlborough, one of our favourite places for a wander and a coffee and it was a surprisingly warm sunny day for February. When we returned to the Vineyard late afternoon, I was aware Anthony had made me a birthday cake (or so I thought), as I had seen the '40' candle left on the kitchen worktop and was banned from the kitchen the night before. He suggested a glass of bubbles to toast my birthday and asked me to cover my eyes while he got my 'birthday' cake ready! I opened my eyes to Anthony on one knee, with an amazing chocolate cake in one hand that he had made, with candles on the cake spelling out 'will you marry me' & in the other hand a ringbox!!! Anthony is by nature the most unromantic guy you could meet, but on this day, it was as if he saved 9 years of romance up and delivered it all in one day! I of course said 'YES!' despite being in complete shock, I genuinely had no idea he was planning a proposal…
The Venue + Decor
We chose The Vineyard as our venue as it was where Anthony proposed so it is a very special place to us, it is where life long memories have been made. Throughout our time together, we have pursued a love of travelling and food and have complete respect for the skill in creating fine food and we wanted our guests to share in this passion of ours.
We booked The Vineyard in May 2016 deciding to get married on 8th October 2016. The ceremony was at 1.30pm at The Vineyard, Stockcross followed by a wedding breakfast and evening reception. The ceremony and wedding breakfast was an intimate celebration with close friends and family, with more guests arriving for the evening reception. Our style was simple, elegant yet not too 'done', quite natural with fragrance in our flowers with subtle ivory, green and blush coloured flowers and table details with natural candles. It was a mix of a few traditional elements and some other more personal elements. The most important part for us, was that the day be about family and the 3 of us, myself Anthony and Millie. Millie would tell everyone 'we're all getting married'! It was important that Millie was central to the day, the wedding invites were sent from Millie, featuring a picture she had drawn of mummy, daddy and herself having a group hug.
We did all of the planning ourselves in five months, we wanted minimal fuss & were happy to take advice from the experts around us. Our Wedding & Events Co-ordinator Becky Povey at The Vineyard was faultless, incredibly calm with a wonderful manner, always professional, super efficient, & nothing was ever too much trouble with accommodating any special requests. Karen at Allium Design, who created the floral designs and styled our wedding was a creative genius, incredibly talented, with ideas a plenty, we felt in very safe hands. Every bride needs a Karen in their life to make a vision a reality! The most important aspects of our wedding that we gave most consideration to were the food, the ease of location/venue & the photographer (as this is a passion of mine).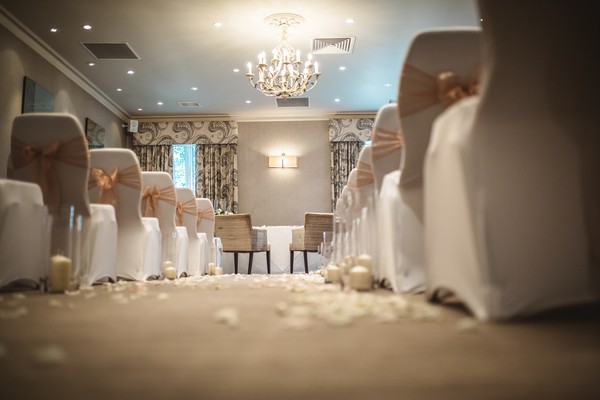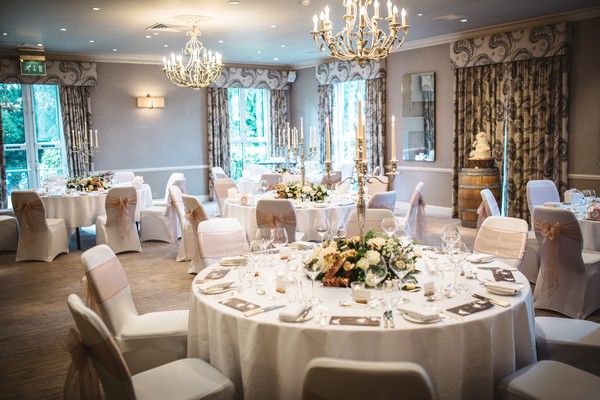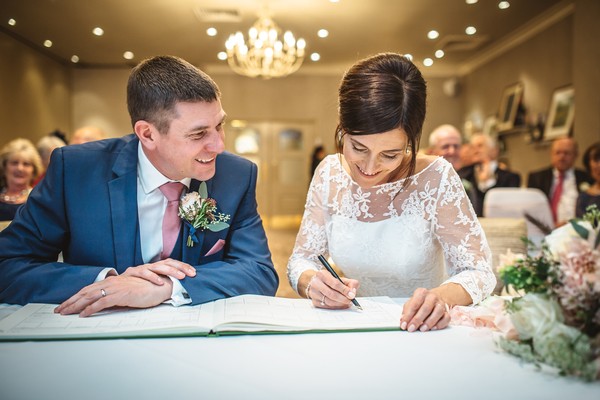 The Dress
I actually found 'the' wedding dress in 2013 shortly after Anthony proposed. One day mid week I was with two good friends and with a few hours before we had to pick the little ones up from trial days at nursery, we decided to go wedding dress shopping. We went into Mrs Jones Bridal in Newbury, it was the bridal shop I frequently walked past which looked so inviting with stunning dresses in the windows. The owner Laura Jones could not have been more helpful or accommodating with us turning up unexpected, with no appointment and with a 2 hour appointment slot available (it was meant to be!), the fun began… I tried on all styles, shapes with a few crazy/fun ones and eventually tried on the Charlotte Balbier Etta dress, which I loved! It was versatile, two looks in one and I felt amazing in it! It became the one to beat. Several years then passed and we still hadn't set a date, life had just got busy. Once we eventually set the date in May 2016, the search for a dress began! I never expected the Etta dress to still be available, so I started my search again, going further afield but nothing compared. I went back to Mrs Jones Bridal on the off-chance, describing the dress I had tried on some 3 year previous, to which Laura said 'do you mean this one?' It was clearly meant to be…elegant, timeless, simple and not fussy, it was just what I was looking for. I made the final decision with one of my best friends Anna present, who had been on most dress shopping trips with me and my mum. I loved wedding dress shopping, especially the opportunity to try on dresses you would never normally choose.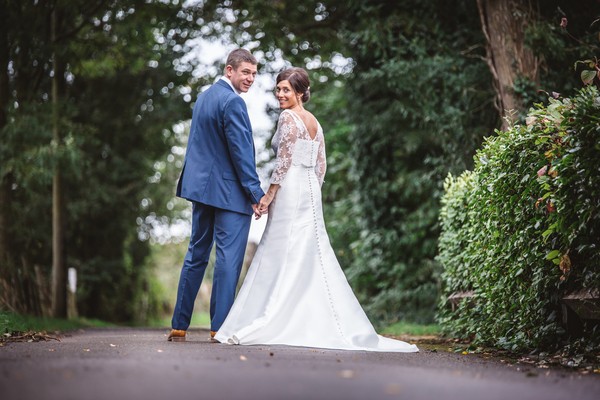 Favourite Memories
Bride: The ceremony, particularly walking into the ceremony room to Ellie Goulding 'How long will I love you' and seeing Anthony facing us with the biggest smile, as myself and Millie accompanied by my Dad walked down the aisle, lined with petals and candles. It was a beautiful moment in time, surrounded by all those we love. My overriding memory of the day is Millie's beaming smile all day long.
Groom: Seeing Sarah and Millie walking down the aisle towards me, with big smiles & Millie holding her sign 'Daddy, here comes Mummy'.
Advice to Future Couples
Ask for and take advice from the experts around you, your wedding co-ordinator, stylist or florist! We used Pinterest to help build a bank of images/ideas covering what we liked and didn't like, this information was invaluable at meetings with the venue/florist/stylist, especially if your timescales are shorter and where decisions are required quicker. Remember to delegate, you cannot do it all, so entrust someone else with some of your 'to-do' list!
Finally, on the day take time to savour those special moments, the day goes too quickly, enjoy every minute. Most importantly don't worry about any of the little details, if something isn't quite right, no-one will know, the day is about celebrating love, nothing else really matters.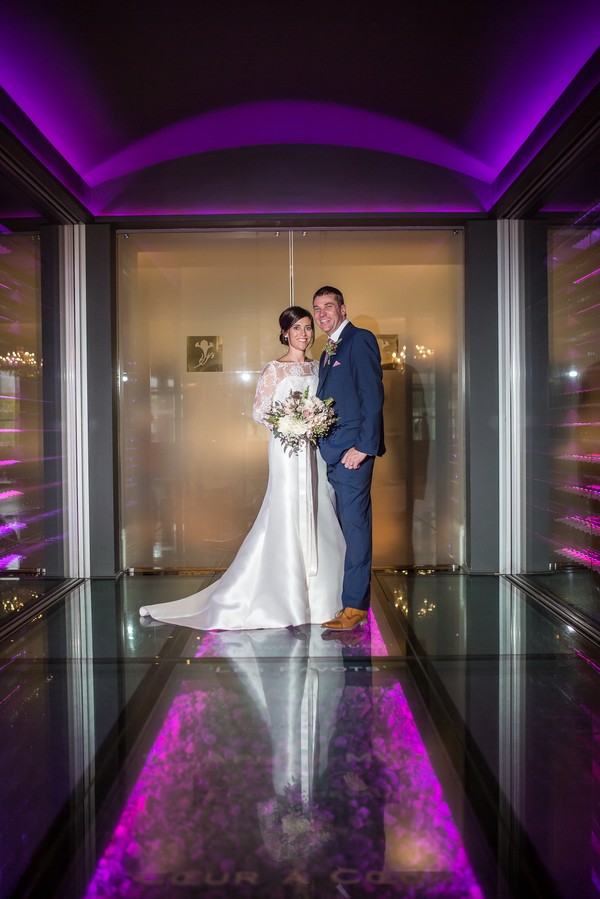 Suppliers
Photographer – Chris Kemp Photography
Venue – The Vineyard, Stockcross
Florist – Allium Design
Stationery – Kara's Designs
Catering – The Vineyard, Stockcross
Cake – Carly's Cakehouse
Music – DJ supplied via the Vineyard
Decor & Styling – Allium Design
Chair covers – Beau Events
Dress – Charlotte Balbier Etta dress supplied and fitted by Mrs Jones Bridal
Accessories – Lilly Bella Rebecca Belt with champagne ribbon, as an evening accessory, beaded hairclip by Tantrums and Tiaras
Hair - LK Studio Hair & Beauty
Makeup - Makeup by Gopi | Instagram: @makeupbygopi
Bridesmaid dresses – Flower girl dress BHS (via ebay!)
Groomswear – Moss Bross Hire
Cheese cake – cheese supplied by Grey's Cheese Company