10 Wonderful Silver Wedding Anniversary Gifts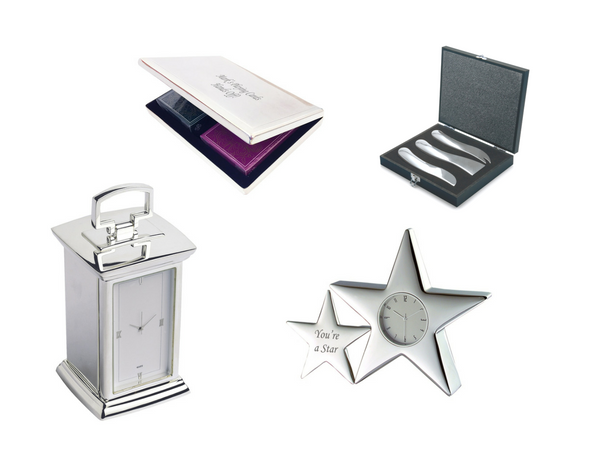 Anniversaries are a celebration of one of the best days of our lives and hitting 25 years is a real milestone. The best anniversary gifts are the ones that mark that special day but also have a personal meaning, both for those giving the gift as well as the happy couple. And what better way to add that personal touch than with an engraved message.
So here are 10 of our favourite anniversary gifts from Solo Engraved Gift Ideas, in no particular order, that look stunning with a personalised engraved message. We particularly love diamond engraving as it has a beautiful shimmering quality that looks expensive and raises the perceived value of an already stunning gift.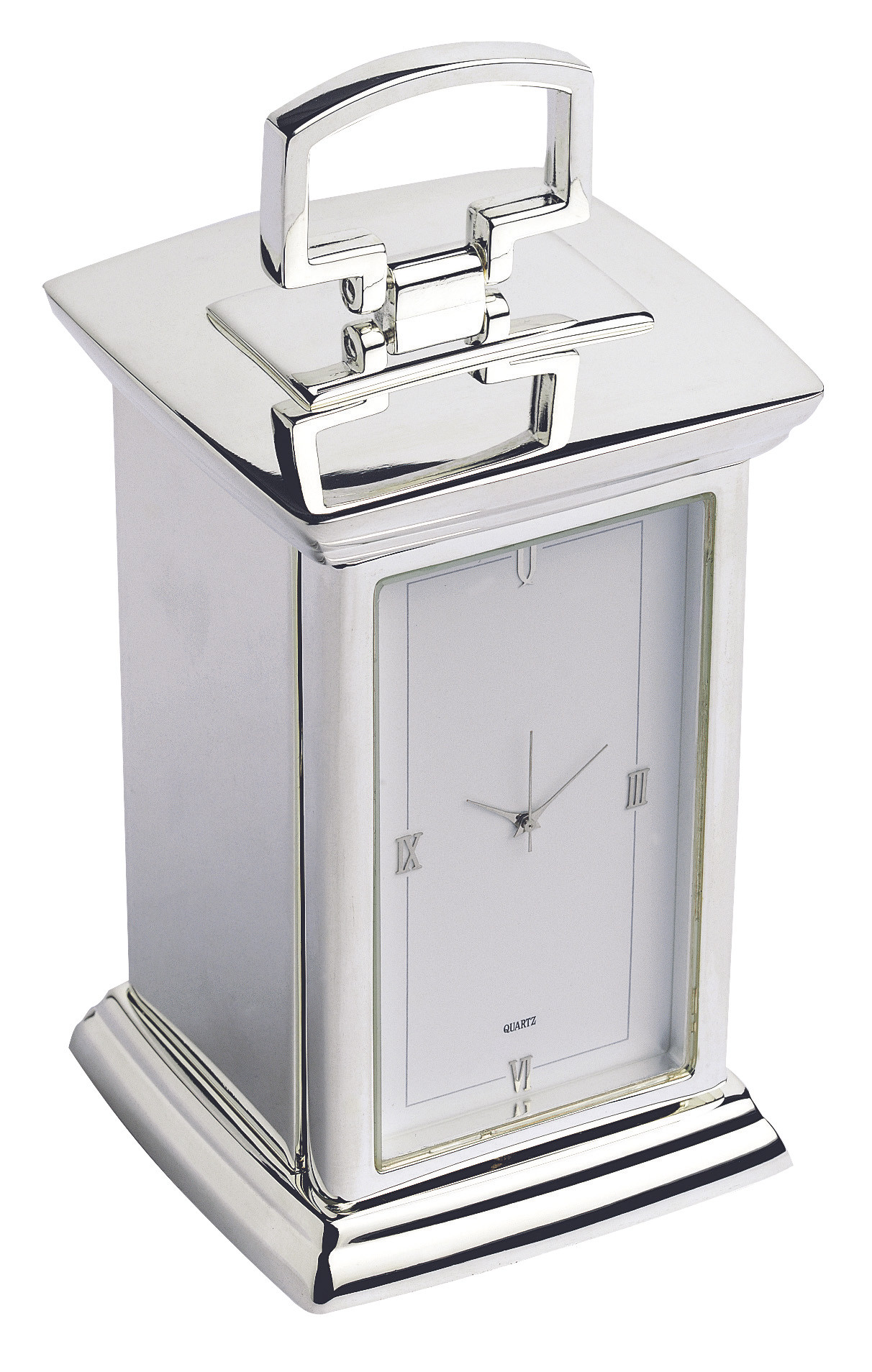 Regent Carriage Clock
A stunning nickel plated Carriage Clock; traditional elegance with a modern 21st Century twist. This impressive timepiece has a secret compartment ideal for keeping keys or jewellery hidden from view. A traditional item with a contemporary feel, it's both practical and decorative. The clock looks fantastic with an engraving on the back.
Price: £49.99
Sterling Silver Ice Cream Spoon
A Sterling Silver Ice Cream Spoon with genuine hallmarks and engraving on the handle. This is a great gift for a partner, and if you want to get a gift that not only is high quality but also very memorable, then this is for you! Great as a his and hers gift.
Price: £39.99
Classic Mini Double Photo Frame
This is a stunning silver plated double photo frame complete with a velour pouch that is perfect to carry around on your travels or looks great on a desk at work or shelf at home. It's a gift that captures the moment perfectly; add photos of the special day or the bride in one side and the groom in the other. Engrave on the front with a message or even individual names, the perfect anniversary gift!
Price: £19.99
Philippi Wave Cheese Knife Set
If you're looking for a practical yet beautiful anniversary gift, then look no further than the stunning set of three contemporary cheese knives from Philippi, complete in a beautiful box. The wave cheese knife set is a great wedding or anniversary gift due to its stand-out quality, eye catching presentation and usability! Perfect for a romantic evening with a glass of wine and a cheese-board.
Price: £32.90
Twin Star Clock
Clocks are always a great idea for a wedding or anniversary gift and this Twin Star Clock ticks all the boxes; the beautiful polished silver finish and simple elegant lines look stunning and the adorable "twin" star (which is perfect to add a personalised message) makes this a great anniversary gift for a spouse or couple.
Price: 29.99
Classic Silver Photo frame
A photo frame is perhaps the quintessential anniversary gift. After all what could be more appropriate than a gift that showcases a photo of the happy couple, whether it's of the wedding day or a captured precious moment. This classically styled frame can be both landscape and portrait and looks fantastic with an engraved message.
Price: £24.99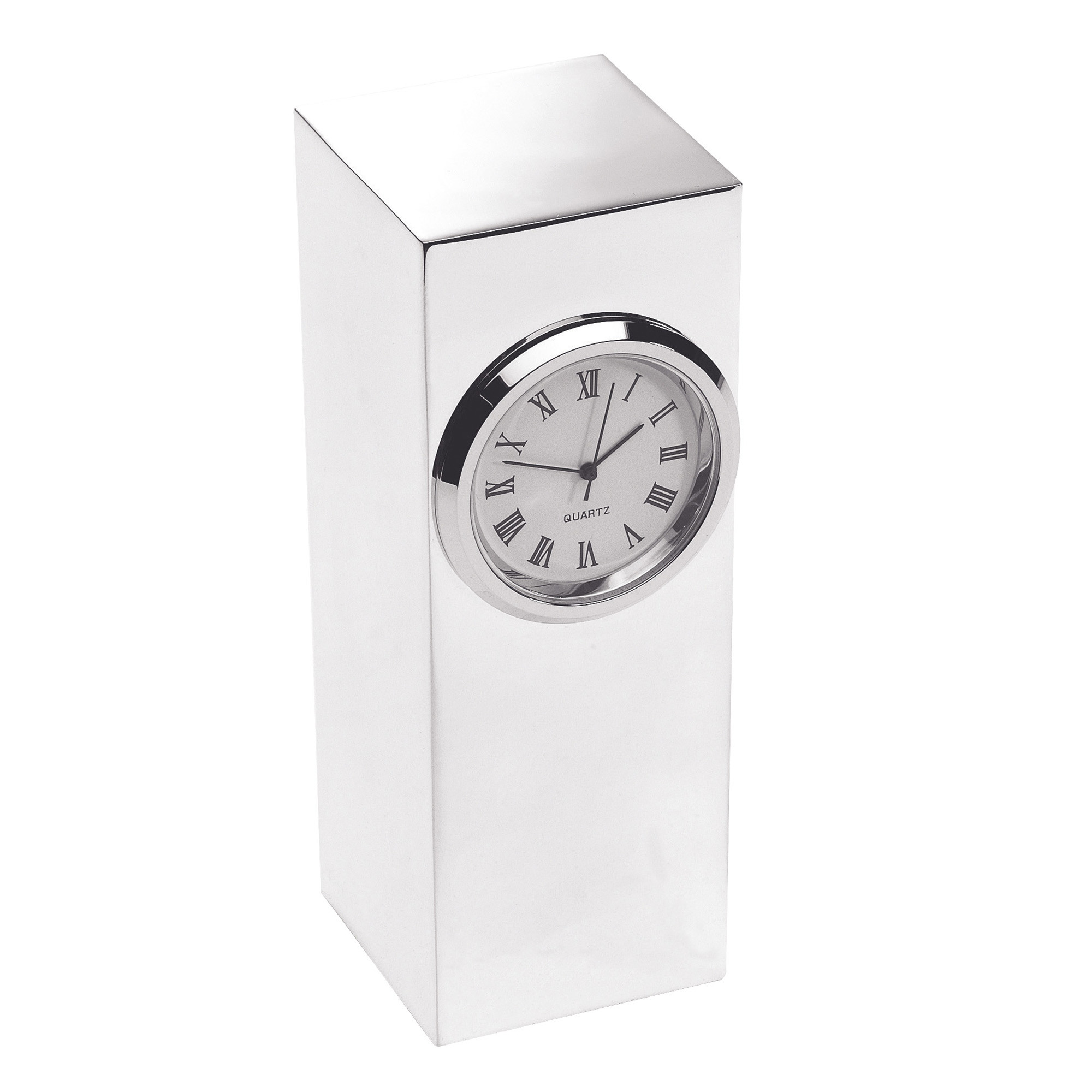 Silver Plated Column Clock
Simple yet elegant, the Column Clock is stunning silver plated clock perfect for adding engraving and personalised messages on the front. This timepiece is especially perfect for a 25th Wedding Anniversary gift displaying the personalised message in pride of place under the clock face.
Price: £32.50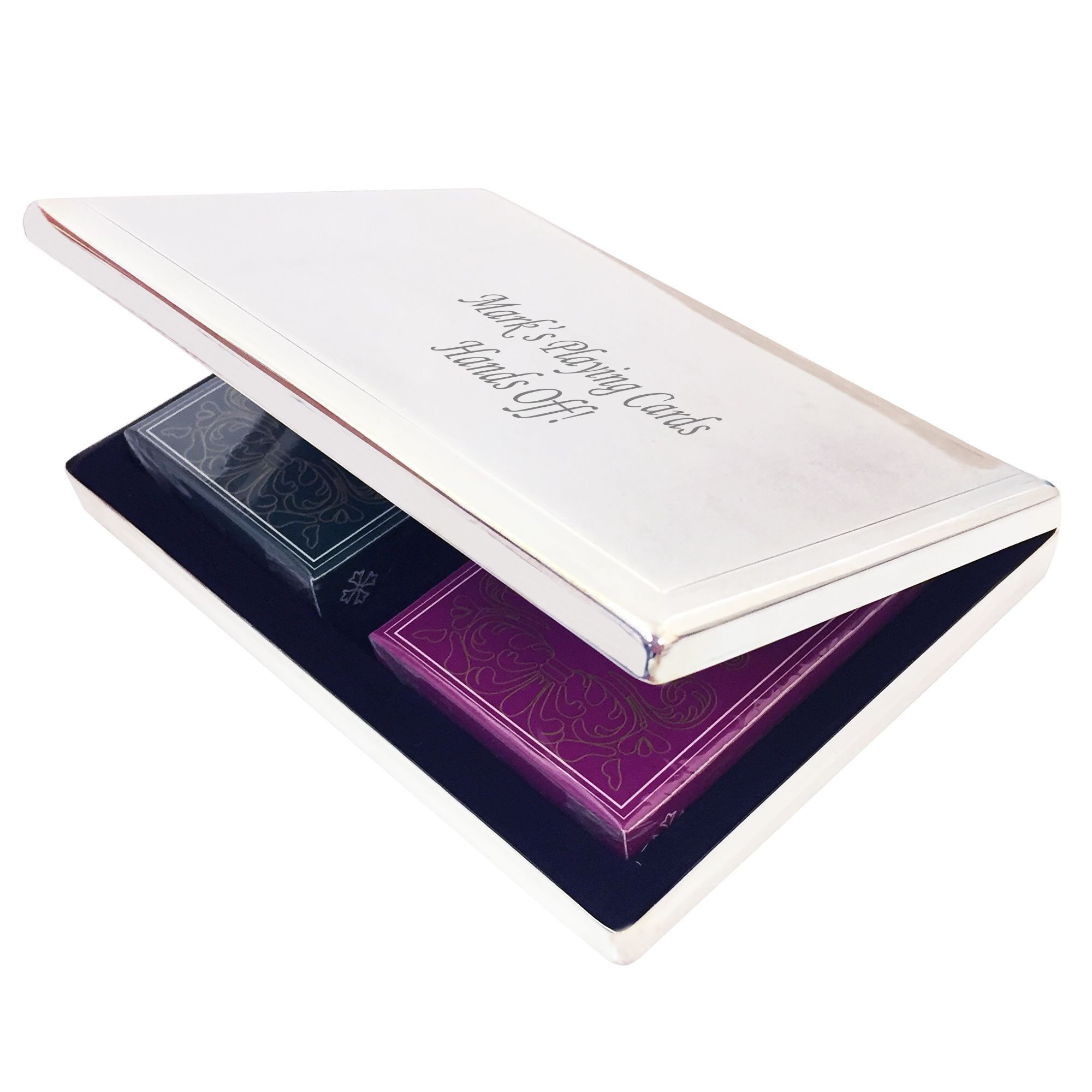 Classic Double Playing Card Set
This playing card set (perfect for bridge) is a beautiful gift that especially works well as a gift for friends celebrating their anniversary; perfect for socialising or at a dinner party! And with the luscious silver plated finish on the box lid, it is perfect to add a personalised message with names and dates.
Price: £29.99
Desk Clock Photo frame
This beautifully crafted anniversary gift combines the all-time wedding classics; a clock and photoframe in one stylish design. Add a personalised message to the front for that extra-special personal touch. It makes a great travel companion but also look great on a desk at work or at home.
Price: £39.99
Pair of Classic Champagne Flutes
Finally, if you fancy something not silver, why not go classic with chamagne flutes? Anniversaries are celebrations, of course, so this pair of classic champagne glasses makes a perfect celebration gift, complete in a beautiful silk-lined box. Ideal as a wedding or anniversary gift, these flutes look extra-special with a diamond engraved personal message.
Price: £24.99