Winter Wedding Stationery
Are you considering or planning a winter wedding? Register office data shows that more couples than ever are choosing to have their wedding between October and March, as there are many advantages of doing so!

With the cost of a wedding being the equivalent of a sizeable deposit on a new home, many couples are making some great savings by tying the knot during off-peak months. The pressure of expectation for a hot sunny day is removed and a wonderful wintery styled wedding can be created. Venues and suppliers often offer much reduced rates during off-peak months and there are a wealth of products now available to help you create a wonderful wintery or Christmas themed wedding.
What type of wedding theme would you like?

Consider your venue and the theme which would best suit your surroundings...could your venue be turned into a winter wonderland, does it offer a cosy ceremony in front of a stunning fireplace or are you getting married close to Christmas with a sparkly decorated reception room?

Christmas weddings are perhaps one of the easiest themes to create – your venue will be decorated with Christmas trees and luxury garlands for the festive season, both in your reception room and most likely all around the venue and your guests will be in the mood to celebrate.
Where to begin?

To help get your ideas flowing, why not try creating a mood board or wedding inspiration journal? Keep notes or pictures of anything that catches your eye, be it a piece of ribbon, a picture out of a magazine or a sample that you've ordered from your weddings stationery supplier. Create different mood boards if you're unsure what colour or theme you'd like to go with. You can start this as soon as you've set the date!

Whatever the theme you choose, you can run this all the way through your wedding stationery, starting with your wedding invitations, evening invitations and orders of service all the way to the place cards, table names and favours on your wedding tables.
Wedding stationery ideas to capture the essence of winter

This season we've seen lots of inspirational ideas that you may wish to consider for your winter wedding....
Embelishments
Colours
Luxury satin and velvet ribbons Red, silver and white Diamante buckles and rhinestone gems Burgundy and ivory Self adhesive pearls and diamantes Chocolate browns and golds Luxury textured card and metallic envelopes Forest green and ivory
Purple and silver
Ice blue and white Navy blue, silver and white
Popular themes to consider for your wedding stationery:-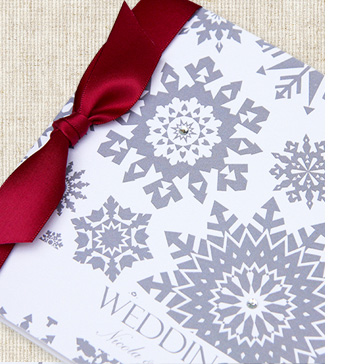 Reindeers – choose a winter reindeer wedding stationery design in a colour scheme of your choice and continue it all the way through to your wedding table names and table plan – and name each of your tables after one of Santa's reindeer, Rudolph, Dasher, Dancer, Prancer, Vixen, Comet, Cupid, Donner and Blitzen!

Snowflakes – Perhaps consider a snowflake design, in the colour of your choice, running across each of your stationery items and scatter sparkly snowflake confetti on your wedding tables. Why not give your guests a novelty wedding favour such as a snow globe to take home as a memento of your wedding.

Use seasonal flowers such as red roses and calla lilies. These are classic flowers all year round and a favourite at Christmas when complimented with holly, cinnamon sticks and hypericum berries. Use your chosen seasonal flowers for your bridal bouquet, your table centre pieces, your table plan and name cards.

Christmas inspired – add seasonal sparkle throughout your day, with Christmas trees in the background, festive garlands and table centre pieces and stationery embellished with tiny diamantes and luxury ribbons....and name your tables using lines from 'The 12 days of Christmas' song... '5 Gold Rings', '4 Colly Birds', '3 French Hens', '2 Turtle Doves', '1 True Love'.
Just remember...

Your wedding save the date cards and invitations are the opening scene to your wedding day. They offer guests a tiny glimpse of your winter wedding theme, helping to create the mood for your day.