9 Autumn Inspired Wedding Ideas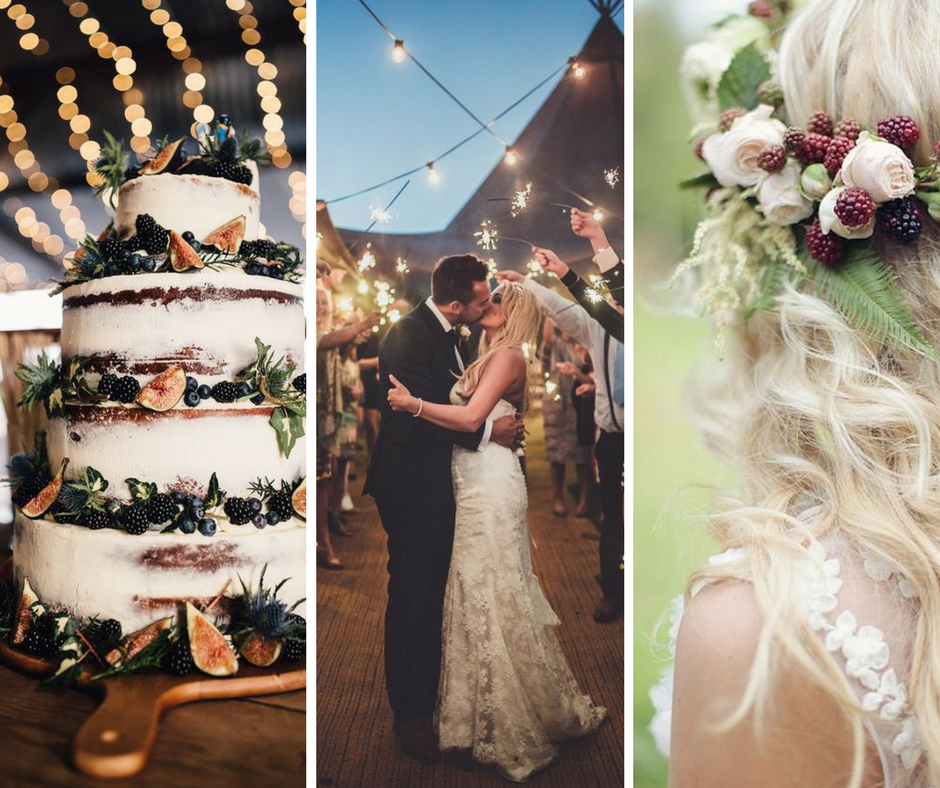 Autumn is a beautiful time of year, where we get crisp mornings, but the sun is shining (at times). It's starting to get chilly so we can layer up our clothes, but not covering them fully with a big coat. The leaves are changing colour as are the flowers, the days are getting shorter and cosy evenings become a thing again. And let's not forget the word Christmas starts to spring up more and more in conversation.
What about if you are getting married at this time of year? Do you want to incorporate seasonal details into your day? Your wedding flowers and food will no doubt already have this influence due to what is available and suppliers working with what's in season. But adding other touches can really create a beautiful setting for an autumnal wedding.
1. Colours
When someone suggests Autumn colours to go with the season, that doesn't mean you have to go down the oranges route. Autumn brings a collection of absolutely beautiful colours, which can add a real sense of laid back luxury and bring the seasonal element into your special day. If you start by looking at the flowers that are in bloom from late September onwards, you start to get some beautiful darker pinks and berries. There is a lot of foliage available and reds are also another striking choice. Mixing these in with navy and hints of gold or silver can create a lovely mood and setting.
Source: Silver Sixpence in Her Shoe + Wedding Guide Reviews
2. Seasonal Fruit
Again moving with the seasons, some fantastic fruits offer up some beautiful colours and add elegance and a different take to a wedding. Using things such as blackberries in your centrepieces, or featuring figs or pomegranates in your table styling can look stunning.
Source: Rock my Wedding + The Natural Wedding Company
3. S'mores
This is such a fun way to bring seasonality into your wedding. This is an American tradition that is eaten around a bonfire. With the days growing shorter as Autumn rears its head, the likelihood is you will have the option of having a fire pit in the evening once the sun has gone down. Surely nothing then beats having your own S'mores station for guests to make up their own S'mores and toast them on the fire?
Source: Arabia Weddings + Fabmood
4. Dried Leaf Confetti
Not allowed confetti at your church or wedding venue? Toying with the idea of dried petals? What about drying leaves that have recently fallen off the trees and using them as confetti? You can either use them as they are, or hole punch pretty hearts out of them to create autumn confetti.
.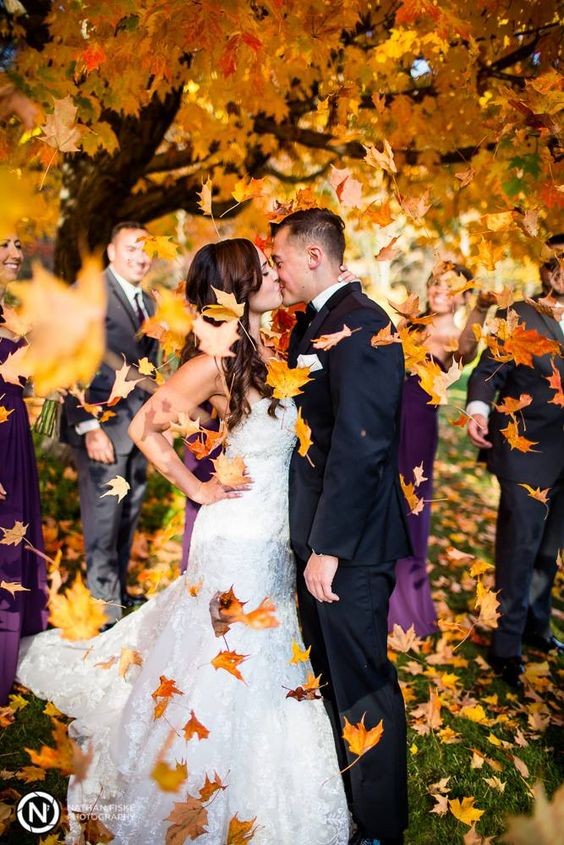 Source: Photography on the Net + Wedding Bee
5. Blankets
Having hampers filled with blankets creates a lovely snug environment. For those guests that still want to venture out into the cold in the evening, this will keep them from getting too chilly. It's a lovely little touch that people remember.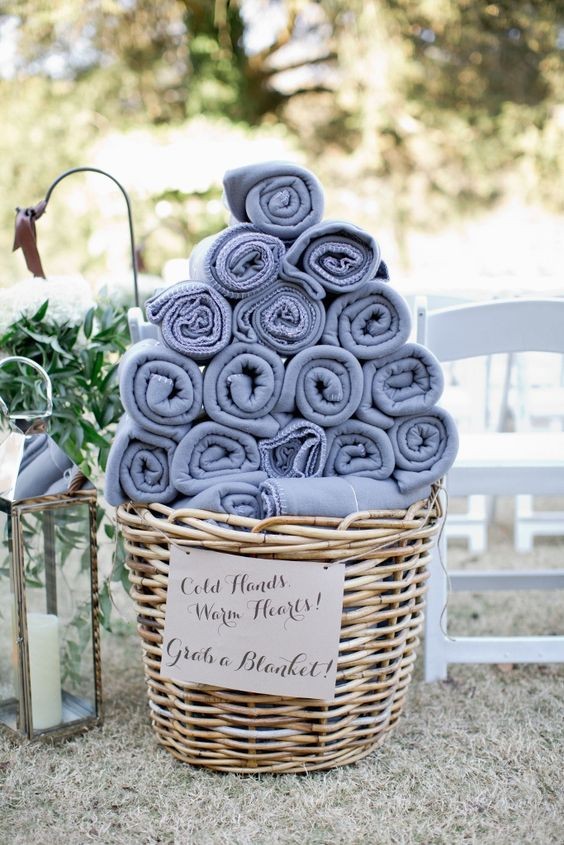 Source: Buzzfeed + Rock my Wedding
6. Pumpkins
Pumpkins don't have to just be used for decoration at Halloween and they definitely don't have to remain orange. Using pumpkins of all sizes and painting them the colours of your wedding look awesome as part of your décor. You can also get beautiful velvet handmade pumpkins from a company called plush pumpkin, which I'm a little obsessed with!
Source: Wedding Ideas Mag + Tone on Tone Antiques
7. Warming Drinks
Yes gin bars are amazing and all the rage at the moment and I do love gin, but have you thought about offering mulled cider or wine to your guests? You could do this as part of your drinks reception, or for the first hour of the evening reception? The cinnamon and star anise will really get everyone feeling that winter is on the way. Your guests not drinking alcohol could have a hot chocolate bar option?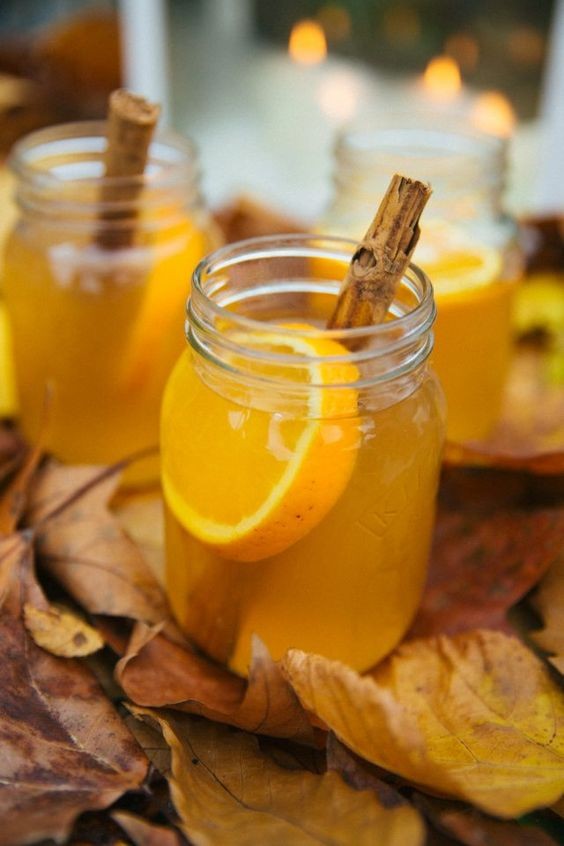 Source: Jamie Oliver + The Londoner
8. Autumn Light
Getting married in different seasons, means different lighting. One thing I mentioned earlier is the days becoming shorter and the nights drawing in. This has its benefits, especially those looking for some lovely photographs that are a little bit different and magical. Some photographers are able to catch some beautiful pictures with the dusk evenings and low sun during the day. They can also create some beautiful shots with sparklers once it's dark. Definitely something to think about!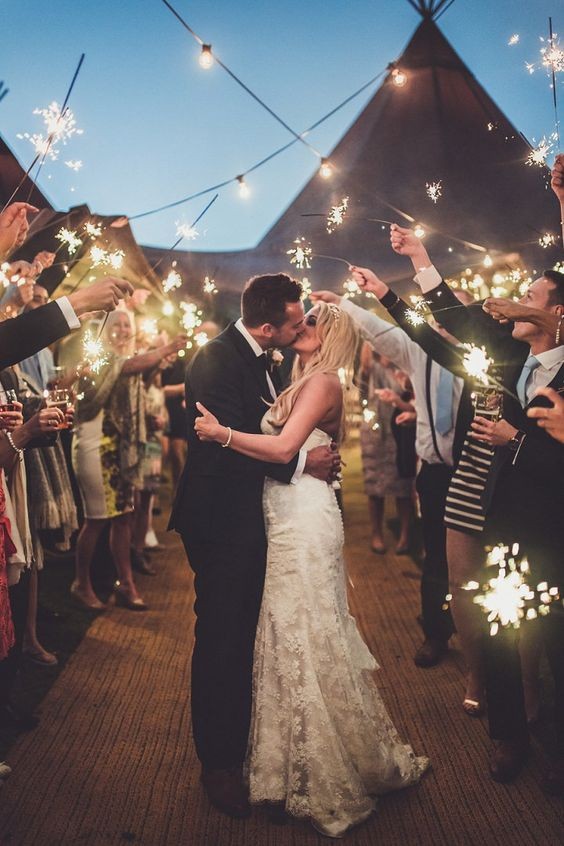 Source: Rock My Wedding + Boho Weddings
9. Glitter
As the days get colder and the year gets closer to December, I think it is more and more acceptable to incorporate glitter in to whatever aspect of your day you desire! Whether that is sequinned tablecloths or glitter candle votive's. You may even wish to have glitter confetti, which also make a fantastic photo, but check with your venue first!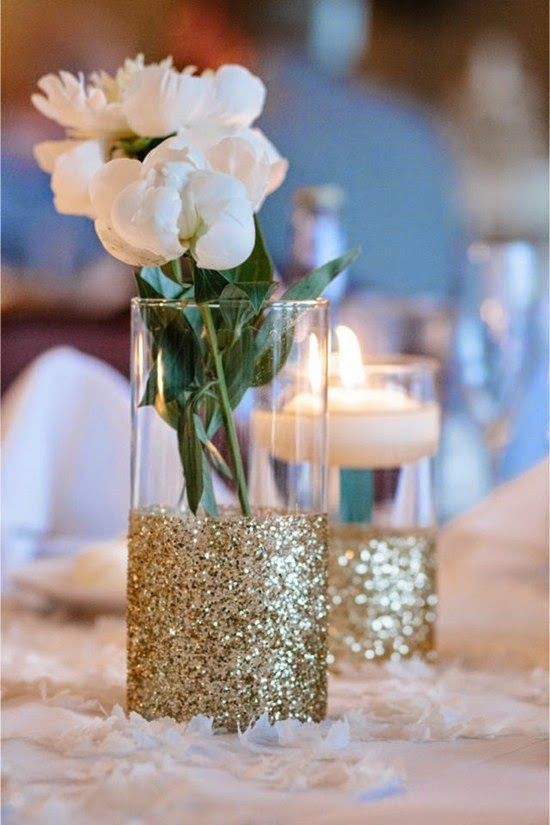 .
For more ideas and inspiration on autumn weddings, check out our pinterest board here.