Contact Stephen now to get a quote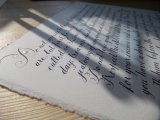 DUCKETT

0 0
Looking for the best price? Enquire through WeddingPlanner.co.uk
Summary
I produce the finest handmade greetings cards in the UK. Every order placed is a one-off, bespoke commission: hand-written calligraphy, exquisitely produced cards, handmade envelopes, traditional tools and production skills
Key information
Do you offer a bespoke service?
Yes
Do you have a minimum order?
no
How long will it take to receive my invites?
n/a
Do you offer printable PDFs?
No
Can you provide samples?
No
How far in advance do I need to order?
one week
What forms of payment do you accept?
Cash, Bank Transfer
What kind of accessories do you offer?
Other
Shop location (if applicable)
n/a
Do you make bespoke pieces?
Yes
About
More about us
My cards are individual, bespoke works of art. There is nothing like them. That's why I can say they're the finest greetings cards in the UK. I use traditional tools and practices to design, write and sculpt an exquisite card for your special occasion. It comes with a purpose-made envelope, and the card is wrapped in tissue, ribbon and sealed with hot wax. They come with the option of an accompanying frame, and are sent recorded delivery as standard. Or, if you're feeling very special, I will personally hand-deliver the card. It's all about you: your favourite quote, your preferred colours, your time frame... just let me know, and I'll make something beautiful for you. Please see my website to fully appreciate the beauty of my work.
View availability
This supplier has not received any reviews yet.